Valley Center Vintage Clock Estate Sale Auction
online only auction
•
3
day sale
•
sale is over
Terms
Internet Premium: 14%
Sales Tax : 7.75% - Sales tax applied to Hammer Price.
Participation Requirements: Valid Credit Card required for bidding approval
Payment Options: Visa, MasterCard, Discover, American Express, Wire Transfer, and Cash
Visa MasterCard Discover American Express
Payment Instructions: Your Credit Card On Fie Will Be Charged In Full At the Close Of The Auction, If You Wish To Use Another Method Of Payment Please Contact North County Auctions Prior To The Auction Closing. (619) 789-7848.
Currency Type: USD
Shipping Instructions: Delivery and priority shipping ARE available Fragile, over sized or expensive packages may be sent through our 3rd party shipper. Buyer agrees Packages over $1000 in total value must be insured with signature guarantee / tracking at Buyers expense. Items over $1000 where the buyer refuses to buy insurance, tracking and signature guarantee will be returned to the auctioneer and / or considered abandoned.

3rd party Shipper - https://www.thatplacethatships.com - ADDRESS:243 S Escondido Blvd
Escondido, CA 92025
EMAIL: info@thatplacethatships.com
FAX:760.741.7686
Preview Date & Times: NO IN PERSON PREVIEWS Text 619-787-4906 Ask for pictures, video, dimensions, etc. casey@northcountyauctions.com
Checkout Date & Times: Pickup Dates 5/30/2022 through 6/1/2022 by special appointment - txt or call 619-787-4906. Appointment times are usually from 9am-3pm. The removal ends 6/1/2022 without prior approval.
Location: Circle R Dr, Valley Center, CA 92082
Driving Directions:
Special Terms
By bidding in this Auction, Buyer agrees to the following terms:

1. No Reserves - BEFORE BIDDING Buyer agrees to the following - all items are being sold with no reserves unless otherwise stated. - EVERY THING IS BEING SOLD AS IS. - All bills to be paid by 5/30/2022 -We Accept Cash, MasterCard , Visa, Debit a -Sorry NO Checks personal or business - All Covid Practices Apply. All merchandise must be removed from the sale premises on 5/30/2022 through 6/1/2022 9am - 3pm by appointment Only - Items left after 6/1/2022 may be considered abandoned and the buyer will be subject to storage fees of $50 per day per item and disposal fees without refund - The Purchaser is responsible for all cost of removal and all damages caused by the removal of items -In the event of non payment, the Auctioneer reserves the right to sell to the underlying bidders -

2. BUYERS PREMIUM. BEFORE BIDDING Buyer agrees to the following - You are responsible for all purchases/bids made with your bidder number and to pay 14% over the hammer price.

3. AUTHENTICITY - BEFORE BIDDING Buyer agrees to the following -NorthCountyAuctions.com agents are not mechanics or experts in art, sports cards, coins, any other frequented faked medium. Buyer agrees there are no refunds, warranties or returns if items are purchased and later discovered as fake. If you are not confident items are authentic or genuine, DO NO BID. We are not free authenticators and do not warranty items are not forgeries, facsimiles, reproductions, or copies.

4. SALES TAXES BEFORE BIDDING Buyer agrees to the following -https://www.cdtfa.ca.gov/formspubs/cdtfa230.pdf Some bidders may be exempt from payment of applicable taxes. If you wish to apply for tax-exempt status, you must submit a completed copy of the Auctioneer's tax-exempt form prior to this auction's closing. North County Auctions require bidders to submit a new tax-exempt form for every sale. Once you have completed your tax-exempt form, please e-mail the form to nate@northcountyauctions.com so that we can review your information. If you do not submit a tax-exempt form, North County Auctions will be unable to id you as exempt from taxation, and you will have to apply directly to the applicable state for a refund. Please also note that, depending on the state whose sales tax applies, submission of the Auctioneer's tax exempt form may not be sufficient to entitle you to tax-exempt status.

5. NO REFUNDS - BEFORE BIDDING Buyer agrees to the following - As is auction - no returns, refunds or warranties given. All items are local pickup so if a shipper you are using signs for the item, you are responsible for delivery. Buyer agrees Auctioneer is not responsible for losses through shipping - damage, lost packages, missing items, porch pirates etc.

6. ITEM DESCRIPTIONS - BEFORE BIDDING Buyer agrees to the following - North County Auctions does not warrant the condition of any lot sold. ALL PROPERTY IS SOLD AS IS, and neither North County Auctions nor the consignor makes any warranties or representations of any kind or nature with respect to the property or it's value, and in no event shall they be responsible for correctness of description, genuineness, attribution, provenance, authenticity, authorship, completeness, condition of the property or estimate of it's value. No statement (oral or written) in lot descriptions, at the auction, or elsewhere shall be deemed such a warranty or representation, or any assumption of responsibility. Prospective bidders are urged to contact North County Auctions directly for detailed information regarding any lot. THERE SHALL BE NO RETURNS FOR ANY REASON. The maximum obligation of North County Auctions for any disputes it to refund the purchase price.

7. INSPECTION - BEFORE BIDDING Buyer agrees to the following - You have the chance and obligation to inspect the items before the auction ends during a preview period. If you are out of town, please send a representative you trust to inspect the merchandise. you can also call or email casey@northcountyauctions.com for more information or pics of an item.

8. REMOVALS - BEFORE BIDDING Buyer agrees to the following - you are solely responsible for the safe pick-up, removal, and transportation of your items. You agree that the pick-up, removal, and transportation of your items will be solely at your expense and at your risk. Bring an acceptable vehicle and laborers to move heavy equipment. A forklift will be available.
You further agree that you will be responsible for any damage that you or any of your agents cause during any preview or removal period, and also agree that the credit card associated with your online account will be charged for any expenses incurred and/or repairs necessary as a result of any damage that you cause, or storage and removal fees.

9. Release Upon Presentation of Receipt - BEFORE BIDDING Buyer agrees to the following - the Auction Manager is only obligated to release your items after you or your agent presents a Paid Sales Receipt and satisfactory identification documentation.

10. Charges - BEFORE BIDDING Buyer agrees to the following - their credit cards will be run right after the sale Please have a current card on file.

11. Default and Resale - BEFORE BIDDING Buyer agrees to the following - that if, after being declared the winning bidder, you fail to pay for any item that you have won for any reason, your account will be declared in default. If we cannot make contact with you, a non payment case may filed with Proxibid suspending your account privileges. If you still refuse to pay for any item after being notified of your account's being in default, you agree that the Auctioneer will have the right to immediately resell your item, and you further agree to pay (a) any cost associated with the resale and (b) any deficiency between your original purchase price and the resale price.

12. REMOVALS - BEFORE BIDDING Buyer agrees to the following - they are solely responsible for the safe and timely pick-up and removal of any items you may win at this auction. If you are unable to safely pick up and remove your items during the removal times that have been scheduled for this sale, PLEASE DO NOT BID. The Auctioneer does not ship except when a given item is clearly identified as eligible for shipping, nor does the Auctioneer hold items beyond the published removal times. The Auctioneer not obligated to issue you a refund if you are unable to pick up and safely remove your items during the published removal times. If you cannot meet the required removal times, contact the auctioneer at 619-787-4906 or email us at casey@northcountyauctions.com to make alternative arrangements. Exceptions are up to the discretion of the auction and may be made on a case by case basis, solely by the auctioneer, Please have an appropriate storage facility available.

13. HEAVY EQUIPMENT - BEFORE BIDDING Buyer agrees to the following - make sure you bring a Truck with a liftgate, or lowboy - an appropriate vehicle and adequate labor. The auctioneer does not provide free labor to load your items. For extremely heavy equipment, we recommend a professional equipment mover. BEFORE BIDDING Buyer agrees not to engage in unsafe practices and agrees the Auctioneer has the right to stop any unsafe practices.

14. PROOF OF OWNERSHIP - BEFORE BIDDING Buyer agrees to the following - when they come to pickup your items, please have a valid ID and be willing to sign a receipt. 3rd party pickups require written confirmation from you to pickup. Please show up to pickup your items with your printed or virtual online receipt.

Bidder agrees that it is your duty to ensure that any agent picking up items on your behalf has a copy of your Paid Sales Receipt to present at the pick-up location. You explicitly authorize the Auction Manager to release your items to any person in possession of your Paid Sales Receipt. No item will be released to any person unless that person presents a Paid Sales Receipt listing the item in question.

15. WAIVER - BEFORE BIDDING Buyer agrees to the following - Buyer acknowledges that an auction site can be a potentially dangerous place and immediately upon registration, if not before, shall so notify his agents, servants, employees and others accompanying him. The auction site shall include any location where a lot is located for display and/or removal, as well as where the actual bid calling is conducted. Bidder agrees to indemnify and hold harmless Seller and Auctioneer and their respective officers, employees, servants and representatives from and against any and all claims, losses, damages, injuries, liabilities, costs and expenses of whatsoever kind or nature (including attorney's fees and costs) for any injury or death to any person or persons whomever or for damage to or loss or destruction of property occurring in, upon or about the auction site when such loss, damage or injury is occasioned, directly or indirectly, by the actions or omissions of the Bidder, his agents, servants or employees.

16. SAFTEY - BEFORE BIDDING Buyer agrees to the following - they are solely responsible to inspect all equipment to insure it is in a condition where it can be safely used, to provide proper safety devices and equipment or means to meet all governmental safety standards, and to notify all persons operating the equipment as to all attendant dangers. The Buyer hereby assumes these responsibilities and agrees to indemnify and hold the Auctioneer and Seller harmless from any future claim pertaining to (1) fitness or use of that asset as purchased; (2) provision of proper safety devices or equipment; (3) notification and warning of Buyer and its representatives, agents, employees, any other users or
subsequent Buyers, as to the dangers and risks attending operation of the equipment; and (4) the condition of the equipment.

17. LAWS - BEFORE BIDDING Buyer agrees to the following - the terms of sale and rules of the auction shall be governed by and interpreted pursuant to and under the laws of the state of California. Auctioneer and bidders/buyers agree and consent that this agreement shall be performable in San Diego County, California and that jurisdiction and venue of any lawsuit arising in any way from the auction or events occurring at the auction site shall be conferred upon the courts of San Diego County, California.

18. It is the Buyer's responsibility to immediately return all personal property, papers, photos, legal documents, tax returns, bank statements, yearbooks, etc. to North County Auctions for return to tenant in the future.

19. The Buyer acknowledges that in certain circumstances North County Auctions may contact the Buyer and request that certain items be purchased back in order to prevent any court action with said tenant, the Buyer also agrees to sell to North County Auctions such items for (a) the cost at which Buyer purchased such items plus (b) any reasonable actual costs incurred by Buyer in connection with such items.

20. North County Auctions reserves the right to refuse entrance to any Buyer at future auctions due to failure to follow these rules or any other unacceptable behavior at the auction.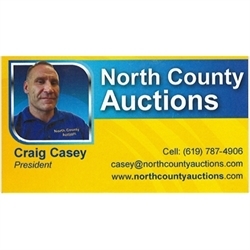 Amazing Vintage and Antique Clock Sale! 100s of clock - Wall, Mantle, Anniversary, Black Forest, Cuckoo, Grandfather, Furniture, Collectibles, etc. To get upcoming auctions, text ncauctions to 77222. Email or text with questions (619) 787-4906 or casey@northcountyauctions.com.
Thank you,

Craig J. Casey, Marketing Director

North County Auctions

casey@NorthCountyAuctions.com

Work 888-622-8284
cell 619-787-4906

NCauctions.com
Name/Title
Box full of silver plate silver solder pewter and quadruple plate.
Antique hanging french wall clock machecoul haulois
Black Forest Hand Carved Staghorn Deer cuckoo Clock Germany
Vintage 1950s Mid Century Seiko 30 Day Japan Wall Clock and Calendar
Vintage Sony 31 Day Wall Clock
Vintage American Wall Clock
Vintage Japanese Rhythm 30-Day Striking Wall Clock
Aminex 31 Day Chime wall clock
Hand Carved Asian Style Grandfather Clock
Watch Clock Parts Various
Montgomery ward regulator wall clock
howard miller grandfather clock tempus fugit
small staiger anniversary clock west Germany
small a. schatz and sons 54 1000 day mantle clock Germany 2 jewels
baldwin piano co. grandfather clock CB725 N OAK
phone chair and contents silver case seashell lamp
centurion 35 day mantle clock
marble mantle clock
small display table case with contents
seth Thomas mantle clock usa
General Electric mantle clock wooden model 4f06
hettich 1 jewel small mantle clock germany
two mantle clocks wooden
audio electronics sherwood next base sony handycam
seth thomas small mantle clock e515-003 Midcentury
5 units hermle battery operated clock lot anniversary + brass lamp
Vintage airline turntable cabinet with records 1960s
kingston quartz and goddess clocks c battery 2 units
wooden mantle clock
lady clock japan batteries
lady mantle clock
small clock lot 4 units kundo koma west germany linden 7012
Kundo 3 clocks windup units x1 has no face Kieninger Obgergfell Germany
Poppo cuckoo clock carved wooden
e ingraham co small.wooden mantle clock
clock lot with scales mantle desk big ben baby ben
howard miller grandfather clock
large bookcase books brass geese ship etc
cornwell grandfather clock
ridgeway grandfather clock carved wooden chimes
grandfather clock
grandfather clock piper franz hermle
lippinzaner horse clock model 2
6 units anniversary clocks schatz kundo
6 units various glass anniversary clocks kundo
linden hunters wall clock
JUNGHANS Vintage Design Mid Century 8 Day Retro Wall Clock Kienzle Mauthe era
seth thomas wall clock with key
banjo clocks with eagle 3 units sessions gilbert
large regulator wall clock missing glass face
1st in California series 3 shelves by mervyns of midwest Cannon falls
bedroom set oak antique queen bed dresser 2 nitestands
entire closet contents electronics mags etc
antique wooden chest with records see lot 58 record player
bedroom set hutch bed x2 nite stands decor
antique armoire wooden
player piano with many rolls!
antique dining room table with x2 leaves reupholstered
large grandfather clock
mantle clocks 3 units seth thomas hermle forest ville
vintage audio kenwood Fisher pioneer 20in speakers
mixed lot clocks small clocks candle sticks baldwin 2 jewels
shelf clocks 8 units marble westlox baby ben big ben
antique French pendulum wall clocks
shelf of clocks seth thomas elgin baby ben big ben
black forest cuckoo wall clock
wall clock
wb scott antique wall clock antiques clocks of america
august huber wall clock Uhrmacher munhchen karlstor rondell 10.
f kroeber new york antique mantle clock with key
regulator wall clock
wooden wall clock
antique wooden desk
cromwell grandfather clock erhard jauch germany
Montgomery ward and westminster clocks
book case full of clocks and clock parts
delete last pic station master wall clock japan
howard miller glass circular wall clock
new england wall clock steeple
wall clock flowers
grandfather clock ridgeway
small antique toy rocking horse
seth thomas grandfather clock
cuckoo mantle and small clocks westclox big ben linden
white sewing machine and table
lot clock parts faces pendulums etc
cuckoo clock on bench with weights
seikp wall clock parts pennies clocks for repair etc
grandfather cases for parts repair 7 units
clock lot cockoo holland etc
shelf of clocks hanging anniversary mantle
lot of two grandfather clocks daneher cornwell
Clock parts various
Clock parts various French Pendulum
Corner Clock Parts big ben baby ben actions
Sony Audio Unit
clock parts tools antique high chair etc
clock parts tools etc
parts misc
Fischer turntable misc parts
akai reel to reel
cobra 2 arcade game Graham clocks etc
entire shelf of contents clocks books mags vintage toys not including personal papers family photos
Lot of Cameras. Polaroid J66 , Instamatic 104, Yashica Electro 8 with cases
Antique 1928 Detex Alert Guardsman Watch Clock Duty Time Trackers 2 Sizes
Electric Coin Counter, CPS Leek Seeker L-790a AC Leak Detector, Realistic TRC-422A CB Radio
Ricoh Super Ricohflex camera & Anastigmat 8cm f3.5 lens TLR collector quality
Lot of 5 Wall Clocks, Welby, Lester Fields, Verichron, Hallmark Accessories
35 Sacagawea gold dollars
2 Kennedy half dollar 1967, 1998 and 3 Susan B Anthony Dollar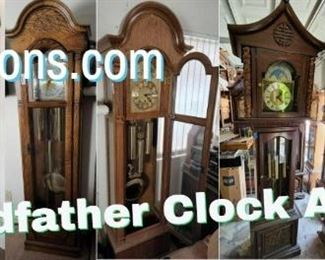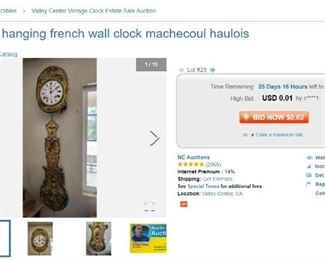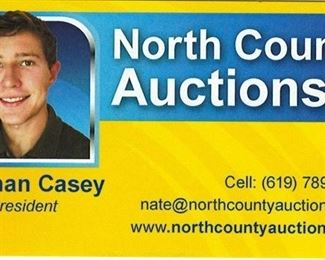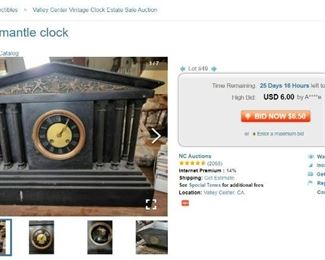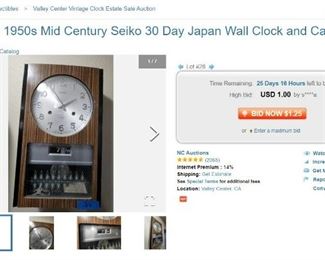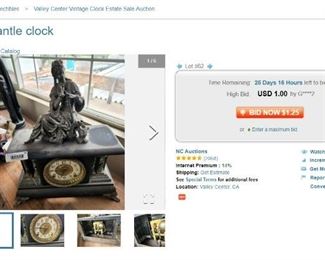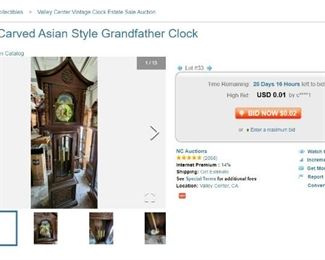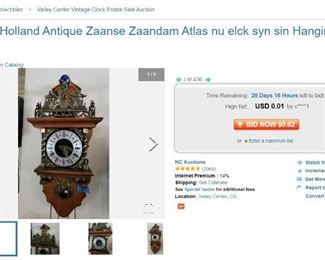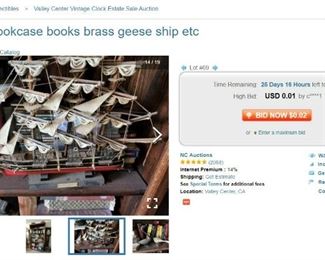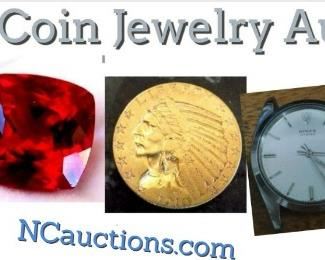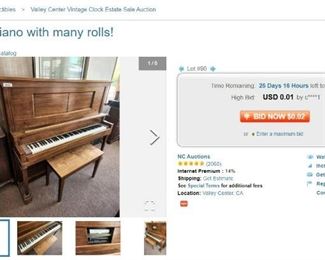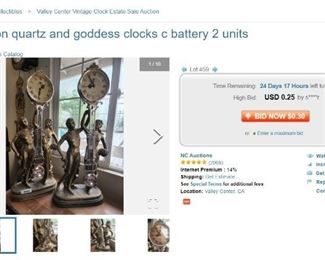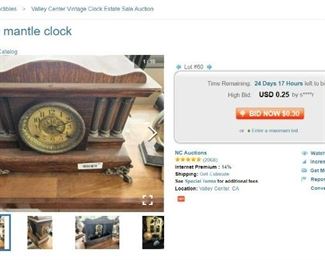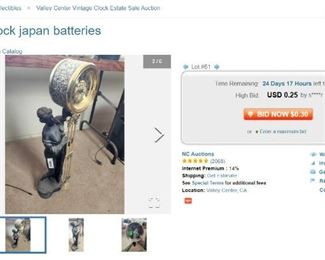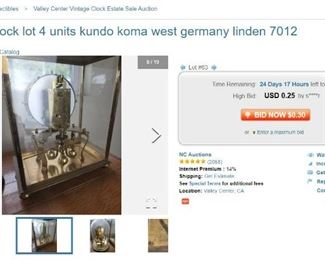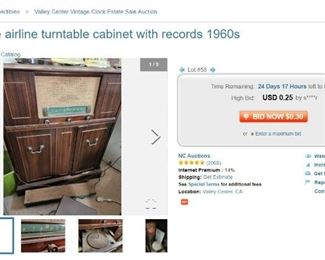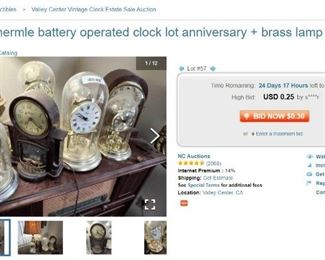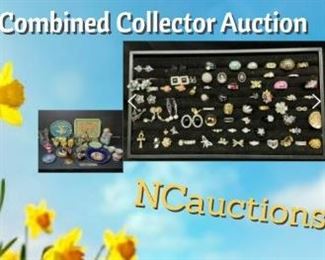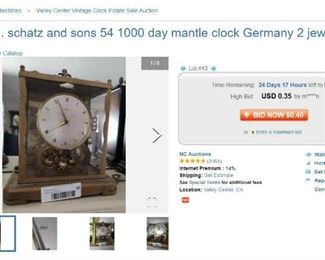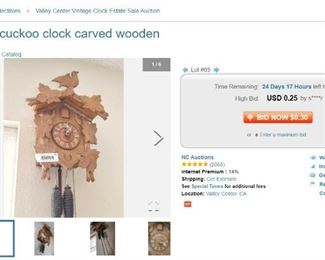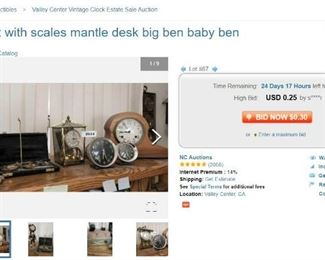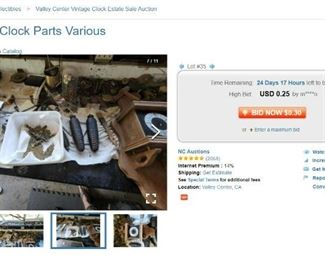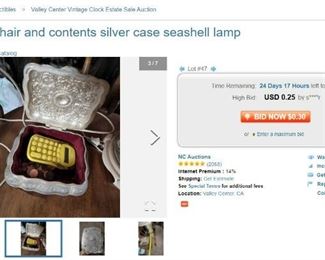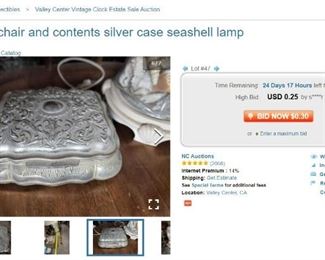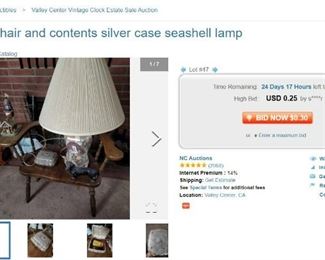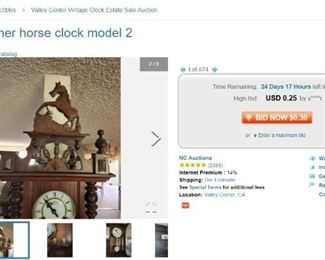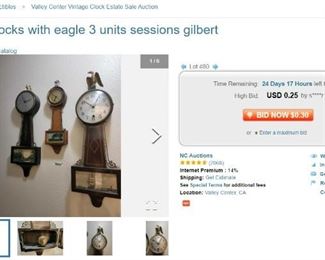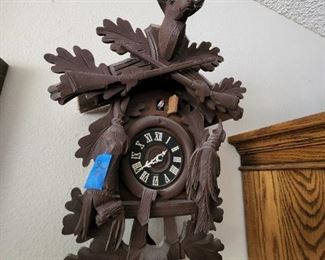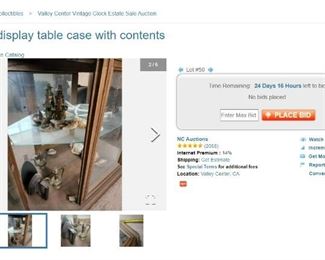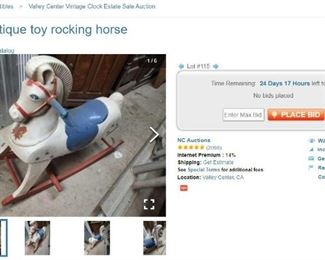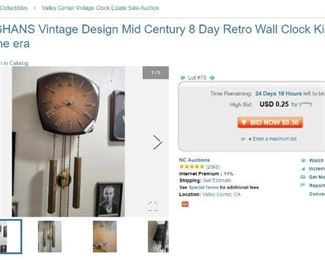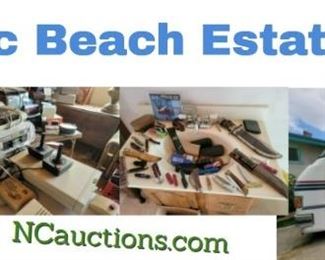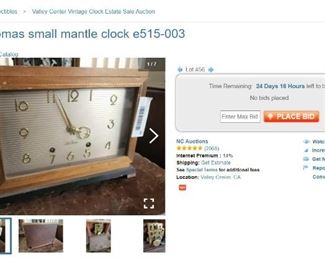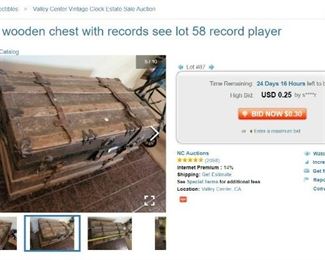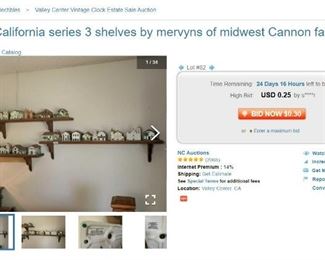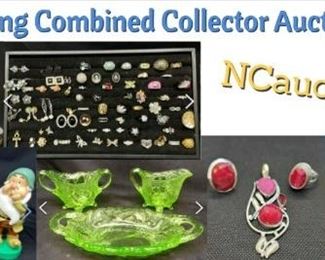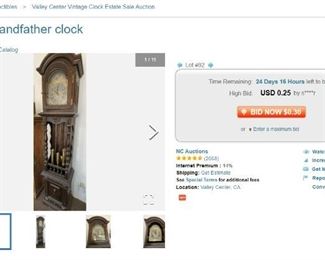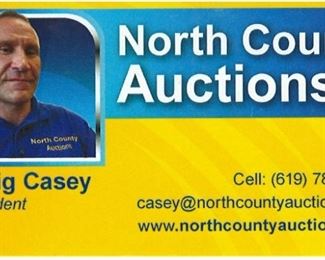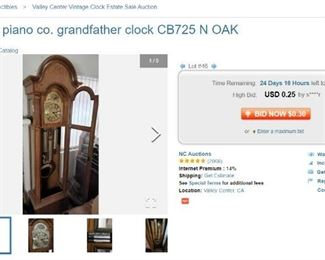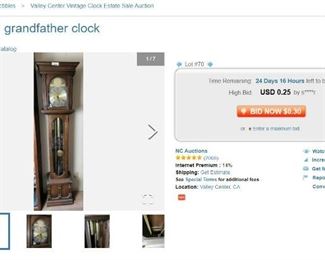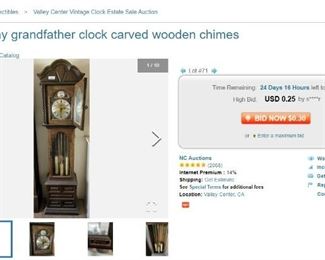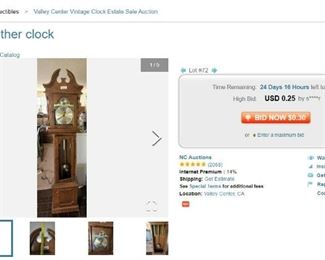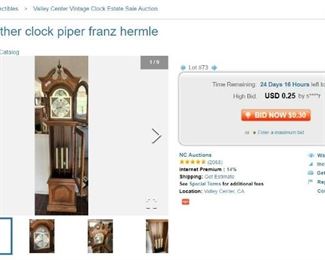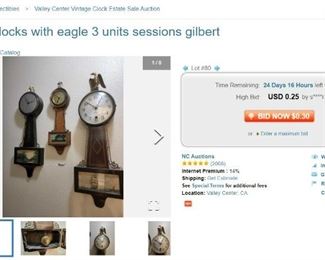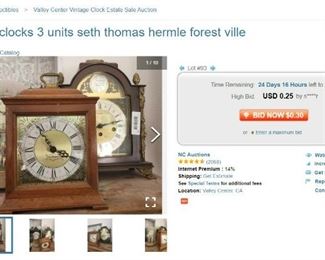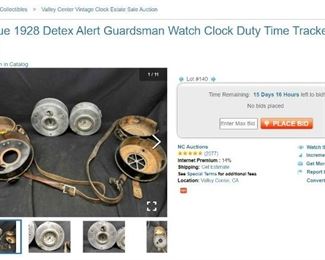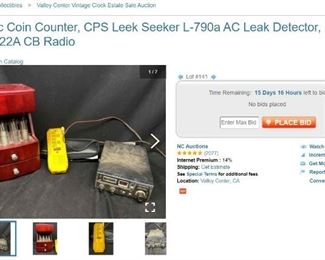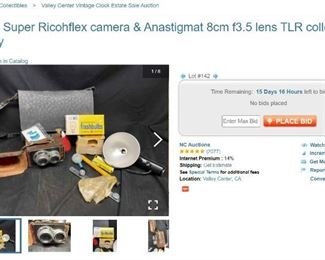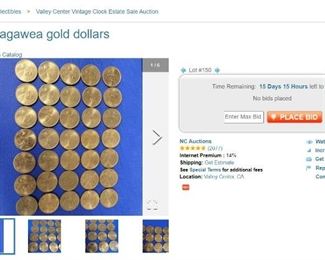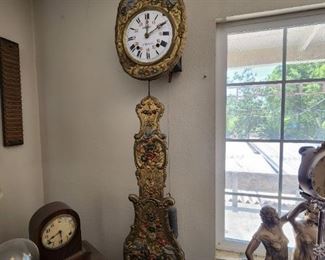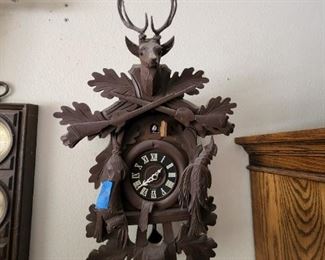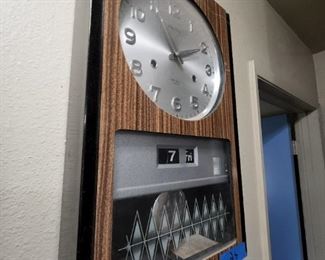 Thank you for using EstateSales.NET. You're the best!