Season Sale From Retired Auction Daler
moved offsite to store
•
1
day sale
•
sale is over
Terms
1. Consignment: Subject to the terms and conditions set forth below. Consigner hereby (a) consigns to Bruce Kodner Galleries the property identified above and on any additional receipt referencing this consignment agreement (the "Property") (b) Authorizes Bruce Kodner Galleries as it's exclusive agent to offer the property for sale at public auction, and (c) Agrees that Bruce Kodner Galleries may in it's sole discretion determine whether to divide the property into saleable lots. For the purpose of this agreement; a "lot" shall mean one or more items of property that are offered by sale as a single unit.

2. Commission: Bruce Kodner Galleries shall receive and retain it's commission from the proceeds of the sale of each lot amount equal to:
__________________________%
______________________________________________________________________________________________________________________
Consigner acknowledges and agrees that Bruce Kodner Galleries also may collect a buyers premium from the successful bidder (the "Buyer") on each lot in accordance with the conditions of each sale in effect at the time of the auction.

3.Insurance:
Unless Bruce Kodner Galleries and consigner otherwise agrees in writing, Bruce Kodner Galleries shall maintain insurance on the property while the property is in Bruce Kodner Galleries actual physical possession in an amount equal to the Bruce Kodner Galleries average pre-sale high and low property estimate (the "insured Value"). In consideration therefore, consigner agrees to pay to Bruce Kodner Galleries an amount equal to 1.5% of the final bid on each lot sold. Which shall be withheld by Bruce Kodner Galleries from the net proceeds of sale or, if the propklerty is not sold, payable on demand by Bruce Kodner Galleries. Bruce Kodner Galleries liability to consigner, in the event Bruce Kodner Galleries nor its insurers shall be liable or responsible for any damage to gessoed frames or lampshades, nor shall Bruce Kodner Galleries be responsible for maintaining any special storage conditions for any property.

4. Auction:
Consigner grants Bruce Kodner Galleries the sole and absolute discretion and authority (a) determine the time, place, manner and conditions of sale, and (b) to publish descriptions, illustrations, images, photographs, and estimated values of the property in its catalogs, websites, and other marketing or advertising materials. Unless Bruce Kodner Galleries and consigner otherwise agree in writing, All property shall be sold by Bruce Kodner Galleries without reserve to the highest bidder without any warranties or representation as to condition or quantity.

5. Pre-sale estimates and catalog Description:

Bruce Kodner Galleries has determined the pre sale high and low estimated values on each item of the property, as indicated on the front page of this agreement and any continuation sheet. Bruce Kodner Galleries reserves the right to revise any such estimate in its sole discretion at any time. Consignor agrees that any written or oral estimate, appraisal, or other stamen of value on the part of Bruce Kodner Galleries is a statement of opinion only, and shall not be relied upon by consignor or any third party as a representation, warranty, or guaranty of the actual value or selling price. Consignor further agrees that any written or oral statements by Bruce Kodner Galleries of the description, genuineness, authenticity, province, period, culture, source, origin or condition of property is a statement of opinion only, and Bruce Kodner Galleries shall not be held liable for any errors with respect thereto. Bruce Kodner Galleries makes no warranties, representations, or guarantees Whatsoever with respect to the property, Its authenticity, attribution condition, value or otherwise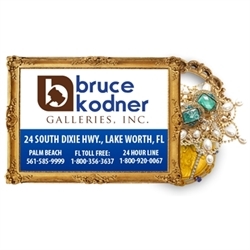 Retired Auctioneer has filled a large store at 29 S. J. Street in Lake Worth with all sorts of treasures. Stop by. Saturday 9-5.
You will find: clothing, shoes, furniture, oriental items galore, imported furniture, wardrobes, armoirs, dining tables, chairs, consoles, cabinets, bric-a-brac, jewelry, handbags, silver plate, glassware, dinnerware, designer accents for the home, dolls, vases, books, kitchenware, paintings, pictures, artwork, sculptures, pedestals, comic books, bronze statues, wooden statues, carpets and rugs just to name a few.
Large selection of Oriental items including statues, vases and a fabulous dining table loaded with mother of pearl.
Come join us and take home a real bargain, without the hassle of bidding!
Hope to see you there.
Thank you for using EstateSales.NET. You're the best!