Living Estate in Duluth, Sewing , Tools and More!
online only auction
•
6
day sale
•
sale is over
Terms
All items offered for sale at the Auction ("Items", "Property", "Product", "Purchases") are offered by BidSells/ Amy martin ("Auctioneer"), as Seller's agent, subject to the following Terms and Conditions of Sale, which, combined with each Auction's specific terms as posted in materials and on the web, make up the Complete Terms and Conditions of Sale.

Extension Feature: The auction will have a time posted when the auction will "start" to close. Items will close at a rate of 1 per minute until all are completed. We also have the bid extension feature in place.
This feature will leave the bidding open for any item that has received a bid within the last 5 minutes from the last recorded bid time, even if the ending time has been reached. This feature has been added to eliminate sniping and to make the online bidding process more like a 'live' auction. Keep in mind that seconds are not recorded with bid entries. A bid recorded at 11:30 and 40 seconds will have a recorded bid time of 11:30.

Buyer's Premium. A 15% Buyer's premium will be added to the price of each item purchased.

Payment. CASH or CREDIT CARD upon pickup are accepted. Auctioneer will email an Invoice to Buyer upon processing payment. Buyer hereby waives their rights to chargeback.

Sales Tax. Auctioneer shall collect and Buyer shall pay all sales tax, based on the local rate, which will be added to the purchase price, including the buyers' premium, on all purchased items. PRIOR TO THE CLOSE OF THE AUCTION, dealers who purchase for resale must fax to Auctioneer a copy their Sales Tax Certificate and complete a resale certificate (GA- ST-5 Form),without which Auctioneer will charge all applicable taxes. Email scanned copies of these documents to amy@amymartinauctioneer.com or bring them to be copied at time of payment and pickup.

Bidding. All bids must be submitted using the online bidding system. Buyer is responsible to confirm their bids for accuracy. Selecting the Review Bids function at any time may do this. Bidders will receive outbid notifications via email up until the last day of the auction, after which time you must log in to the bidding site to confirm your bids. Auctioneer is providing Internet bidding as a service to Buyer using a 3rd Party Bidding System. Under no circumstances shall Buyer hold Auctioneer liable for system failures resulting in Buyer's bid not being properly submitted. This auction uses staggered closing times and dynamic closing. This means 1 item per minute will close in numerical order and that bids received in the final minutes before an items scheduled close time will extend the bidding an additional 5 minutes on that item. Auctioneer reserves the right add to, group, withdraw or re-catalog items in this auction, as well as adjust minimum bids and/or reserve prices and extend or shorten closing times.

Representations. Inspection of items being sold is recommended- we offer Facebook Live preview and are happy to provide additional photos, video and video chat. Please make sure you are satisfied before you bid. All items are being sold As-Is with no warranty. The following is a reminder that there are no returns or refunds for the color being different that it shows on your computer or if there is damage that we didn't see. PLEASE NOTE: We believe in the Golden Rule. If something is vastly different that we describe or is non functioning and we said it was, we will refund your money. You must ask for this before taking home. Auctioneer shall not be responsible for the correct description, authenticity, genuineness of or defect in any lot, and makes no warranty in connection therewith. Auctioneer makes every effort to provide accurate information about the items being sold. However, neither Auctioneer nor its Client will assume responsibility for Buyer's bidding errors. It is Buyers' full responsibility to confirm the accuracy of items offered for sale. Buyers are recommended to inspect all items. Descriptions and photos are offered as a guide only. Do not rely solely on photos to make buying decisions, be sure to read descriptions. Auctioneer shall not be held responsible for such errors as posting the wrong photo for an item. When in doubt about the condition of an item, please bid accordingly.

All Sales are Final. A successful bid at auction, whether live or online, constitutes a legally binding contract of sale. All sales are final. There will be no refunds, returns or exchanges.

Buyer is solely responsible to remove purchases within the time frames posted. All purchases must be paid in full before items will be released from the premises. Buyer must provide his or her own materials and packing supplies. Buyer must provide invoice and I. D. at time of pickup.

Failure to Remove Purchases. In the event items are not removed in the time frames allotted, the items purchased shall be deemed abandoned and Buyer will lose any right, title or interest Buyer may have acquired and the items shall revert and repossess to Auctioneer without further notice to Buyer. Auctioneer shall also be entitled to any costs associated with the removal, storage and reselling of Buyer's items, and any other charges, fees, and expenses incurred as a result of Buyer's failure, including all attorney fees and costs incurred by Auctioneer to enforce Buyer's obligations hereunder.

Failure to Pay. In the event Buyer fails to pay the entire purchase price by the payment deadline, the items purchased shall be deemed abandoned and Buyer will lose any right, title or interest Buyer may have acquired and the items shall revert and repossess to Auctioneer without further notice to Buyer. In addition, Buyer may be prohibited from participating in future auctions.

Non-Delivery. Until such time as purchased items are removed from the premises by the Buyer, Auctioneer shall have the right to cancel or void the sale of any such items purchased by Buyer. Auctioneer shall have no liability to Buyer due to the non-delivery of any purchased item other than the return of Buyer's payment. No claim of any kind for purchased items, whether or not based on negligence, shall be greater in amount than the purchase price paid by Buyer.

Absence of Warranties. The condition of the items being offered varies. The Buyer understands and agrees: (1) that any description or sample of the items given or furnished by Auctioneer is solely for identification, and does not create any warranty expressed or implied, that the item actually conforms to such description or sample, (2) that Buyer or agent on Buyer's behalf has inspected or has had the opportunity to inspect, all of the items upon which Buyer will be bidding and/or does purchase, (3) that all items are purchased and accepted by Buyer "AS IS", "WHERE IS" and "WITH ALL FAULTS". AUCTIONEER MAKES NO WARRANTIES OR GUARANTEES WHATSOEVER WHETHER WRITTEN, ORAL OR IMPLIED AS TO QUALITY, AUTHENTICITY, QUANTITY, CONDITION, USEABILITY, SALEABILITY, WEIGHT, MEASUREMENT, YEAR, MODEL, MECHANICAL CONDITION, PERFORMANCE, OR OTHER SPECIFICATIONS, INCLUDING ANY WARRANTY OF MERCHANTABILITY OR FITNESS FOR A PARTICULAR PURPOSE OR WARRANTY AGAINST PATENT, TRADEMARK, COPYRIGHT OR TRADE SECRET INFRINGEMENT, (4) in the event there are manufacturer warranties in effect for the item purchased, Buyer must make all claims thereunder directly with the provider of the warranty. No statement or statements of any other paragraph herein shall be construed to in any way contradict the provisions of this paragraph.

Acts of Others. Persons in attendance during inspection, sale or removal of merchandise assume all risks of damage or loss to persons, property, or merchandise and shall exercise proper precautions at all times for the protection of persons and property and shall comply with all safety and health requirements as directed by Auctioneer, and local, state and federal regulations. Neither Auctioneer, its agents, its employees or representatives shall be liable by reason of any defect in or about the condition of the premises on which the auction is held. Buyer specifically releases Auctioneer, its agents and representatives from all liability thereof.

Limits of Liability. In no event shall Auctioneer's liability to Buyer exceed the purchase price actually paid for an individual item or lot. A Buyer's claim shall be limited to the amount paid for the merchandise, and shall not extend to any obligation, risk, liability, right, claim, remedy for loss of use, revenue or profit, liability of Buyer to any third party, personal injury, or any other direct, indirect, incidental or consequential damages. Buyer further acknowledges that each item it purchases at the sale represents a separate transaction, and that no one transaction shall be conditioned upon another transaction. Buyer hereby holds Auctioneer harmless from: (1) the acts or omission of any party who provided any items to Auctioneer for sale, (2) the acts or omission of the owner or Lessor of the auction site or the site where the auctioned items are stored, (3) any claims Buyer may have against Auctioneer, Auctioneer's client(s) or any former owner of the property being sold, (4) Buyer's failure in any way to properly inspect items and/or fulfill its obligations per the terms and conditions of the sale, as indicated within this document or as announced by Auctioneer at the time of sale. In the event Buyer provides a deposit or payment using a Credit Card, Buyer acknowledges that it is purchasing under the As-Is, Where-Is terms of the auction and that Buyer shall waive all rights of charge back based on any claims of misrepresentation, non-delivery or non-performance.

Right of Removal. Auctioneer reserves the right to remove any person from the auction site and to refuse that individual's bid, whether offered live, by proxy or by Internet. In such event, any outstanding deposit will be immediately returned.

Indemnification. Buyer shall indemnify, hold harmless and defend Auctioneer, owners and building owners from and against any and all losses, damages, liabilities and claims, including attorney fees, costs and expenses arising out of based upon or resulting from: (1) failure to secure all safety equipment and to meet all applicable government safety standards in removing items purchased or used by Buyer, (2) failure to comply with safety instructions issued to Buyer from Auctioneer, (3) any act or omission of Auctioneer, owners, building owners or their respective agents, representatives or employees, relating to or affecting the items bid on or purchased by Buyer, (4) the claim of any third party claiming or challenging title to any items purchased by Buyer or claiming infringement of any proprietary interest, (5) the claim of any person resulting from Auctioneer offering for sale or selling the items purchased by Buyer, (6) any injury to Buyer or any other person or property of any type whatsoever caused during the inspection, dismantling, removing or transporting of items purchased by Buyer.

Bidder's Number. The bidder's number is nontransferable. All bids made using the bid number will be the responsibility of Buyer. Partnering with The Fastidious orgaNizer, LLC, for this living estate sale. This is a crafter's delight featuring Bernina sewing machines, fabrics, sewing accessories, items to paint, embroider, and more. There are also tools (garden, hand, and power tools). Great items to begin or add to your kitchen. This auction is a wonderful mix of many interesting items. Goodies can be found throughout, so don't just look at the first items! You will find costume jewelry, furniture, games, small kitchen appliances, washer and dryer, Western-themed sculptures, framed art, and so much more! Preview Day will be Friday, January 14, from 11:00 am - 2:00 pm BY APPOINTMENT ONLY. Please contact Lynda at 404-518-8303 or lynda@tfnclean.com to make an appointment. Address will be given when appointment is made. Auction starts to close Monday, January 17 starting at 6pm Pick up days January 20 from 11:00 am - 3:00 pm and January 22 from 10:00 am - 2:00 pm by appt only. Good news! there are no stairs at this location and there is a double driveway for easy access by vehicles with trailers if needed.
Lot

Description

3

Bernina 200 Artista sewing machine cabinet

4

sewing accessories

5

The Duke Express train and Rudolph train

6

Golf boy outdoor/indoor statue

7

Tools box and tools

8

War theme d?cor

9

Craftsman 7 1/4 in. circular saw w/laser

10

Six sided fruitwood table with touch lamp

11

5 artificial flower/leaf decorative items

12

9 clip on men's ties

13

Two framed pictures genuine canavas prints

14

The art of Chokin vase plates w/stands cup w/lid

15

Bathroom items: basket super grip handle+

16

Anders Nicholson Phono CD cassette player & radio

17

Westminster Quartz Pendulum wall clock

18

Dual fan and oscillating fan

19

hanging wood framed wall mirror and 2 tables

20

Two end tables / night stands

21

Baseball caps and hats

22

Emeril Lagasse Power AirFryer 360

23

Replica on stand - NOT real

24

Cuisinart salt & pepper Mills rechargeable

25

4 storm dimmable lanterns with handles

26

Crumb catcher 3 bud vases music box and bowl

27

wreath teddy bears rose music box pillow misc.

28

Egyptian Faience pastel beads in box

29

Bird figures throw and basket-type cloth

30

cutting boards and knives

31

Hair dryer and heating pad

32

3 drawer chest

33

Quilt and quilt rack

34

twin bed

35

twin bed

36

round cabinet table/plant stand artificial plant

37

Desk with 4 drawers

38

sofa

39

Patio furniture wrought iron

40

Bernina 1090 S sewing machine table and more

41

2 metal shelving units

42

Suncast storage unit

43

3 expandable hoses & 4 cable clamps

44

3 SunMate sprinklers & clamps & hose attachments

45

AirMan electric pump Stanley pwer battery chgr

46

EarthWise extendable hedge trimmer & cord

47

Craftsman wet/dry vac

48

3 portable car-size vacuums

49

Chain saw leaf blower 2 trimmers- NEED BATTERIES

50

Garden items (sprayer saws clippers & more)

51

Coca Cola hand truck

52

Black & Decker weed eater

53

Scotts chain saw 16" and extension cord

54

Garden / yard tools

55

Tools: hammers screwdrivers pocket knives etc.

56

handtruck drill bit set tool box misc. tools

57

6 ft aluminum ladder hooks cargo net stool

58

green chair with 2 matching pillows

59

desk with keyboard tray

60

stereo cabinet and tv table

61

storage cabinet with adjustable shelves

62

Three 6-drawer plastic units w/sewing supplies

63

Three chairs

64

Four throws

65

Two Shark vacuum cleaners

66

VHS tapes and CD sets new in wrappers

67

hoops fabric electric scissors patterns

68

3 jackets

69

3 mens dress coats (one with matching pants & tie)

70

ladies clothes (tops and slacks)

71

Georgia Tech Braves Hawks Coca Cola items

72

silver plate serving items

73

Trivets and hot plate warmer and trays

74

Lenox Jacquard Gold China set

75

Crosman Fury II Blackout Pellet Gun Rifle w/scope

76

Gorham silverware set in box

77

Keurig

78

Nuwave Ultimate cookware set

79

Decanter and head sculpture

80

Daisy No 25 Rogers BB & Marksman

81

Clear serving glassware

82

pocket knives

83

teapot glasses mugs

84

kitchen items (Corelle Pyrex pink glass etc.)

85

Pfaltzgraff dish set

86

Cat and misc d?cor

87

Craft items to paint and paints

88

Cannister set and dishes

89

Wagner 8" cast iron skillet

90

Pyrex and Anchor clear cooking & baking items

91

Kenmore microwave oven

92

Christmas decorations

93

Bassett cabinet with 3 drawers and open shelves

94

4 chairs

95

Kitchen table with 2 leaves.

96

Placemats cake stand more

97

Kitchen: silverware scale Pyrex measuring cups

98

suitcases briefcases bags suitcase dolly

99

Two key holders expandable holder clock

100

Wood bench

101

3) lamps Floor marble base and blue table lamp

102

Whirlpool Duet Washing machine

103

Whirlpool Duet Dryer

104

Tupperware Rubbermaid & serving items

105

Kitchen: various items

106

Oreck & Rowenta irons ironing board

107

2 Rubbermaid coolers

108

Three cowboy sculptures

109

Corning Ware and Pyrex

110

Rustic Grinnell Company ashtray brass items

111

Cowboy by Frederic Remington on marble base

112

Nonstick pans and skillets

113

Linx golf watches Sky Caddie

114

Georgia Tech University Barbie

115

lamps printer pencil sharpener misc supplies

116

Western themed framed art

117

3 mens watches (Wedgefield Seiko & Sabona)

118

American Doll "Emma"

119

Decorative items (pics vases animal figures)

120

John Wayne Bronze statue and framed picture

121

Games Legos puzzles

122

craft & sewing materials

123

2 light aqua lamps

124

organizing / storing items

125

step stool drainers bread box wire basket)

126

Drop front secretary / hutch with key

127

Baskets - wood cloth metal braided

128

Misc fix-it items lightbulbs push on lights+

129

2 tool boxes with tools

130

Portapower vacuum

131

Phinney-Walker travel clock GE radio ash trays

132

Wood chair and chest

133

Framed art

134

folding chairs with brown back & seat padding

135

4 1/2 ft lighted Christmas tree

136

costume jewelry: earrings and earring tree

137

14 K gold and sterling silver jewelry

138

Basket of winter toiletries

139

jewelry music box with costume jewelry

140

white lace curtains lace collar & 2 doilies

141

Better Homes & Gardens throw with Sherpa lining

142

3 pop up cubes backpack zippered bags

143

Belkin battery back up for AT&T U-verse

144

Cleaning items

145

king fruit wood headboard

146

100+ books-paper back hard cover & periodicals

147

2 office chairs

GAL2837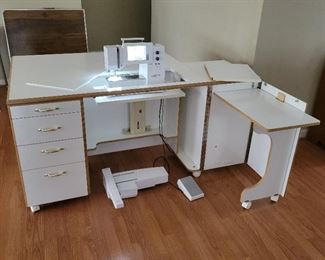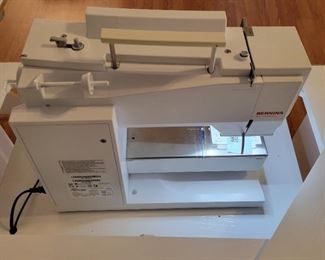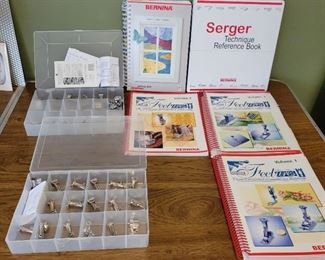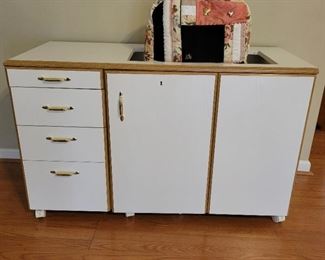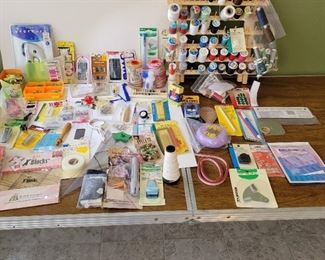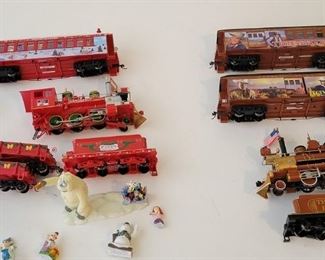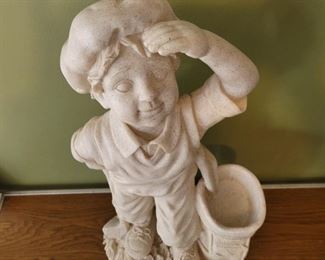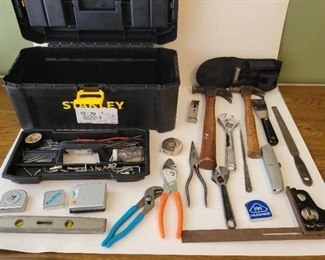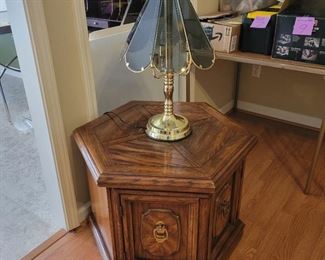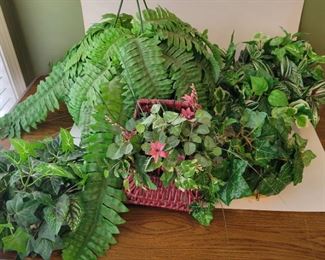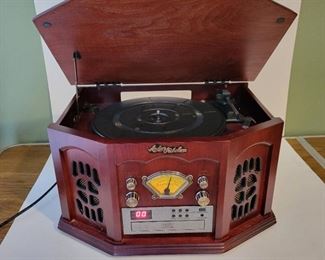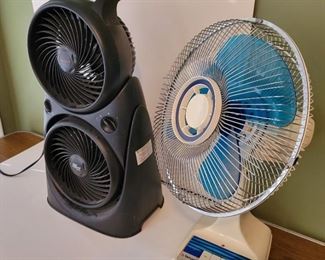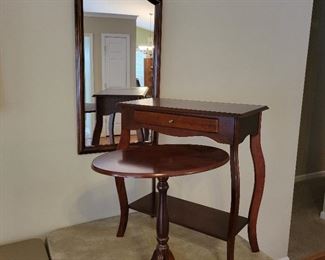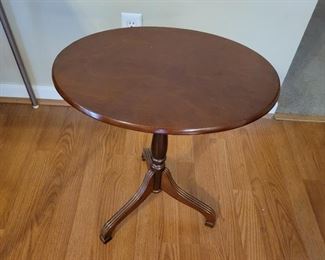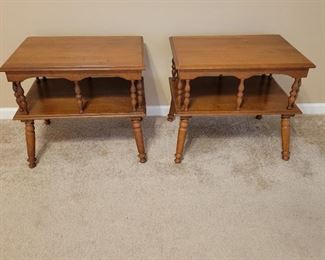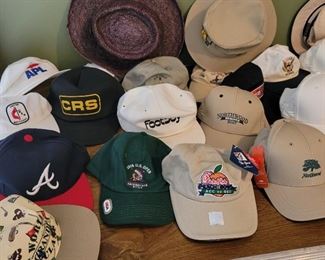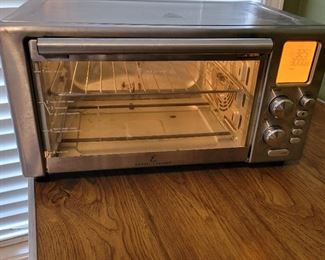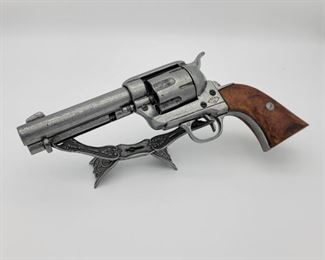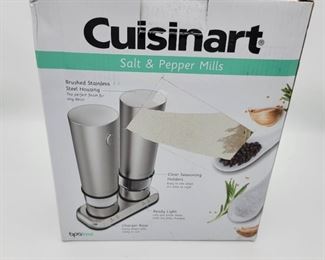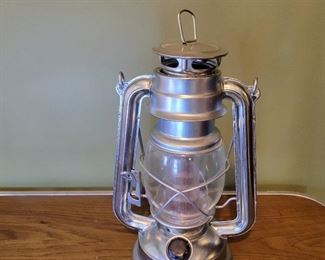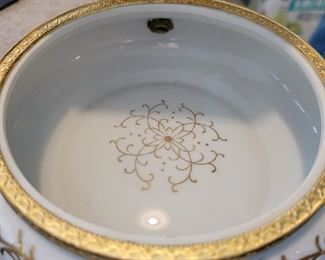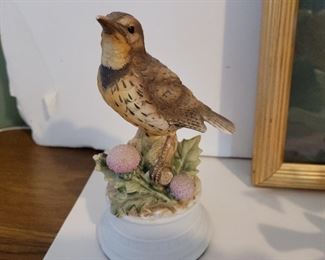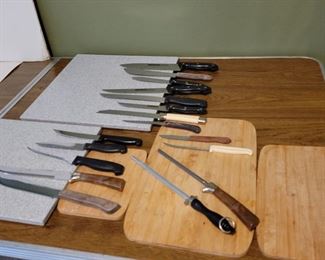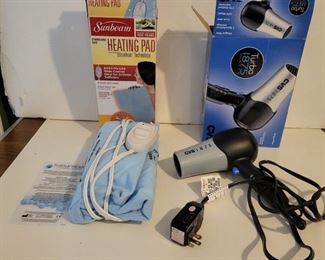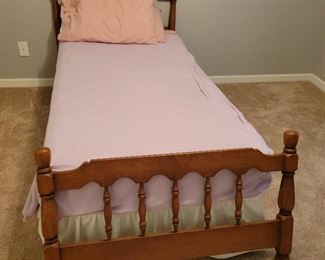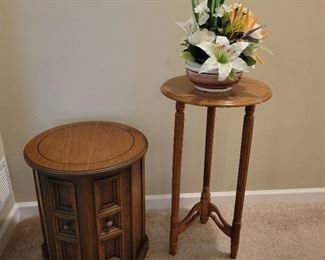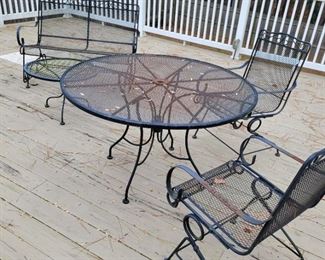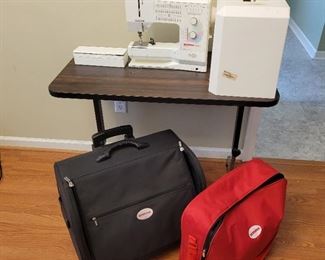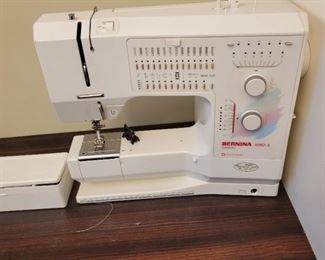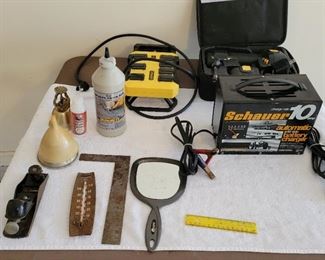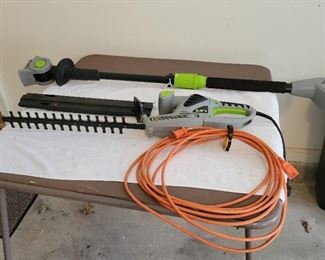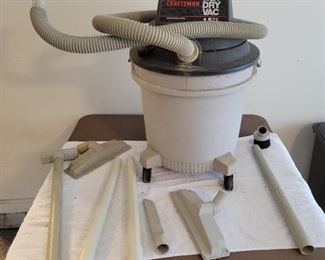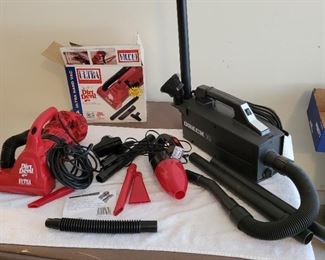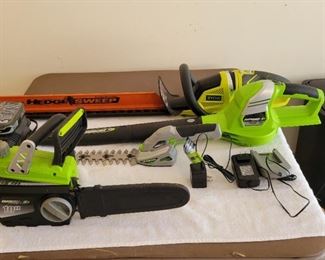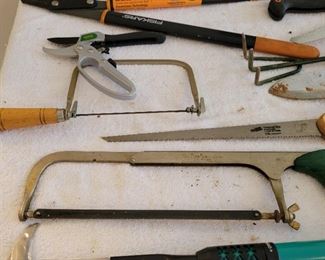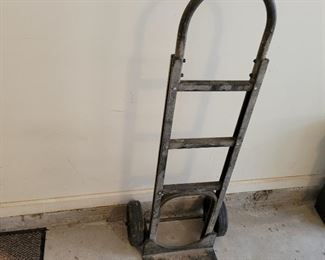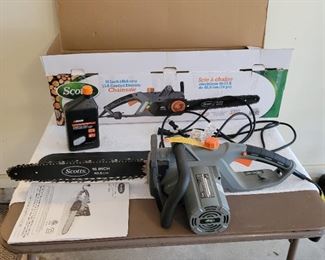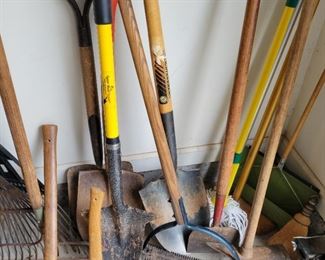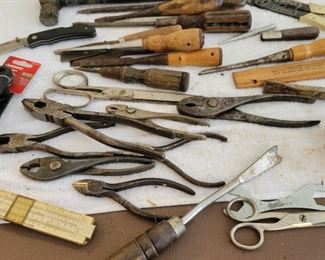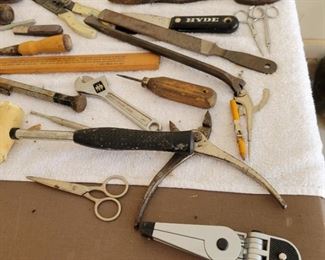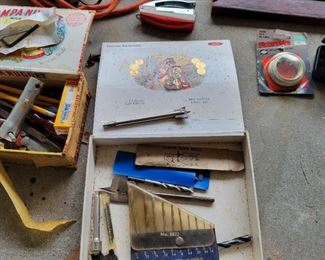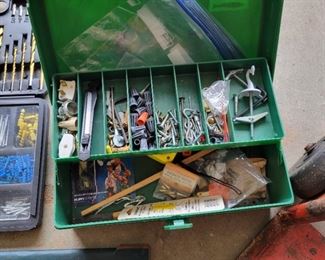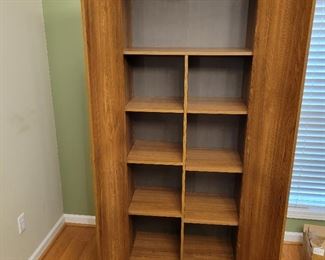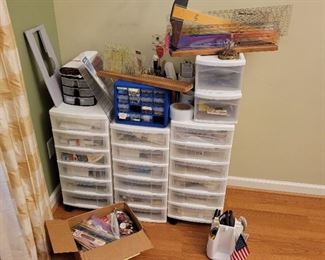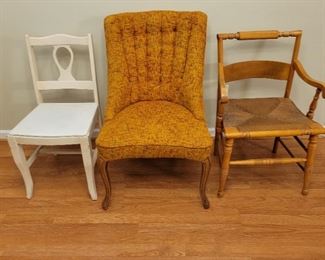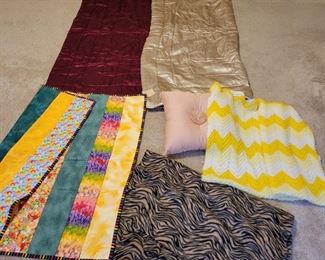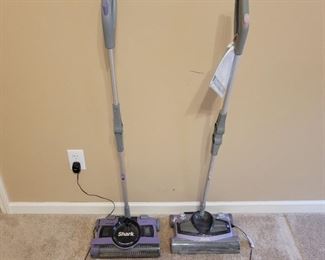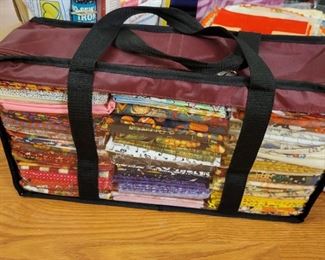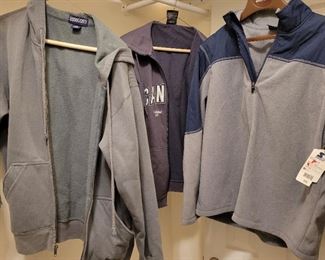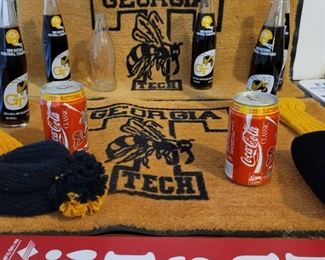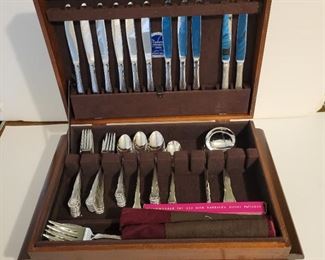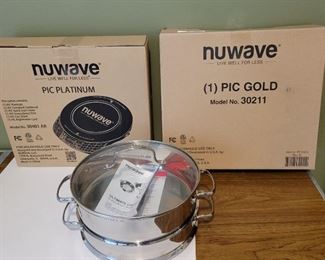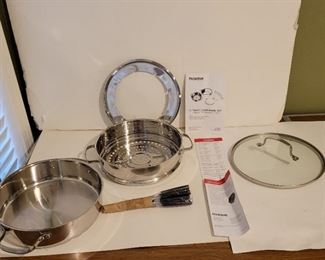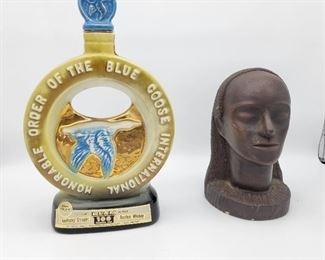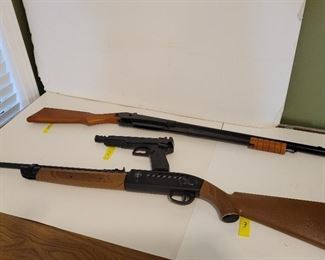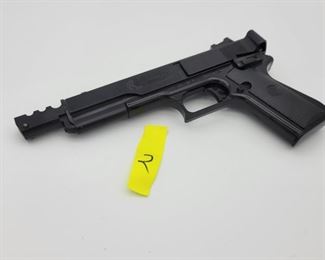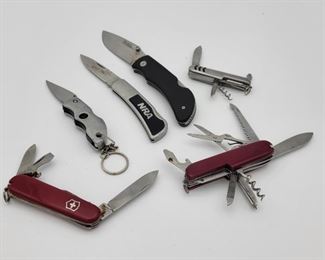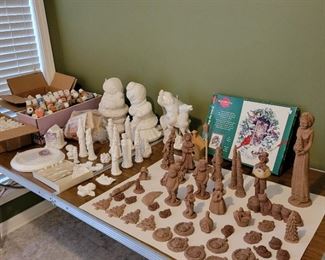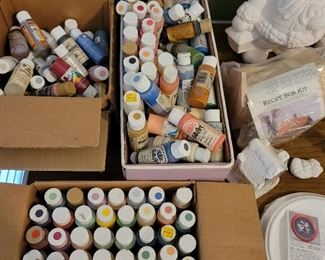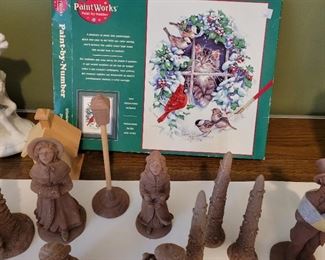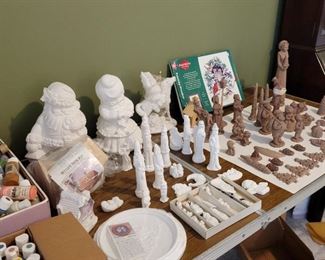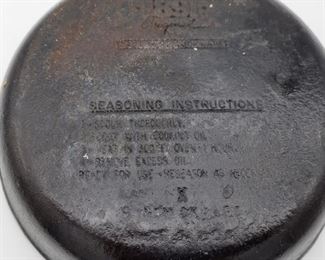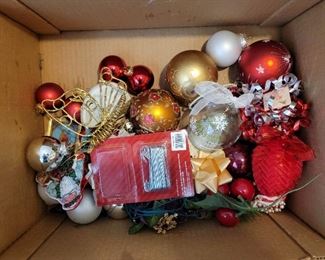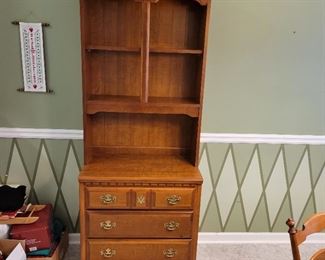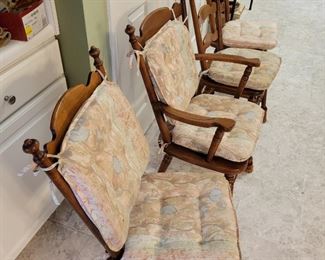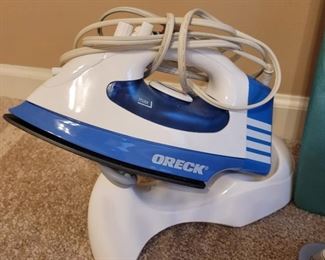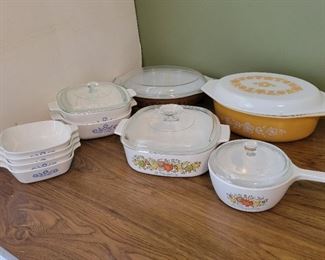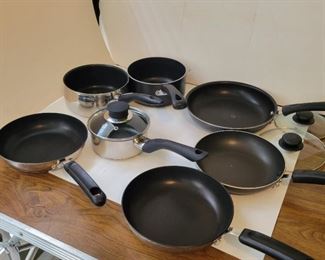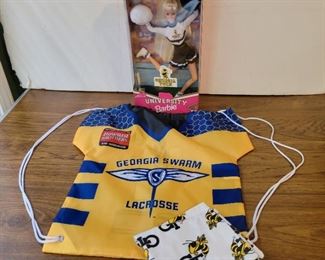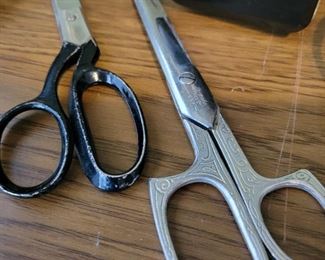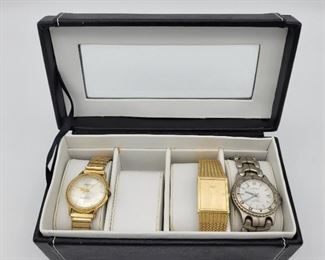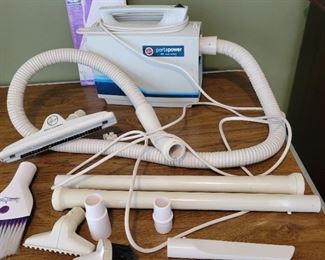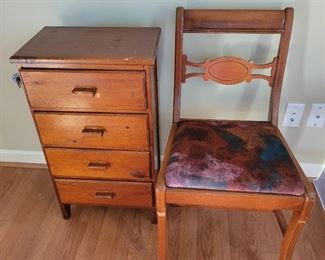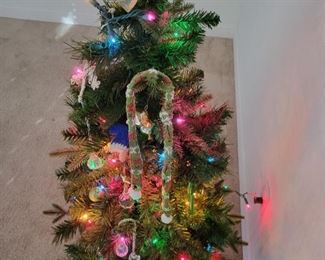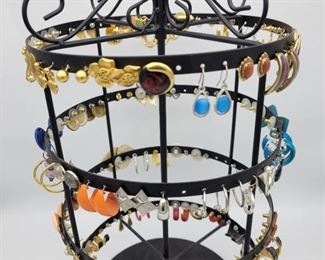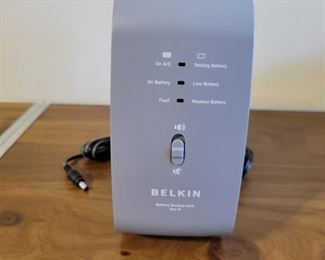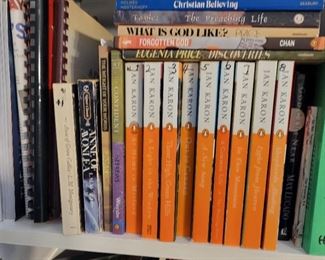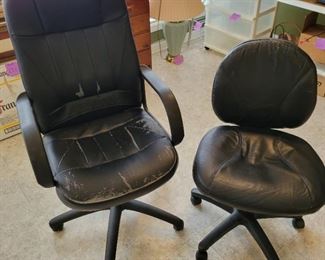 Thank you for using EstateSales.NET. You're the best!