Sunday Update: 50% Off Every Tag
estate sale
•
2
day sale
•
sale is over
Terms
IMPORTANT:

Bring GPS. Village only allows us to put out 2 signs - 1 directional and 1 in yard of sale.

Gate 21 (Property is on the lake). In Crystal Lake / Village of Lakewood. Zip code 60014.

*Park on street on *opposite side of lake* without blocking mailboxes or driveways. Be mindful of people's lawns. Do NOT park in driveway.

*Walk ALL the way down driveway to get to entrance. Back of house faces street.

Picking up furniture? CAUTION! Do NOT drive past the garage as roof is low and there are metal entry gate boxes blocking part of driveway. There are also lots of people on foot there. Do NOT move our Iron Horse sign blocking this part of driveway!

Keep your younger children with you at all times. Property is right on the water - please stay off the lawn and out of the water for safety reasons! We are not responsible for any accidents or injuries.

Garage is a separate checkout. Cash only for garage. Garage will be open to shop for those in line without wait, with exception to 6' social distancing requirements. Must wear mask in garage, on all of property.

COVID-19 PROTOCOLS:

We care a great deal about our customers & staff and are practicing the current safety protocols.

You MUST wear a face mask while on the sale's property (outside AND inside). Bring your own mask; we will not be providing them. If you do not have a mask on, you will not be allowed inside. Bring your own hand sanitizer. Just following the village's and state's rules.

You must practice social distancing of at least 6' apart (outside AND inside).

Covid-19 protocols require us to limit the amount of people inside the home at one time. There may or may not be a wait to get inside. This sale is worth the possible wait in line you may have. Your safety is most important.

REGULAR TERMS & CONDITIONS:

We accept Cash & Credit Cards only (CC over $50 w/ valid photo ID ). Credit cards MUST be swiped. No payment exceptions! All sales final. Items sold 'as are'.

We are NOT responsible for any accidents or injuries. Enter at own risk. Keep your younger children with you at all times. Read our signs posted throughout property and watch for blue tape on floors that alert you to upcoming steps & caution areas.

Bring your own help & tools to move your purchases. There is no one here available to help you with that (my staff needs to do their other jobs and most of us have bad backs).

There is no public-use restroom available.

Numbers are given out at 8am both days of sale. You should take a number for every person with you - this includes children. We take no part in starting or maintaining "outside" list prior to 8 a.m. We accept a "watched" list only.

What is a "watched list?" The first person to the sale location should start a list if they want to be the first on it. Bring a notepad and pen. This list must be maintained (watched) and CANNOT be left at the front door unattended as people have stolen lists and replaced them. It is the list starter's job to make sure all people to the scene before 8am get their names on that list and you must also list how many numbers they need (children also need a number). Make sure you tell people that they MUST be in line by 8am sharp or they could lose their number if late. It is easiest for you if you park right in front of the house, or the closest you can. Wave people down if they are not coming to your car to get on list - you do not want someone to start a 2nd list not knowing you are already there. Many list starters put the list on their car windshield while they sit in their car. At 7:59, turn that list over to our door staff to hand numbers out by.

WE DO NOT RELEASE PRICES BEFORE THE SALE FOR MANY REASONS, NOR DO WE ALLOW PRE-SALES. We guarantee that what we advertise will be in the sale when we open first thing first day. Sorry, WE DO NOT SHIP ITEMS. All sales are final - must purchase in person. Thank you :)
Sunday Update: 50% Off Every Tag
Don't miss this fabulous sale!
Make sure to read terms & conditions
and very important info above.
Partial List of Items:
ca 1870 Victorian Sterling Silver Knife Sharpener
ca 1900 Reichszinn German Beer Stein w/ Pewter Lid
1-1/2" Round-A-bout Bobbers - New Package
19" Sanyo LCD TV, #DP19647 - Silver, Works Great
1970s Yellow and Green Big Flower Napkin Holder
20# Cast Iron Dumbbells
2-Drawer Steel File Cabinet, Beige
2-Tier Brown Iron Tea Cart - Very Nice
30 Gallon Flex Large Black Garbage Bags - Near New Box
32" Samsung LED Smart HGTV, Model #UN32H5201 - Works Great
39" Vizio D-Series Full-Array LED Smart TV, Model #D39h-DO - Works Great
3-Drawer Bombe Front & Sides Vitrine w/ Glass Shelves, Drawers, & Interior Lights, Vintage-Style (No Key, Can Open Still)
4pc Bob O'Link Golf Course (Highland Park, IL) Tervis 12oz Tumblers Set
4pc Dining Room Armchairs, Pale Pink
4pc Plastic White Outdoor Chairs, Set
50" Panasonic High Definition Plasma TV w/ Manual, #TH-50PX6U - Works Great
6pc Chateau Cutlery (France) Seafood Forks Set, in Original Box - Like New!
71pc Aynsley England Fine Bone China 'Empress' White w/ Gold Design Dinnerware Set w/ Serving Pieces.
'75 Years With The Fighting Hawkeys' Hardcover Book by Dick Lamb and Bert McGrane
A. Giannelli Alabaster Statues, Signed: Male David Nude Standing (w/ Marble Base) - 1971, Man (Moses?) w/ Long Beard Sitting (w/ Base) - 1968, and 2 Fighting/Wrestling Men (w/ Marble Base) - 1970
American Bald Eagle Bowne & Co. Bicentennial 1775-1975 Figurine / Statue
Animated 24" Tall Christmas Figures: Golfing Santa, Mrs. Claus and Santa w/ Bell
Arthur Court Aluminum Circular Fish Design Platter and Long Easter Bunny Tray - Both in Excellent Condition
Artificial Christmas Trees: 5' Lansing Needle Mixed w/ Warm White LED Lights (w/ Original Box) and Puleo Optic Glow Fiber Optic Christmas Tree #L14 - 3'?
Antique Alfred Meakin Ltd. (England) Royal Ironstone Water Pitcher (No Bowl), White
Antique Brass & Copper Pot w/ Handle
Antique China Serving Pieces: M&Z Austria Covered Casserole / Serving Dishes
Antique Floral Plates (China), Framed - x2 Different
Antique School Bell
Antique Teacups and Saucers, Variety
Art, Original
A. Santini Alabaster Statue of 3 Nudes (2 Men, 1 Woman) w/ Base - Vintage
Asian Furniture & Decor - Vintage and Gorgeous!
Asian Wooden Wall Display w/ Shelves & Door (Can Be Locked)
Atelier Phidias Greek Vase Painted Plate by Konstantine Peppas, Framed
Baccarat Crystal Dog Figurine, Signed - w/ Ear Chip
Baccarat Crystal Egyptian Cat Figurines, Signed (1 Perfect Condition and 1 w/ Ear Chip)
Baccarat Crystal Elephant Figurine, Signed - Perfect Condition
Baccarat Crystal Falcon Figurine, Signed - Perfect Condition
Baccarat Crystal Pointed Obelisk / Obelisque, Signed - Perfect Condition
Baccarat Crystal Pointed Obelisk / Obelisque, Signed - Perfect Condition (Different From One Listed Above)
Baccarat Crystal Sea Lion, Signed - Perfect Condition
Baccarat Crystal 'Tauni de Lesseps' Horse Head, Signed - Perfect Condition
Baccarat Crystal Vase: 8" Serpentine, Signed - Perfect Condition
Banana Boat Sunscreens: SPF 30 & SPF 10
Barcalounger Off-White Leather Rocker / Recliner
Bedroom Mirror, Vintage - MCM
Belleek Long Thin Dish / Tray
Bentson Steel File Desk (Black) w/ Wooden Top - Vintage
Best of Lucy & Friends DVD
Binoculars - Vintage: Tasco 8 x 40mm # 7199 w/ Case and Phoenix 10 x 50 Wide Angle
Black & Decker Hedge Trimmer, 22" Blade and w/ Auto Stop
Black Sectional Couch
Blankets & Pillows
Blood Pressure Monitor, Digital - Omron
Blow Dryers, x2
Blower Vac, Handheld
Blown Glass Flower, Signed
Bob Hope 1978 Desert Classic Oversized Glass Trophy
Bob Hope 1980 Desert Classic Marble Bookends, Pair
Bodum French Coffee Press
Books: Fiction, Non Fiction, Sports, Military, History, Travel, Animals, Gardening, Cookbooks, Local Interest, Chicago, Cubs, Golf, ...
Books on CD: 'Team of Rivals: The Political Genius of Abraham Lincoln' by Doris Kearns Goodwin AND 'Washington's Crossing' by David Hackett Fischer
Bose 161 2pc Shelf Speakers, Black - Work Great
Brass Rubbings, Framed - English
Brass Whale Figurine
Brookstone Heated Neck & Shoulder Massager, w/ Original Box
Broom w/ Matching Dust Pan Set - Red
Buffet Server on Wheels
Caillebotte Double Deck of Playing Cards by Platnik of Austria
Cake Stands - Smaller Cakes
Candle & Lamp Oil - Smokeless and Odorless, x 3
Canon Printer w/ Ink, #MP280 - Works
Carving Sets: Sterling Silver and Silver Plate
CDs
Century Battery Charger, #87151
Child's Rocking Chair
Christmas Ornaments & Lights
Christmas Paper Napkins
Christmas Tree, Artificial (Smaller)
Christmas Wreaths
"Cinnabar" Red Lacquer Chinese Plate w/ Stand - Vintage Reproduction
Civil War Cartridge Box Shoulder Strap Eagle, Leaded Back
Cleaning Products
Cocktail Forks, Silver Plate
Computer Monitor - Samsung SyncMaster 713V / GS17CSSS
Concrete Pagoda, Yard Decor - Vintage
Coolers
Corningware / Corning Ware Bakeware
Costume Jewelry
'C' Paper Cocktail Napkins - New Packages of
Crestwood Partial China Set, Black & Gold on White
Crockpot - Red Rival
Crosman 760 Pumpmaster BB Gun
Crystal Dolphin Tray, Unmarked
Crystal Brands - Swarovski, Baccarat, Orrefors, Bayer, Daum, Waterford, & Other
Crystal Stemware and Glass Sets, Variety
Cuisinart Stainless Can Opener, Electric
Dansk Gunnar Cyren 1970s Silverplate Animal Paperweights / Figurines: Elephant and Giraffe
Daum Crystal (France) Tall Crane / Egret, Signed - Perfect Condition
Decanters - Glass, Crystal & Vintage
Decanter Stoppers - Extra, Crystal x 3
Decorative Soaps w/ Soap Dish - New in Package, x2 Different
Dell Keyboard w/ Cord
Diamond Brilliance 30pc Plastic Flatware, New Box
Digital Bathroom Scale, Silver - Health O Meter
Dining Room Table - Black Lacquer
Door Stop - Brass Virginia Metalcrafters Hessian Soldier, Vintage
Drinking Glasses
Duracell D4 New Battery Pack, Expires 2029
DVDs, Some
Early 20th Century Mahogany Game Table - Versatile Top Can Remain Completely Open, Folds Flat Up and Over, or Folds Half Way Up and Rests Against the Wall to Create a Backdrop. Legs Swing to Side.
Egypt-themed Metal w/ Crystal Bookends, x2 Sets
Electric Pencil Sharpener
Elephant: Larger Hand-Carved Elephant Statue
Encyclopedia Britannica Year Book / Science and the Future 1975 - 1982, 13 Volume Set
Equestrian / Horse Riders Baking / Serving Tray, Aluminum - Vintage
Extension Cords
Fitz & Floyd Herb Design Serving Tray / Platter
Flatware Set - 2 Mixed But Very Similar Patterns
Flexsteel Couch (Sleeper Sofa) - Excellent Condition, Clean
Flow Blue Lamp
Folding Chairs (Steel), x3
Folding Tables (Steel w/ Woodgrain Top): Rectangular and Round
Fountain Pens / Fine Writing Instruments: Levenger Fountain Pens, Levenger Mechanical Pencil, Waterman Fountain Pen - 18K Gold Nib, Parker Sonnet A11 Fountain Pen - 18K Gold Nib, Montblanc - Meisterstuck Le Petit Prince Classique Fountain Pen -14K Gold Nib, Montblanc - Meisterstuck Le Petit Prince Classique Rollerball Pen - Red Ink, Montblanc - Meisterstuck Le Petit Prince LeGrand Document Marker, Montblanc - Meisterstuck Le Petit Prince LeGrand Mechanical Pencil, Visconti Pericle 2001 Fountain Pen, Montblanc Fountain Pen, Montblanc - Meisterstuck Gold Coated Classique Mechanical Pencil, and Montblanc - Meisterstuck Gold Coated Classique Fountain Pen - 18K Gold Nib.
Franklin Library Leather Bound Hardcover Books - All Excellent Condition, Vintage: Gone With The Wind by Margaret Mitchell, Confessions of Nat Turner by William Styron, John Cheever Stories, Collected Stories of Katherine Anne Porter, House Made of Dawn by N. Scott Momandy, Elbow Room by James Alan McPherson, The Fixer by Bernard Malamud, Killer Angels by Michael Shaara, Optimist's Daughter by Eudora Welty, Angle of Repose by Wallace Stegner, Collected Stories Jean Stafford, Journey in the Dark by Marvin Flavin, Dragon's Teeth by Upton Sinclair, In This Our Life by Ellen Glasgow, Advise and Consent by Allen Drury, Arrowsmith by Sinclair Lewis, Early Autumn by Louis Bromfield, Bridge of San Luis Rey by Thorton Wilder, Laughing Boy by Oliver La Farge, Years of Grace by Margaret A. Barnes, A Fable by William Faulkner, Andersonville by MacKinlay Kantor, To Kill a Mockingbird by Harper Lee, Honey in the Horn by H.L. Davis, The Town by Conrad Richter, All The King's Men by Robert Penn Warren, Lamb in His Bosom by Caroline Miller, Now in November by Josephine Johnson, Tales of the South Pacific by James Michener, Keepers of the House by Shirley Ann Grau, Age of Innocence by Edith Wharton, Edge of Sadness by Edwin O'Connor, The Travels of Jaimie McPheeters by Robert Lewis Taylor, Guard of Honor by James Gould Cozzens, A Bell For Adano by John Hersey, The Way West by Guthrie, Scarlet Sister Mary by Julia Peterkin, Old Man and the Sea by Ernest Hemingway, The Caine Mutiny by Herman Wouk, The Store by T.S. Stribling, The Good Earth by Pearl S. Buck, Grapes of Wrath by John Steinbeck, The Yearling by Marjorie Kinnan Rawlings, Late George Apley by John P. Marquand, Magnificent Ambersons by Booth Tarkington, His Family by Ernest Poole, So Big by Edna Ferber, The Able McLaughlins by Margaret Wilson, One of Ours by Willa Cather, Alice Adams by Booth Tarkington, The Reivers by William Faulkner, A Death in the Family by James Agee, and Humboldt's Gift by Saul Bellow.
Frederic Remington 'Bronco Buster' (AKA 'Broncho Buster') Bronze Cowboy on Horse Statue by Chesapeake Reproductions
Free & Working Tube TV
Games: Flip Flop Faces by Discovery Toys, Sleeping Queens Card Game, Balloon Lagoon by Cranium, Twister Moves, TinkerToys Junior Building Set #54811, Upwords by Scrabble, and Puzzles.
Garage Misc.
Garbage Cans / Waste Baskets (Decorative Style) - Small For Office, Bedroom, & Bathroom, Vintage
Garden Cart - Heavy Plastic, w / Wheels
Gardening Tools
Geri Meyer 1996 Decorated Cut Design Egg Shell, Signed
Glassware
Gold Imari Hand Painted Shallow Bowl
Gorgeous Double China Cabinet - A Statement Piece! *Cannot be picked up before Sunday at 2pm
Govino 4pc Set of 'Go Anywhere Wine Glass', in Original Box
Greek Vase - Black w/ 24K Gold Design, by LYK
Hammersley Demitasse Cups and Saucers Set
Harmon Kardon HK395 3pc Subwoofer w/ 2 Multimedia Speakers
Haviland Partial China Set - Floral, Mostly Pink on White
Helikon Pair of Sitting Chairs, Tan w/ Wooden Base
Highboy Dresser / Chest of Drawers
High Boy Dresser, Vintage - MCM
Hockey Sticks: Joe Thornton 19 CCM, x2 - Great Condition
Hose Reel Station
"Hospital" Bed
Ice Buckets, Vintage
Iced Tea Spoons, Silver Plate
Infant / Elderly Video Monitor Set by Summer Infant, Inc.
Iron
Jacquin / Jacques Desplanches (1943 to Current, Paris) - Original Paintings, Signed Jacquin - Vintage.
James / Jim Beam 1968 Illinois Sesquicentennial Decanter
King Size Bed w/ Mattress Set, Vintage - MCM
King Size Sheets & Blankets
Kinnick Stadium Iowa Hawkeyes by Danbury Mint
Kitchen Misc.
Kitchen Utensils
Kleenex
Knives, Including J.A. Henckels
Knoll International / Florence Knoll MCM / Mid Century Modern Long Oval Dining / Conference Wooden Table w/ Chrome Base, w/ Original Label Under Top (320 Park Avenue, New York, NY) - 90" Long.
Krosno Crystal (Poland) Decanter
Lake Noodles & Floats
Lamps
Lamp Timers
Lasko Table Fan (Electric) - Black, Excellent Condition
LED Dimmable 60W Soft White 6-pack of Light Bulbs
Lenox Tools Clip, Vintage
Linens: Towels, King Size Sheets, Misc. Blankets, Placemats, & Cloth Napkins
Loveseats - Matching Pair
Lowboy Dresser
Lowboy Dresser, Vintage - MCM. Currently Being Used in Office Area But Matches Guest Bedroom Furniture.
LP Records
Luggage
Magna Lite / MagnaLite Wagner Ware 4265 Aluminum Double Roaster
Marble Coffee Table - Black
Marble Tabletop / Desk Globe - Large & Gracefully Spins, Very Nice
Marble-top Tiny Side Table (Off-White) w/ Wooden Base
Mark Twain Works Author's National Edition 22 Vol. Set, 1899 American Publishing
MCM / Mid Century Modern Faux Bonsai Tree in Planter (For Tabletop)
MCM / Mid Century Modern Designed Brass Table w/ Decorative Brass Base. Fantastic! 47.5" diameter, 26" tall.
MCM / Mid Century Modern Display / Curio Cabinet - Brass w/ Glass Front & Sides, Mirrored Back and Interior Lights. Fabulous! So Striking!! Mastercraft? *Cannot be picked up before Sunday at 2pm
MCM / Mid Century Modern Furniture & Decor
Men's Jackets, Coats and Suit Jackets" Sz M/L Regency Cashmere Long Coat, Jos. A. Bank Sz Large Wool Jacket - Nice!, Sz 52 Short Burberrys Trench Coat, & Others
Miele Carina Canister Vacuum w/ Attachments
Mirrors
New York Giants 1942 Official Score Card, Polo Grounds - Red, White & Blue Cover
Nightstands / Night Stands - 2 Vintage - MCM (Sold Individually)
Noma Ornamotion Tree Top, in Original Box
Noritake Serving Platter
Orrefors Crystal Pair of Candle Pillar Holders, Tall (Perfect Condition)
Osterizer Classic Blender Base - No Glass Pitcher
Our Famous Big Baggies of Misc. Goodies!
Paper Plates, Paper Napkins & Plastic Cups - Many New
Paper Shredder, Royal Confetti Cut - Beige
Paris Watercolors (3 Different) by Aldo Raimondi (Italy 1902-1997): Le Pont Alexandre III, Le Sacre Coeur and Untitled.
Patio Yard Candles - Sticks For Ground
Patio Cart - Black Iron, Vintage
Pedestal Table (Large) w/ Mother of Pearl & Abalone Birds w/ Floral Inlay Border at Top & Side. Comes w/ Matching Lazy Susan. Vintage. Fantastic!
Pet Crates
PGA Golf Umbrella
P.G. Wodehouse Jeeve's Books (3 Different) & Purloined Paperweight Book
Phillipe Deshoulieres Porcelain De Limoges Hors 'doeuvre Plate Set, 12pc
Picture Frames
Pioneer Stereo AM/FM Receiver, #XS-240 (Needs Goo Gone Treatment To Remove Labels Residue Near Buttons)
Placemats & Cloth Napkins
Planters, Oriental - Porcelain, Large
Planter, Pottery - Outdoor
Plastic Cups - Clear, Disposable - Many New Packages
Plastic Cutlery - New
Playing Cards - Decks of
Pope Gosser Partial China Set
Pots and Pans
Pottery Bowl, Large - Signed
Pressed Glass
Puzzles - Ken Zylla Thunder Road, Vintage Kellogg's, Telephones, Street Market by Big Ben, Vintage Stamps, & Darrell Bush Canoe Creek.
Pyrex Clear Bakeware and White Glass Butter Dish
Rayovac Workhorse Lantern Flashlight
Revere Ware 2504 Stainless Steel Double Roaster
Salad Tossing Utensil Sets
Salt Cellars, 2
Sanyo Multi-Play Compact Disc Player, #CPM 900
Schumacher Battery Maintainer
Scissors, Variety
Screwdrivers
Sentry Safe
Shovels and Rake
Shower Chairs: 1 w/ Back and 1 w/o Back - Excellent Condition
Side Table Cabinet, Wooden - Vintage, x2 (Sold Individually)
Side Table - Wood & Brass Base w/ Beveled Glass Top
Silver Overlay Glass Decanter,
Silverplate / Silver Plate Flatware & Serving Pieces
Slot Machine - Bally Quarter Electric Slot, Vintage - Needs Rewiring
Sofa / Hall Table w/ Drawers
Sony CD Radio Cassette Player, #CFD-ZW755 - Works Great
Sound Asleep / SoundAsleep Air Mattress w/ Bag, Foam Topper and Pump - Clean & Excellent Condition! See Pictures (We let the air out and put back in its box).
S&P Sets
Spode Demitasse Cups and Saucers Set (Dark Blue w/ Gold on White)
Stanley Power Lock Measure Tapes: 12' and 35'
Stemware
Step Ladder
Step Stool - Folding 2-Step, White w/ Black
Sterling Silver: 3 Vases, Pair of Weighted Candlesticks, 2pc Towle Carving Set, Victorian Knife Sharpener (Handle is Sterling), 2 Sugar Tongs, & 3 Small Bowls
Sterling Silver Jewelry
St. Louis Signed Crystal Ashtray, Vintage
Swarovski Crystal Miniature Swan
Teapots, Variety
Telescope by Tasco: 20x - 60X 60mm Zoom
Thanksgiving & Fall Paper Cups, Napkins and Plates
'Their Finest Hour: Profiles of America's Veterans Hardcover Book by Wesley Millett
Tiffany & Co. Pair of Candlesticks, Marked
Toaster Oven by Oster, White
Tool Chest (Double) by Stack-On, Rough Condition But Functional
Tools
Toscany Hand Blown Reindeer Figurine
Toshiba Hi-Fi VCR & DVD Video Recorder, #D-VR4SU
Towels
Towle Sterling Silver 2pc Carving Set
Treadmill - Horizon T901 Premier, Excellent Condition
'Trout Valley, The Hertz Estate and Curtiss Farm' (IL / Images of America) Book by Lisa Damian Kidder
TV Cabinet Sofa Table - Long
Union League Club of Chicago - 4pc Cup Set, Chrome
Union League Club of Chicago Limited Edition Serigraph by Mark McMahon (1950-___), 1989 #73/100
Union League Club of Chicago - 'The First One Hundred Years' Hardcover Book by Newell P. Crockett
Val St. Lambert Crystal Game (Bird) Plate, Clear
Vanilla Cashmere Tealights - Big Box of
Vases - Including Some Crystal
Victorian Figural Silver-Plated Napkin Ring
Vintage Asian 6-Panel Screen / Coromandel. One Side Decorated w/ Hand-Carved & Painted Stone Figures. Reverse Side Hand Painted. Currently Unhinged Into 2 Parts - As 4 Connected Pieces, and 2 Connected Pieces. Use All 6 Panels Together or Separate For Smaller Areas. MCM / Mid Century Modern.
Vintage Asian Black Lacquer Hand Painted Cabinet w/ 4 Drawers Behind 2 Doors - w/ Applied Figurines & Other Details - MCM / Mid Century Modern
Vintage Asian Black Lacquer Hand Painted Flatware Chest + 7 Drawers - MCM / Mid Century Modern
Vintage Asian Black Lacquer Hand Painted Planter w/ Stand - w/ Applied Figurines & Other Details - MCM / Mid Century Modern, x2
Vintage Asian Black Lacquer Long Hall Table w/ Glass Top & Drawers - w/ Gorgeously Detailed Hand-Carved & Painted Stone Figures - MCM / Mid Century Modern
Vintage Asian Cobalt Blue w/ Colorful Design Vases, x2 (Larger, Sold Individually)
Vintage Beaded Christmas Tree w/ Decorations - Miniature
Vintage Bookends Sets
Vintage Brass Footed Bowl
Vintage Cast Iron Grape Pattern Garden Chair, Black
Vintage Cloisonne Ginger / Spice Jar
Vintage Concrete Yard Statuary - Tall Asian Figures, x2 w/ Red Paint and Large Vishnu(?) Figure w/ Some Original Red Paint
Vintage Garden Plant Boxes, Long (x2) - Black Cast-Iron-Look, Lighter
Vintage Garden Plant Stand, Long - Black Cast-Iron-Look, Lighter
Vintage Hindu Hand-Carved Wooden Figures, Tall - Dancing God and Goddess (Sold Individually)
Vintage Miniature Lead Animals - Lama, Horse, Cow, Dogs
Vintage Miniature Lead Soldiers, England - Britains, Britains Depose, Cherilea, Johill Co., & Unmarked - LOTS. American, German, African, Indian, Civil War, Army, & More.
Vintage Nautical / Barometer Lamp - Swivel with Dfferent Dial on Each Side
Vintage Palm Desert Eldorado Country Club Glass Tray / Dish
Vintage Pyrex Covered Casserole Dish, Baby Blue w/ White Design
Vintage Red Glass Decanter
Vintage Reuge Swiss Movement Music Box - 'The Impossible Dream' w/ Hummels Design Top
Vintage Ribbon, Bows & Gift Tags Assortments, x2 Large Baggies
Vintage Robeson Floral 'Country Kitchen Cooking' Hand Mixer
Vintage Rocky Mountain National Park Souvenir Carriage w/ Horses (Mini)
Vintage Rogers Bros. 'Eternally Yours' Silver Plate 82pc Flatware Set in Silver Chest - (Marked '1847 Rogers Bros.', but that does NOT mean the age - this is 1920s to 1940s).
Vintage Seiko Quartz Clocks: #QQZ165G / 28503E and # QSG235G / 45002
Vintage Steel (Black) File Cabinet Desk w/ Wooden Top, by Bentson
Walker (Medical) w/ Seat, Black - Very Nice Condition
Watches - Ladies Costume
Waterford Crystal 2pc Hearts Tall Flutes Glasses
Waterford Crystal Ashtray, Small
Waterford Crystal Bowl, 10" Diameter
Waterford Crystal Decanter
Waterford Crystal Tray (Round) w/ Handle
Waterford Crystal Vase, 10" Tall
Watering Cans
Weed Block Mesh
Wheelchair - Excellent Condition
Wine Glasses
'Wisconsin Past and Present: A Historical Atlas' Hardcover Book by The Wisconsin Cartographers' Guild (No DJ)
'Woodstock' (IL / Images of America) Book by Nancy L. Baker
Yamaha Natural Sound Compact Disc Player #CDC-506 (Needs Goo Gone Treatment To Remove Labels Residue Near Buttons)
Zuni Sterling Silver Multi-Colored Geometric Stone Inlay Necklace, Signed by Sensa Eustace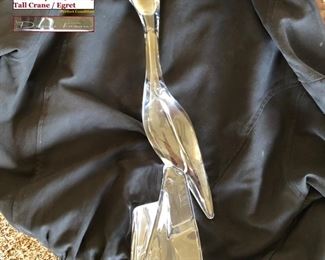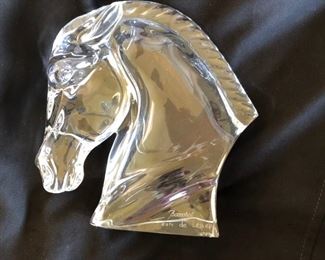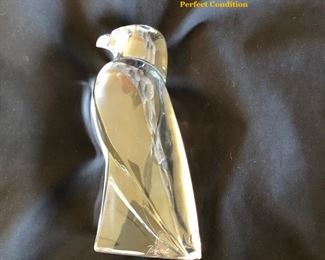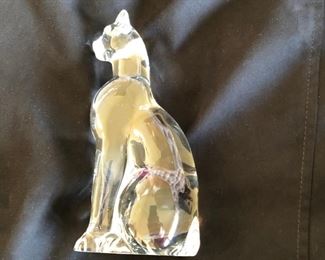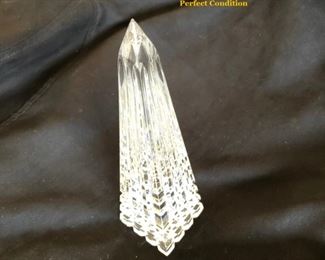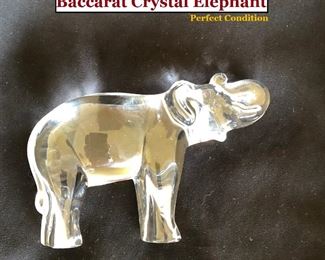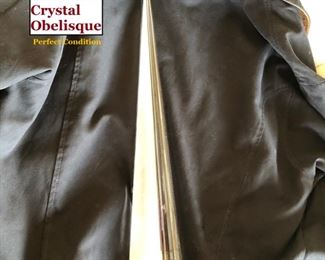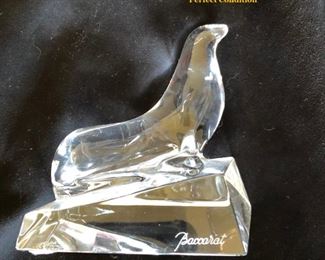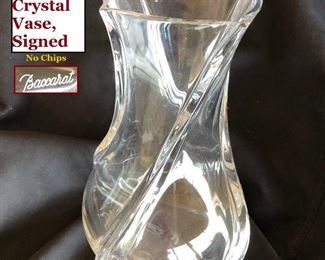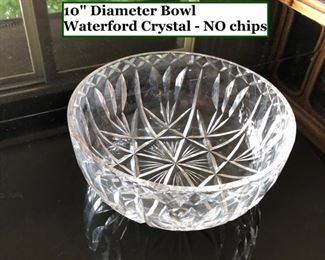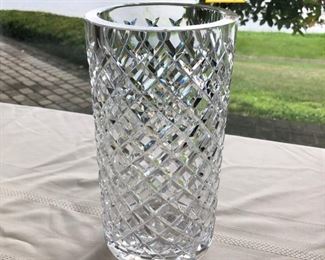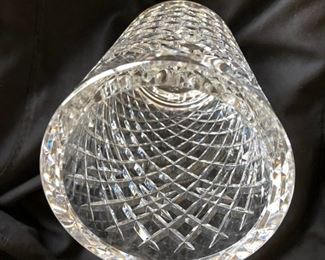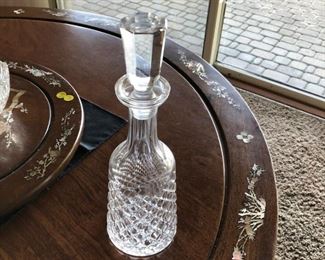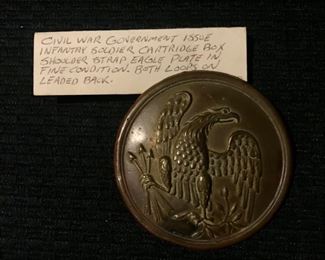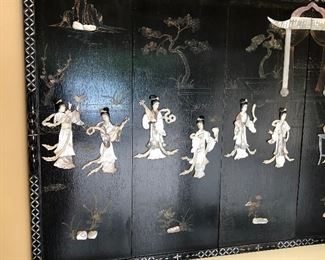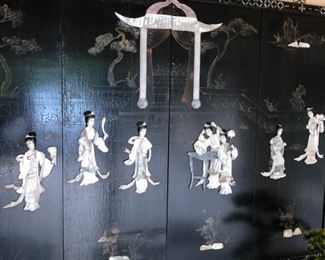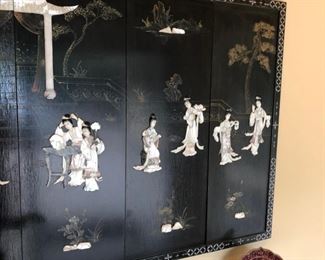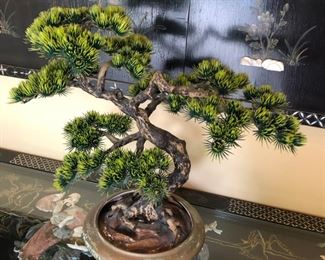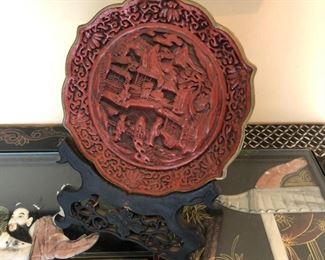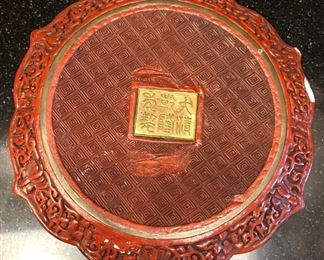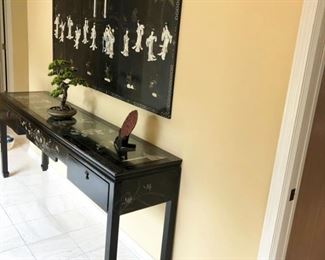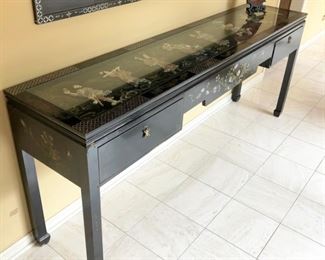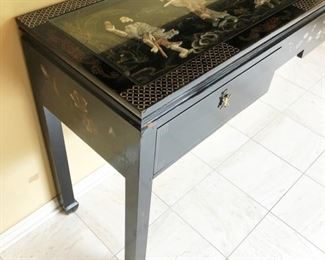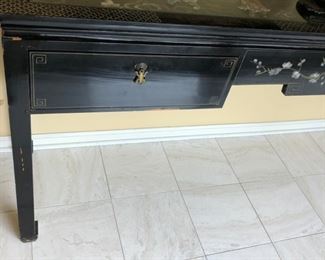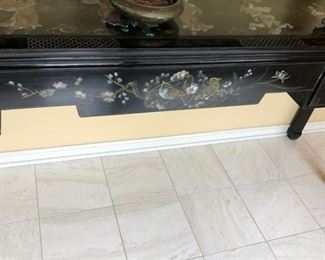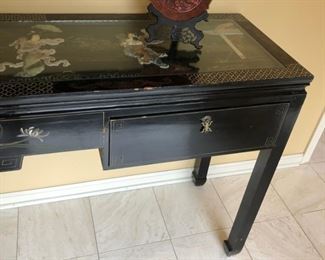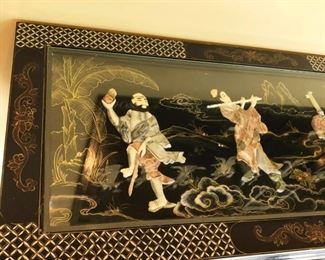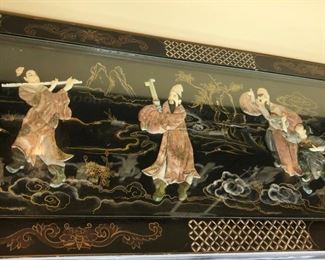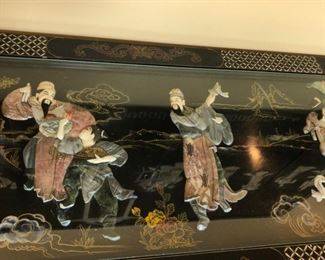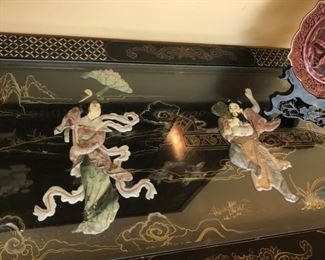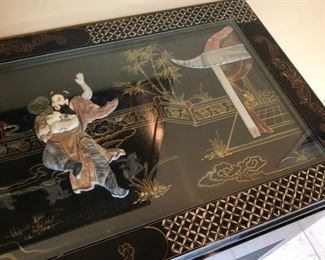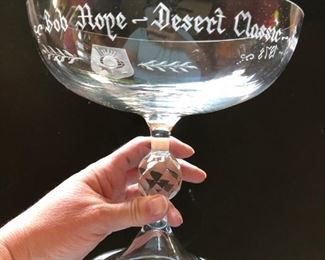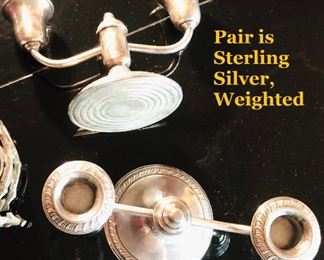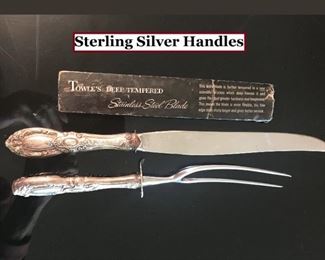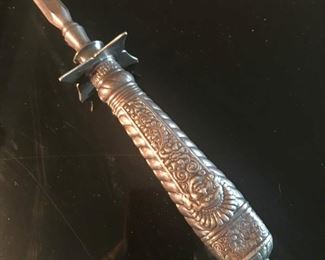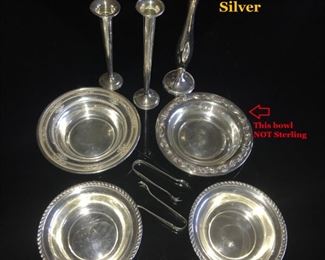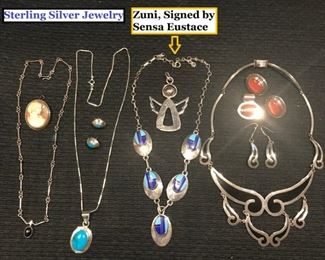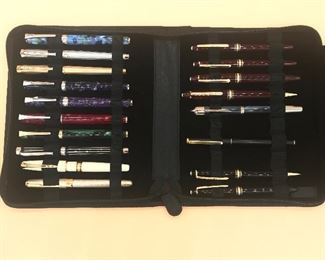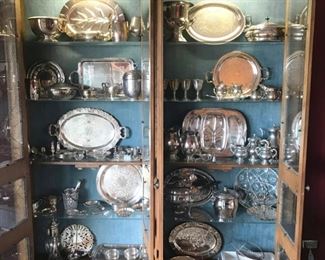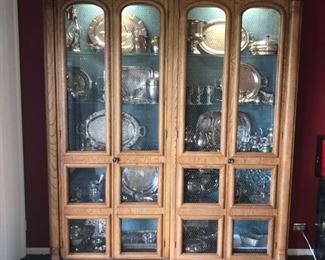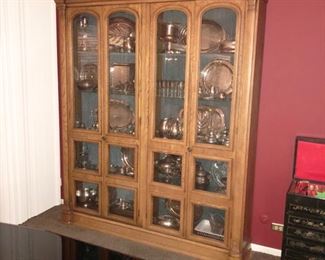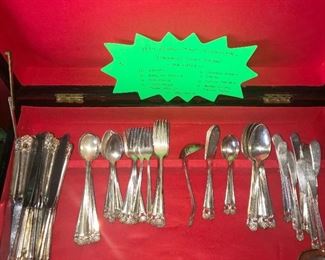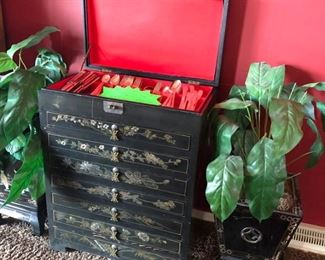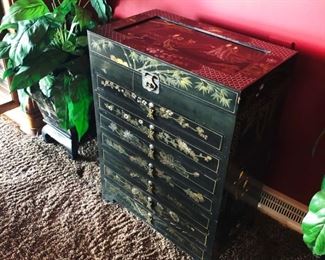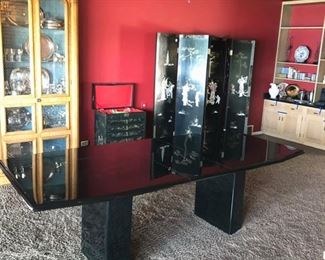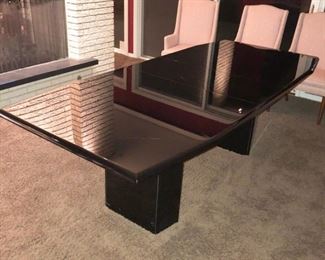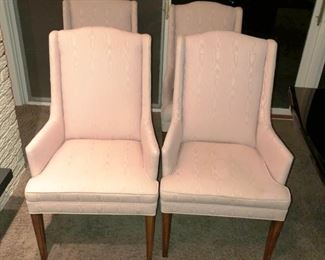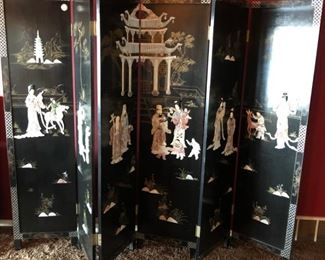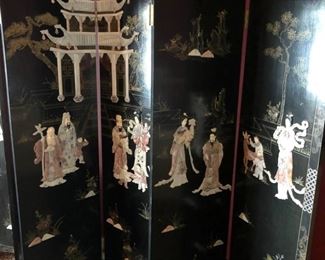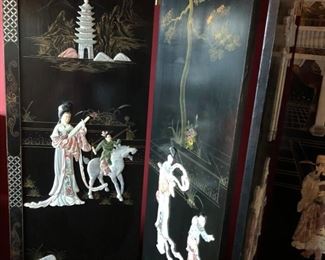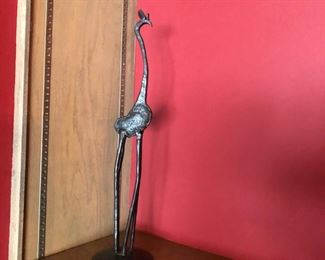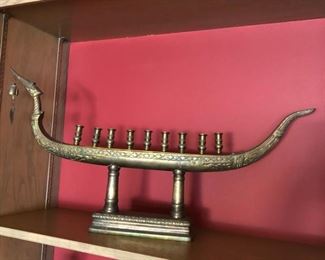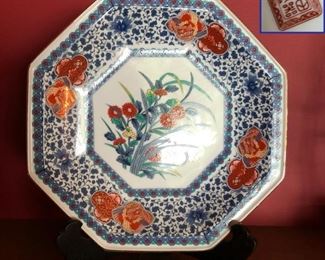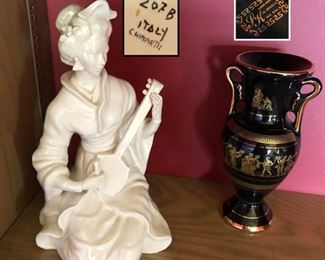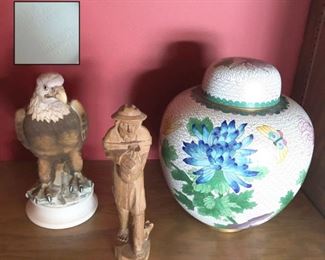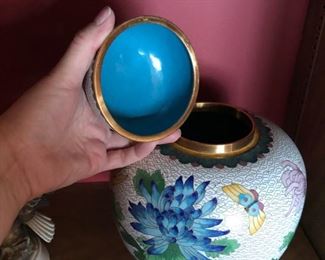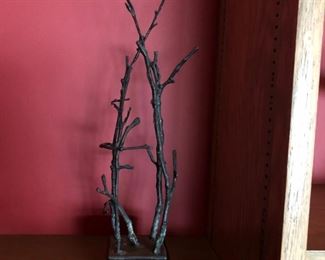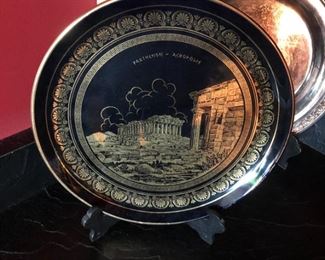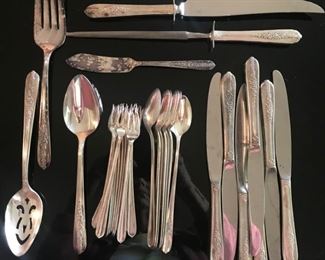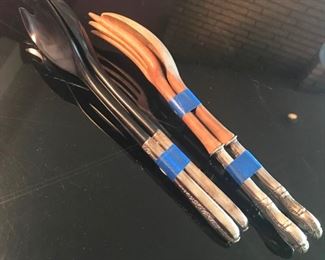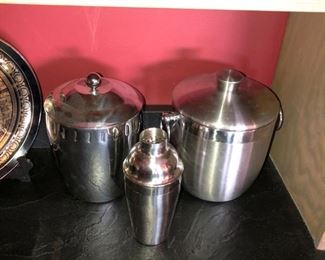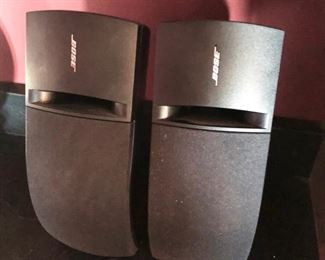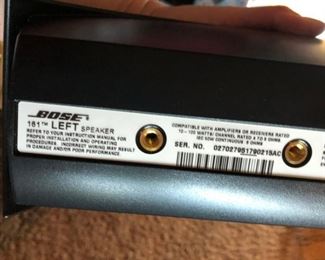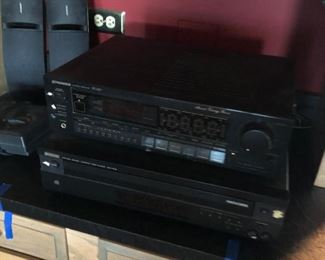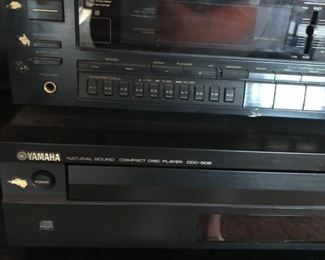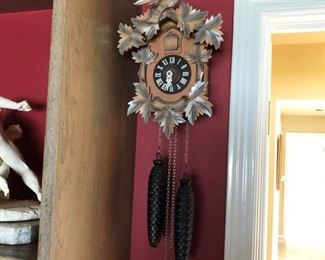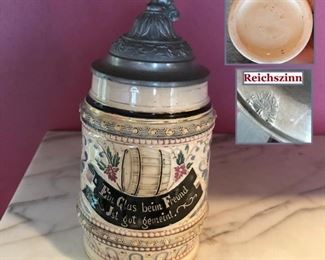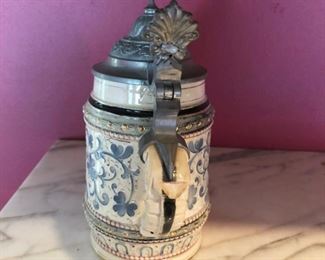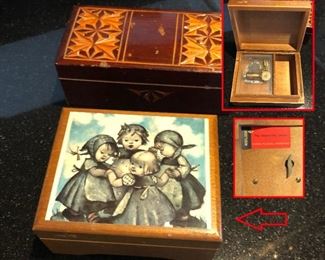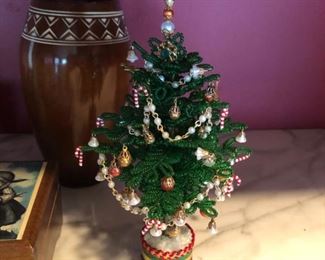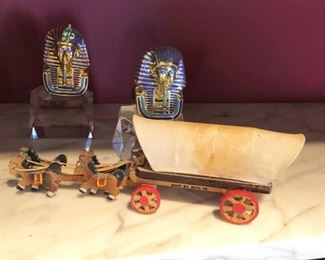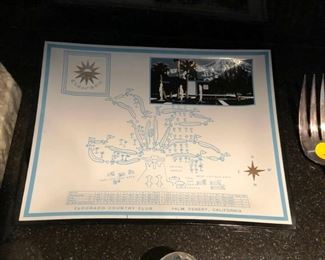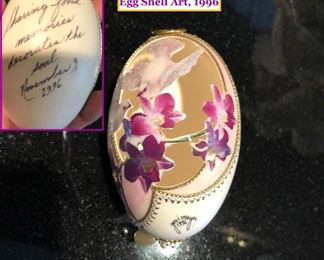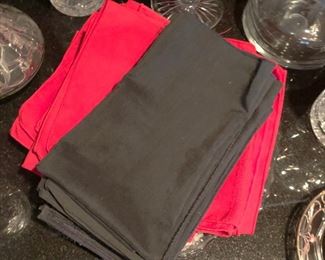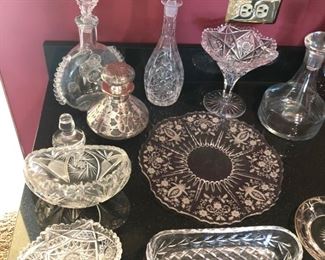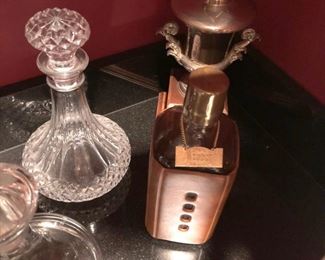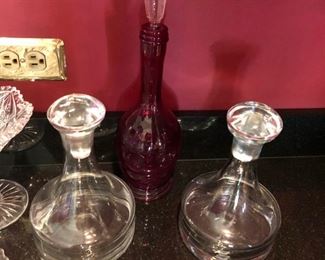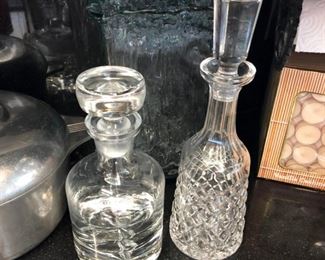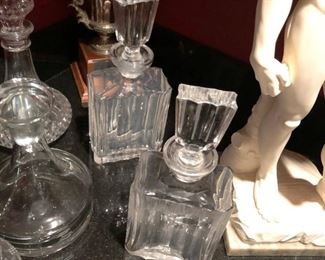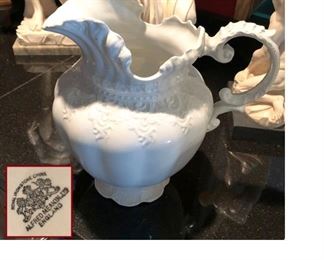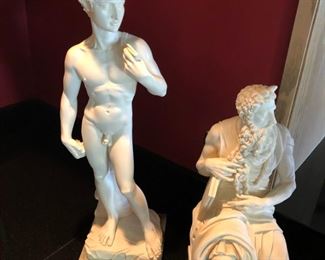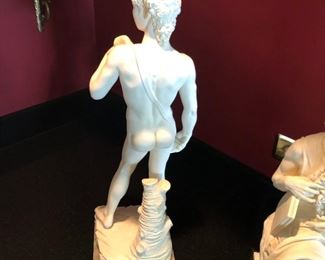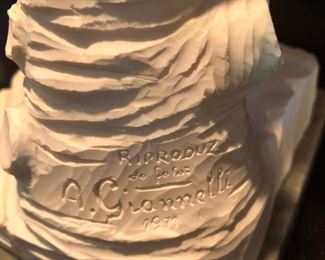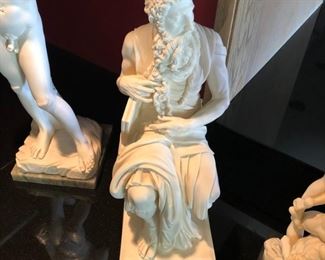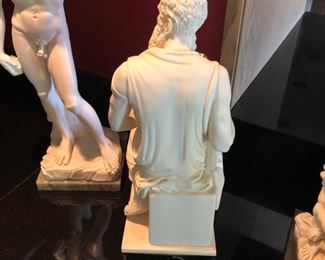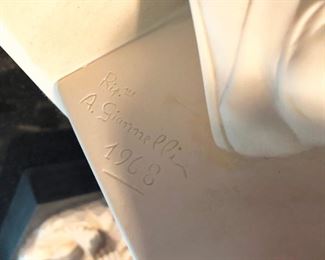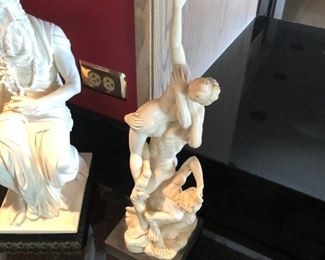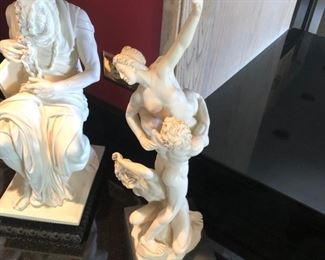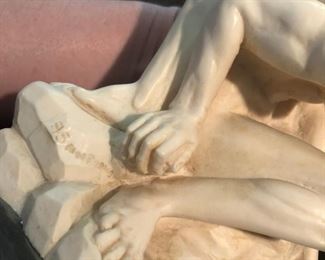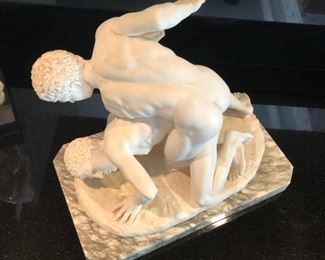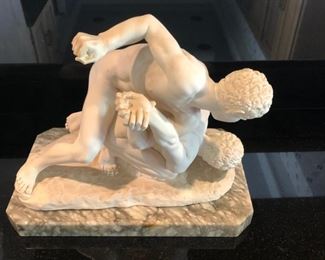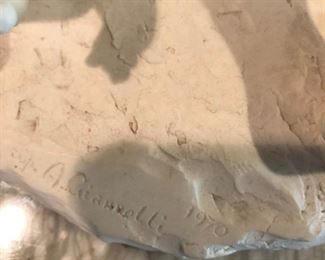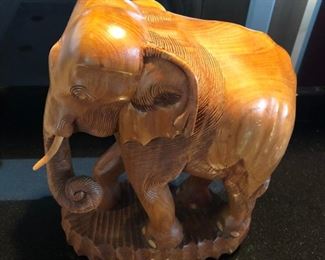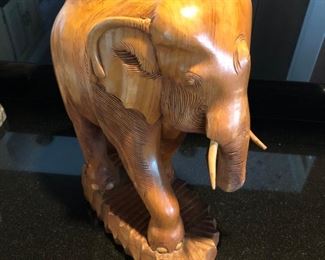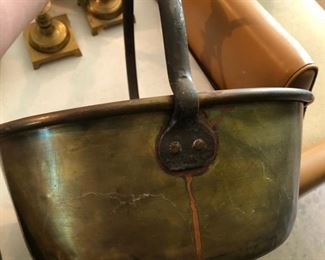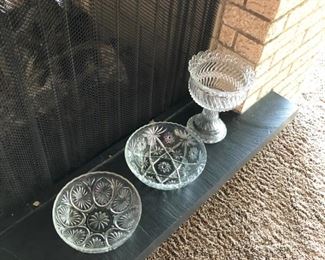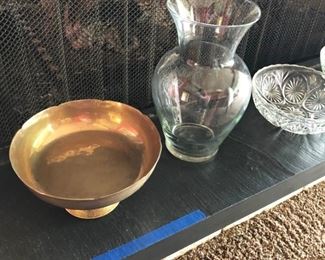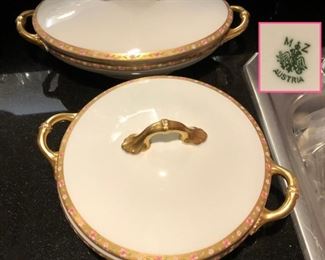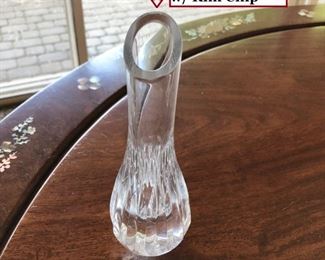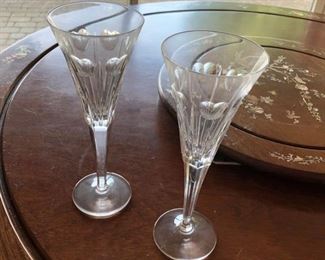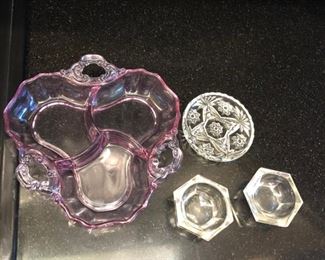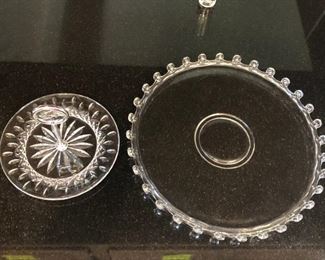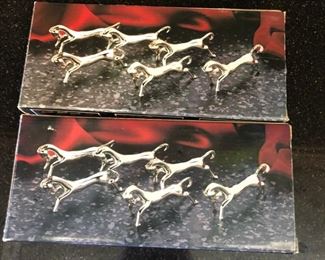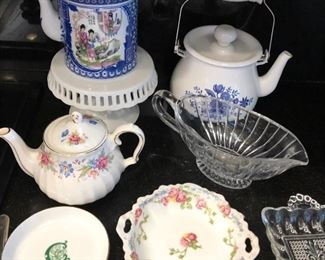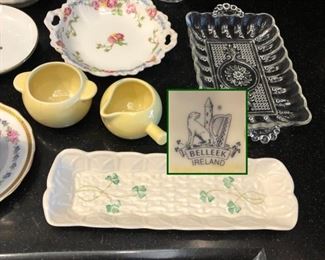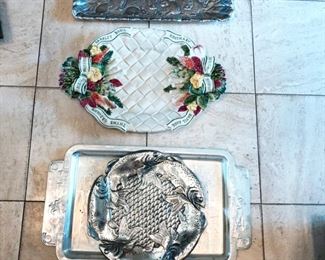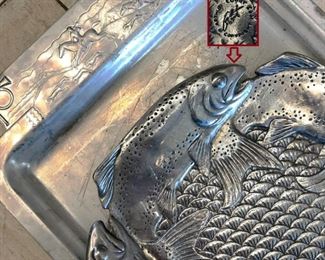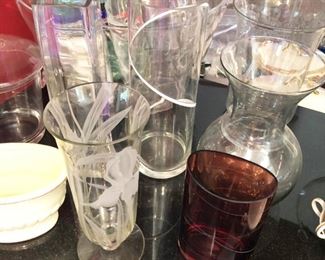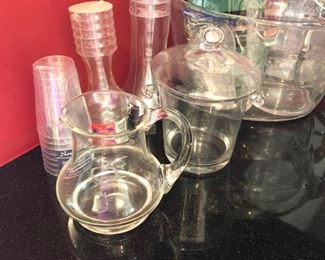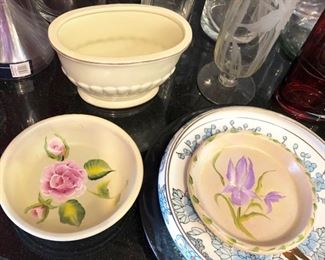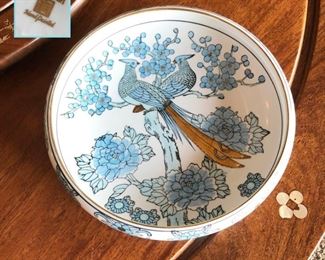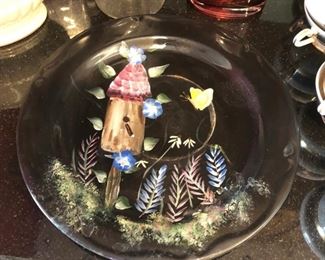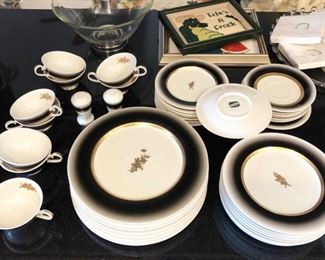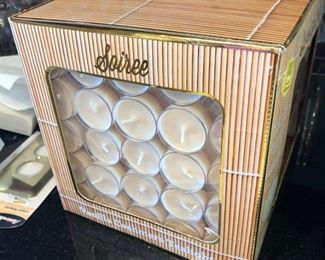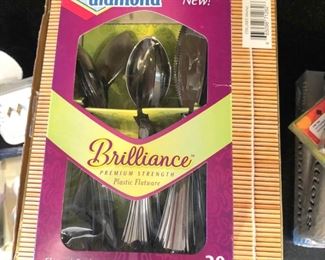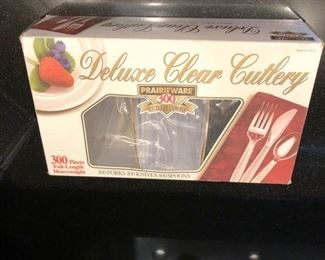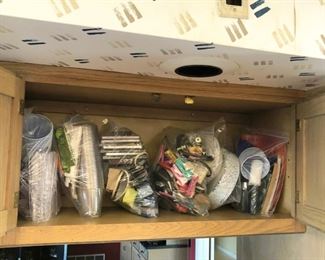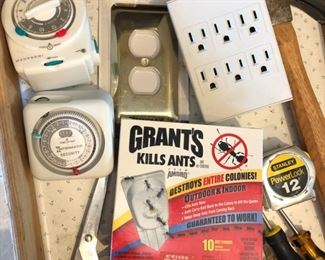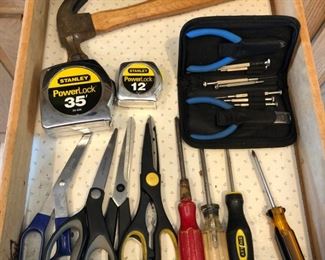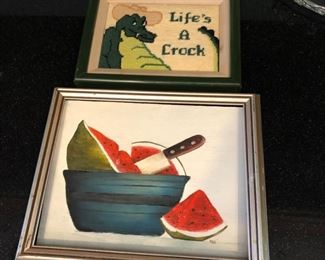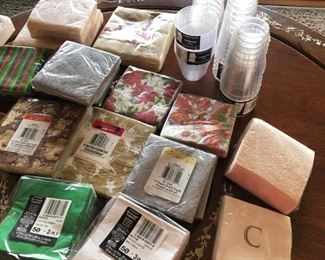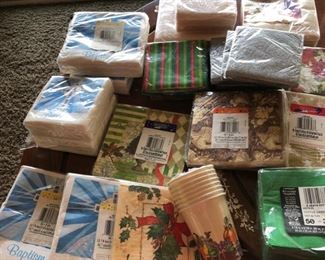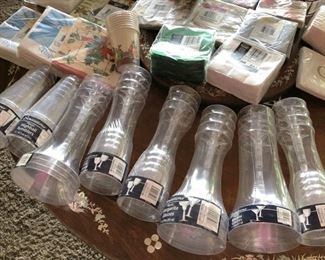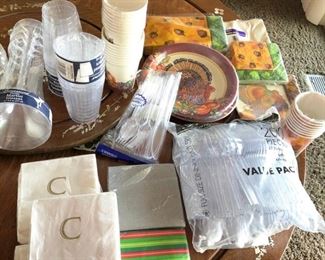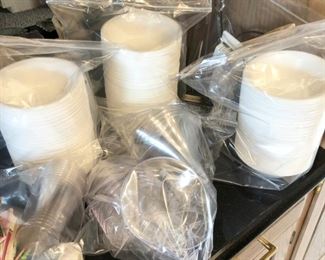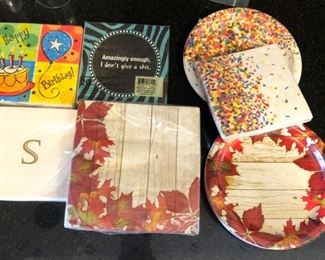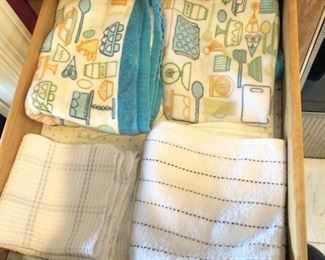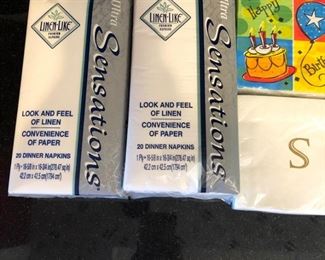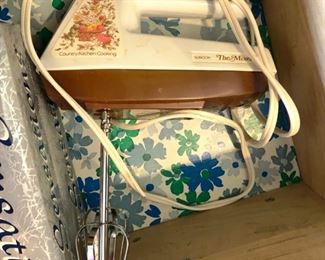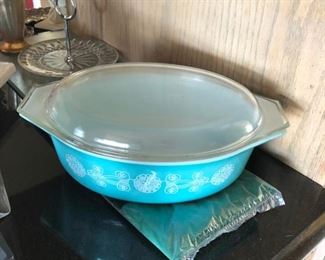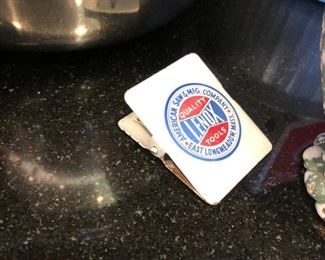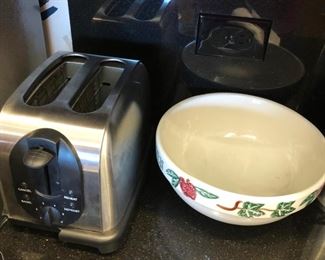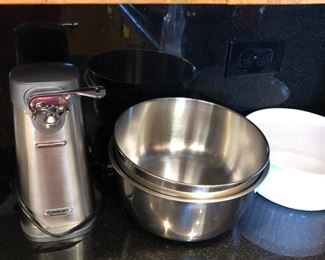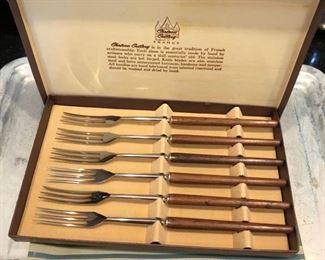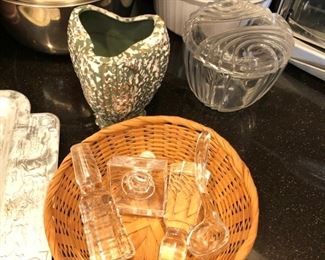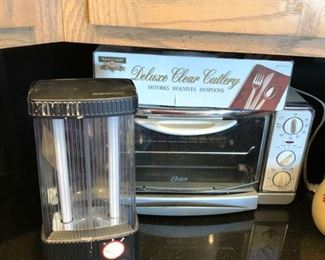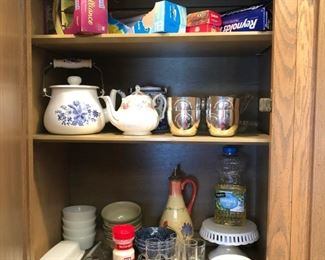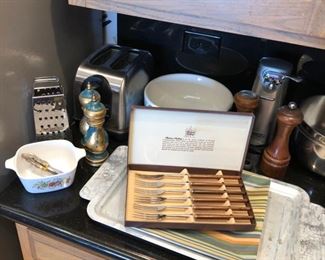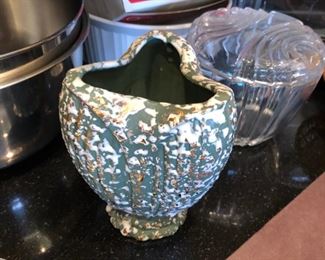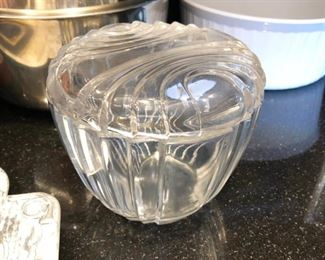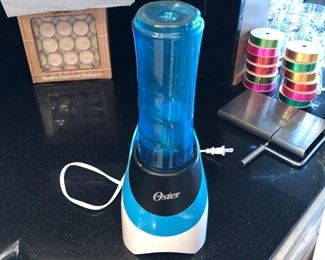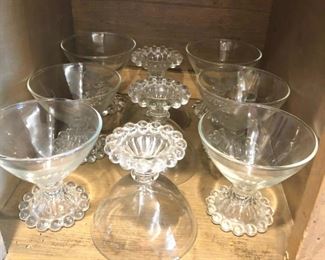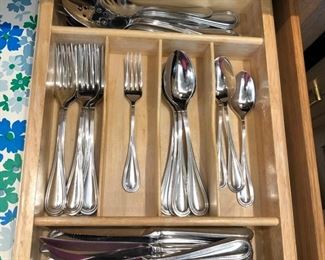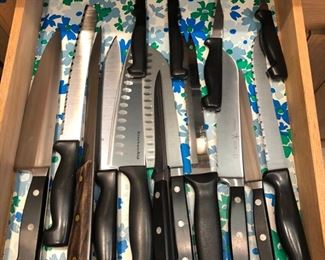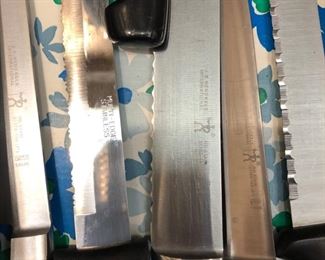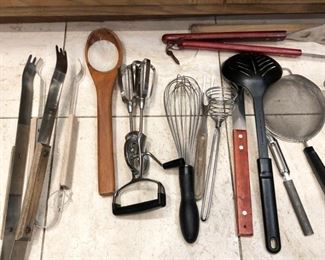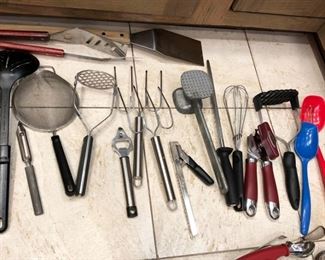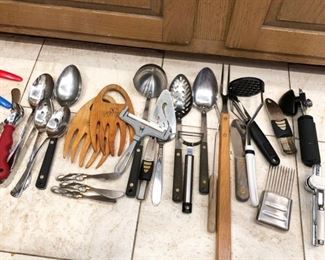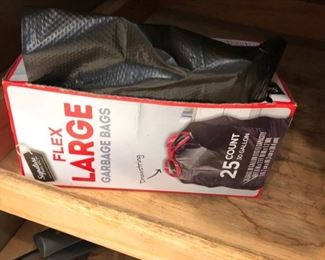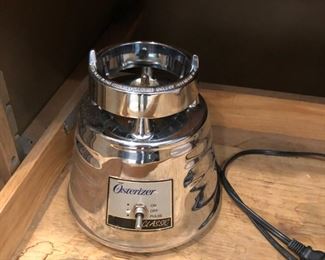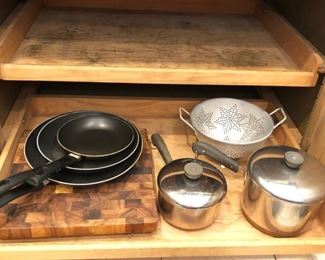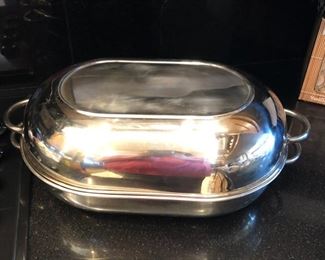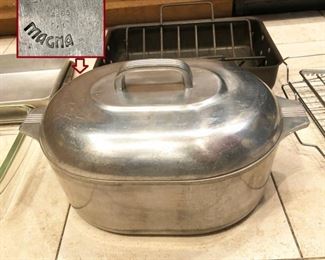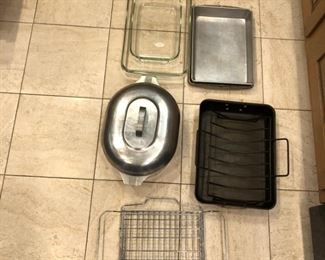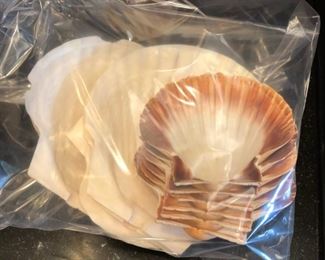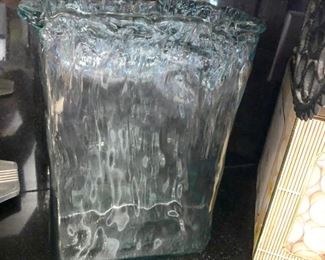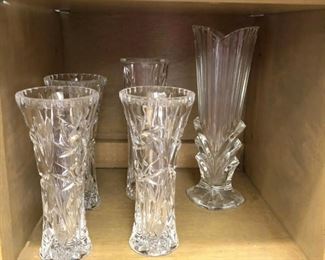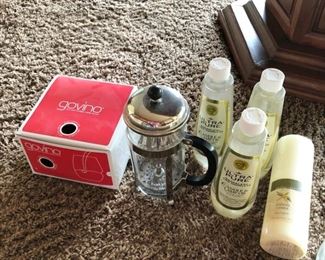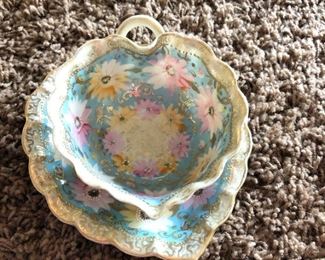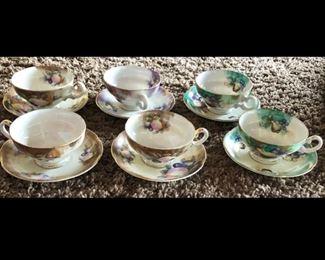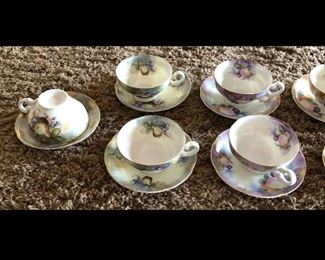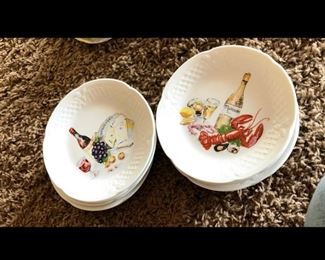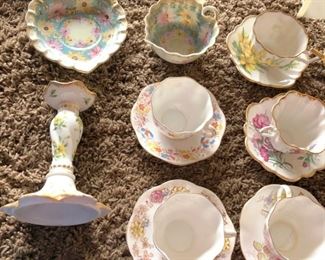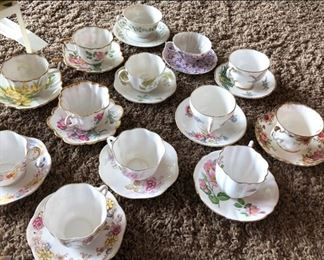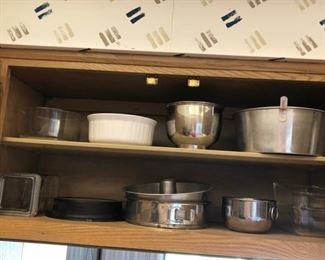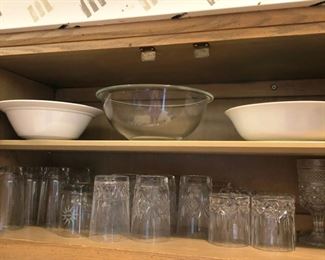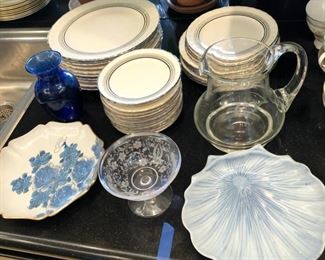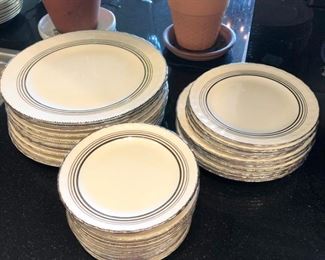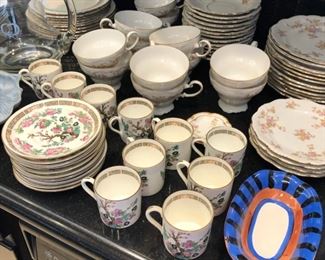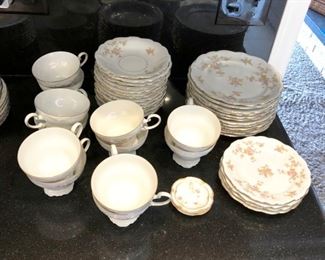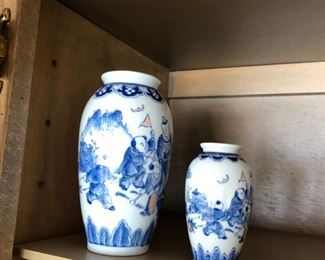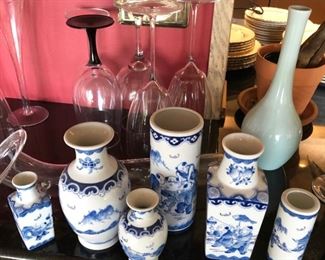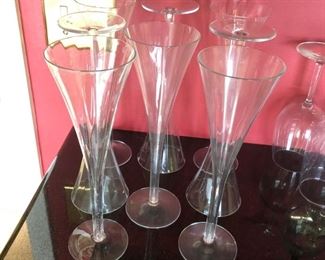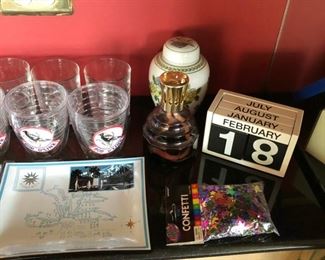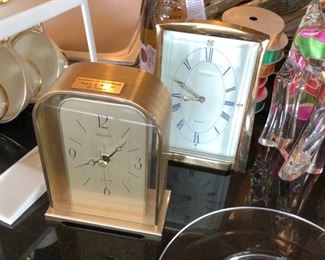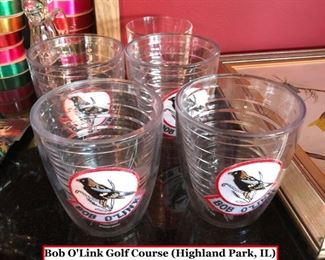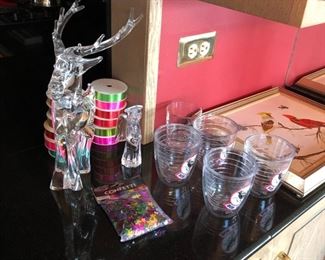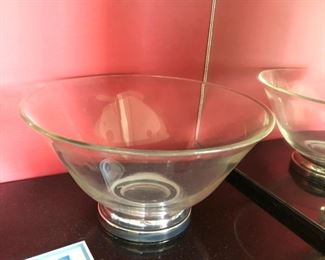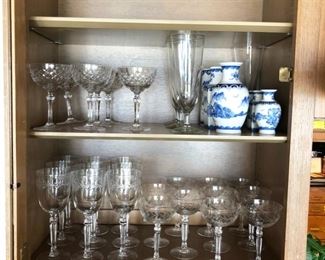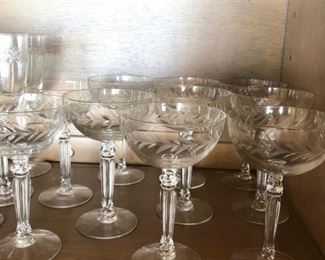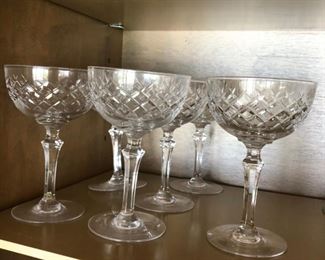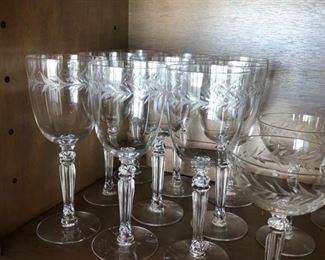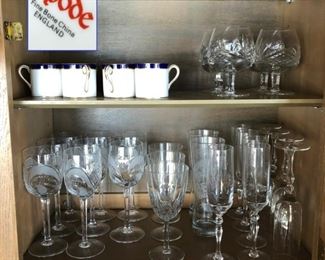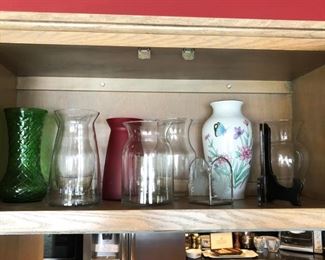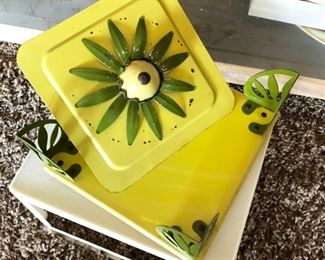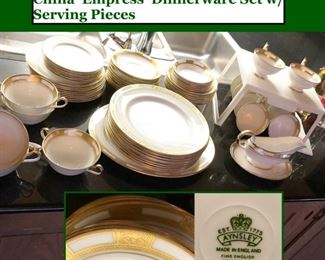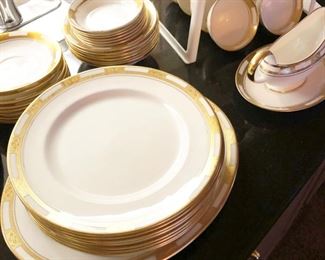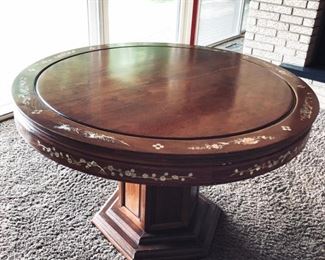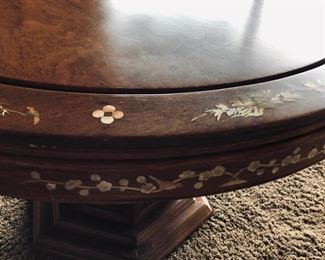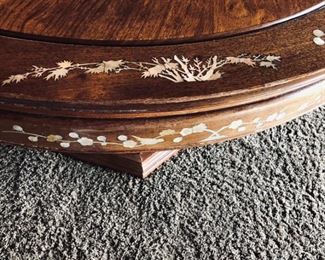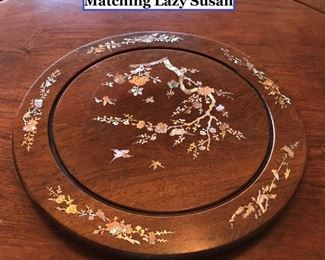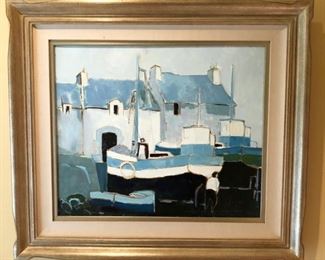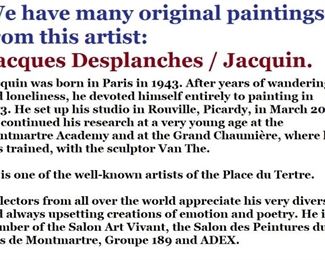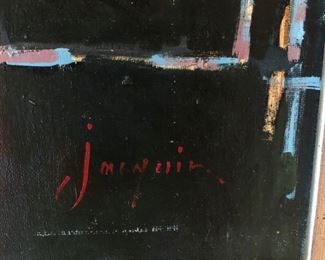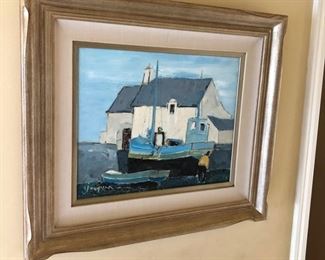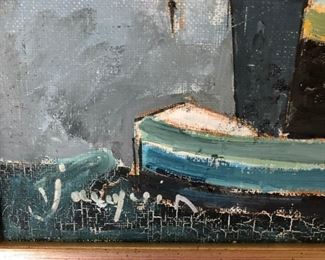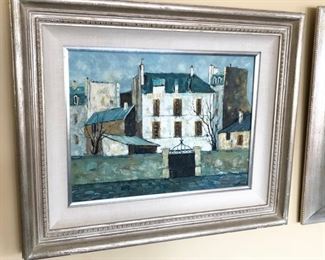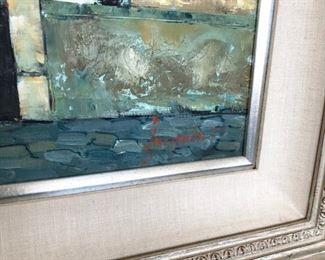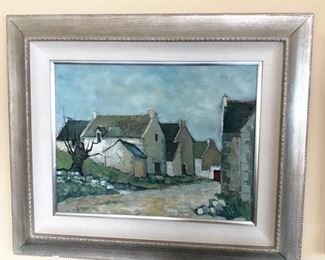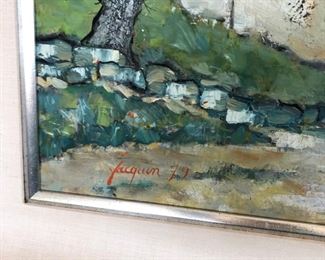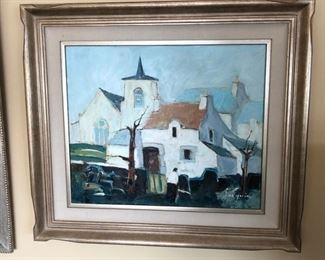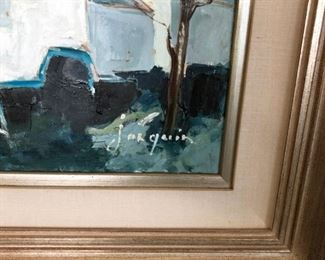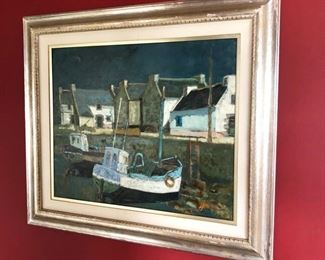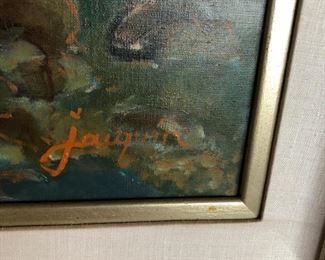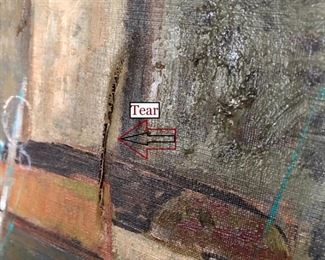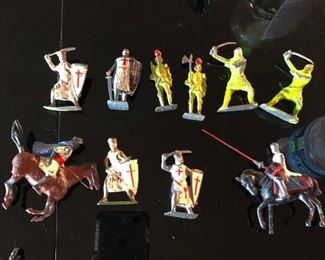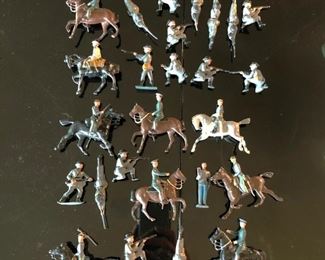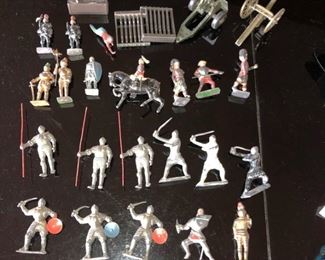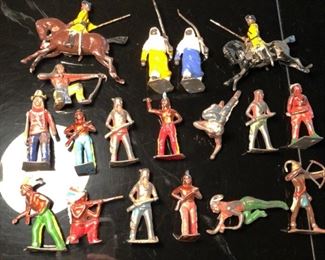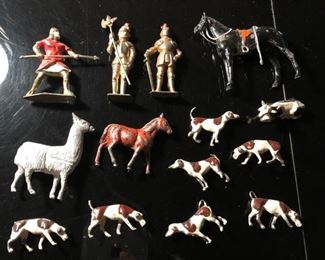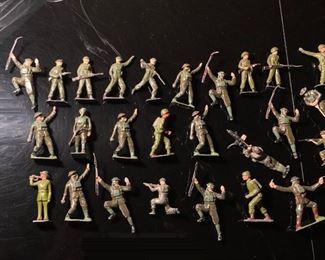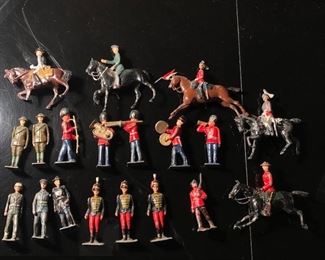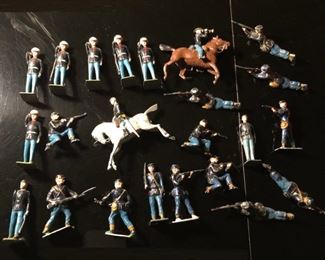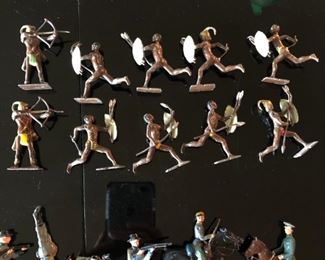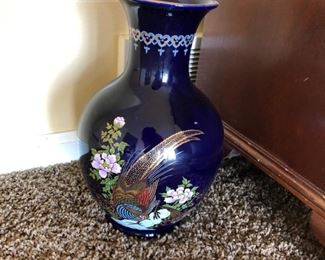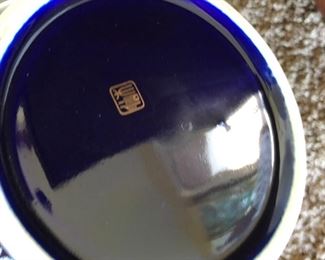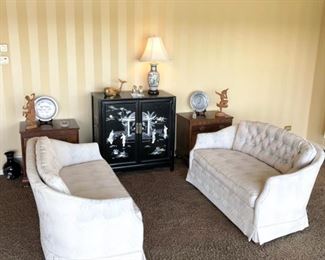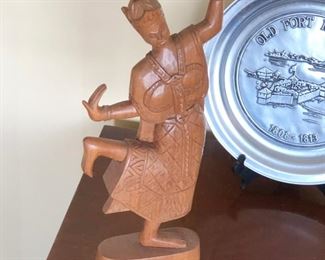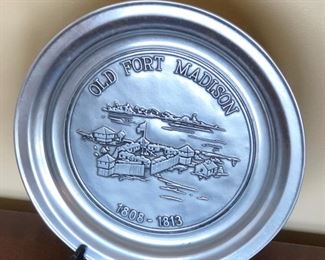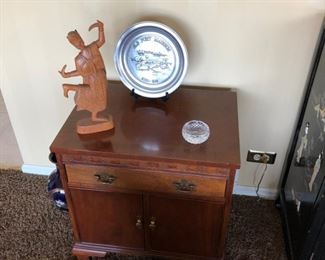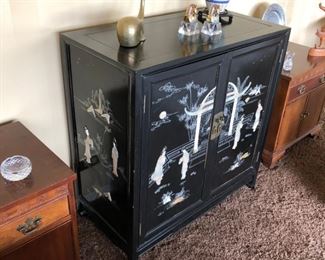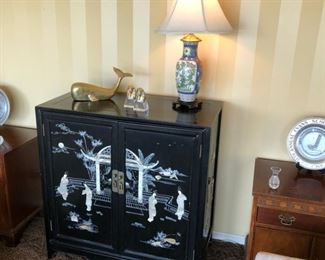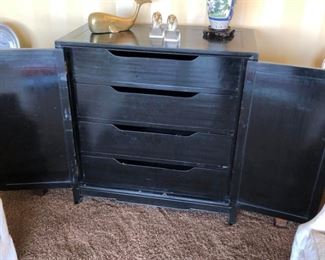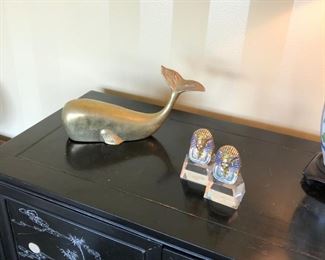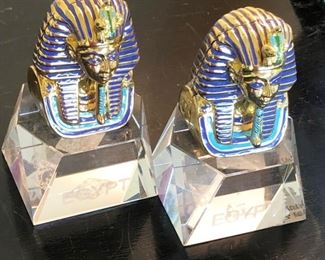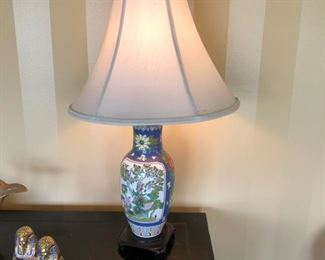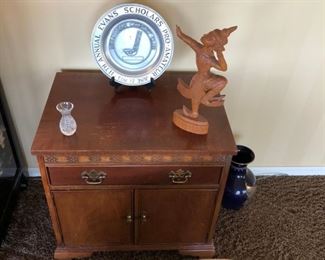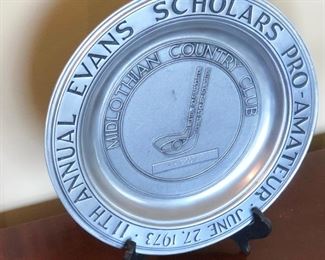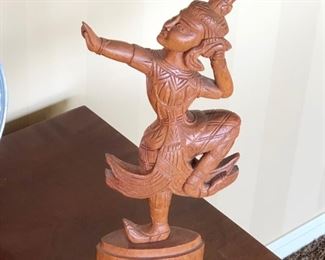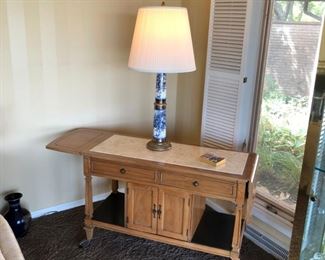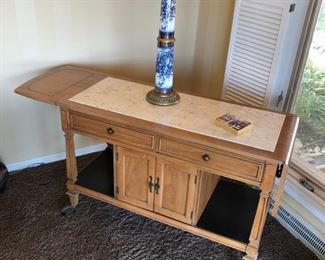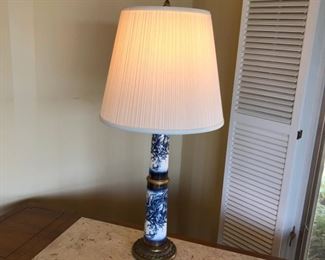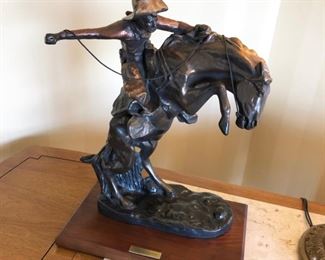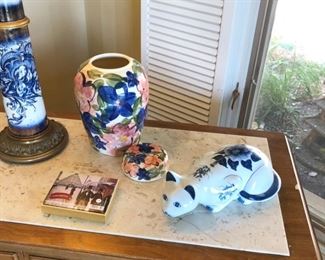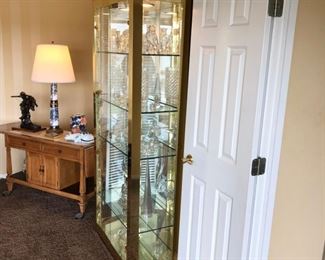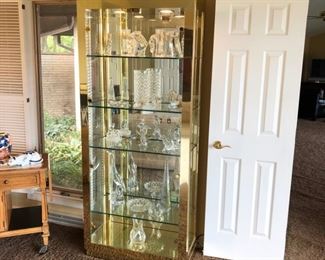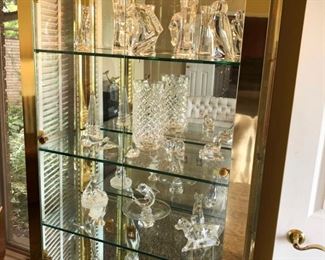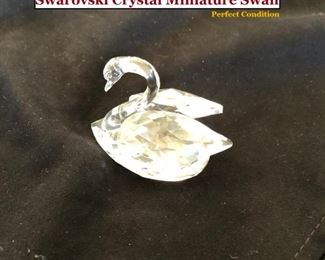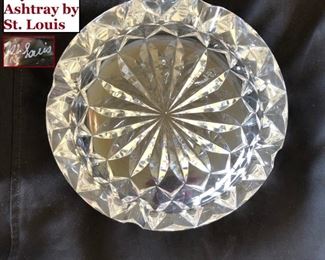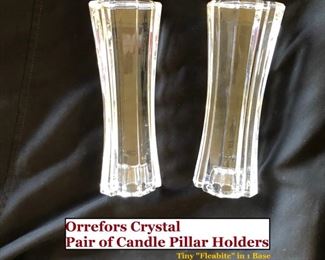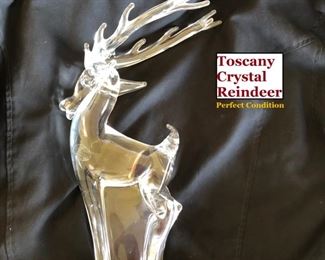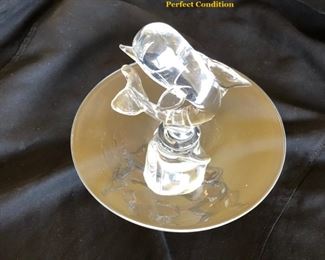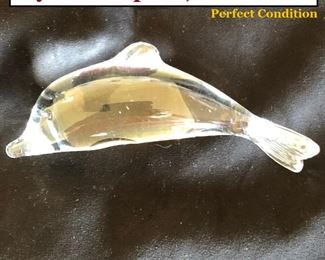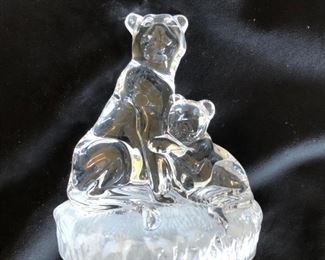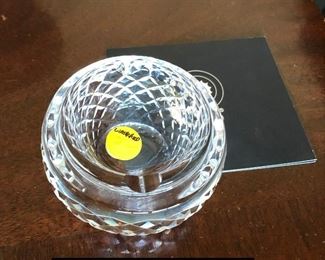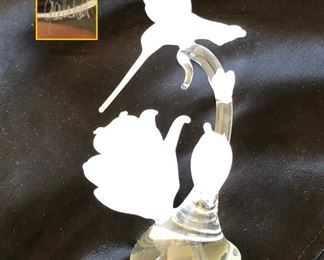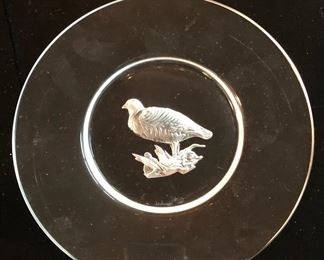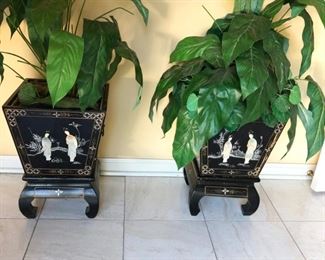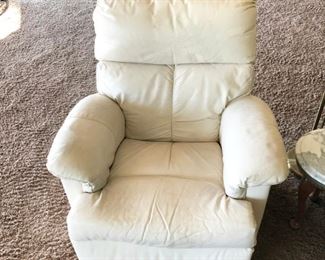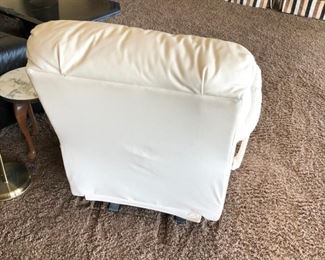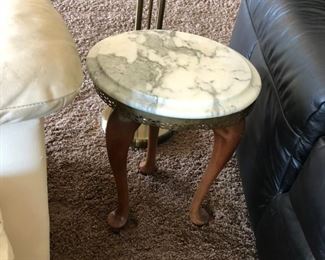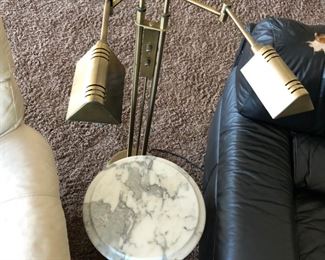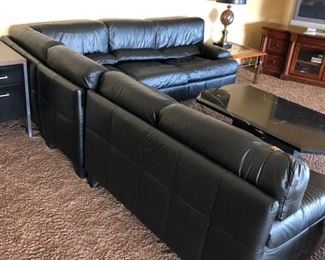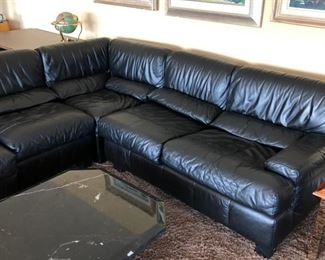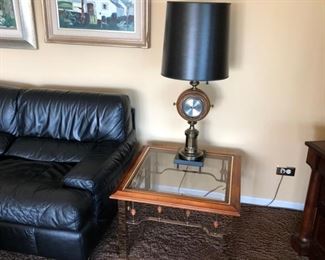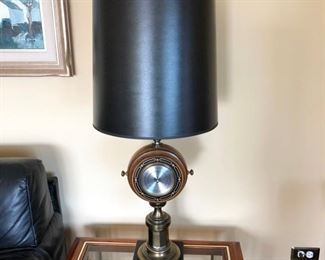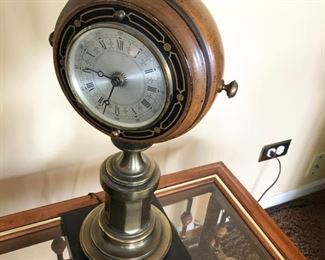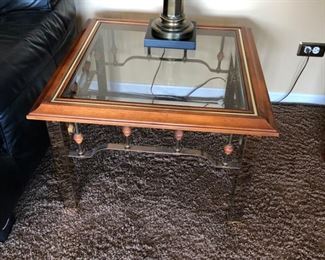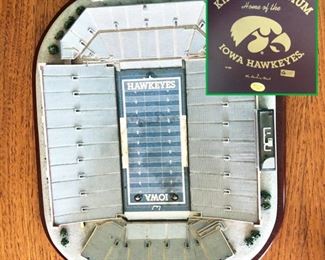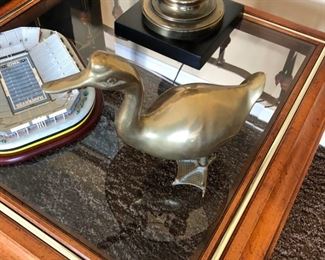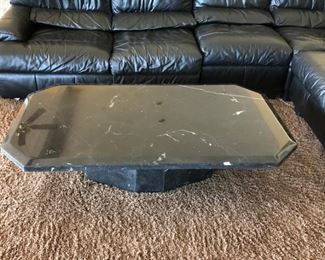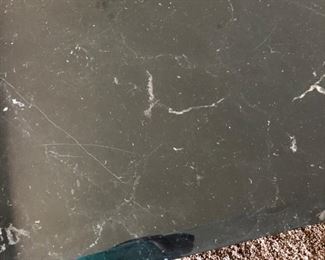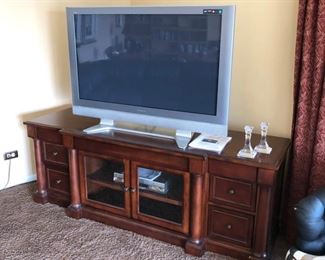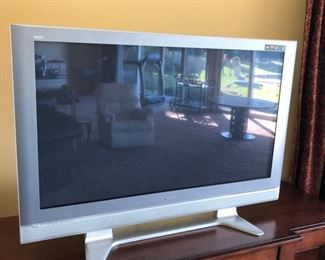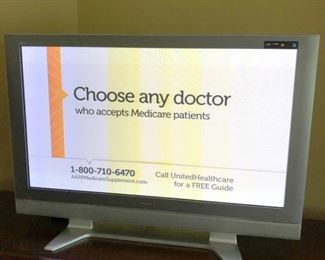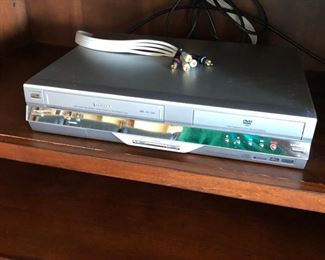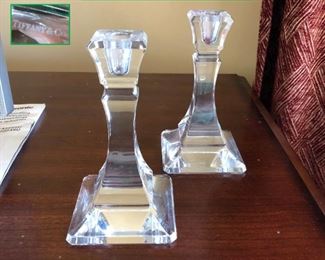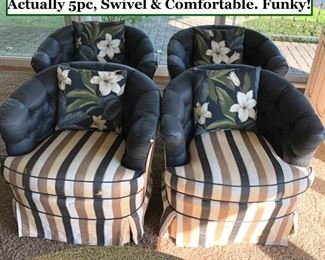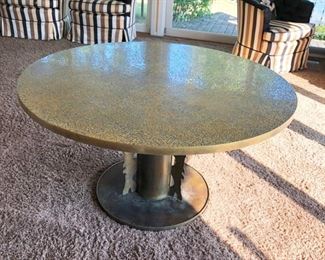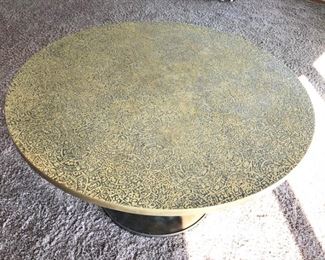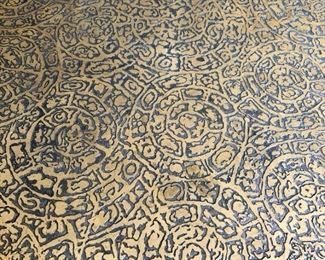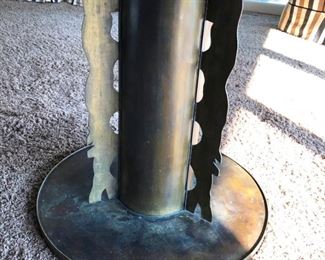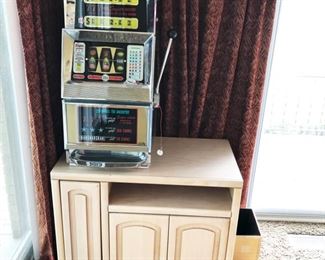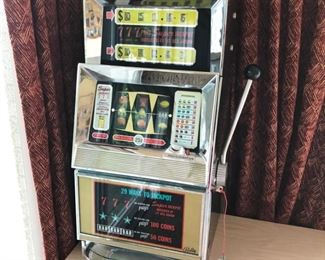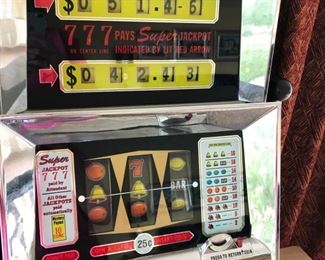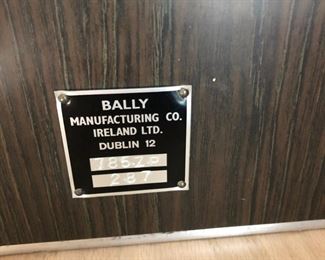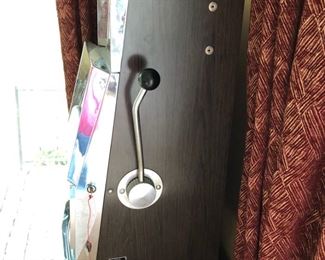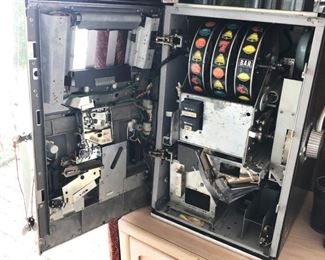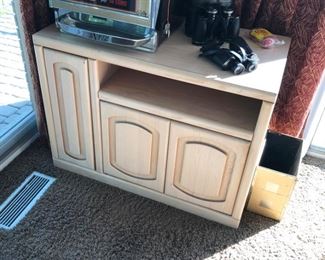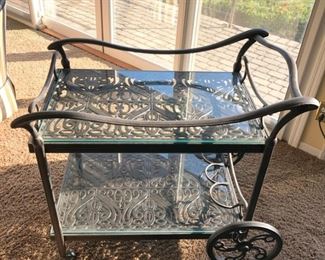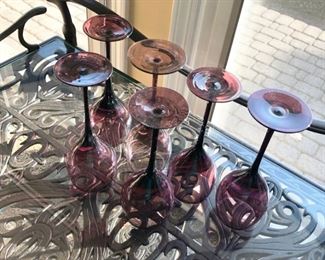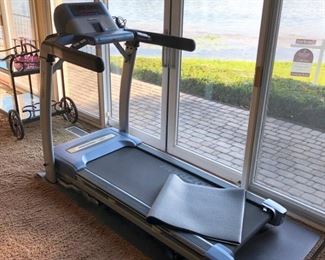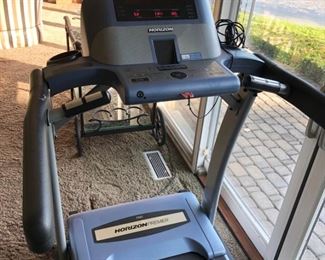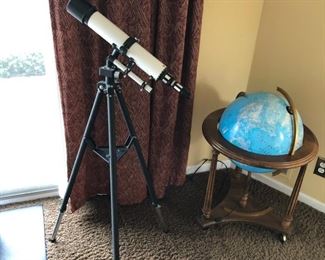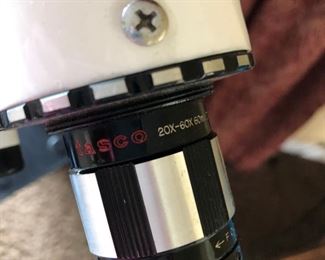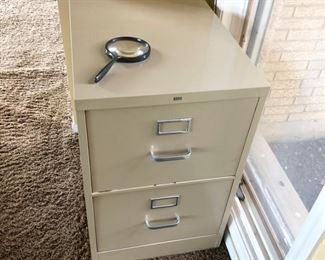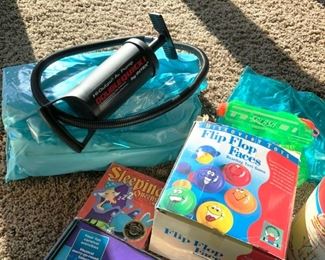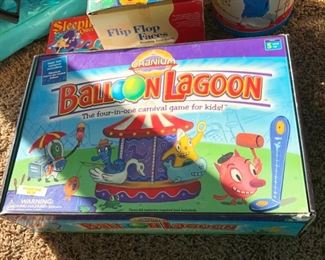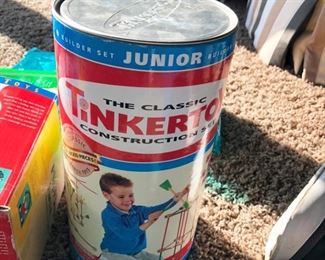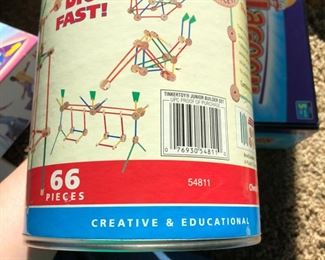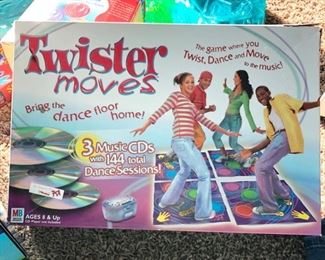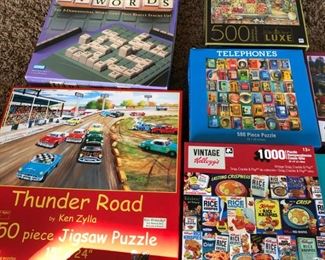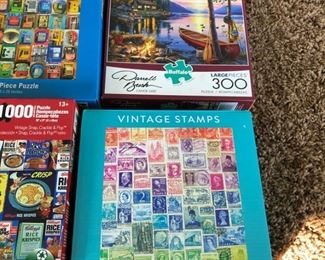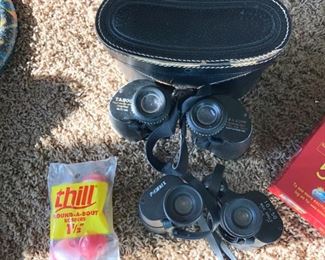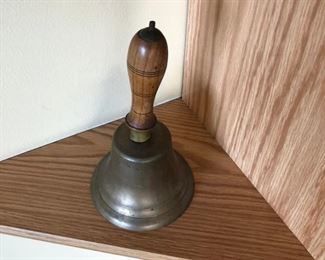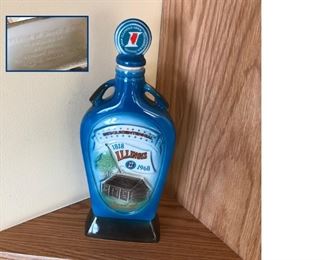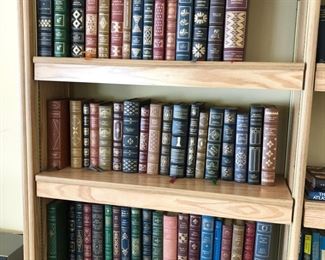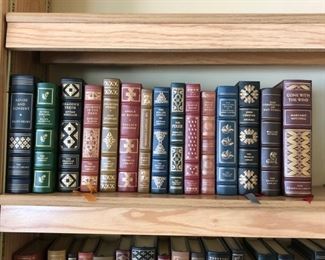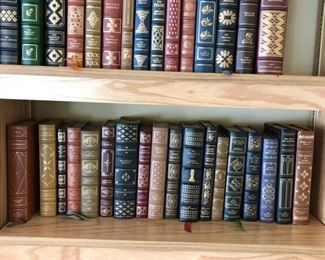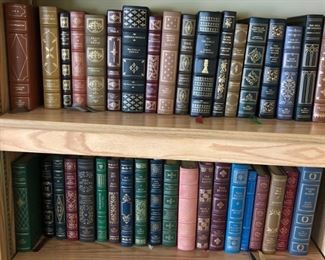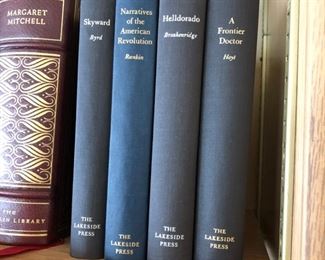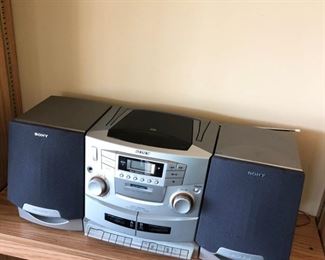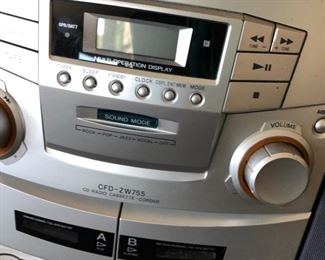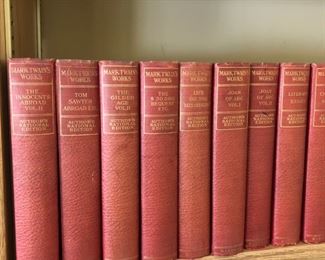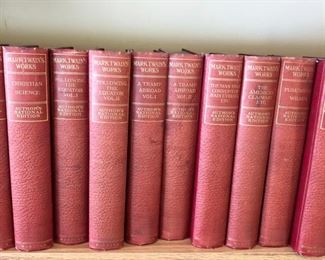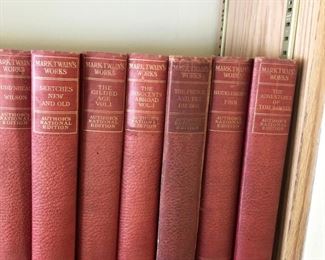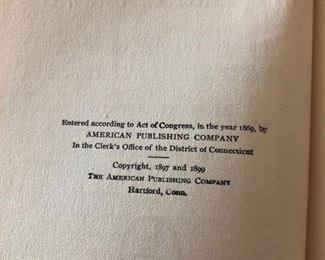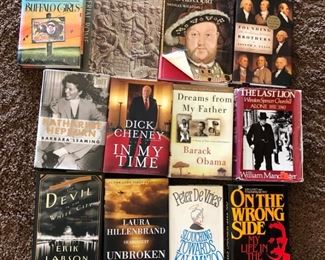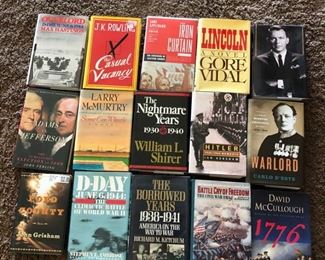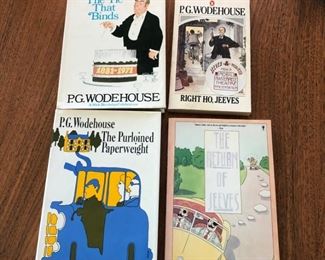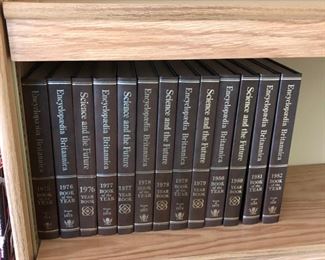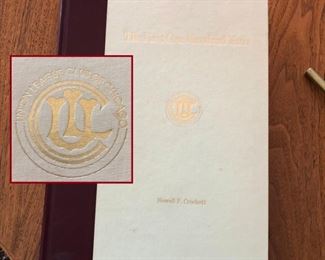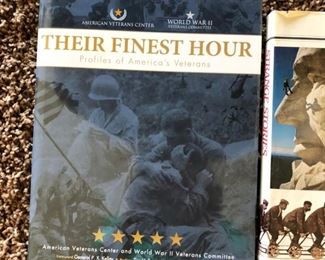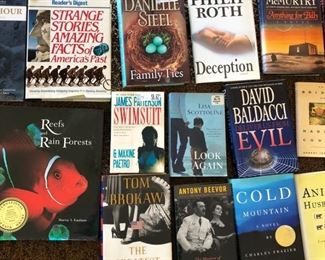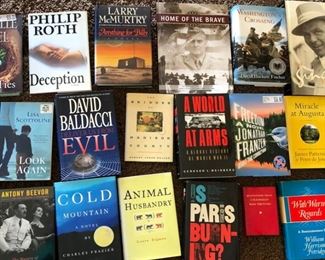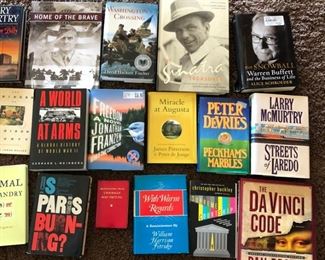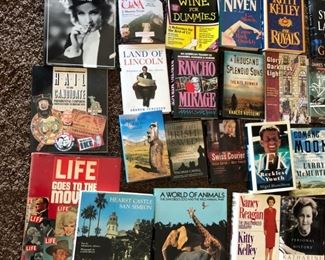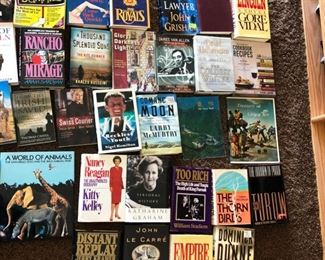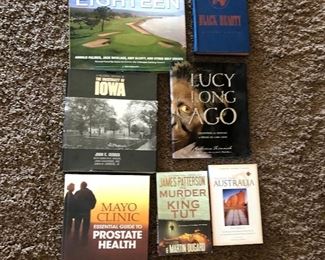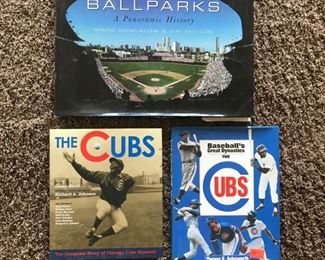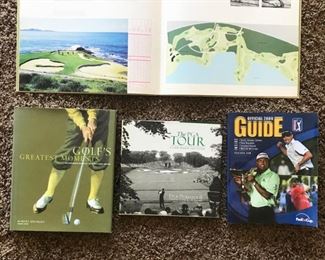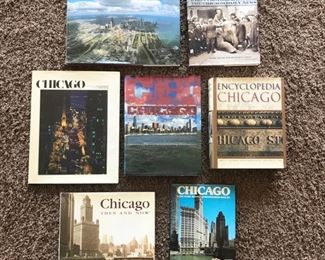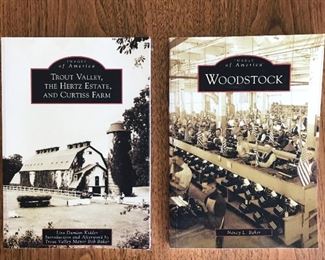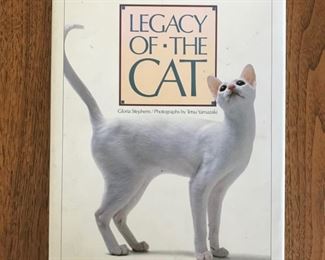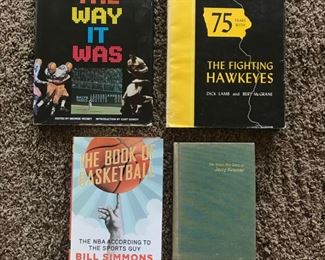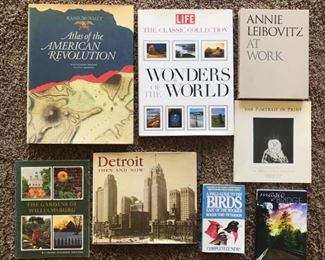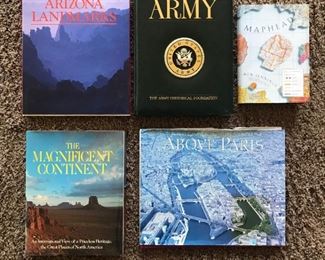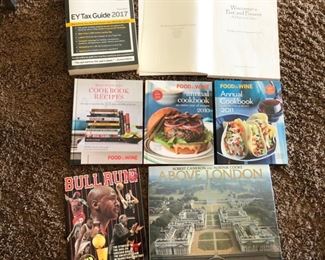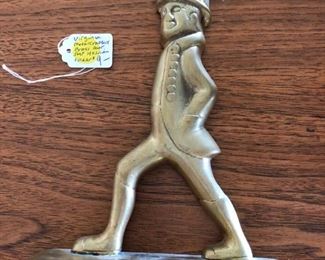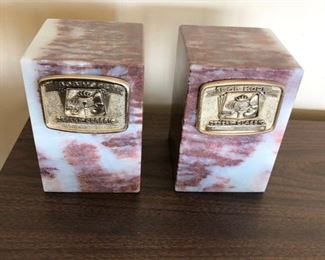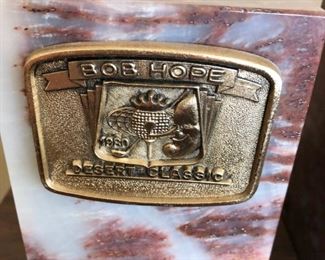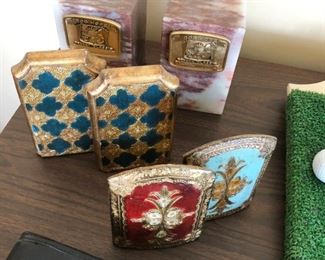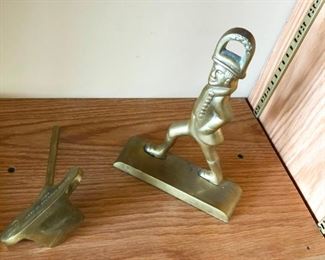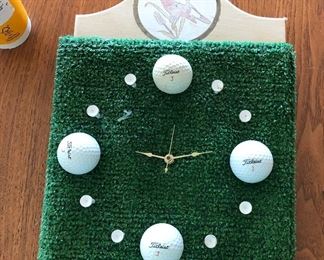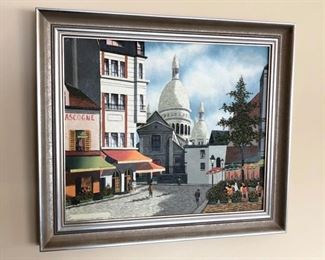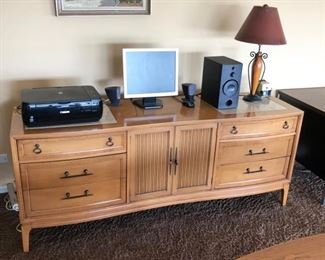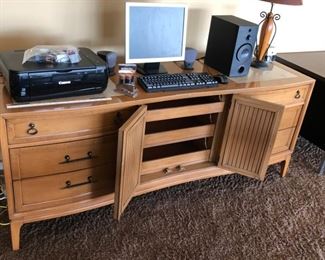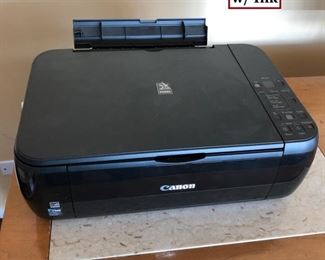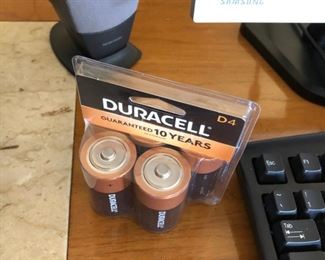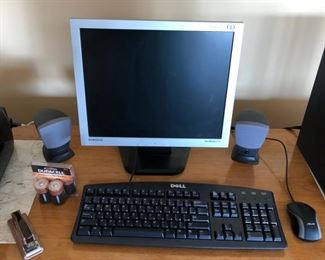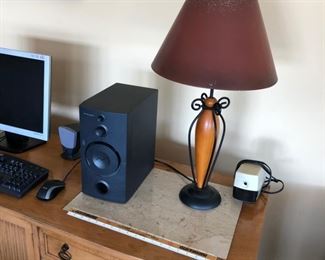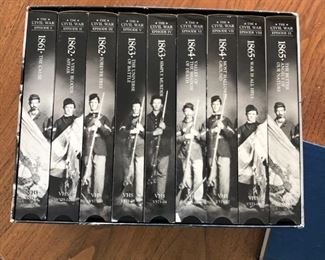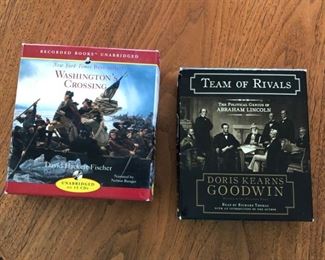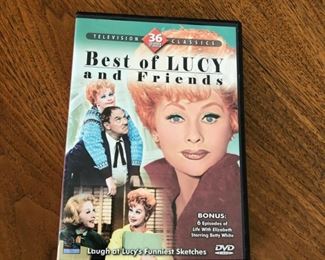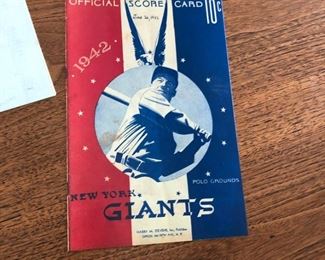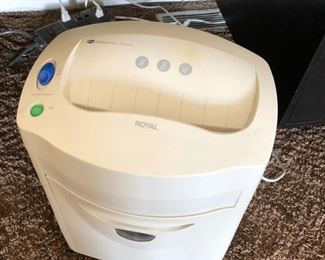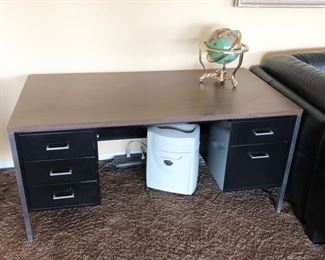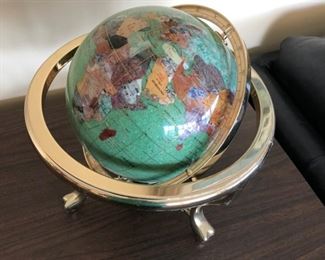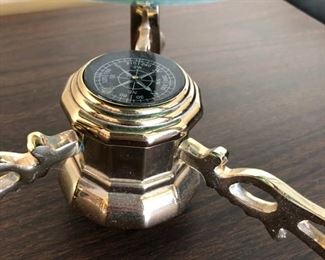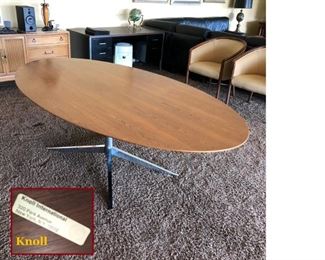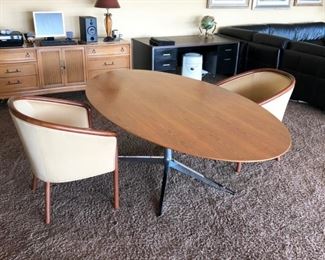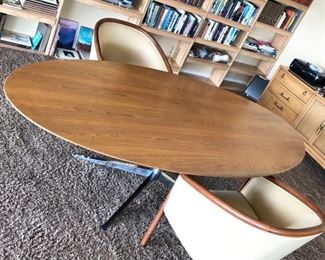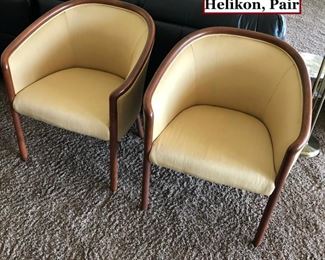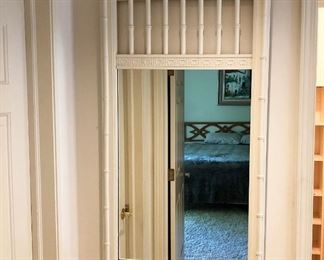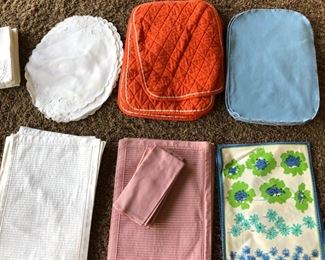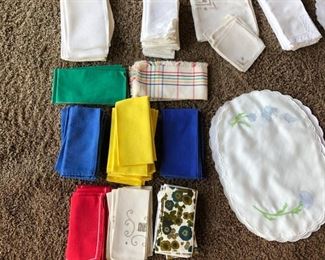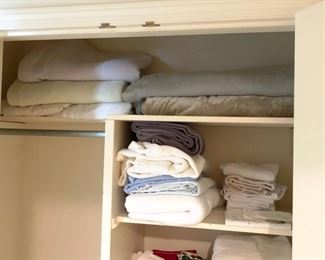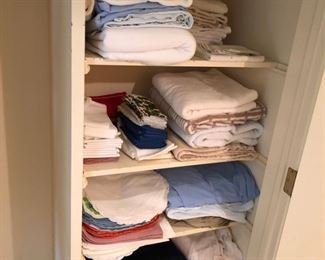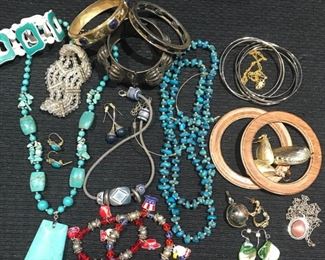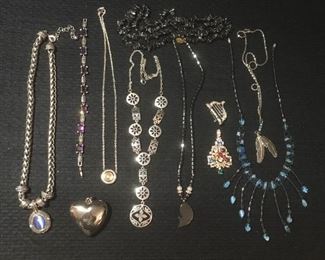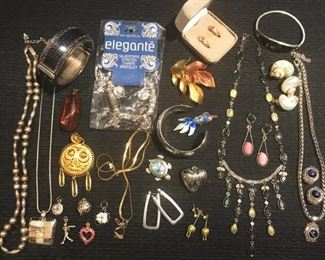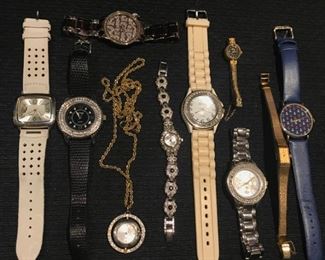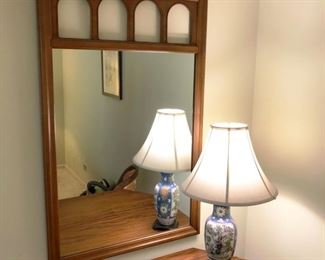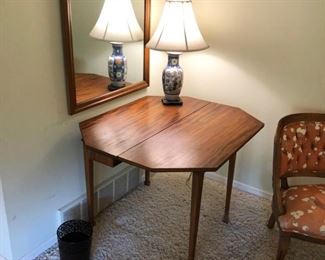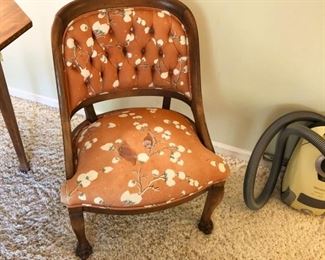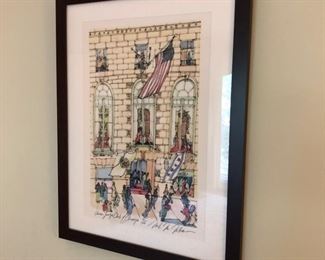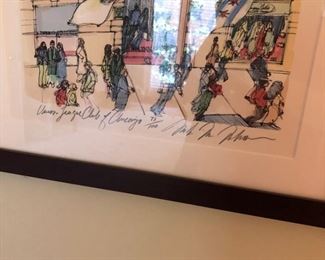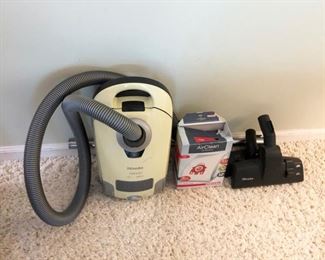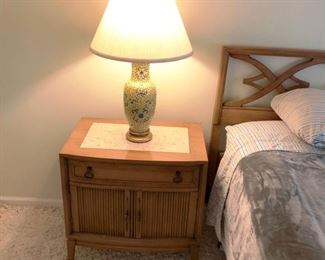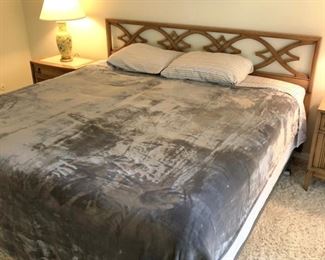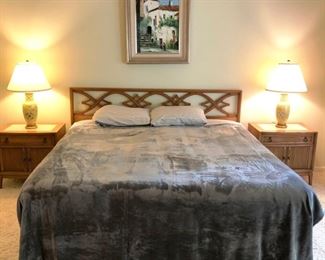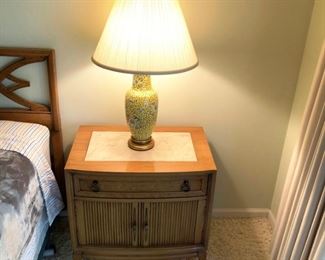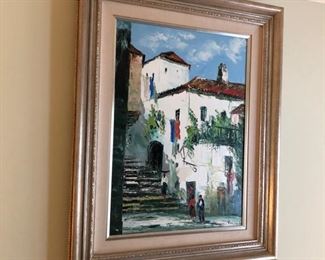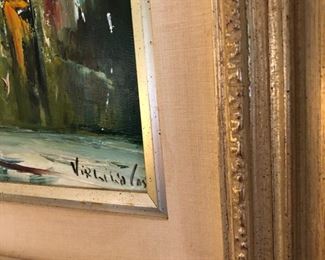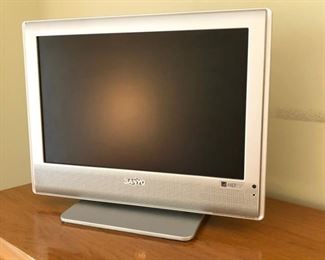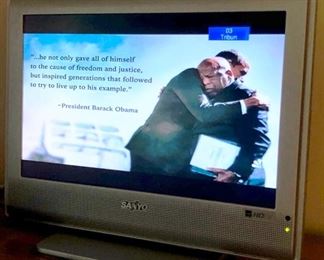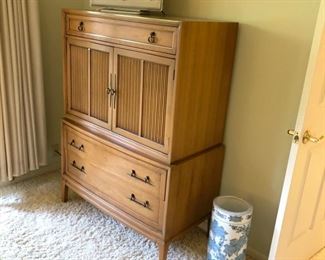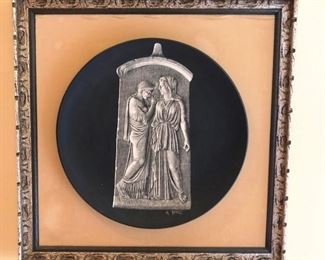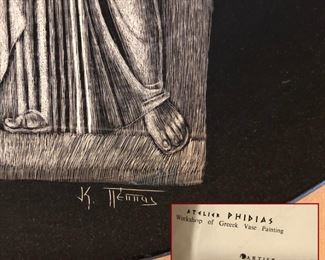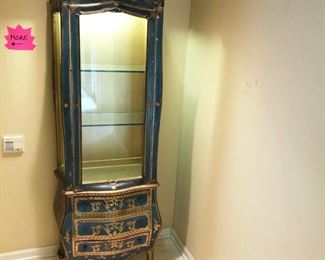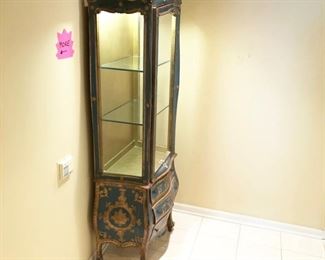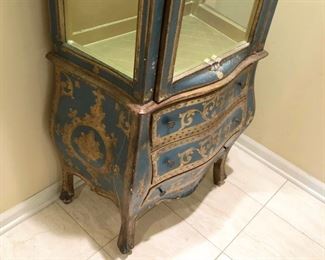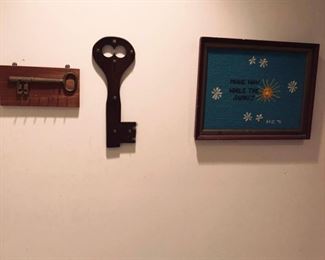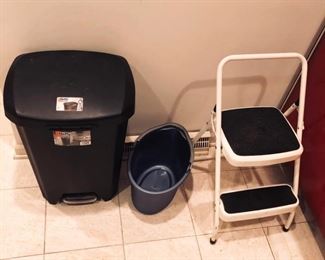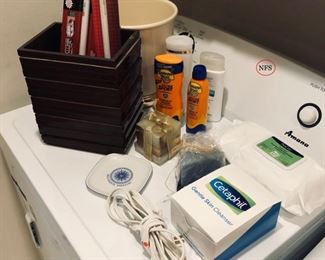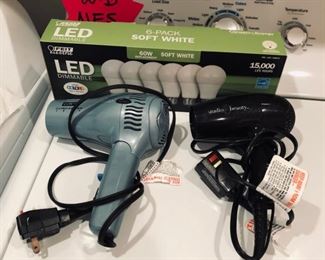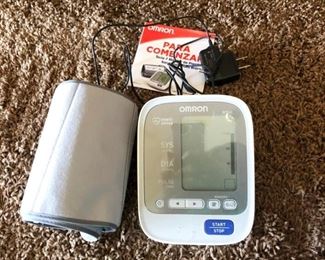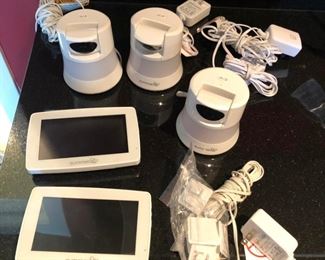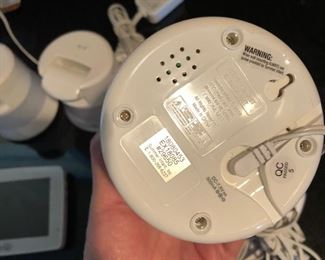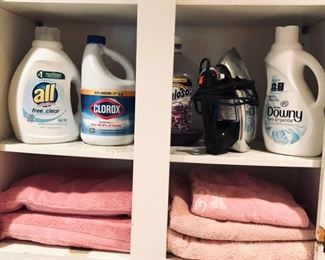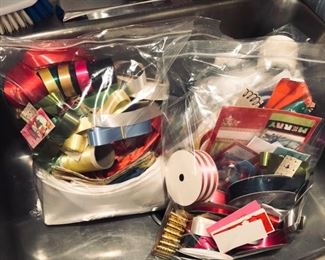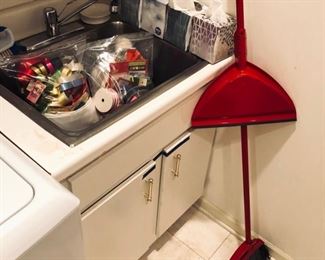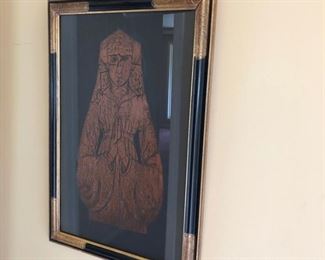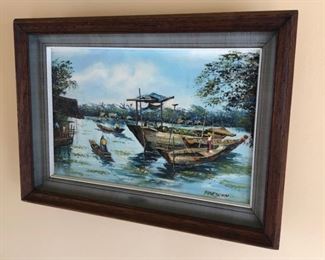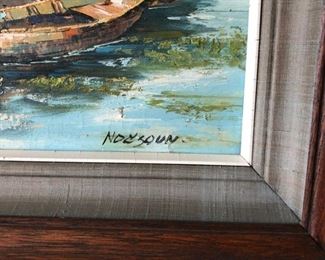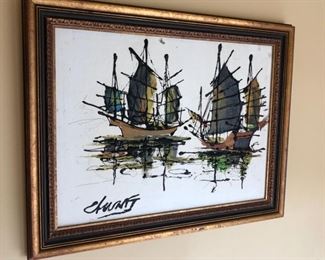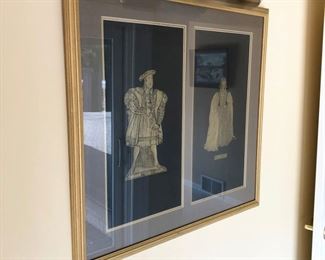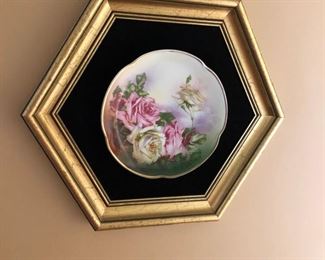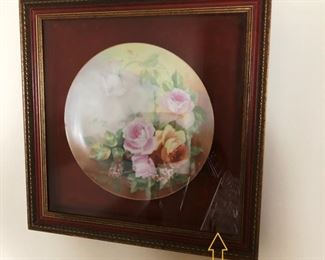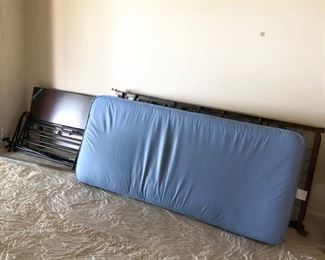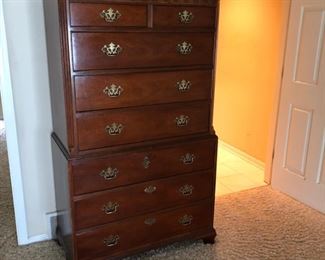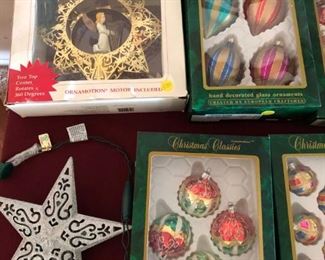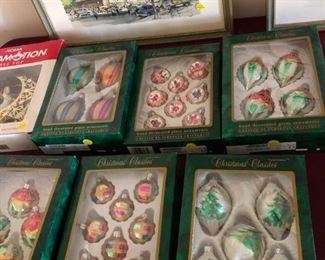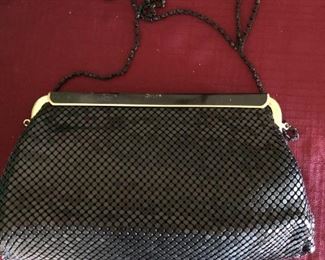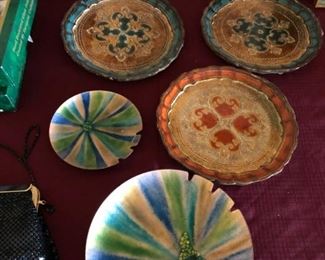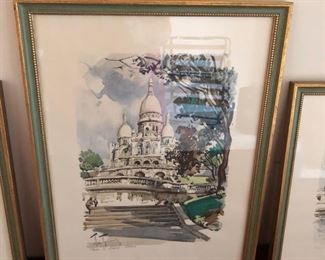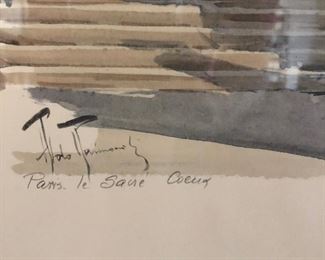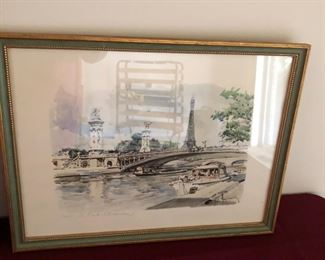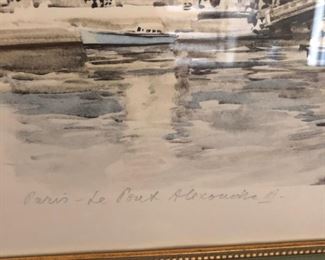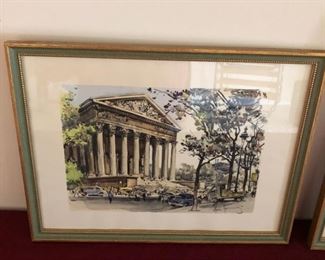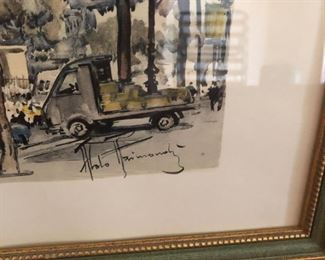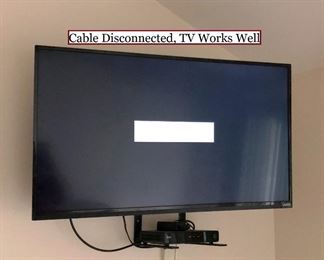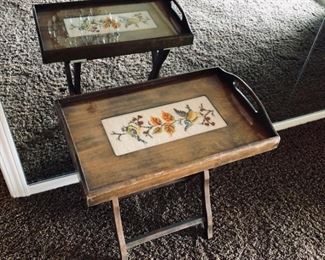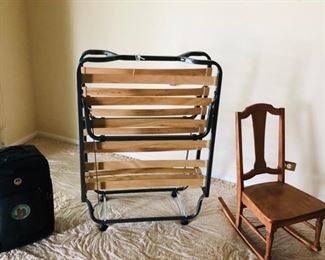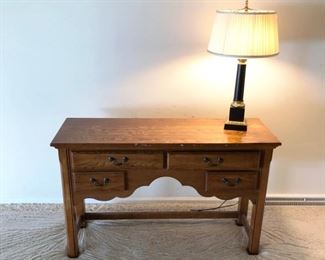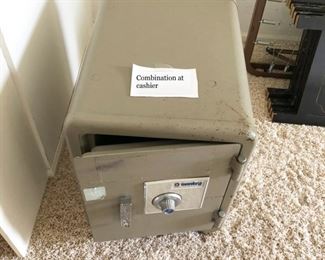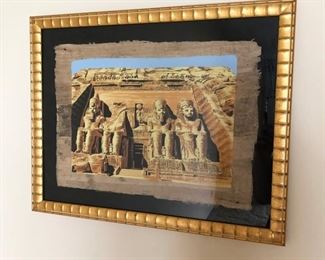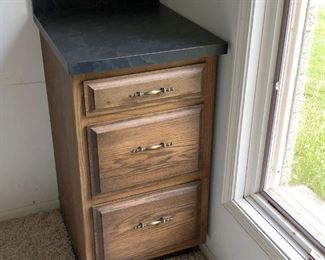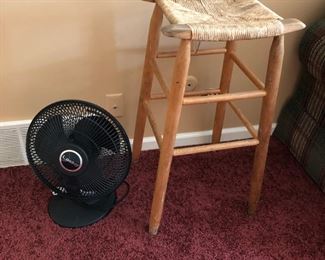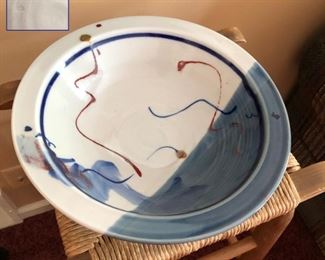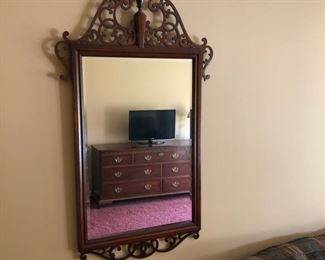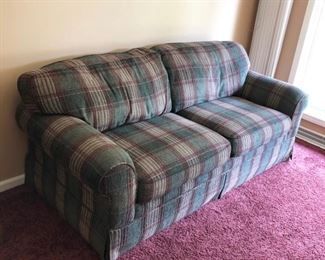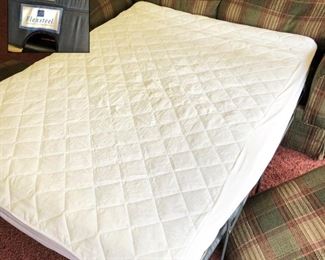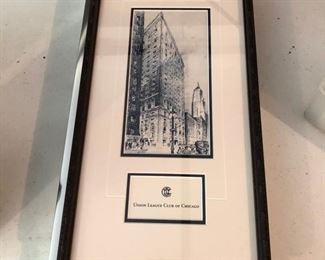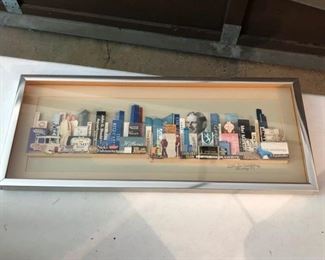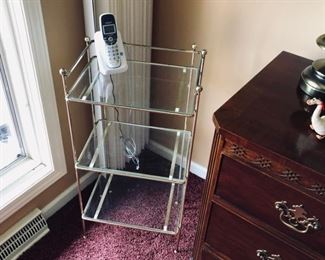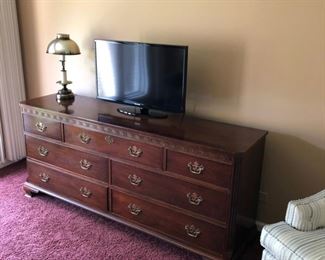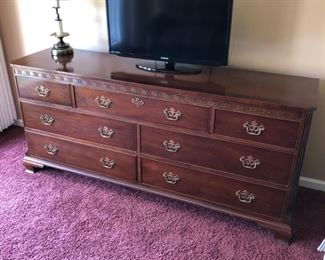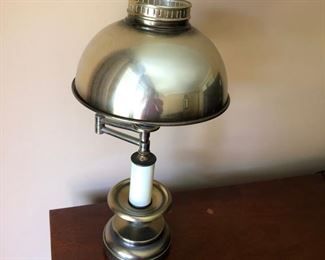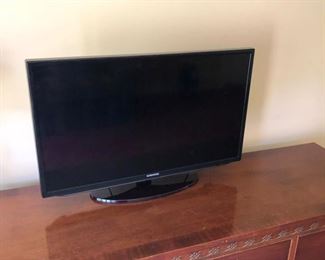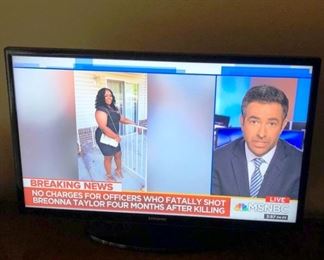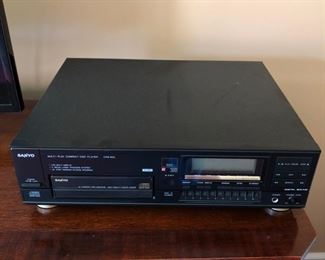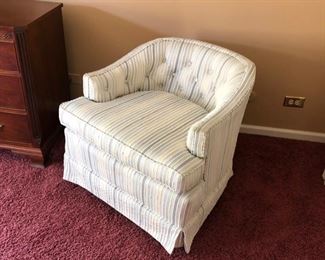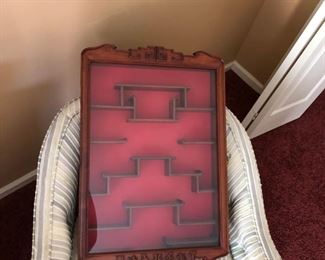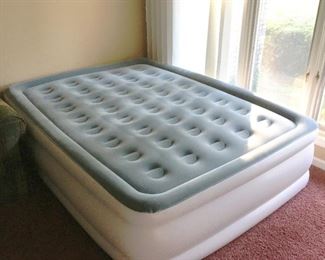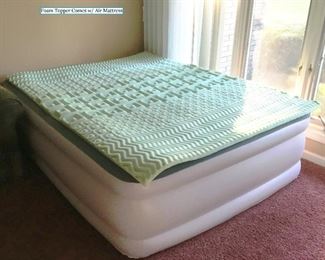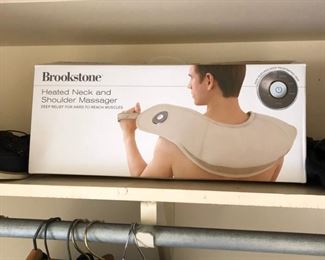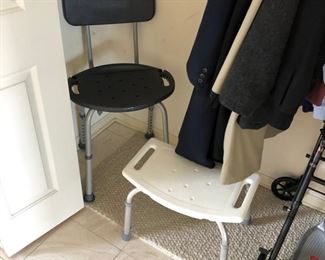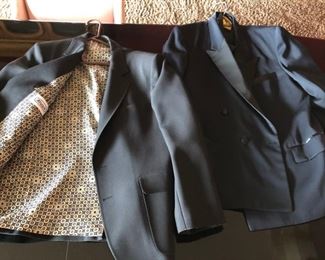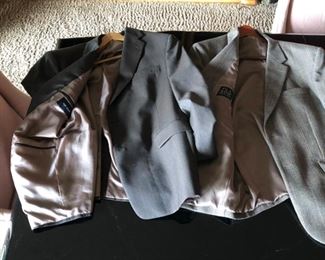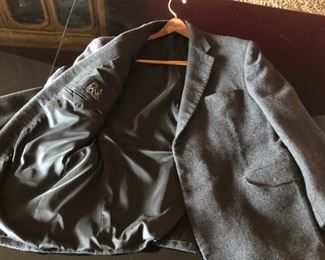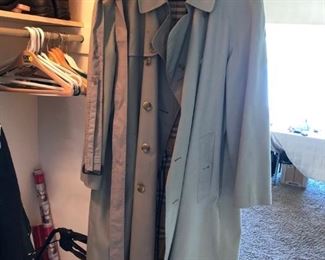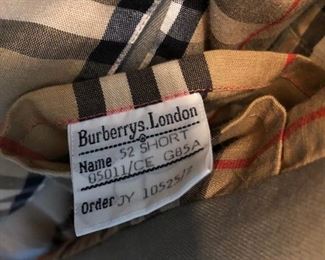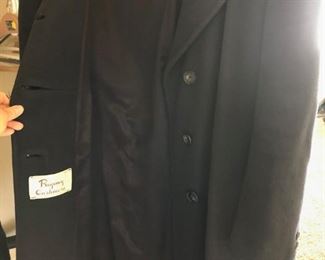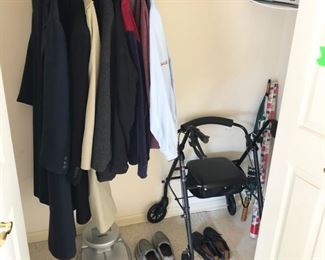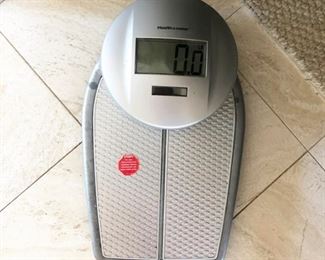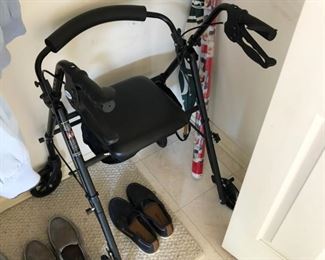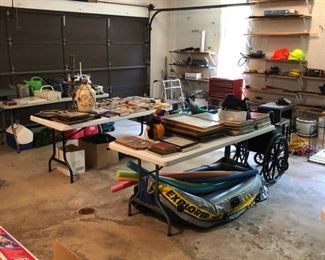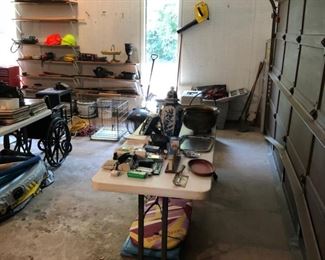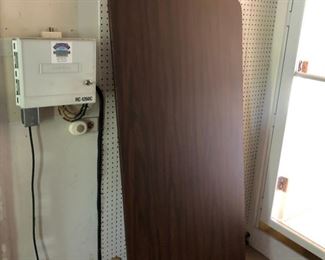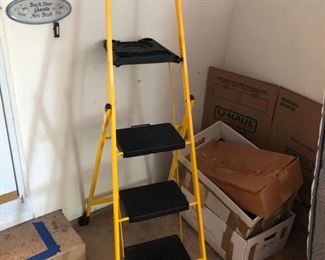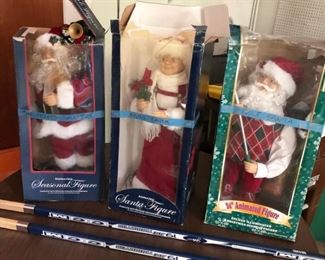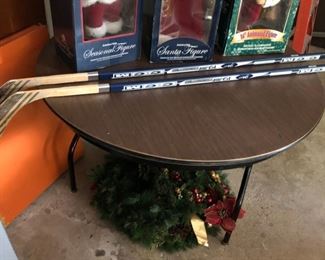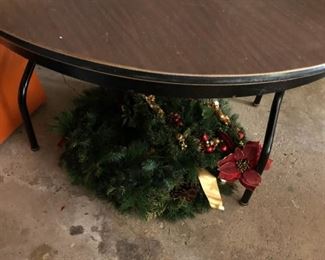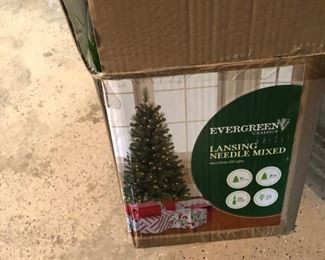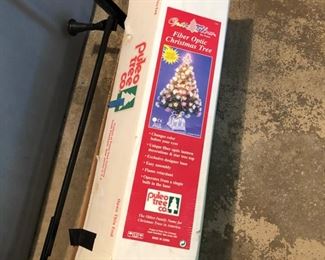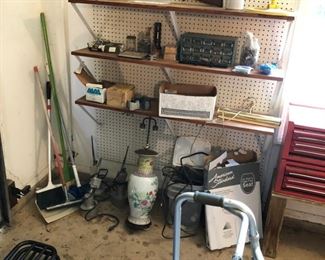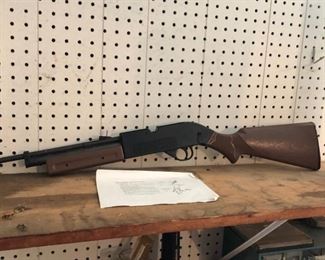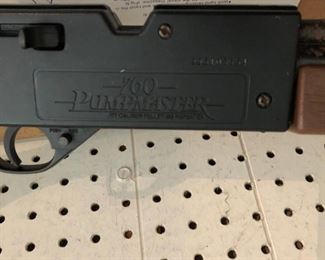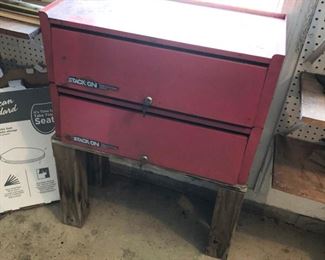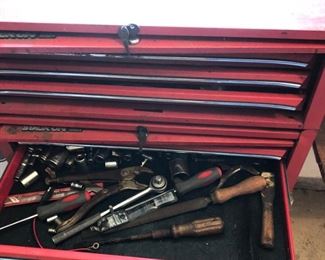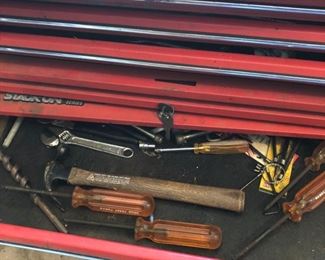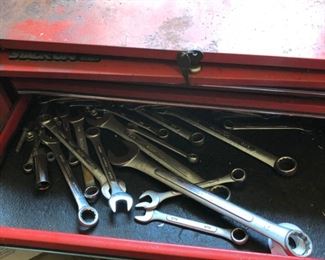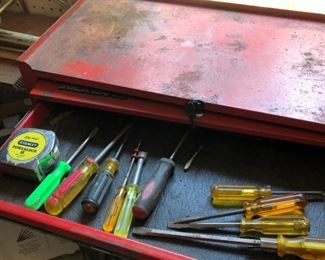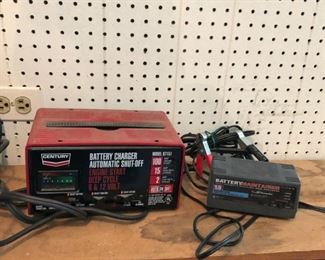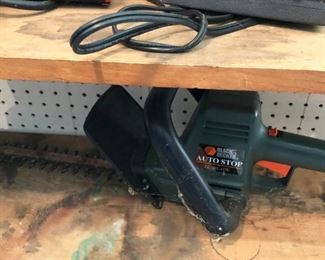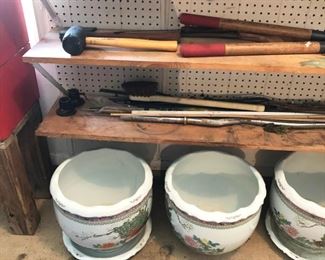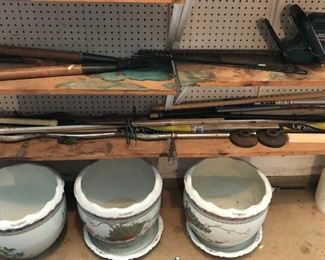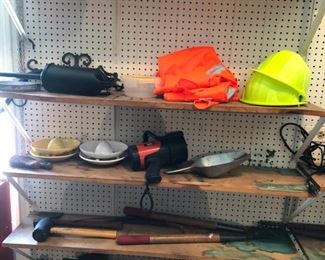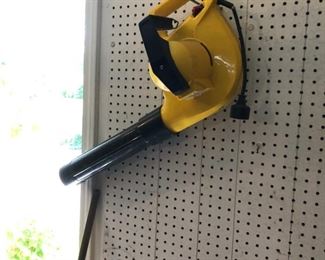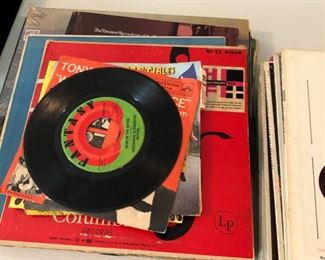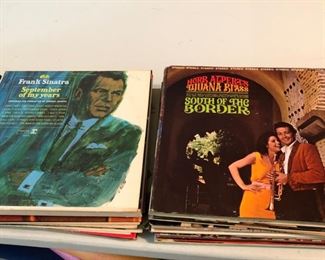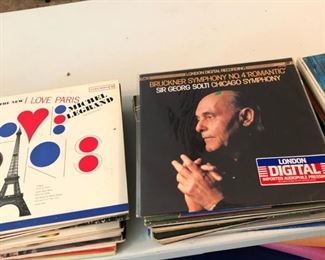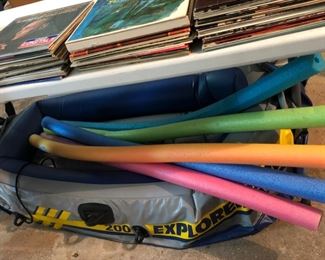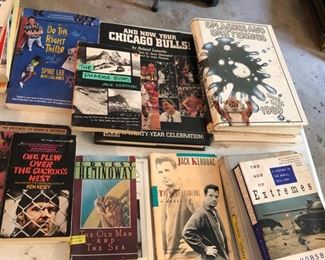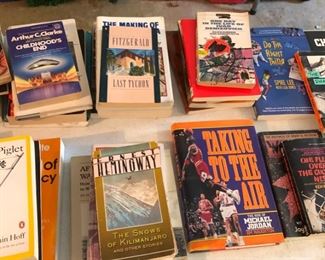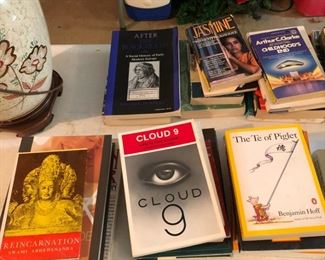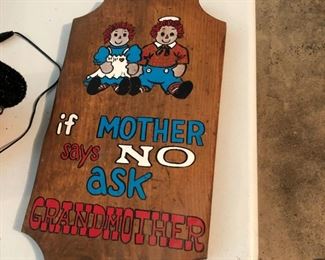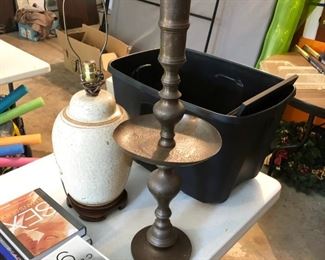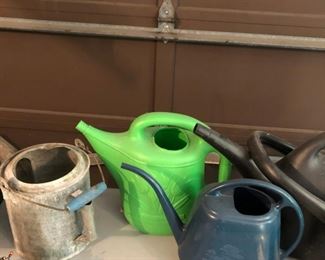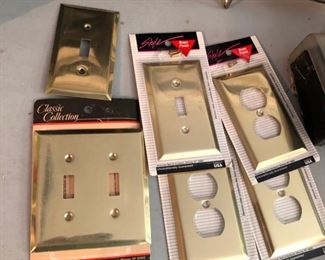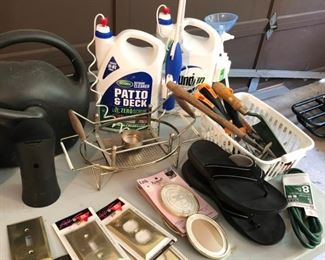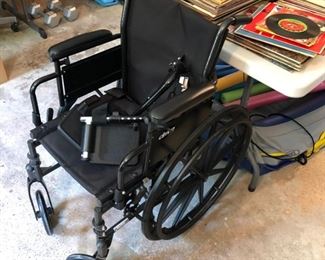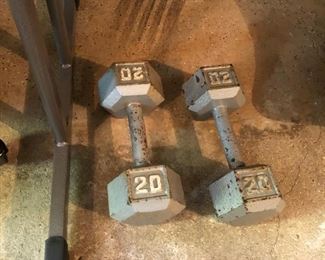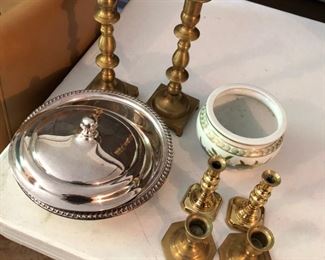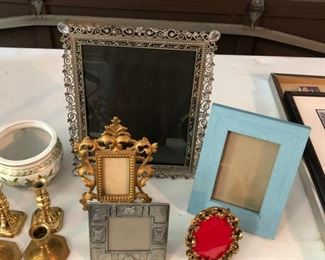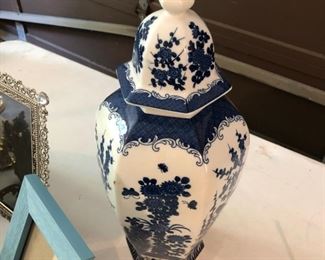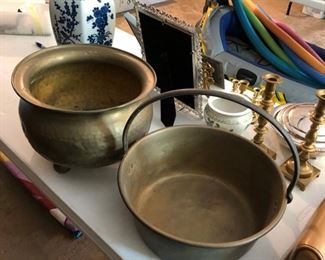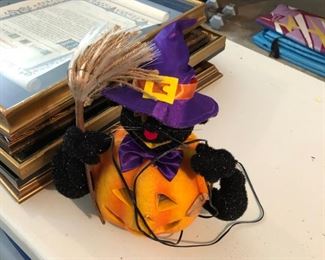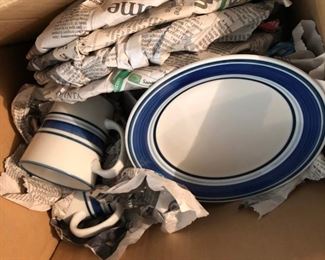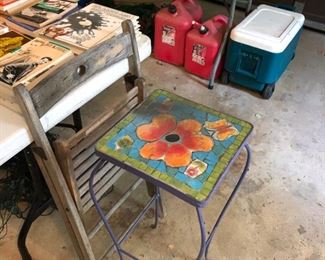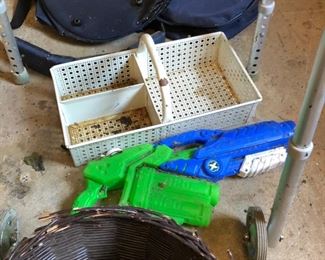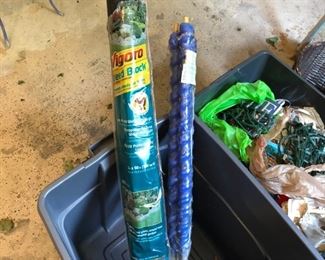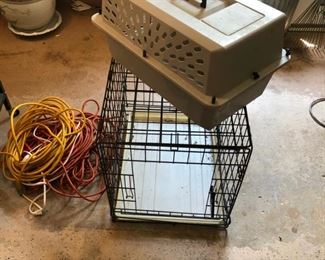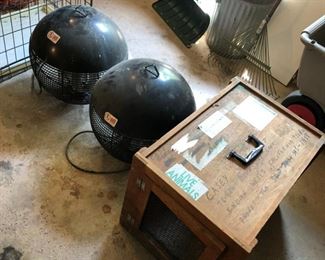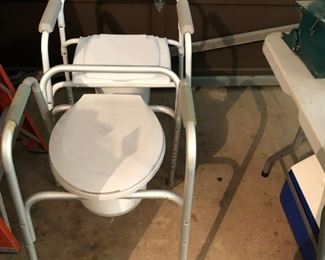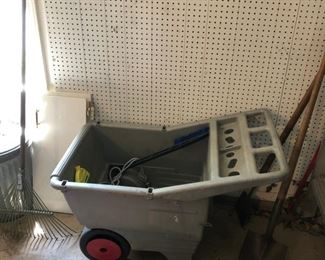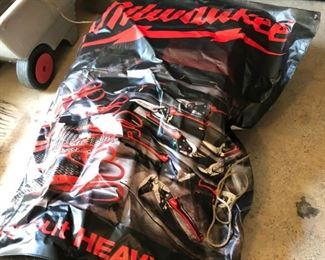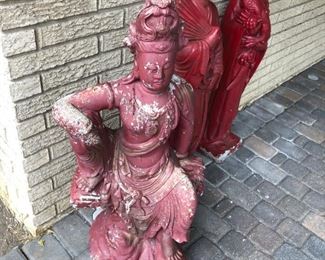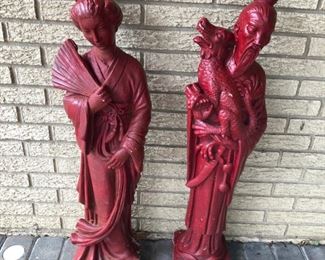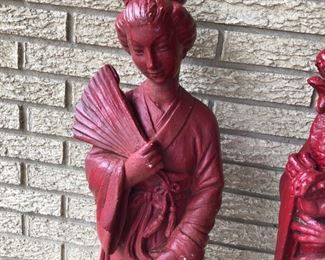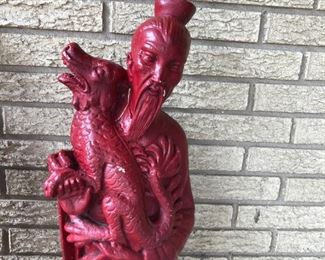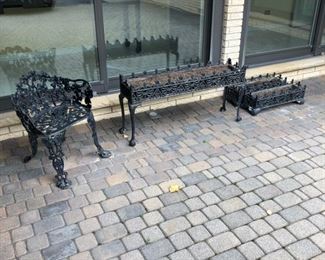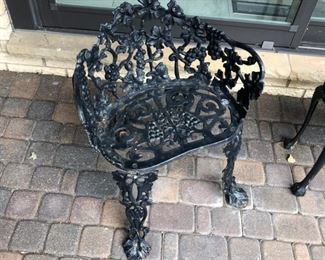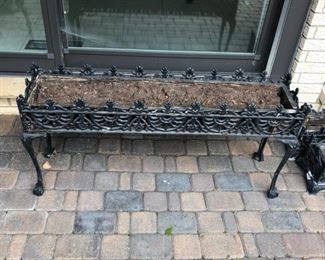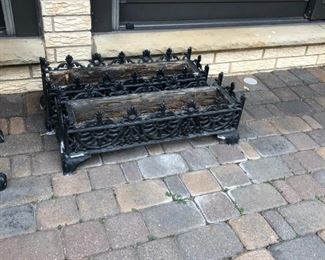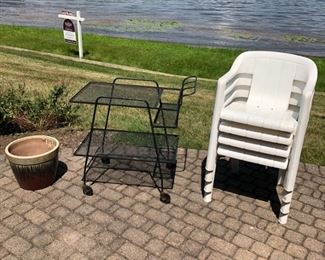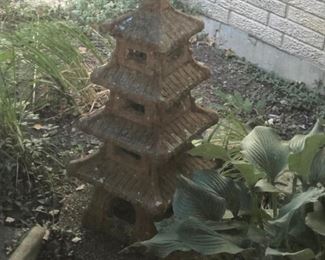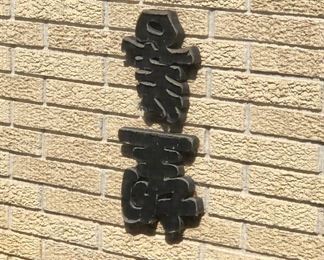 Thank you for using EstateSales.NET. You're the best!