IMPORTANT COLLECTION OF ART & 20TH CENTURY DESIGN ESTATE SALE!
estate sale
•
3
day sale
•
sale is over
Terms
ALL ITEMS SOLD IN AN AS IS OR AS FOUND CONDITION.
PLEASE EXAMINE ITEMS BEFORE PURCHASING AS ALL SALES ARE FINAL.
OUR NUMBERS AVAILABLE ON FRIDAY AT 8 A.M.
ENTRY MAY BE LIMITED THROUGHOUT THE SALE IF CROWD SIZE IS OVER CAPACITY LIMIT.
3% FEE ON ALL CREDIT CARD SALES.
SHOPLIFTERS WILL BE PROSECUTED!
ENTER AT YOUR OWN RISK. NOT RESPONSIBLE FOR ANY ACCIDENTS INSIDE OR OUTSIDE!
DELIVERY SERVICE IS AVAILABLE AT A REASONABLE COST!
PLEASE BE CONSIDERATE OF RESIDENTS AND DO NOT BLOCK DRIVEWAYS OR MAILBOXES. PLEASE PARK ON 1 SIDE OF STREET ONLY.

PLEASE ACCEPT OUR SINCERE THANKS FOR LETTING US SERVE YOU EACH WEEK. WE GREATLY APPRECIATE THE FACT THAT YOU HAVE CHOSEN TO DO BUSINESS WITH US, AND IN RETURN WE PLEDGE OUR CONTINUING EFFORTS TO OFFER YOU THE BEST, FAIR, FUN SERVICE AS POSSIBLE.

THANK YOU!
WELL KNOWN DETROIT COLLECTOR, WILLIAM "SKIP" DAVIS SHARES 50 YEARS OF COLLECTING! THIS IS HOW HE DESCRIBES IT:
" For five decades, I have collected Pop Art and Folk Art, emerging artists and established artists, big art and small art, Industrial Art and Ecclesiastical Art, Humorous art and Erotic Art, precious art and found art, mass-produced art and one-of-a-kind art, Art Nouveau and Artifacts, Graffiti Art and Graphic Art. The time is right to share my treasures."
AN IMPORTANT SALE OF MODERN ART & SCULPTURE BY MICHIGAN & NATIONALLY KNOWN ARTISTS - INCLUDING HUGE STEEL SCULPTURE BY DAVID BARR, MID-CENTURY FURNISHINGS, 20TH CENTURY DESIGN, ART POTTERY AND GLASS, FOLK ART AND FOUND OBJECTS, AND MUCH MORE - ALL DISPLAYED IN HIS UNIQUE HOME THAT FEELS LIKE A SOHO ART GALLERY!
This is a packed house and with only 3 days to sell everything!
Because of the size of the house we may limit the amount of people in the house at one time. Please be patience with us. We will try to accommodate everyone.
FURNITURE, ETC.
David Orth Patinated Steel Industrial Coffee Table

Italian Parchment and Marquetry bar cabinet designed by Vittorio Lombardi with inlaid animals & hunters

Roger Sprunger for

Dunbar

Chrome

Center

Table w/ Glass Top

Edward Wormley for

Dunbar

Long John Bench

Giancarlo Piretti for Castelli "Plona" Folding Chair

Curtis Jere Pattinated Copper & Brass Brutalist Mirror

Kurt Versen Flip-top Floor Lamp

Horton Texteel Industrial Sculptural Steel Mesh Chair

Modernist Green Fiberglass Lounge Chair

1960's Orange Plastic "Tango" Stacking Chairs by

Overman

AB

– Pair

White Plexiglass Glass Top Table w/ Pair "Z" Chairs

Brevettato

,

Italy

steel dining table with frosted glass top

Set of 4 "Bombo" adjustable chairs designed by Stefano Givannoni for

Magis

,

Italy

Set of 2 "Bombo" adjustable barstools designed by Stefano Givannoni for

Magis

,

Italy

Phillip Stark for Kartell Super Glob Armchair

Phillip Stark for Kartell Miss Balu table

Pair of

Arthur Court

gilt flower side tables w/ glass tops

Pair of sectioned custom upholstered sofas

Asian carved rosewood stand with marble insert

Mixed woods drum table

Marizio Tempestini for Saltinerini geometric iron table

Paul McCobb planner group "Shovel chair"

Black steel cut iris barstool

Antique iron tile top side table

Saporetti leather swivel chair with chrome base

4 pc Crate & Barrel sectional

Low Black media stand

Artist made folk art wood block chair

Mid-Century chrome coffee table w/ 3 crossed legs, ball feet, and glass top

Vintage Folk Art small 3 drawer chest

3 pc. Black Office Desk with rolling file cabinet

4 Drawer Oval Maple Chest

Italian Chiavari high ladder-back chair w/ woven seat

American Freeform Burlwood Pedestal Table Base

Pair Authentic vintage Knoll Wassily chrome chair frames

Pair vintage iron butterfly chairs
DECORATIVE ACCESSORIES & COLLECTIBLES
American Mid-Century White Geodesic Sculpture

Modernist Carved Wooden Abstract Sculpture

Art Deco Chrome & Glass Andirons

Laurel Mid-Century Aluminum Brutalist Table Lamps – Pair & Tall Single Lamp

Large Clear Acrylic Table Lamp

Dansk Silverplate Animals and Candleholders

Extensive Collection of Vintage Christmas Ornaments & Decorations from

Italy

, W.

Germany

, etc.

Industrial Molds

Modernica Nelson bubble light fixture

Roland Simmons lumalights

Vintage ceramic tiles including Pewabic

George Kovacs lighted white plastic cylinder pedestal

Tall chrome cylinder pedestal

Mid-Century neon-style tubular lamp

Vintage hand painted black and white mirror in the style of a banner hanging from a brass rod

Large lucite freeform bowl

Collection of African and Tribal hand Carvings, Figures. Canes and Masks

Art Deco black pottery panther

Pair of wrought iron carved tall candlesticks

Two pairs of Art Deco iron andirons

Zebra skin top African Drum

Antique oval hand painted ceramic plaque

Moose Antler

Mid-Century colored Lucite stacking ring lamp

Copper colored ceramic table lamp with triangle details

Pair of Art Deco black metal altar floor candleholders

Assortment of carved horn bowls, cups, & bird sculpture

Unsigned stone carved sculpture, "Thinker"

Assortment of handmade Beaded wire pieces, including lion sculpture

Handmade needle basket

Miro` Domino Set

Vintage kid's metal building set, "The Constructioneer"

Royal Haeger Stallions TV lamp

Marty pottery lamp

Tramp Art popsicle lamp

Collection of cement and wood Architectural Elements & Detroit Demolition Artifacts

3 large Chinese pots made from Yangtze river mud in iron stands

Collection of Andy Warhol soup cans

"Marilyn Merlot" wine bottle collection

Buenilum aluminum covered bowl

Vintage alabaster fruit
ART
David John Barr (American, 1939-2015) Large Steel Sculpture

Bayat Keerl (Swiss, b. 1948) "Fatal Metal Mark #2", Oil on Photo, 1979

Curtis Jere (American, 20TH c.) Brass Horse Head & Patinated Metal Wall Sculptures

Stephen Magsig (American, b. 1946) "Hoot Robinson's Diner", Oil on Canvas

Claes Oldenberg (Swedish-American, b. 1929) "Study for Steel & Lead Ashtray", 9-Color Aquatint, Ed. 23/50

John Clem Clarke (American, b. 1937) "Louis XIV", Lithograph

Frank Kozik (American, b. 1962) "Smoking Pink Poop", Silkscreen, Ed. 35/60

Gerry King (American, b. 1945) "Tartessos Vase" Glass Sculpture

Shepard Fairey (American, b. 1970) "Lebowski Fest", Richard Nixon Bowling, Silkscreen, Ed. 226/300, c. 2003

Jim Miller-Melberg (American/Michigan, b. 1929) "Figure", Charcoal & Watercolor, c. 1950's

R.A. Miller (American Folk Artist, 1912-2006) "Snake",

Teresa Petersen (American/Michigan, 20th c.) "Woman at the Door", Oil Painting on Found Object Door
Susan Logan (American, 20th c.) "Tall Man", Sculpture
Luke Jordan (American, 20th c.) "Standing Nude by a Chair", Photograph
Mary Fortuna (American/Michigan, 20th c.) "Leather Amulets w/ Horse Hair", 2 Fetish Sculptures
Sergio DeGiusti (American/Michigan, 20th c.) "Cast Head Medallion", Hydrocale

Allen Berke (American/Michigan, 1948-2003) "Man with Hat", Oil on Canvas

Laura Grabowski (American, 20th c.) "Found Objects Assemblage"

Matthew Loflin Davis (American/Michigan, 1969-2015) Black/White Photograph of a Prostitute

Robert Berry (American/Michigan, 20th c.) "Grandma Dress Up", Oil on Canvas, 1994
Mike Russo (American/Michigan Graffiti Artist, 20th c.) "King of Hearts", Oil on Board
c.) "Autumn in thHelen Bevan (American/Michigan, 20

Milford

", Oil on Canvas

William "Skip"

Davis

(American/Michigan, 20th c.) Paintings, Found Object Assemblages/Shadowboxes

Fuse Box Sculpture, Wood w/ Plaster

Craig Carey handcrafted wood table "Fishpond"

1960's Authentic Chinese 4' x 6' Oil on Linen Portrait of Mao Zedong, former Chairman of the People's Republic of China, typical of portraits found in Communist Party or Government meeting halls during the Cultural Revolution (1966 until Mao's death in 1976)

Richard Nixon 1952 Campaign Photograph, 4' x 7' mounted on board, an American artifact

Brian Nelson (American/Michigan, 20th c.) "Life Vest", Cast Lead Sculpture
c.) "thBruce Giffin (American/Michigan, 20

Michigan

Central Station,

Detroit

, Black/White Photograph

Arthur Schneider (American/Michigan, 20th c.) "Couple", Multicolor Wood Sculpture

Clinton

Snider (American, b. 1969) "Soapbox

Derby

Entry", Found Objects Sculpture

Joane Aquinto

,

Michigan

Pewabic Artist "Keyhole Box"

Robin C. McGee (American, 20th c.) "Three Nail Teapot", Fabricated Pewter, c. 1989

Ernest Trova (American, 1927-2009) "Evolving Man", Poster

Larry Zox (American, 1937-2006) "

Whitney

Museum

Exhibition", Poster

Handmade woven aluminum free form basket

Richard Jerzey "Jester" oil on board

Karyn Sisson, folk art clothespin bowl

Michael D Hall, painted collage "Invasions of Motown"

Harold Cohn, oil on canvas "Aerobat"

Midcentury Aluminum sculpture "Double Horn"

James Stephens, oil on canvas "New York Meal"

David Rickfelder, charcoal and acrylic on cardboard "I Promise"

Artist made terra cotta painted

bust

Robin C McGee fabricated pewter " Three Nail Tea Pot" 1989

1950's modern art abstract bronze Eagle by Klein

Doug Huston, print "God Save the Thing"

Jack Johnson,

Detroit

, Tempura on craft paper "Man in Black Hat"

Midcentury nail sculpture "Fire"

Signed papyrus bowl

Sean Evans Pyro art on paper

Tyree Guyton painted typewriter

Collection of wood foundry molds

Collection of

bronze brutalist sculptures

Tribal wood horse sculpture

Richard Kozlow abstract bronze

Diane Alva,

Detroit

artist "Abstract Portraits" oil on board

Ben Lyon, Michigan artist "Truck Sconce"

Dale Teachout found object mask

Terry Light, mixed media "Fortune nail hand"

T.J. Pewe, mixed media/bust on board "Howlin Wolf"

JT Abernathy large studio pottery bowl

Barbara Ravizza, Litho "Conversation piece #19 Shoes"

David Brainard, Artist Proof "His Name is Alive" cloud box

"Nature" painted wood letters

Unsigned copper wire sculpture

Burled Wood tree sculpture

"3 Women" Bronze sculpture

Mid-Century carved stone "Woman" sculpture

Brutalist artist made wood geometric sculpture

Artist made burlap soft sculpture with copper fittings

Matthew David "Avante Guarde" signed erotic photo

Dennis Barrclouch U of M artist #7 bronze sculpture

Laura Gajewski, mixed media "Willard"

Harson Mixed Media "Bunny Man"

Paint-by-Number Paintings Collection – Salon of Mid-Century Kitsch Paintings in Oil and Acrylic

Tramp Art and Prison Art

Many unframed signed art works

Many unframed posters and prints
METALWARE
Dansk Silverplate Animals and Candleholders

Collection of Enameled Metal Dishes and Bowls – Most Signed

Italian Mid-Century brass beverage set

Antique pewter teapot

Jennings Brothers pewter heron
GLASS, POTTERY, PORCELAIN, AND CHINA
Eugino Pattarino

,

Italy

Ceramic Rooster Platter

Lisa Larsen for Gustavsberg ceramic elephant tile

Iittala Glassware

Collection of signed & unsigned studio pottery

"Island

Worcester

" design by Vera dinnerware

Dansk Flamestone

"Blue Ridge" Southern

Potteries

dinnerware

Vintage Hand painted and signed Blair dinnerware

Red Wing Pottery "Smart Set" dinnerware

Iroquois China "Pyramids" dinnerware

Fiesta pitcher, salt and pepper

Art Deco metal/ceramic teapot

30's ceramic bellhop barware

Vintage Hazel Atlas glasses

Vintage Culver Pisa glasses

French Opaline blue tumblers

Etched "Rooster" glasses

Sculptural White Opaline glasses

Signed studio pottery vase with exposed face

Harder Aztec gold compote

Sasha Brastoff gold bowl and mug

Sevres

France

ceramic vase

German porcelain gold vase

Art pottery chargers, "Profiles" signed Maria

Midcentury Johannes Brahm

California

pottery bowl

Napco vintage alligator dish

Pottery by Don Lewis, J Brady, Arno Schneiding, J. Terestman, Millie Misch, J. Pasman and more

Vintage Chinese porcelain

Large collection of artist made majolica plates and platters

Vintage Jackson China lobster plates

Frankoma "Maya Aztec" pitcher

Rosenthal Netter Italian pottery

Glass nude figural vases

Handblown glasses

Rita Duvall art pottery 7pc. Mug set w/ tray

Beaverware wall pocket

8 sedan Swedish Lassee Feral tumblers

Kosta Boda Crystal bird

Robert Deeble frosted glass tray

2 Mid-Century handblown glass beverage sets

Maurice Heaton signed art glass dish

US Quarry tile co plates
WOOD
Merryll Saylon signed wood bowl

Ducks unlimited carved wood duck by Tom Tabr & Horsey Kyle

Exotic wood hand carved bison

Peter Petrouchko mixed wood vessel
Collection of artist made wood vessels, bowls, etc. -signed/unsigned
MISCELLANEOUS
Vintage graphics and advertising from auto industry

Books including Photography, Art, and Graphic Arts

Drafting table

Light fixtures

Kenwood turntable

Kenwood CD player

Kenwood receiver

JBL speakers

Vintage

United States

roll up school map

Vintage hardware

Glass and pottery insulators

Large Vintage Record Collection
DO NOT MISS THIS SALE!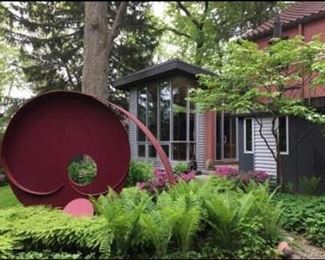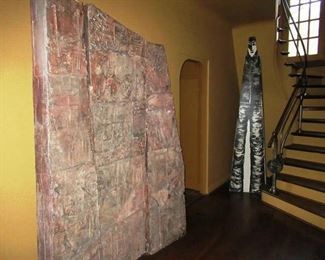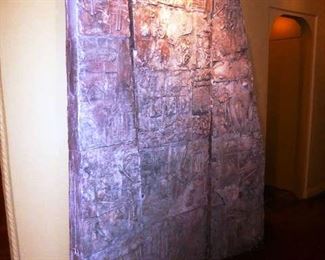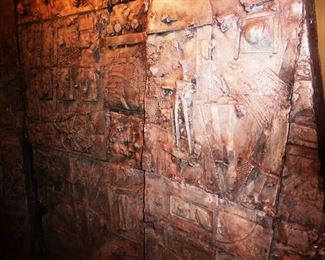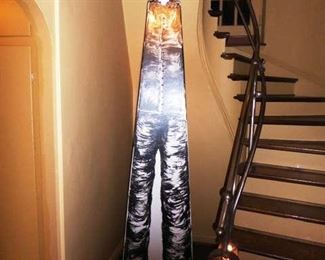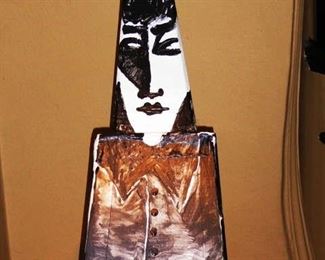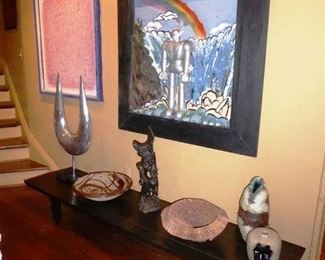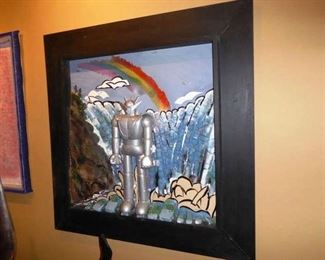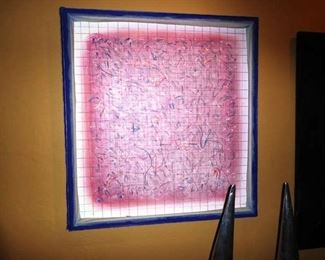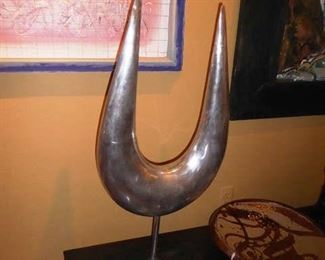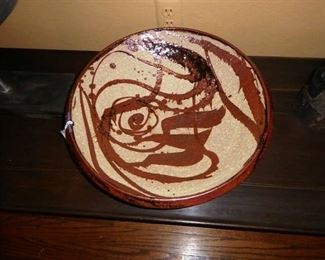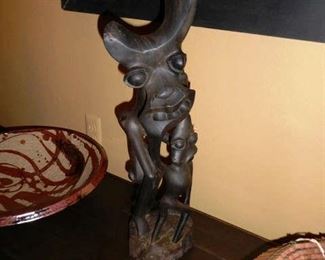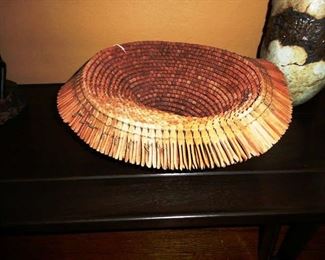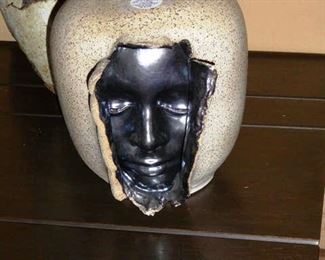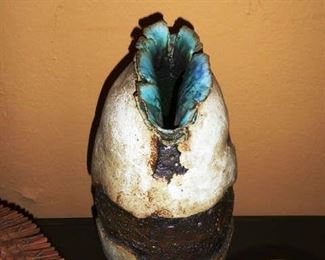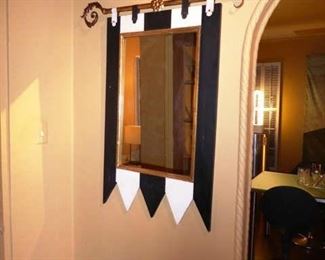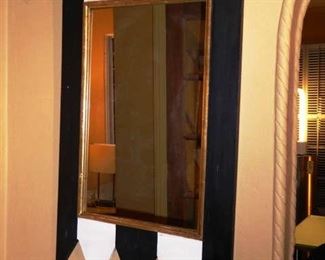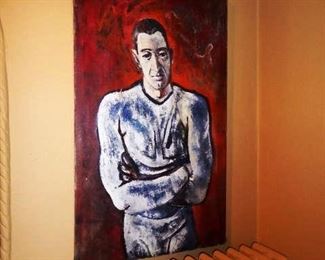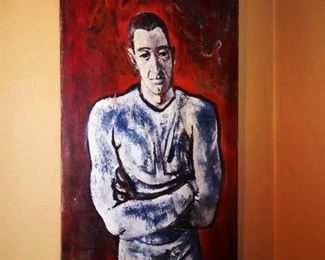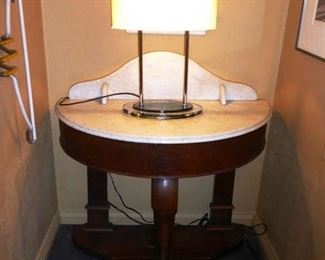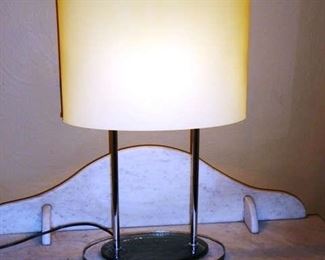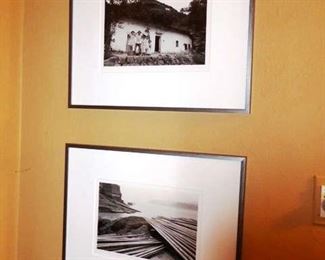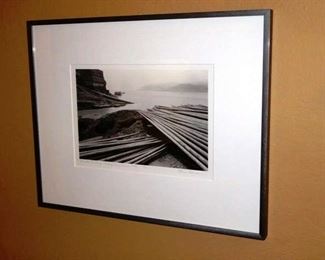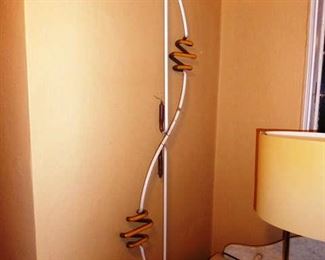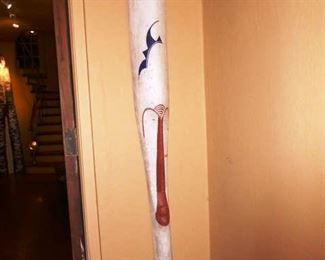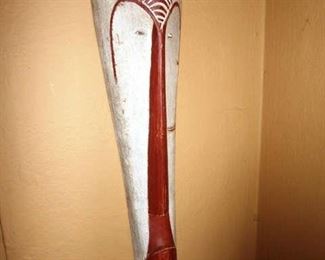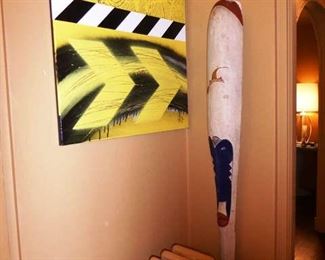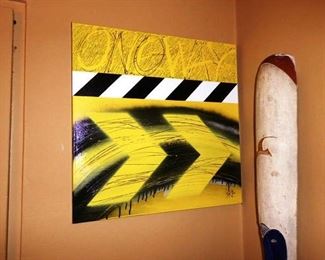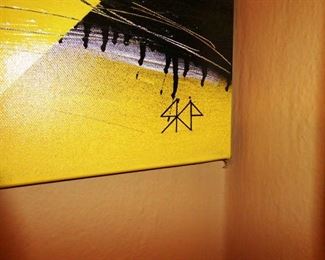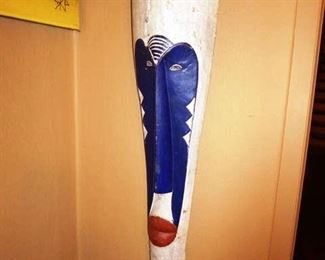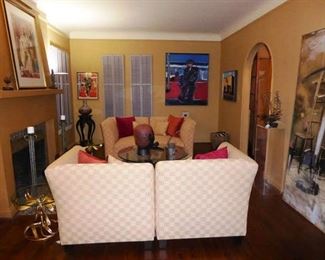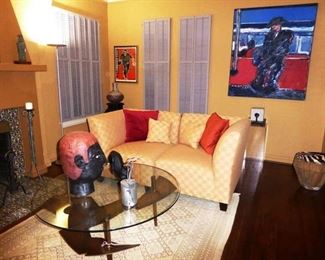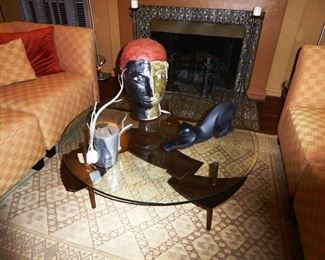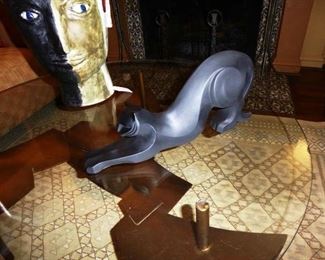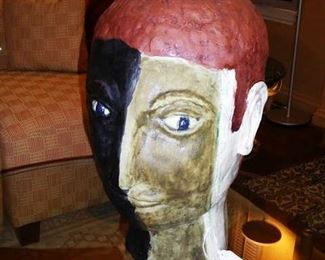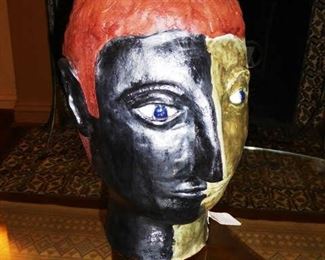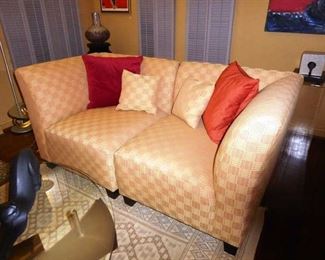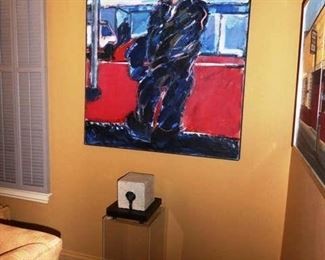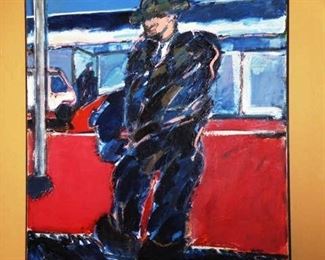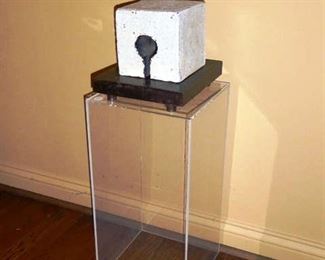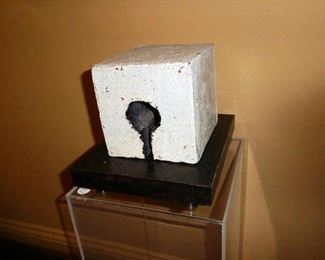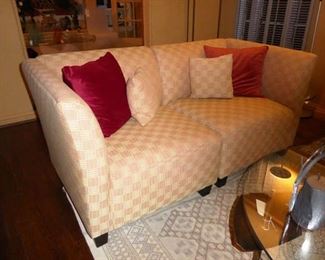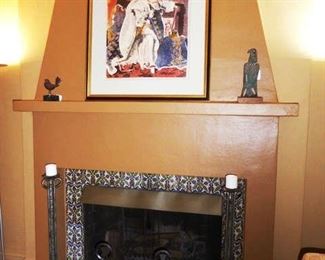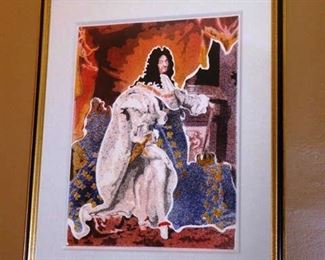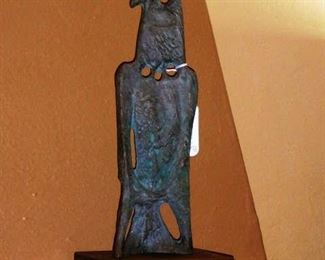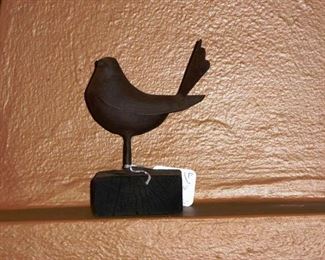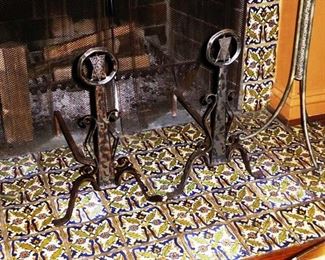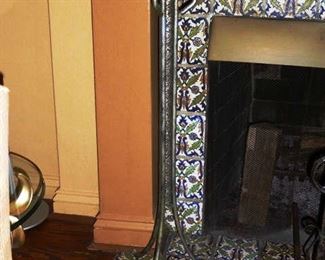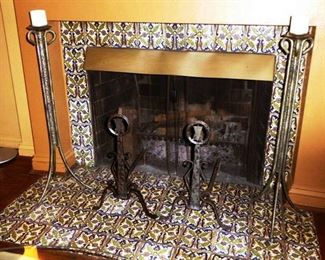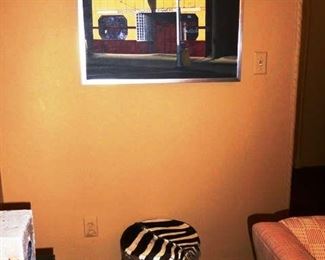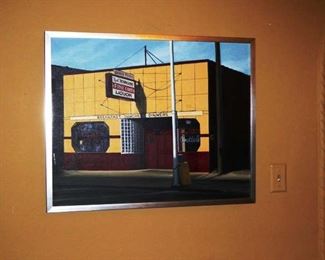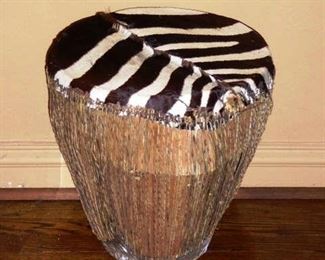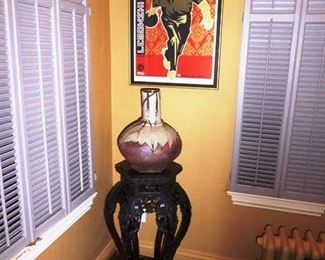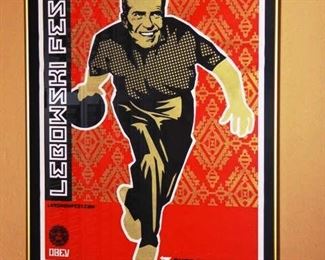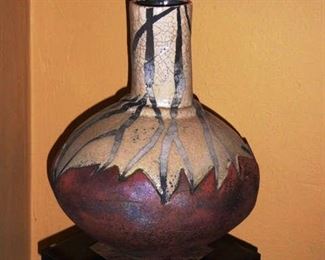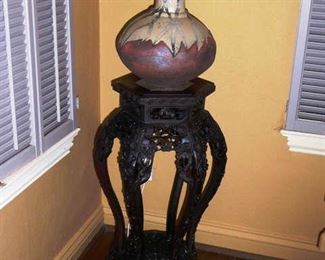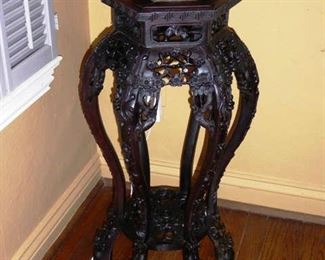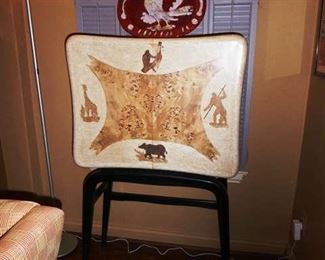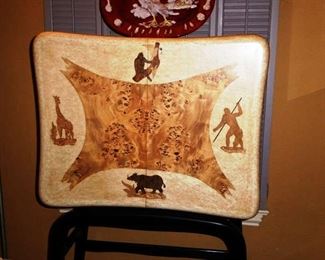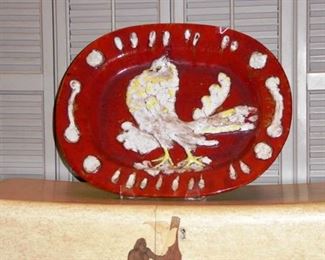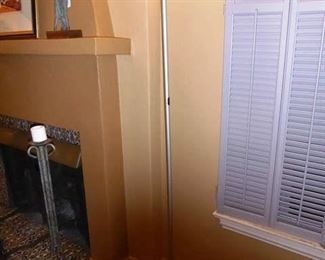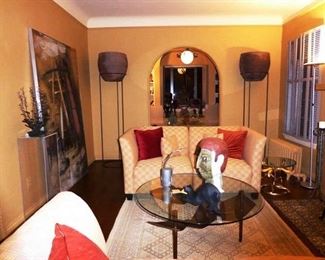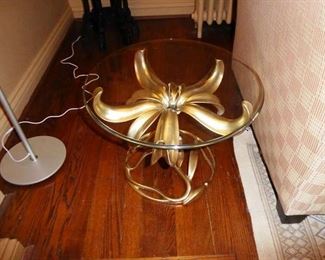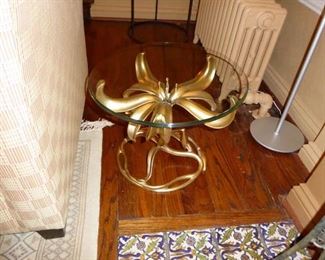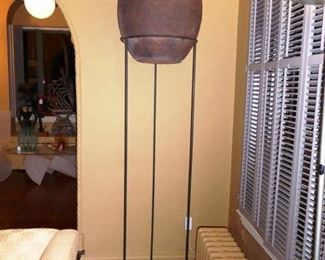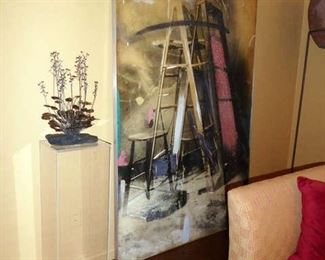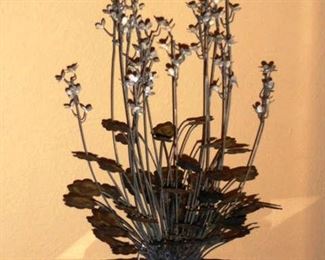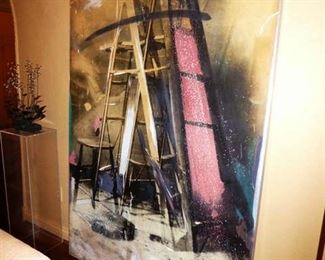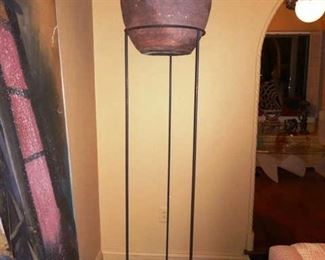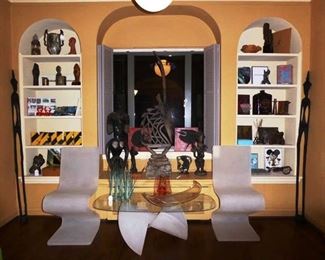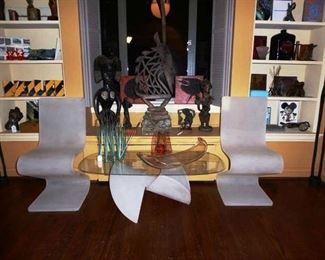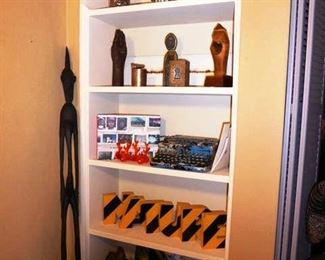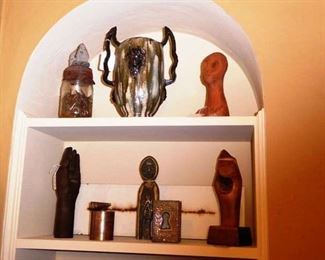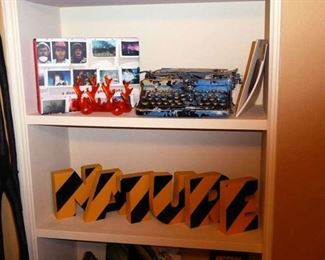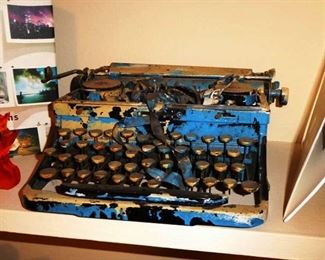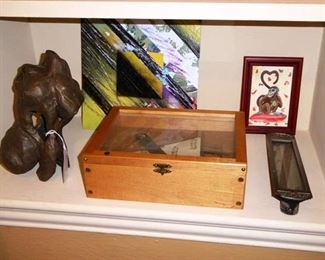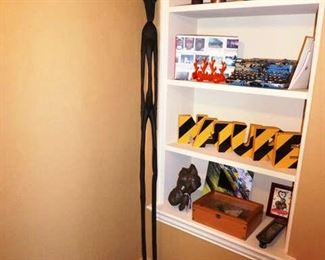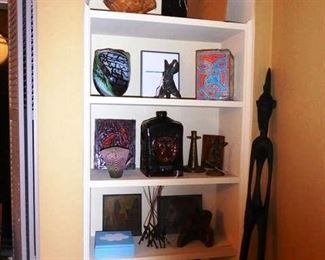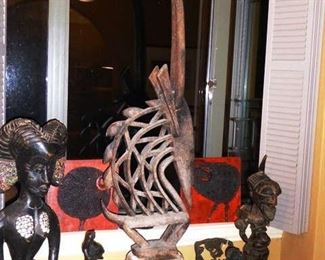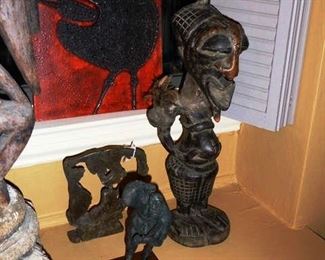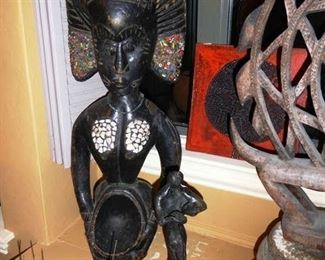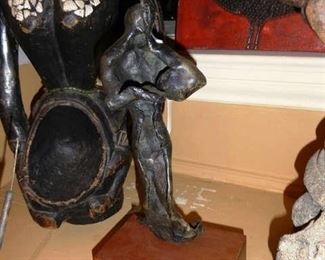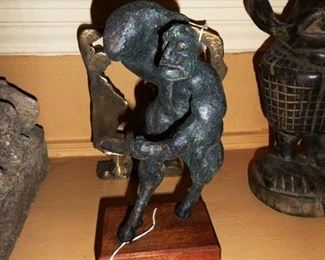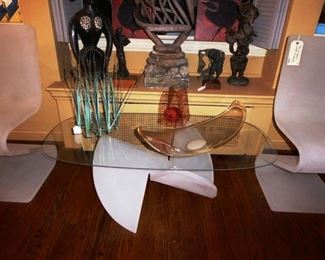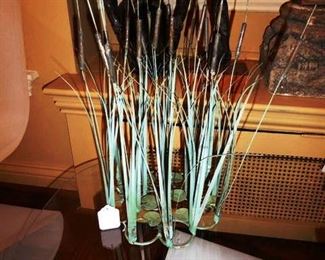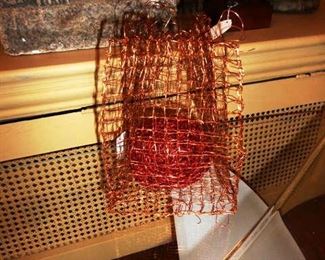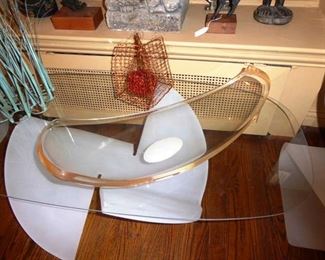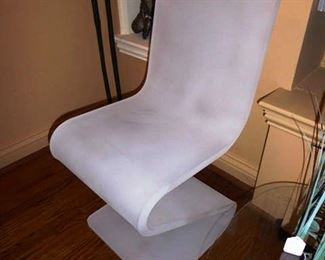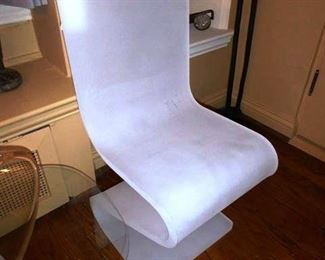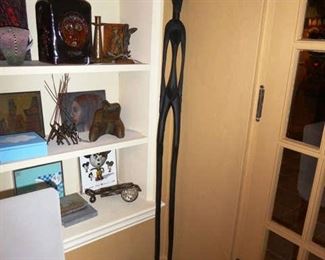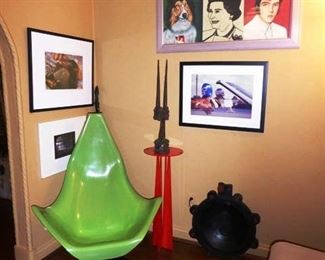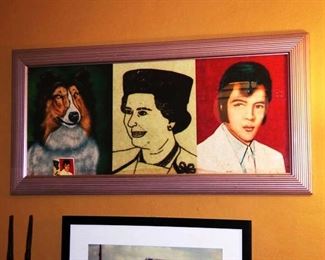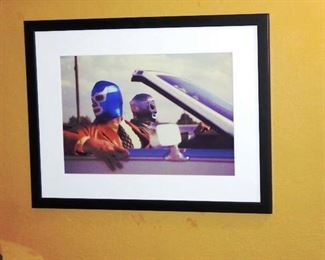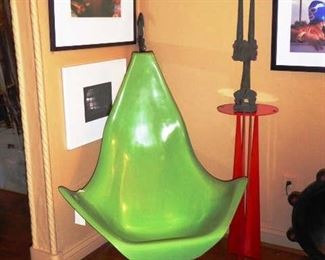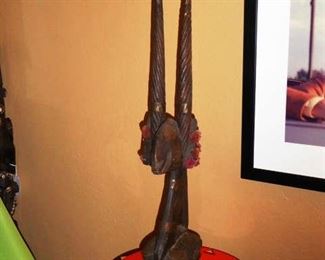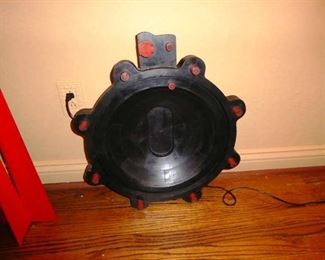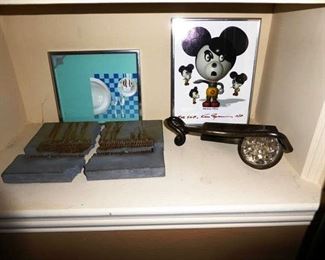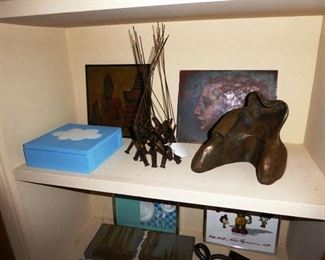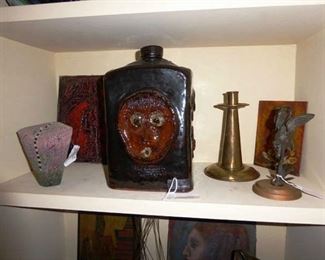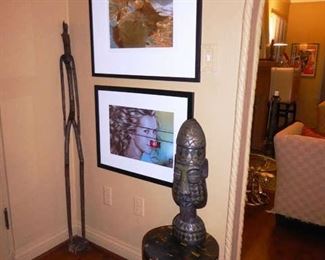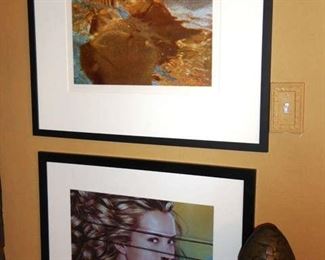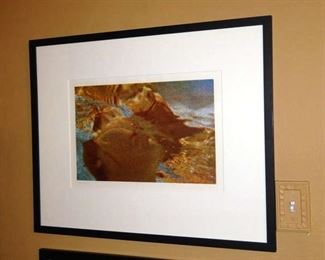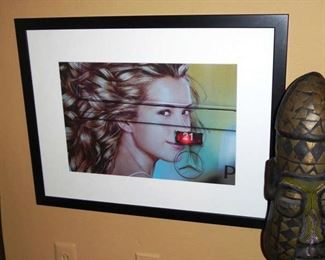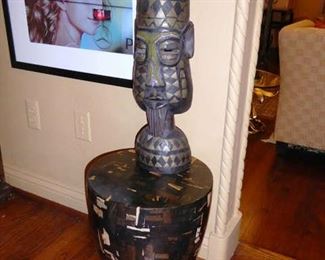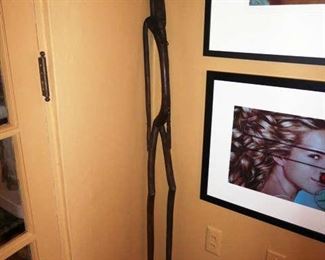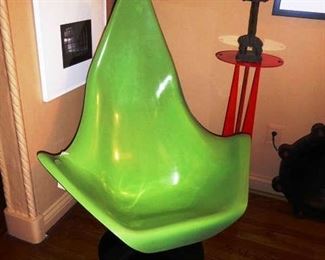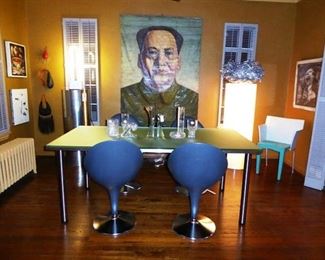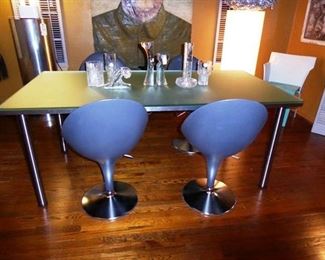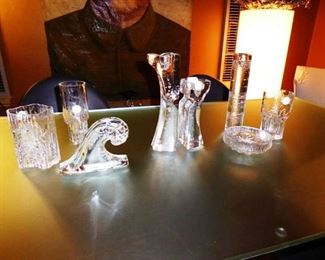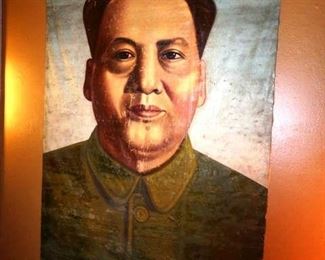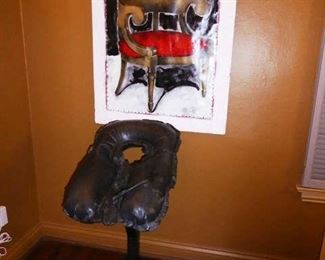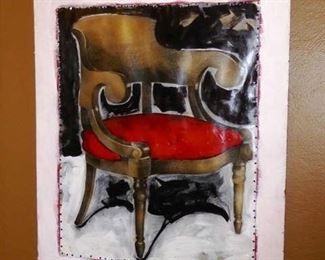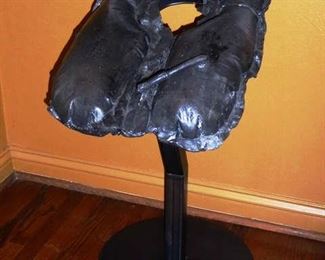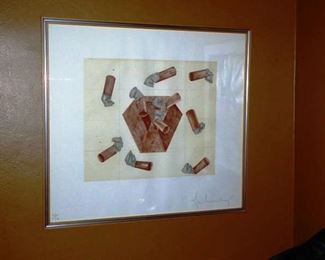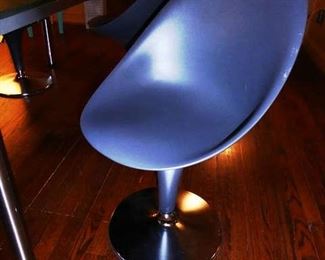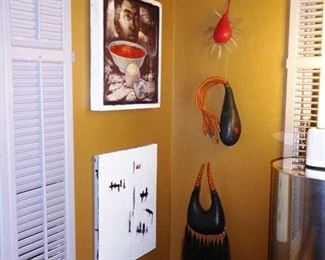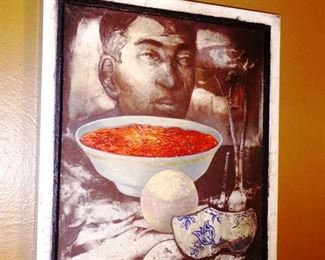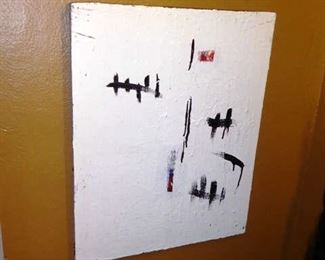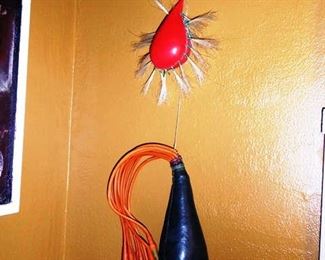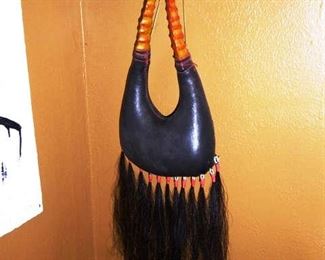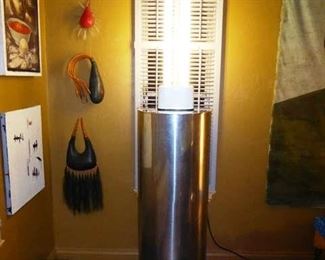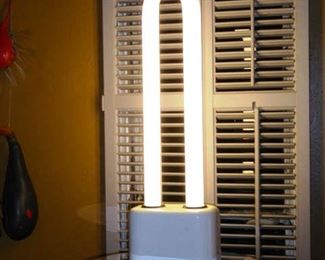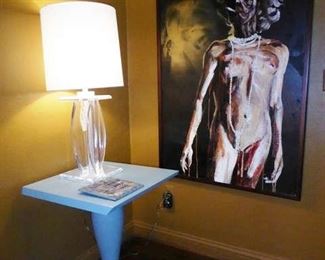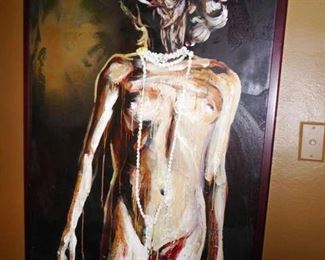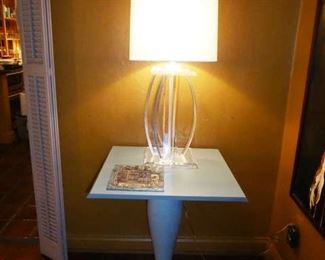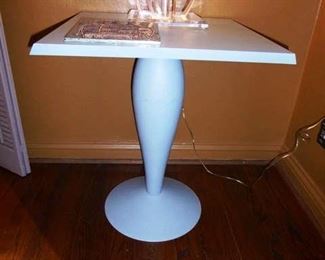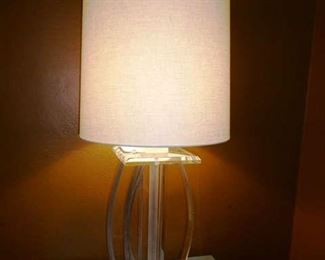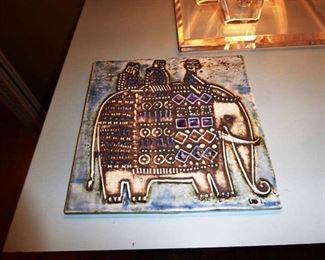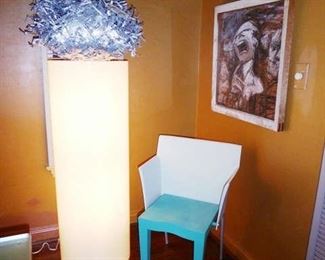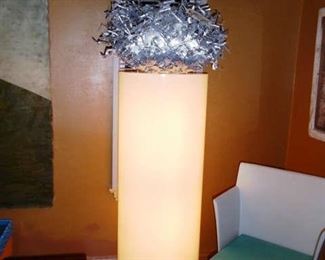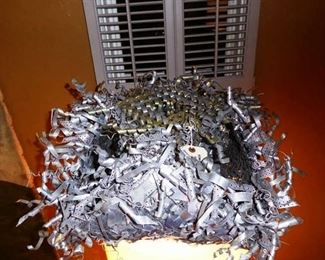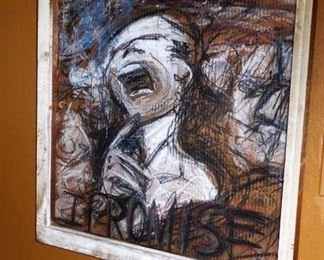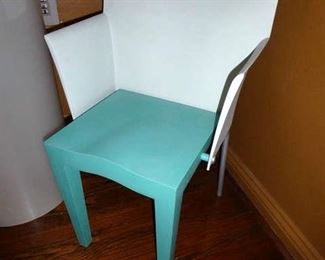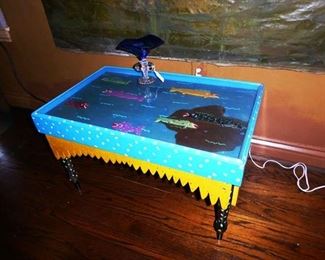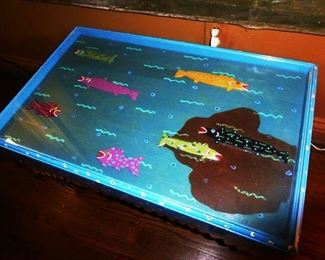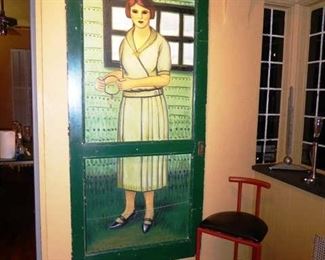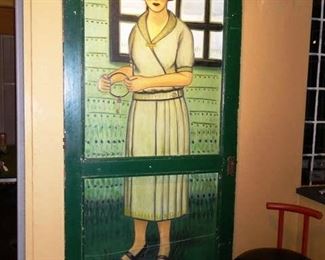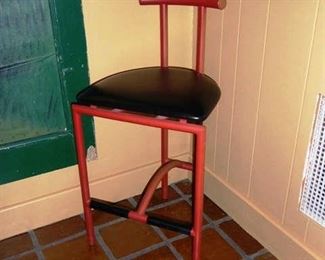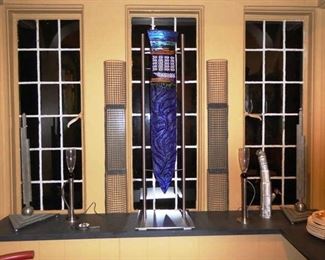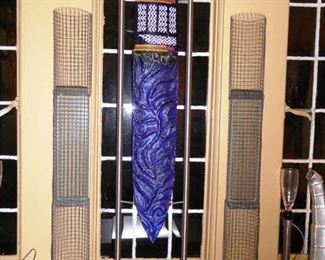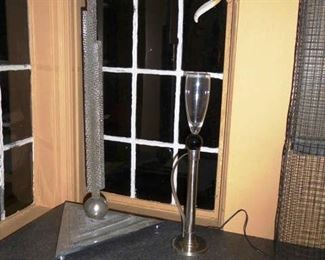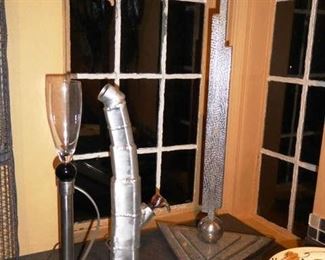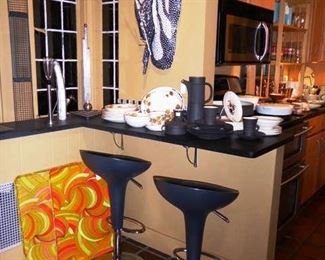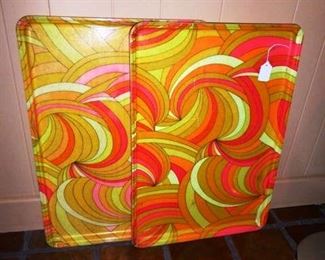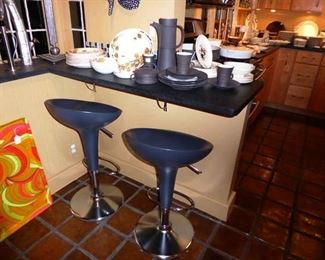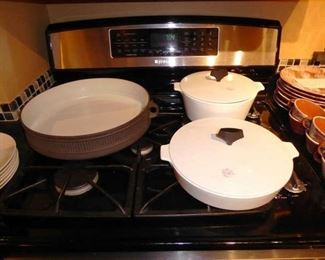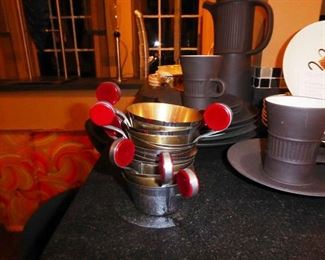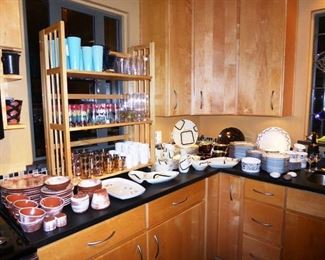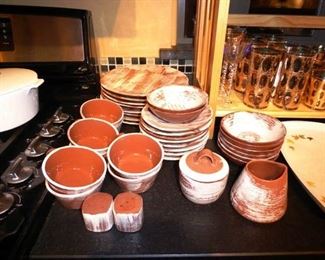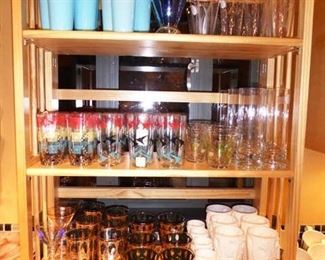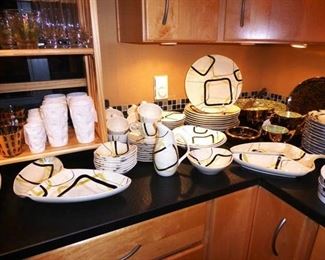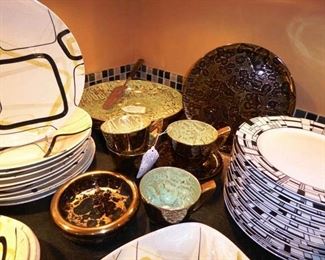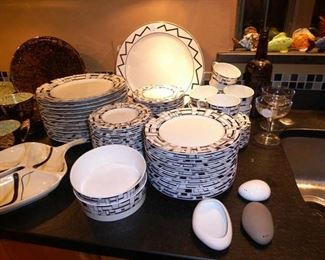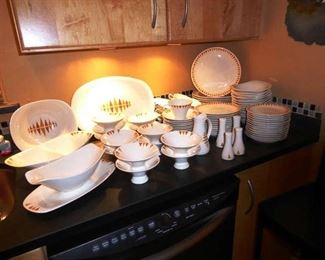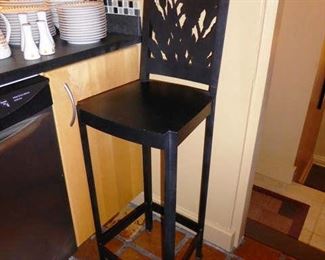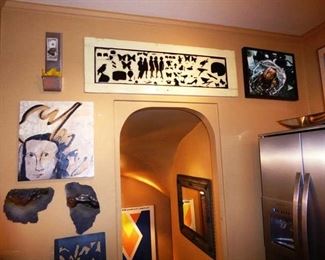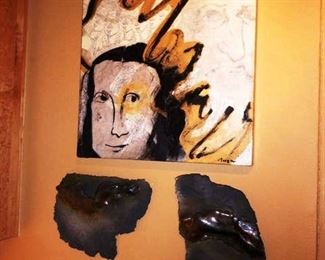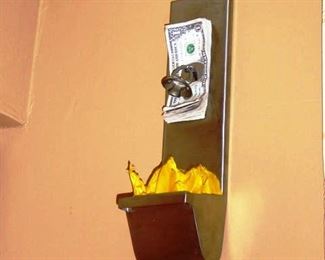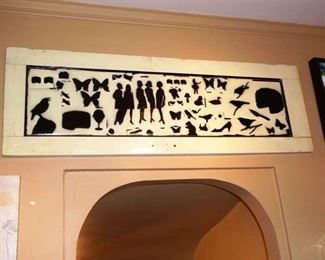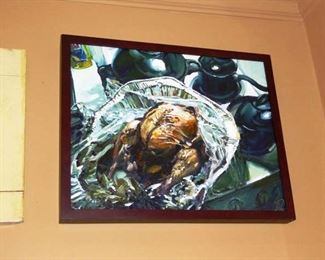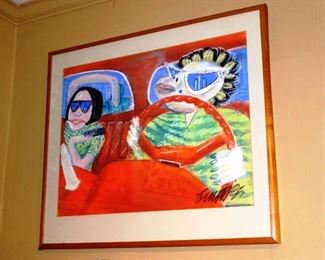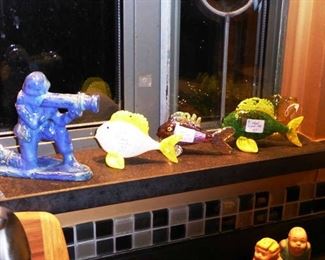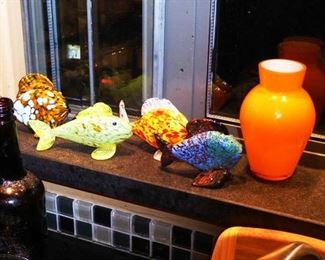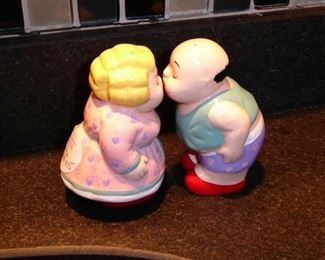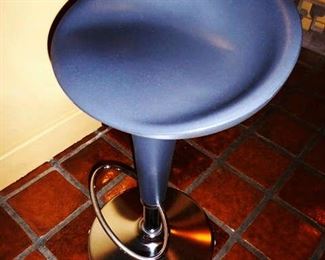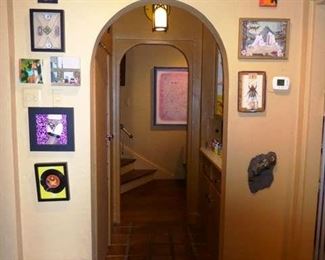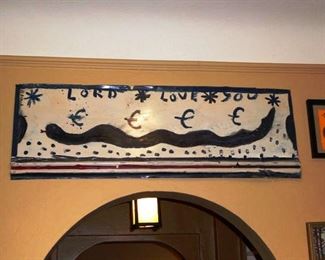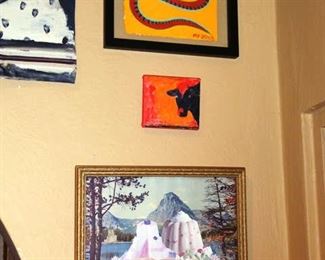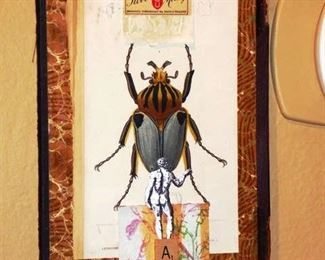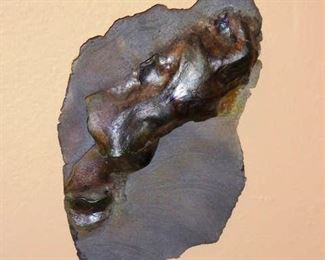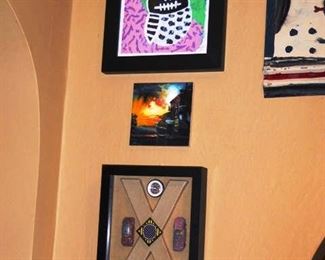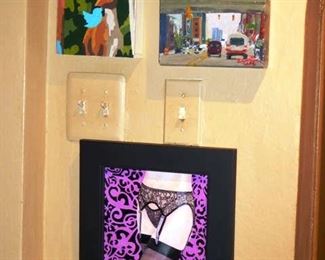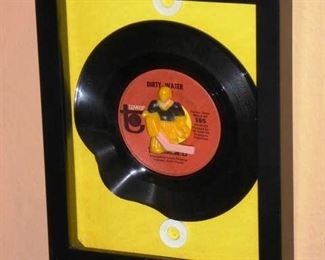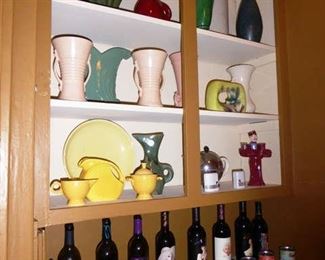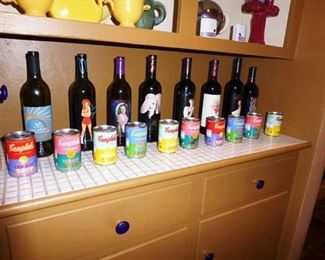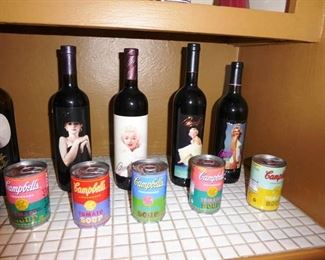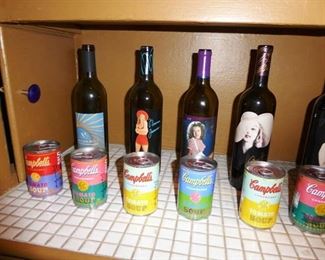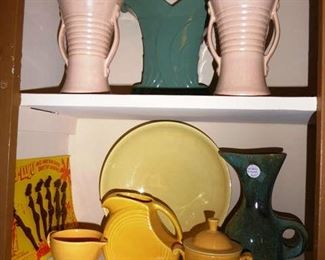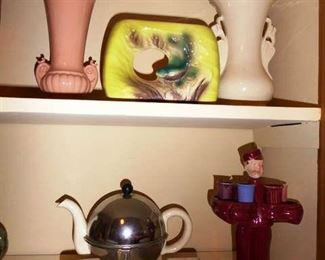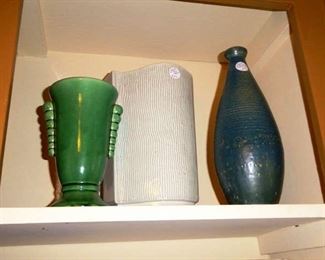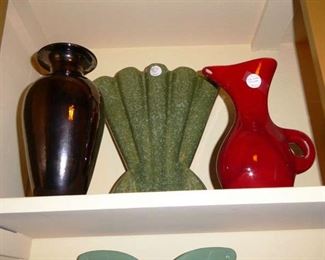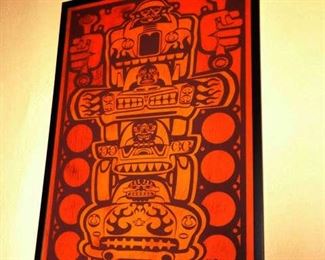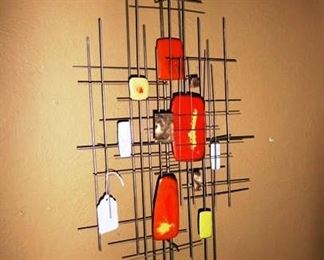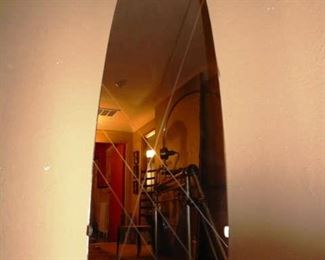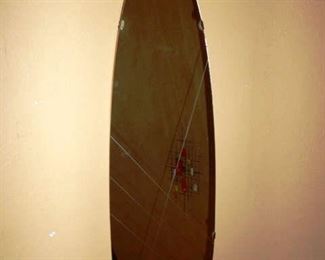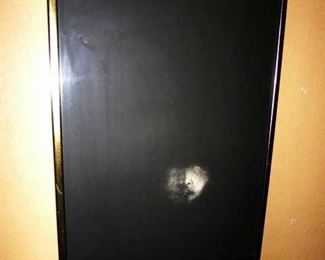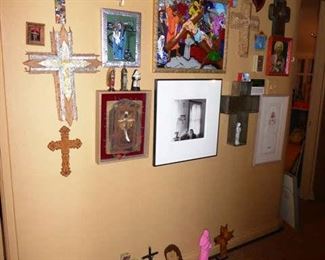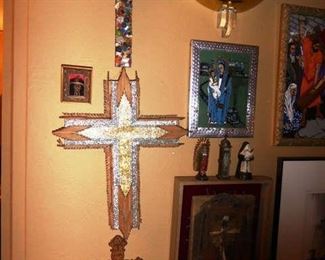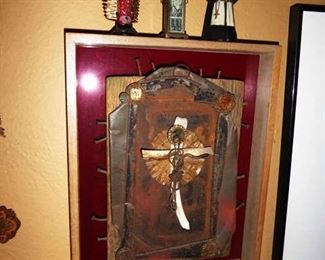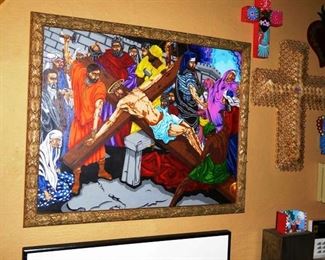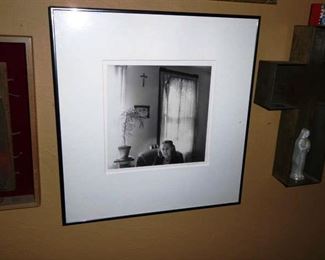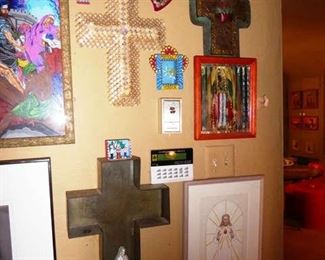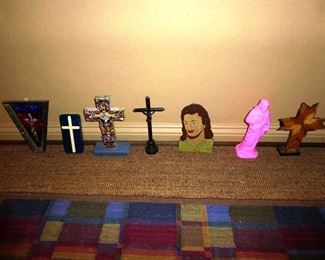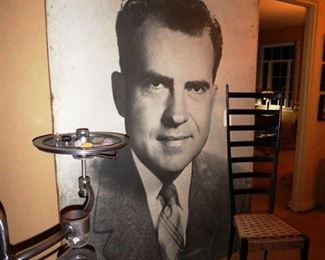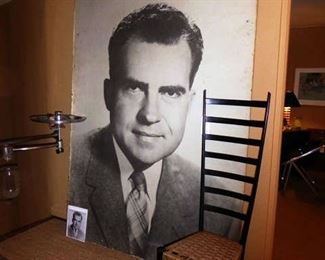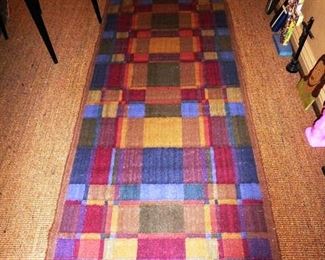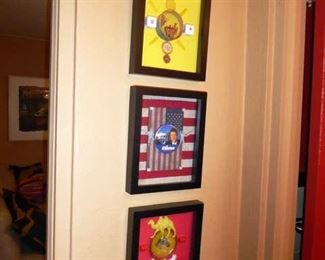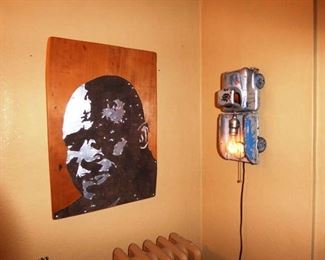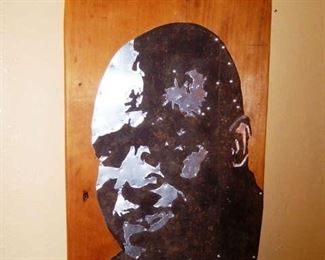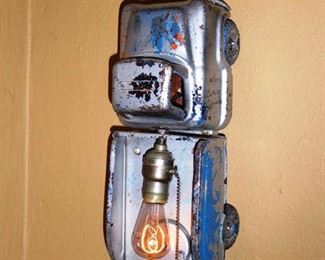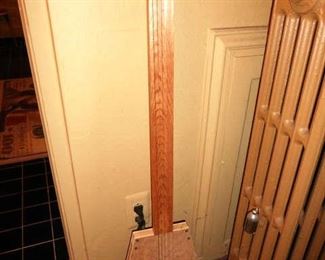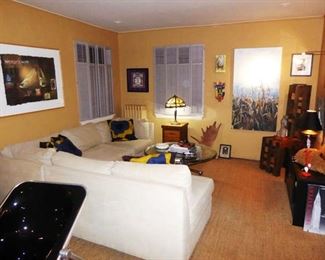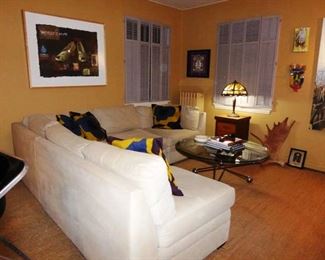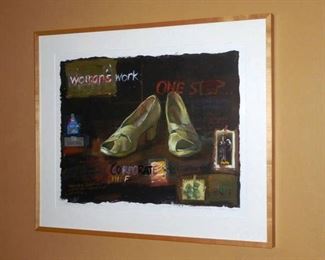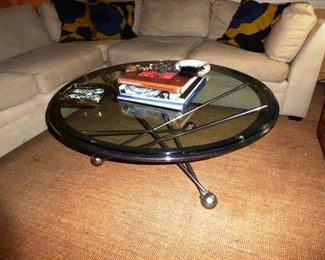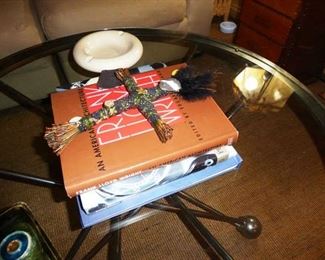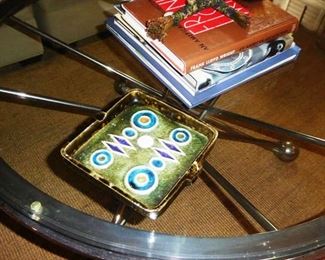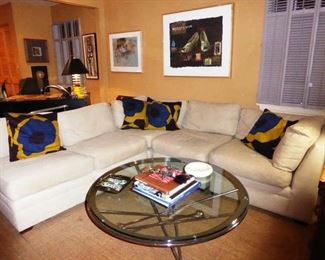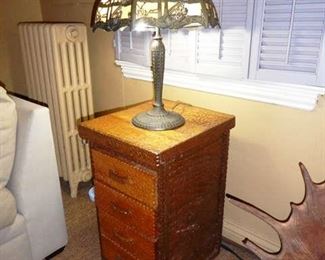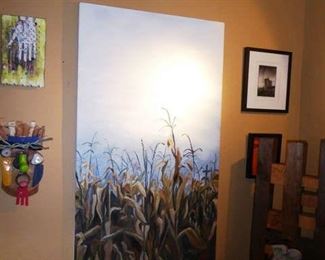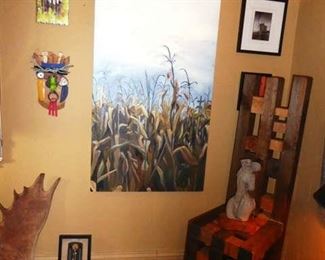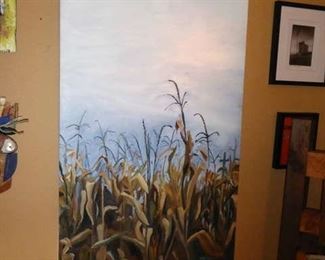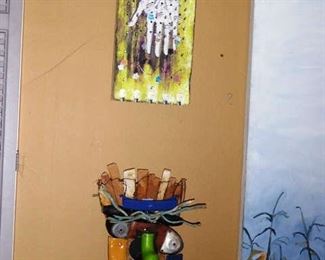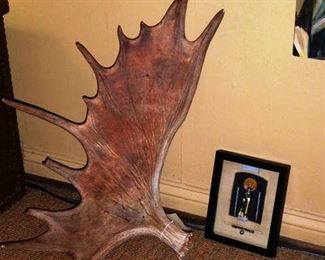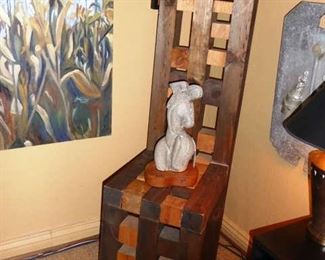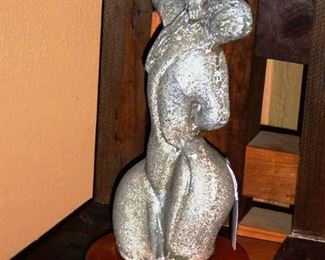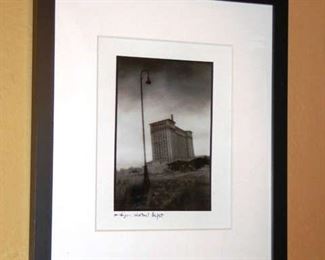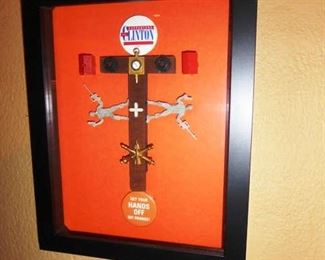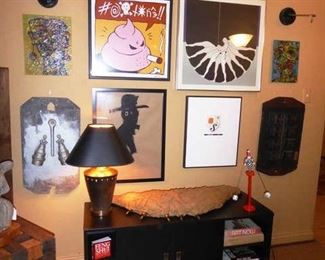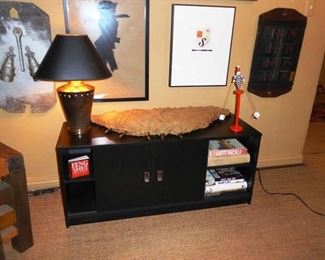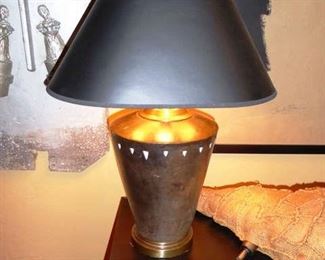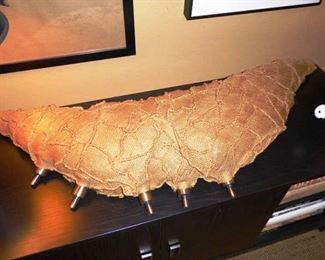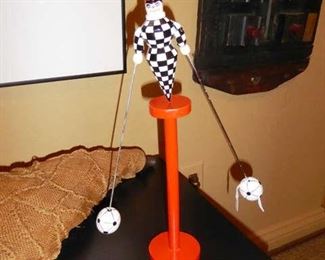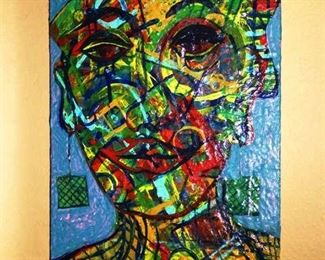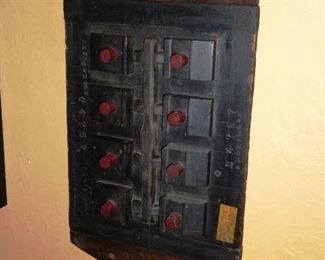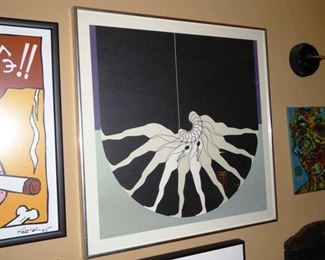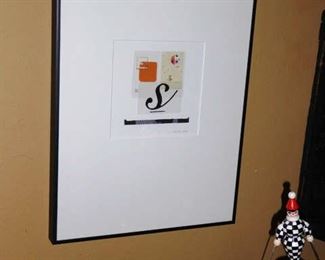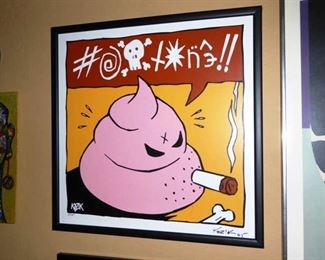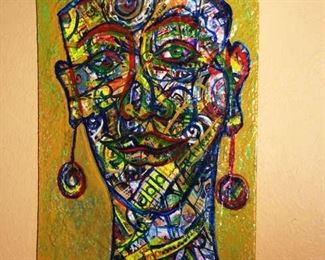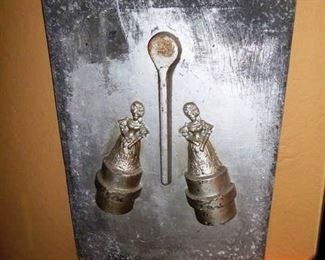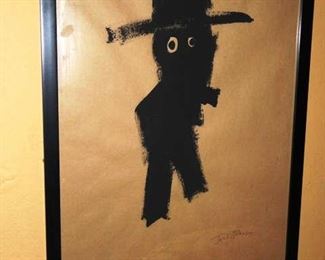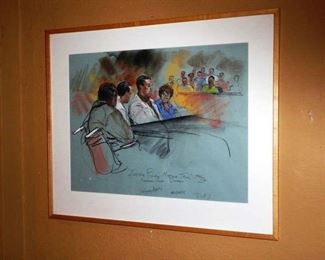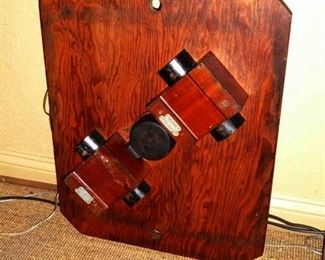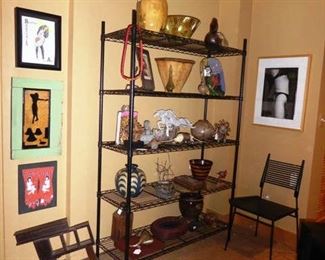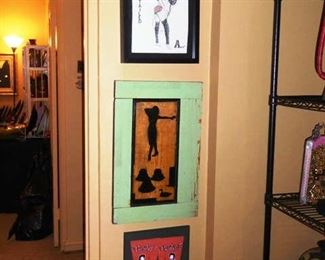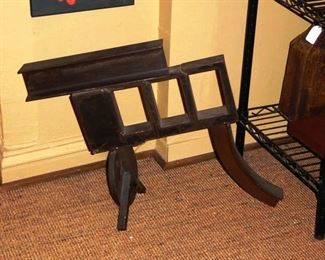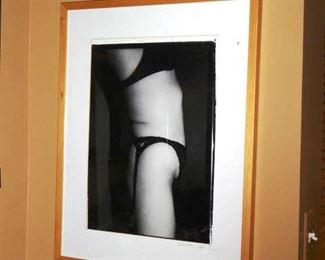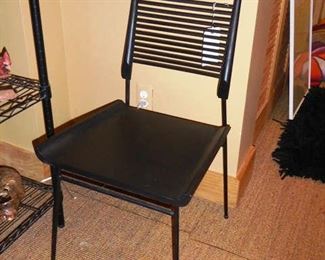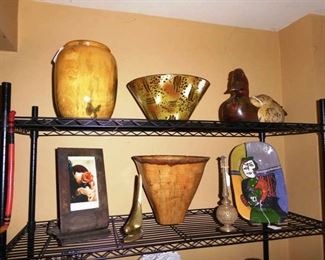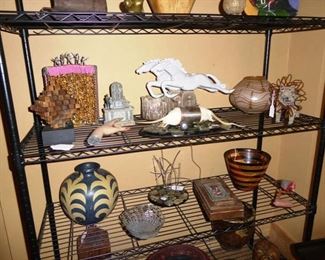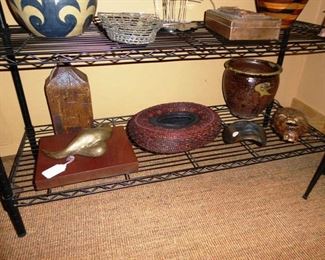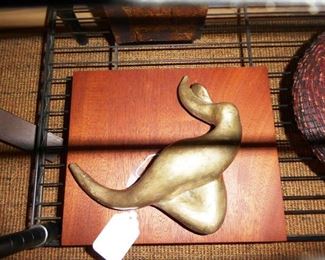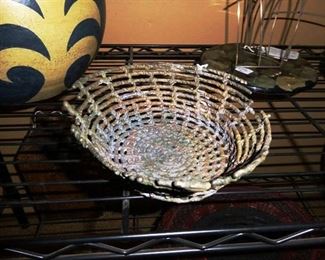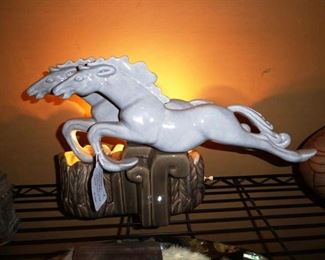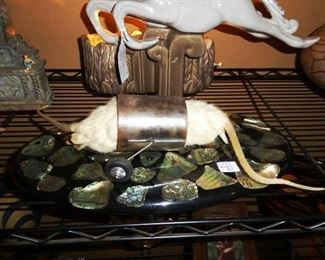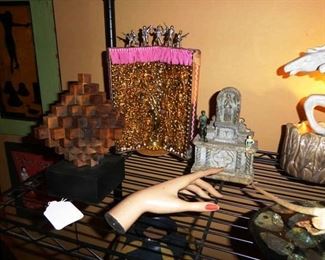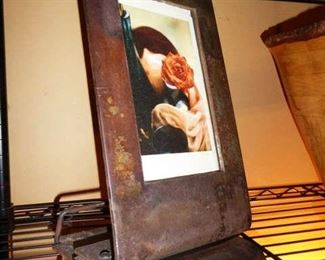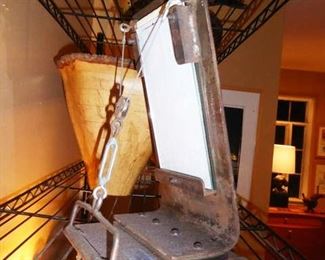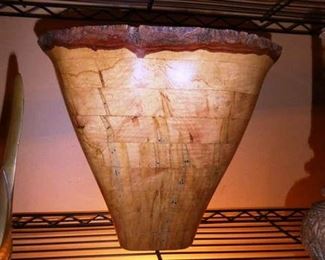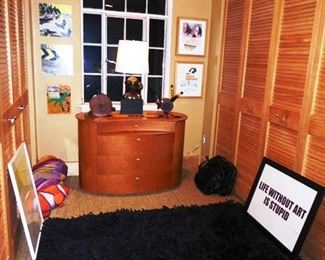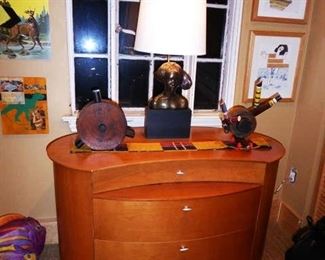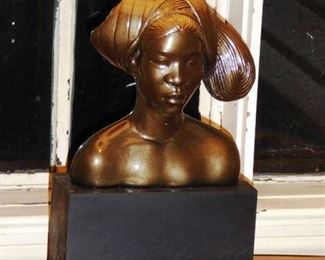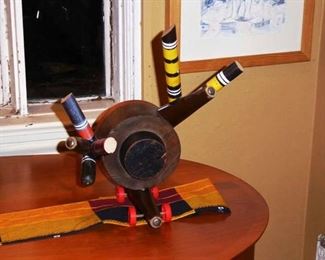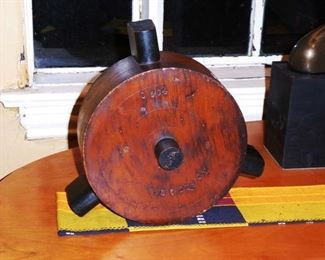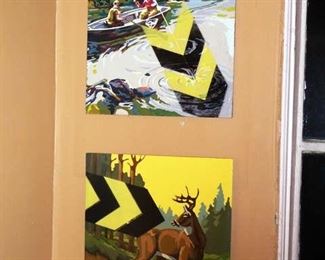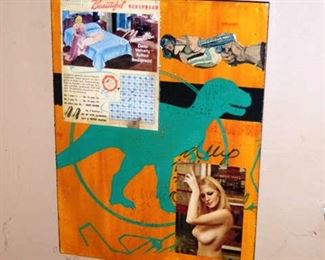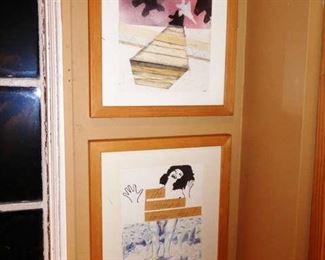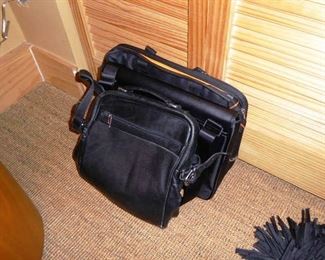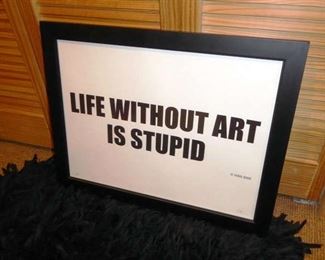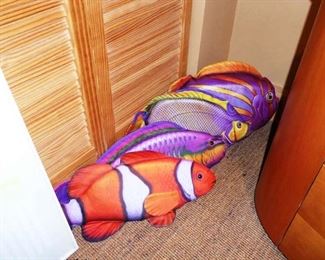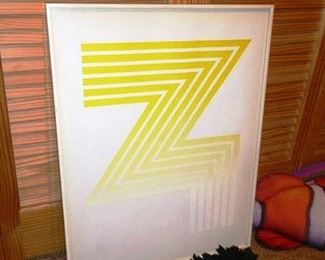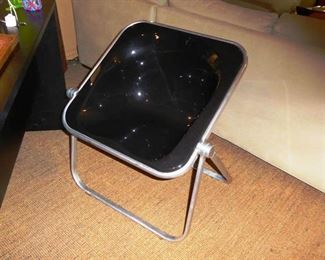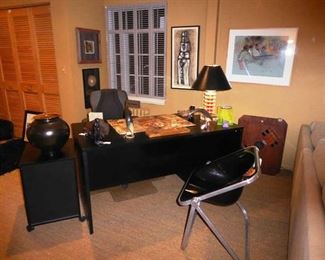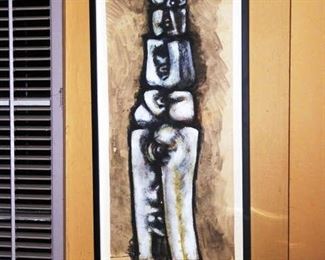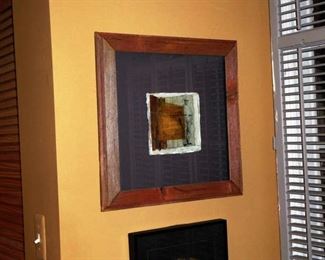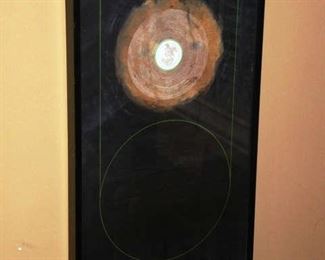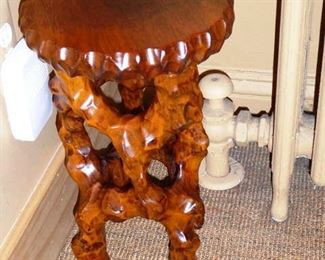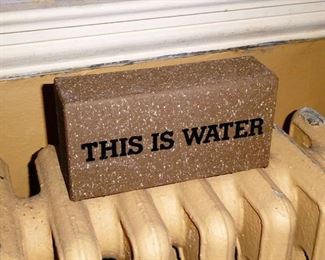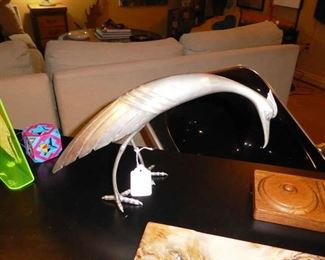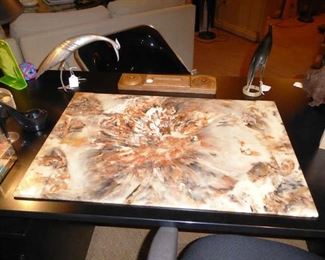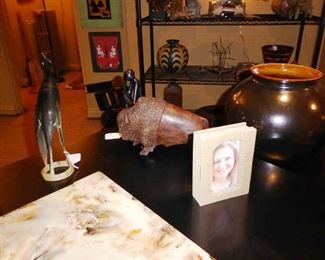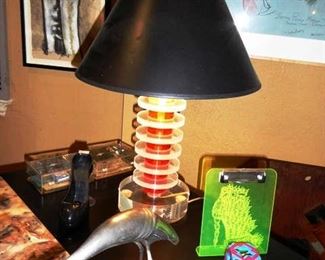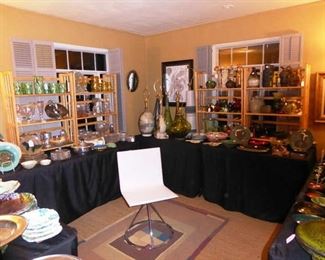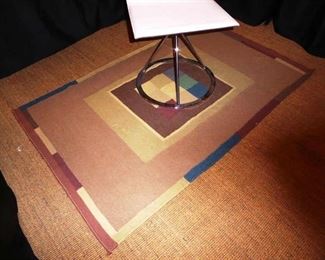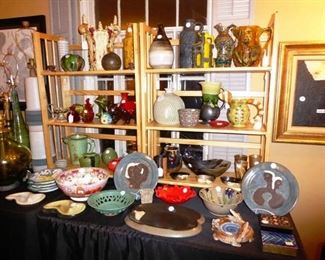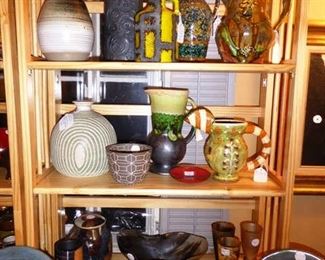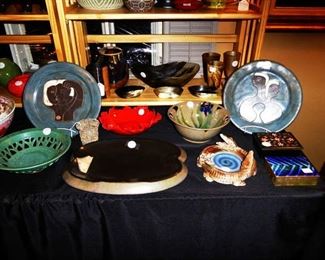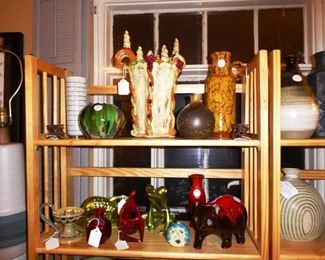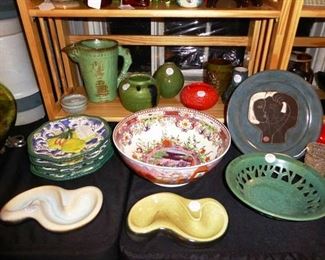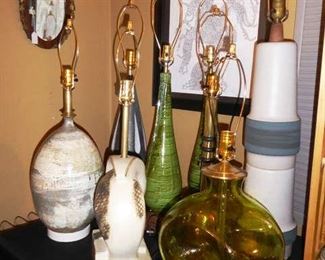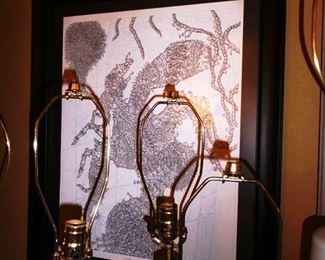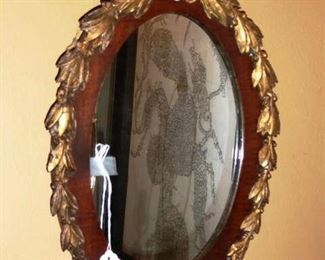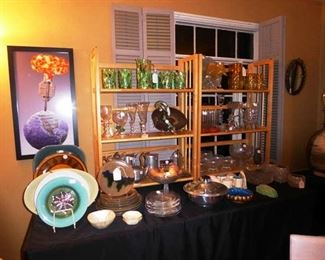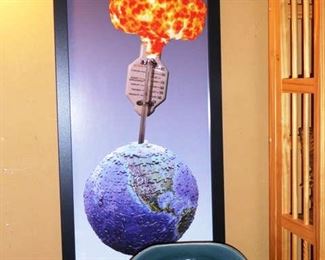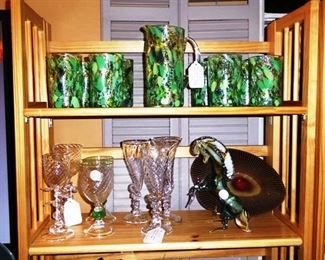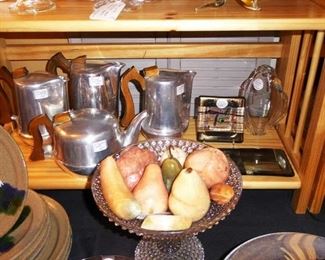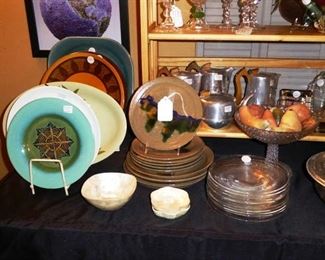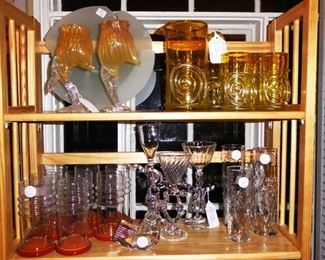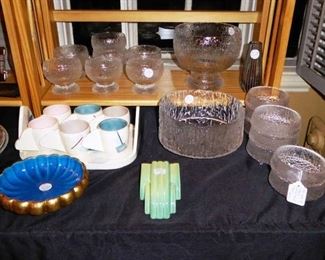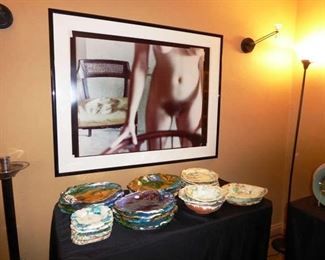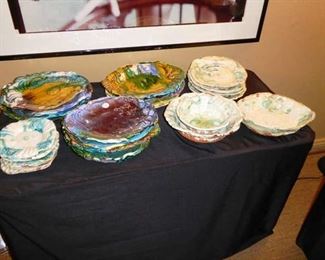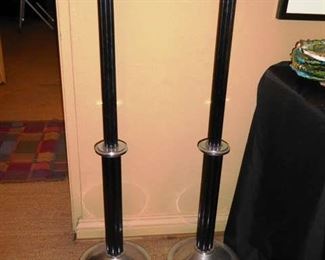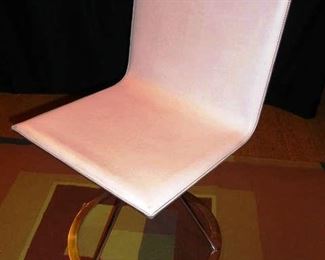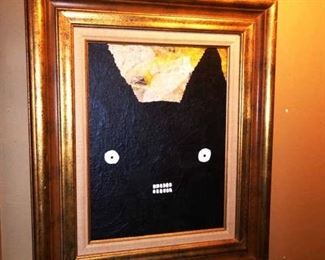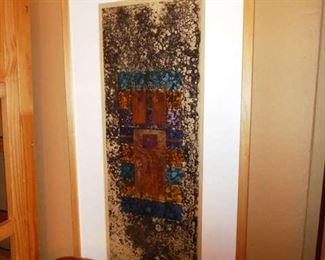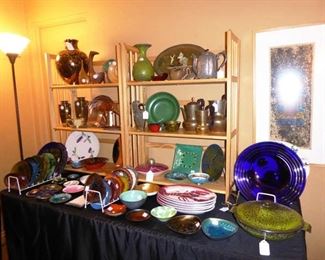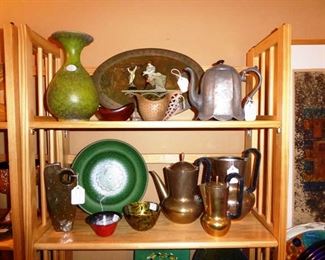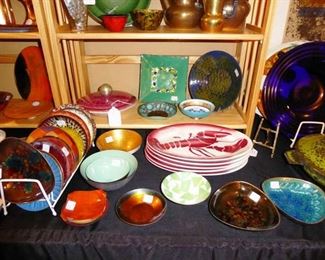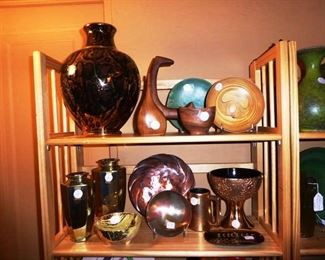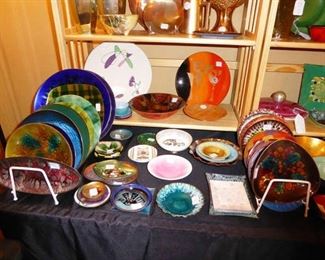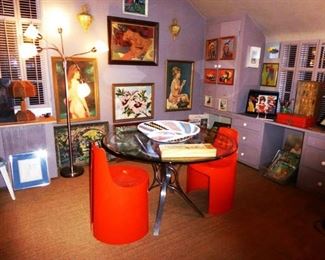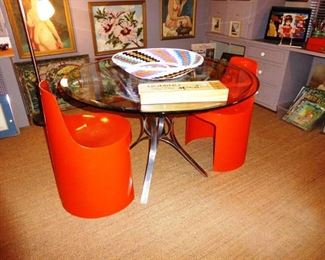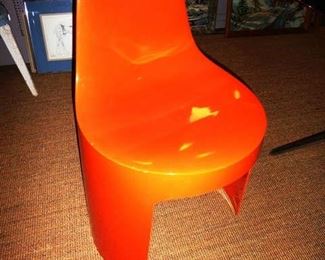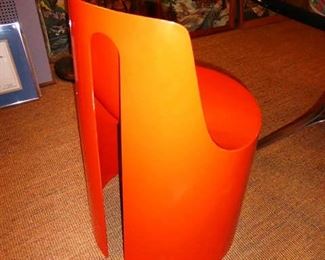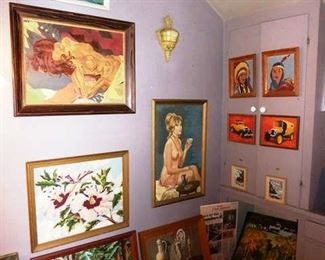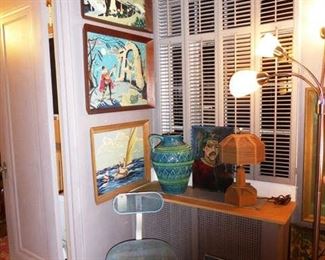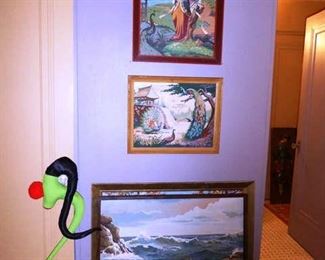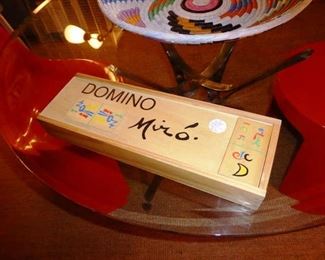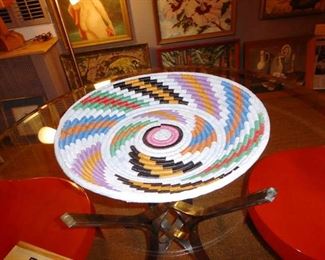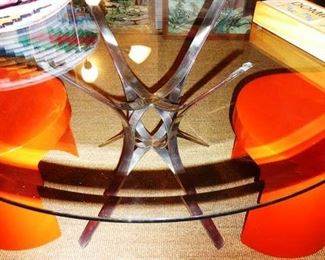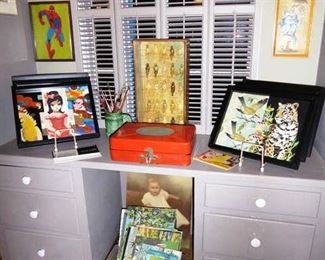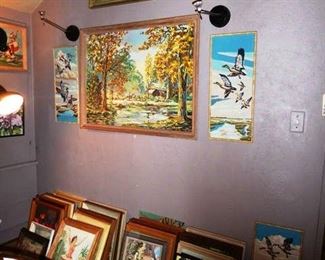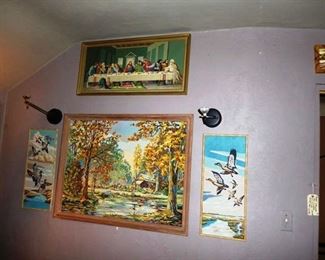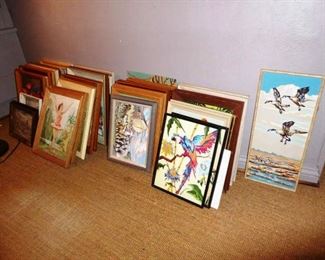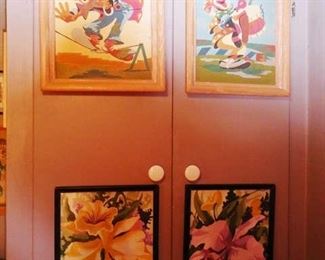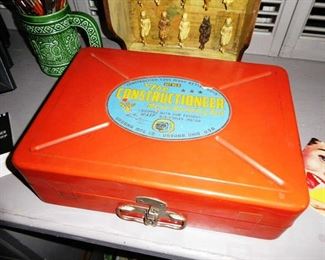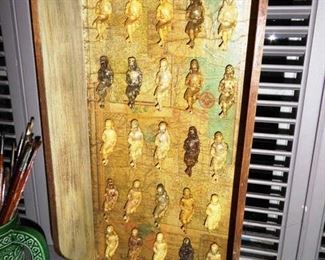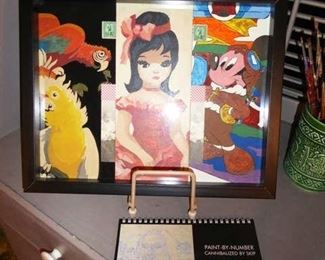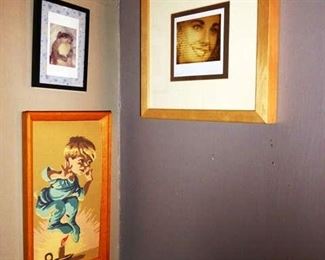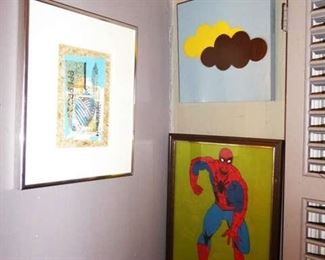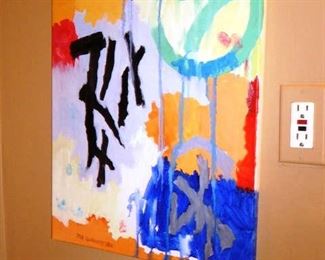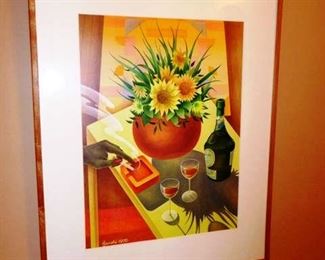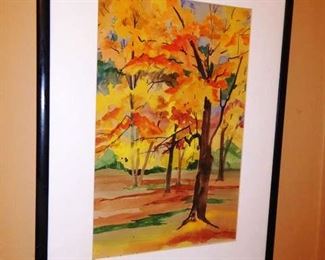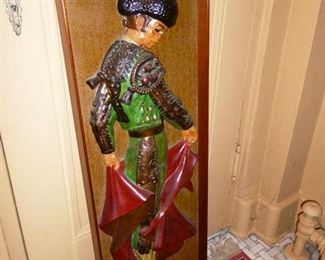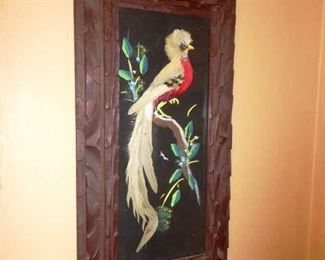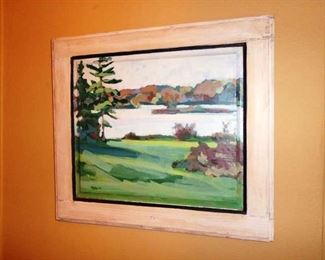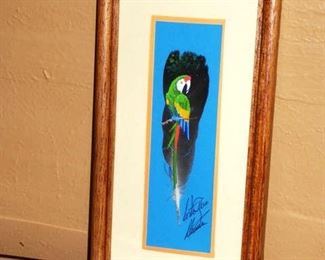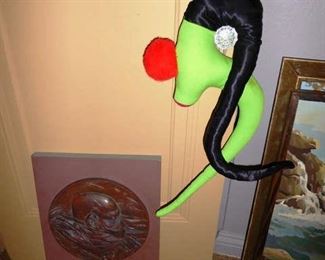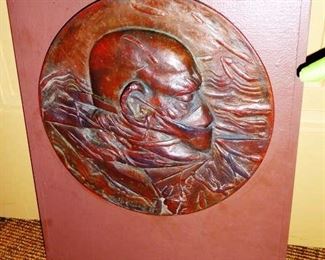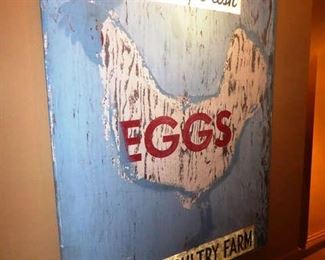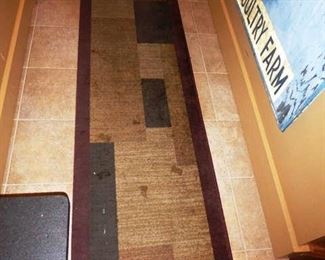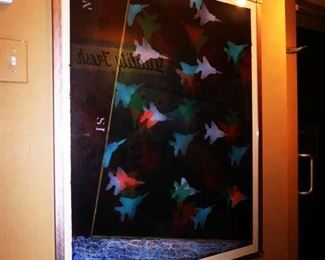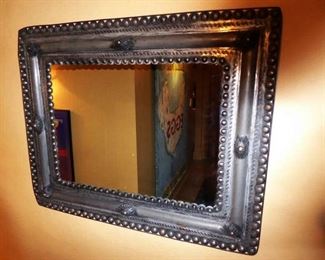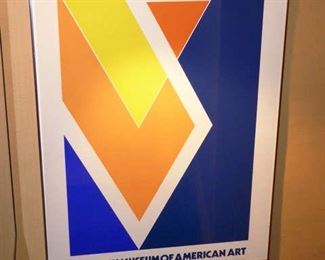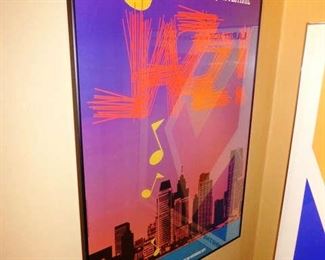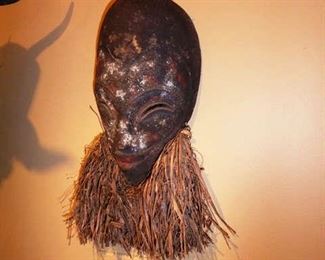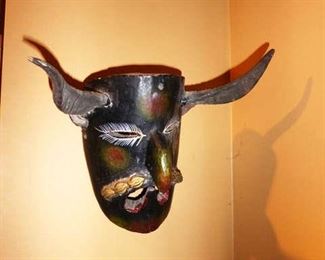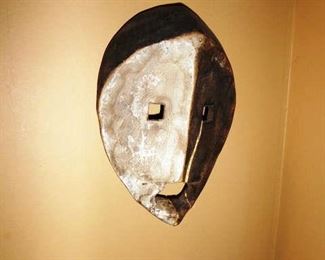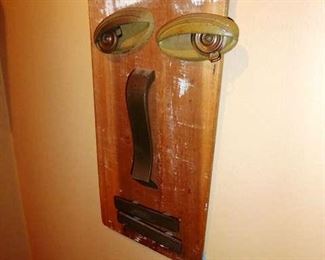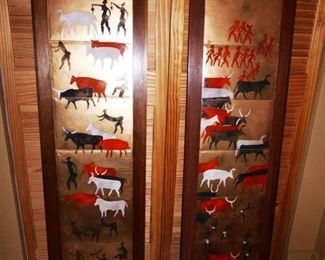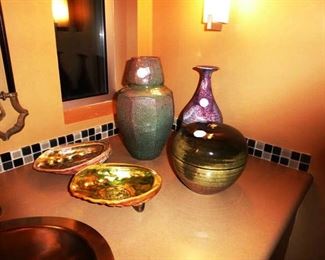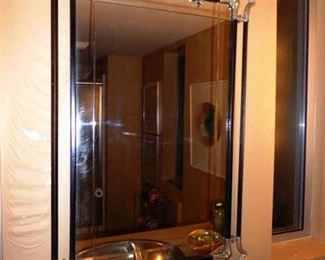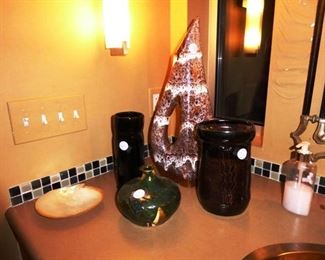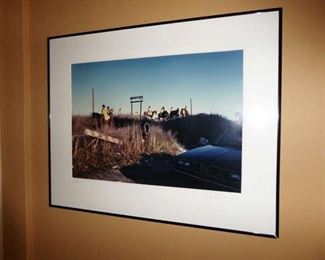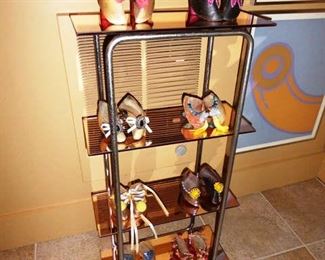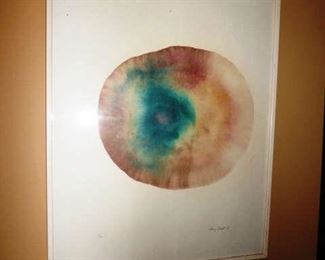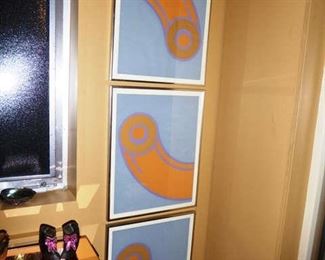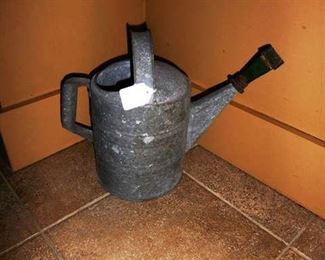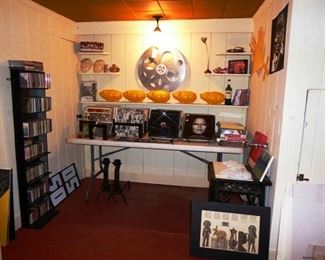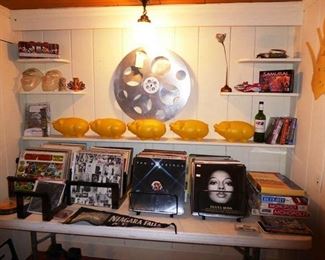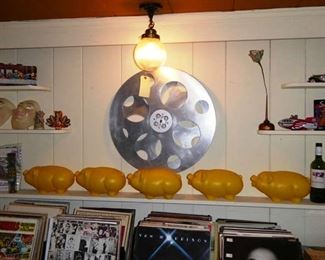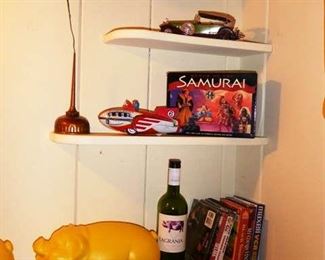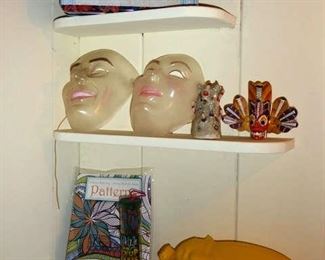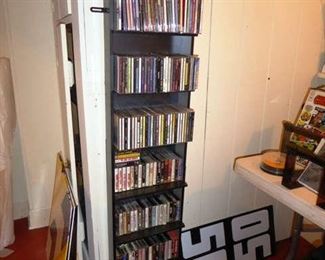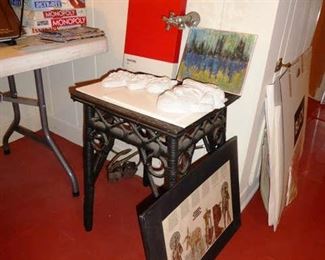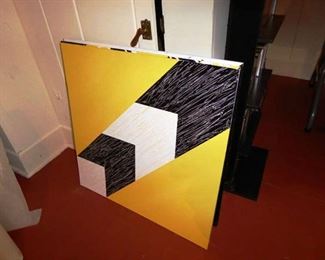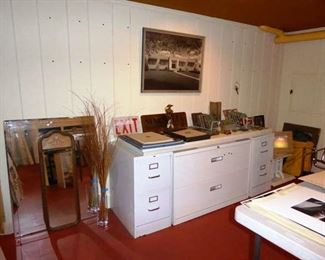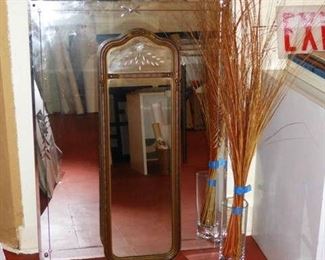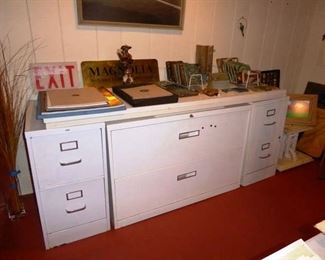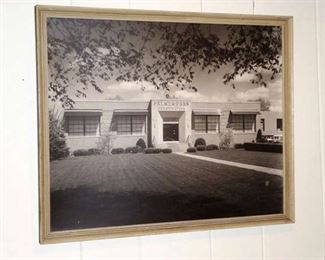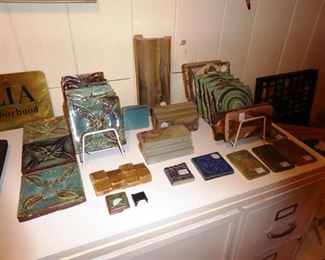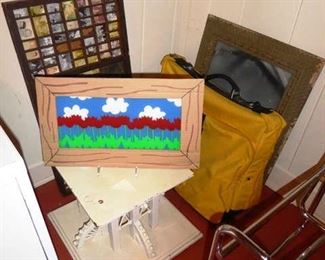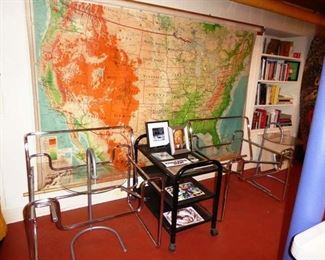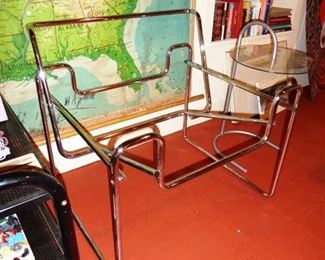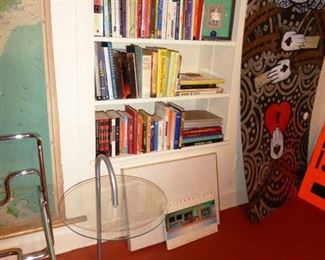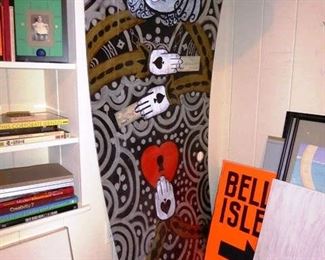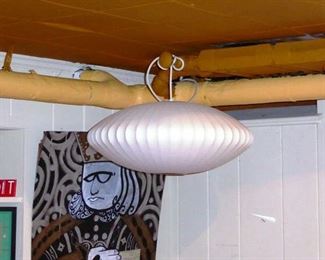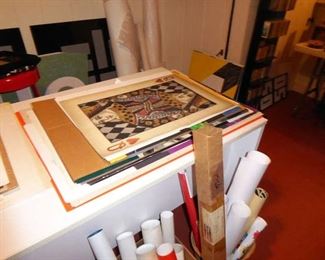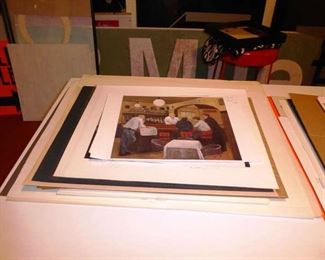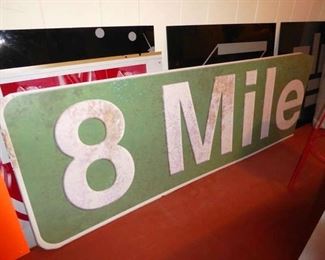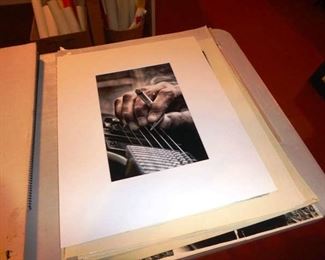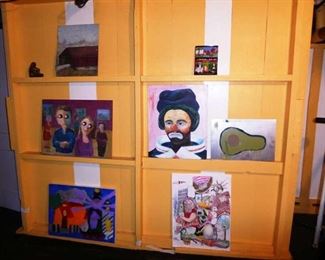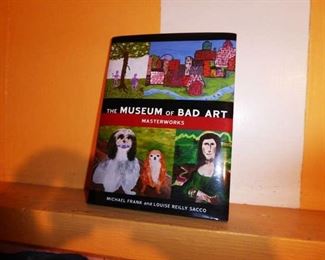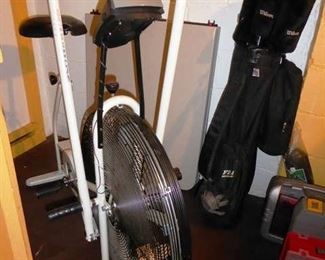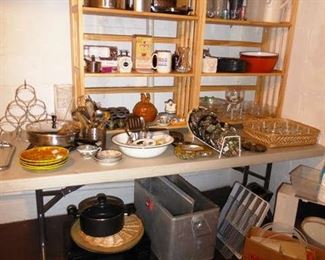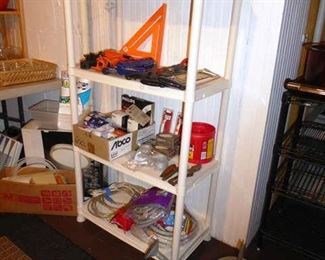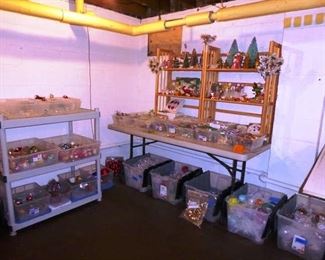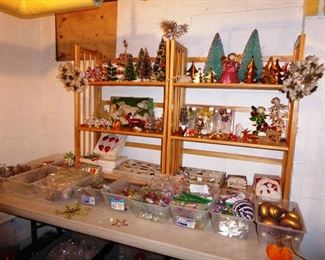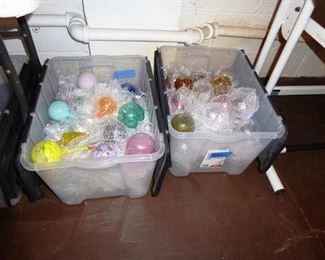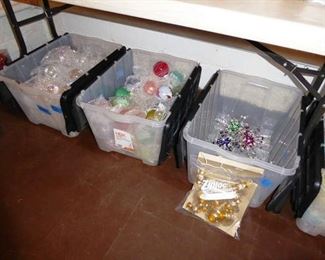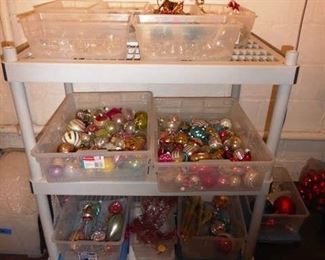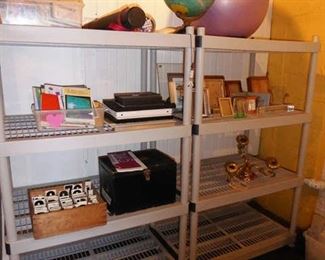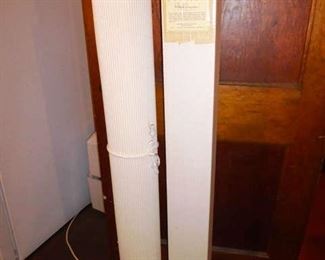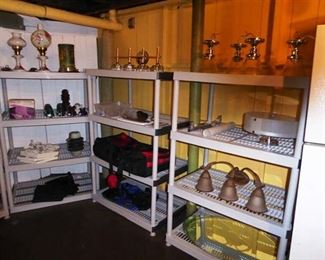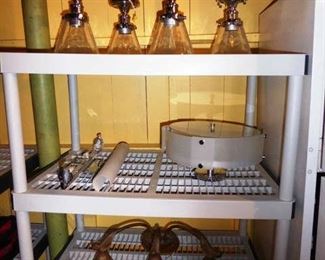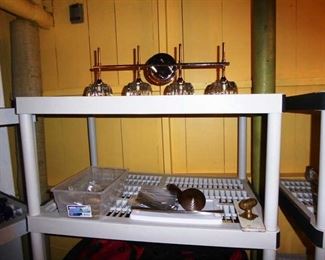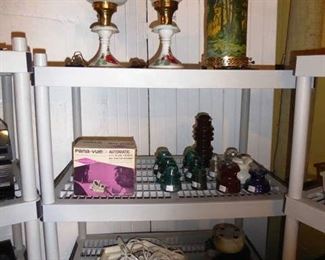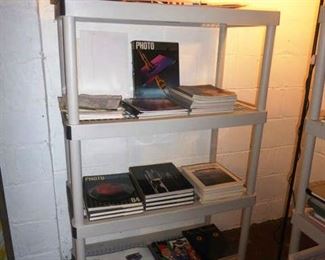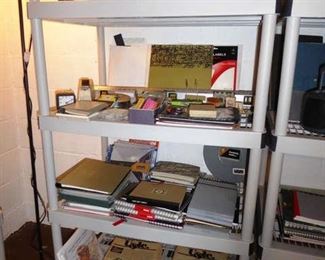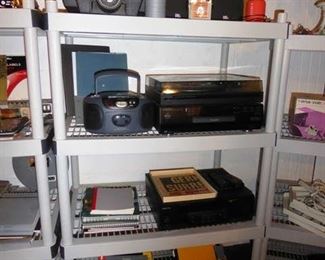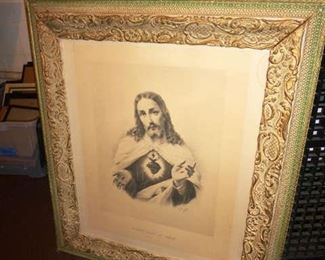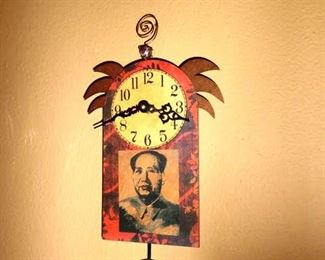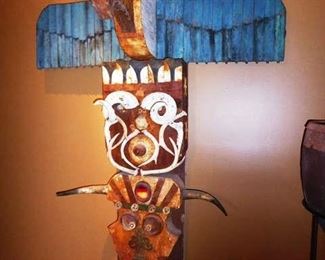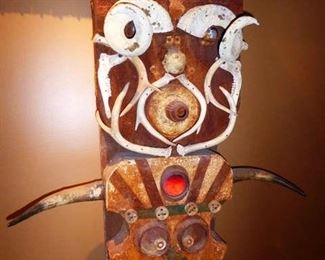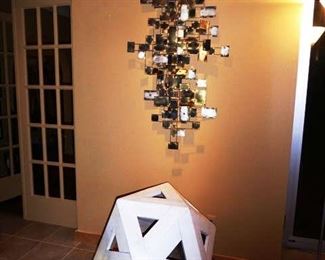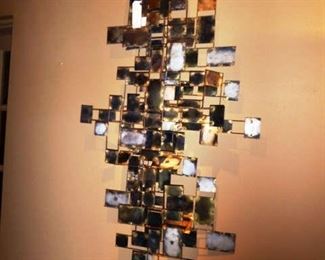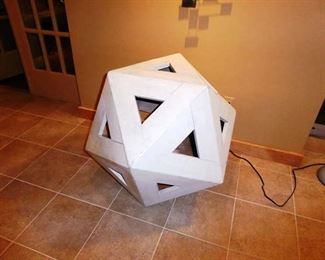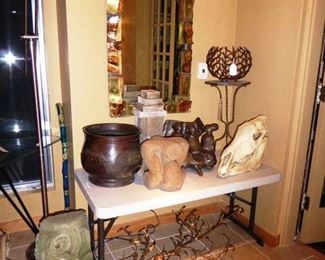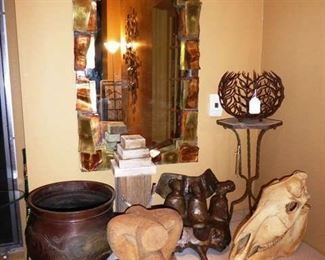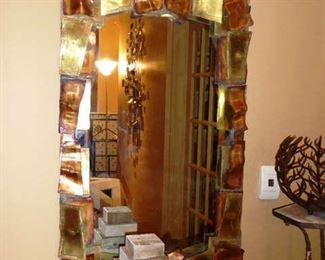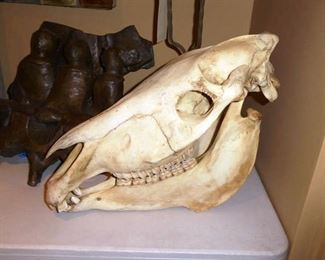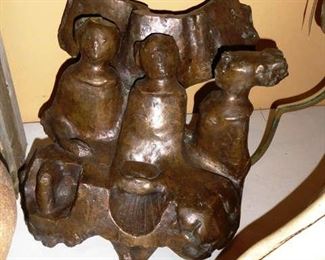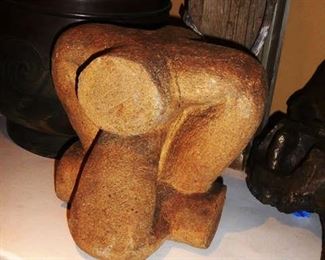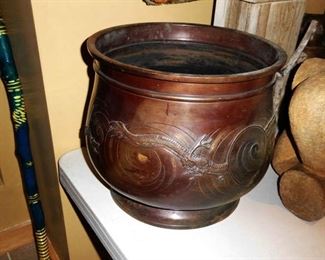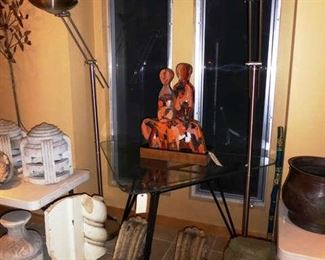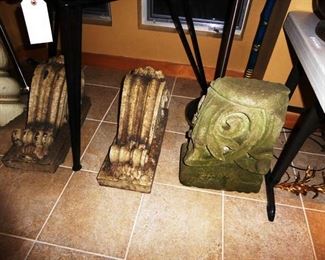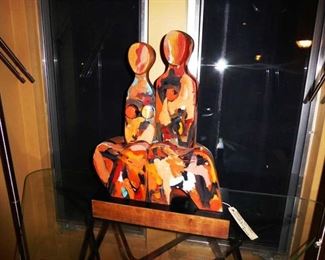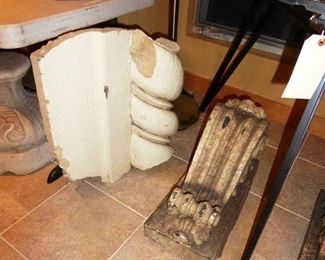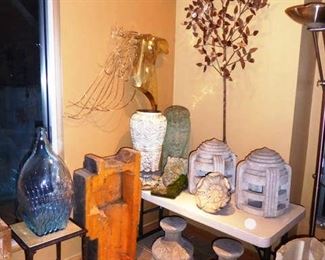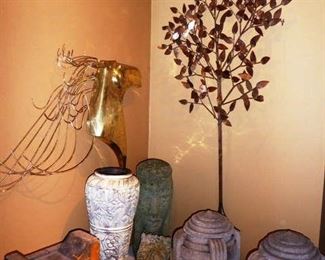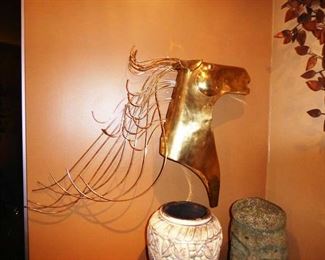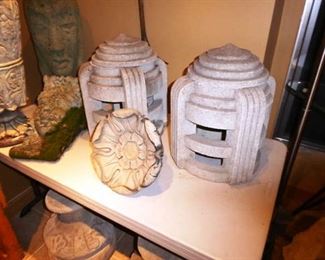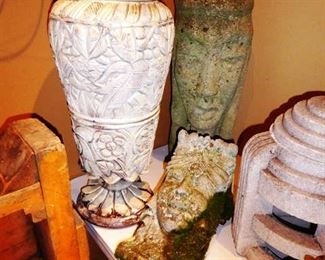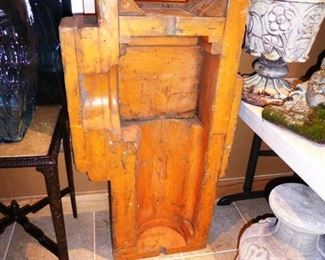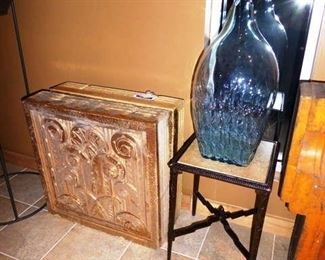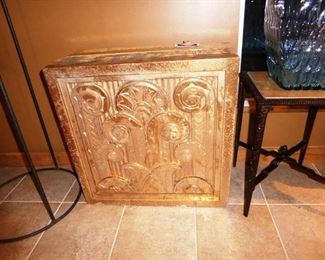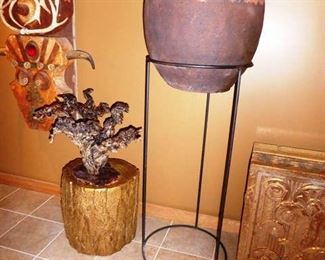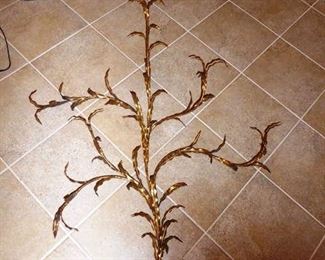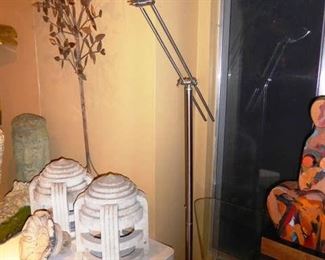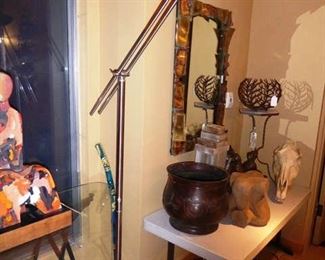 Thank you for using EstateSales.NET. You're the best!