Fine Art, Antiques and Collector's Items
auction
•
1
day sale
•
sale is over
Terms
Visit dirksoulisauctions.com/terms for a complete list of auction terms and conditions.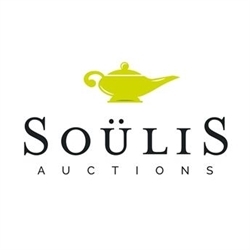 Estate Auction of
Fine Art, Antiques and Collector's Items
Featuring The Ben Davis Collection
Air Conditioned Comfort with Free Barbeque and Beverages!
Missouri sales tax will apply unless the buyer is exempt or merchandise is shipped out of state.
Live Auction
Saturday, July 27th, at 10:00 am CDT
Held inside 529 Gallery
529 W Lone Jack Lee's Summit Rd, Lone Jack MO 64070
Preview and Inspection:
Friday, July 26th, 2 to 5 pm
Saturday, July 27th, doors open at 8:30 am
Highlights Include:
Continental Porcelain
American Art Pottery
Hawkes and Other Crystal
Louis Icart and Other Artwork
Royal Doulton and Other Collector's Items
Fenton and Other Contemporary Glass
French and German Game and Fish Sets
Victorian and Many Other Types of Art Glass
Comics, Toys and Character Collectibles
Doorstops, Banks, Toys and Other Cast Iron
Fine Jewelry and Sterling Silver
CATALOG LISTING:
1 RARE BOXED MADAME ALEXANDER DIONNE QUINTUPLETS
2 RARE BOXED DIONNE QUINTUPLETS BY ALEXANDER DOLL CO
3 EARLY GAME-O-SKILL OAK COIN DROP TRADE STIMULATOR
4 A HANDSOME SOLID MAHOGANY BRITISH POSTAL BOX
5 A NATIONAL CASH REGISTER MODEL 313 WITH TOP SIGN
6 A LIBERTY BELL TRADE STIMULATOR W/BOXERS, C. 1930s
7 GLASS 1939 WORLD'S FAIR PLANET SATURN TABLE LAMP
8 SELKIRK'S PATENT KLONDIKE BRITISH OAK MAIL BOX
9 A HANDSOME ANTIQUE BRASS BOUND BRITISH LETTER BOX
10 A 19TH CENT BRITISH TEA CADDY WITH BRASS AND AGATE
11 GLASS 1939 WORLD'S FAIR PLANET SATURN TABLE LAMP
12 A RARE GREEN CAST IRON ART DECO LIGHT WITH FLAPPER
13 A LATE 19TH CENTURY FRENCH GLOBE, J. FOREST PARIS
14 CAST IRON TOY TRANSPORT WITH THREE AUSTIN SEDANS
15 ARCADE BRAND ANTIQUE CAST IRON DOUBLE DECKER BUS
16 WOLVERINE ZILOTONE MUSICAL TIN LITHO WIND-UP TOY
17 ART DECO ERA VASELINE GLASS TEABERRY GUM DISPLAY
18 A COLLECTION OF SIX GOOD TIN LITHO SAND PAILS
19 A BRADLEY AND HUBBARD ANTIQUE CAST IRON DOOR STOP
20 AN EARLY STEIFF MOHAIR LION ON WHEELS
21 AN ANTIQUE BALTIMORE EQUITABLE SOCIETY FIRE MARK
22 TWO ANTIQUE CAST IRON FLOWER BASKET DOORSTOPS
23 TWO ANTIQUE HUBLEY CAST IRON FLOWER POT DOORSTOPS
24 HUBLEY CAT ANTIQUE CAST IRON DOORSTOP
25 WYANDOTTE EASTER BUNNY DELIVERY TIN MOTORCYCLE TOY
26 TWO VINTAGE TIN LITHO CAT SPARKLERS
27 A RARE 1897 GREEN GLASS STAMP MOISTENING DEVICE
28 A CIRCA 1910 GEORGE V CAST IRON COIN BANK
29 CAST IRON GLOBE FORM STILL BANK WITH RINGER C 1875
30 ANTIQUE HALLOWEEN NOISEMAKERS AND CANDY CONTAINERS
31 LION AND HORSE STILL BANKS, CAST IRON ON WHEELS
32 A THREE-PIECE SET GRANITEWARE IN PEWTER MOUNTS
33 A NICE HUBLEY CAST IRON FLOWER BASKET DOORSTOP
34 DISNEY & LIL ABNER TIN LITH CHARACTER COLLECTIBLES
35 A HUBLEY ANTIQUE CAST IRON FLOWER BASKET DOORSTOP
36 ANTIQUE CARVED OAK PLAQUE W/ GRAPES IN BAS RELIEF
37 A VINTAGE BALLY WHEEL OF FORTUNE GAME FRONT
38 HOME DERBY POCKET ROULETTE GAME CIRCA 1930s
39 ANTIQUE TIN LITHO JACK-O-LANTERN SPARKLER
40 1921 HALLOWEEN HORN WITH HALLOWEEN NOISE MAKER
41 VINTAGE TIN LITHO SPARKLER AND NOISEMAKER WITH CAT
42 A TIN LITHO HALLOWEEN NOISE MAKER PAT'D 1916
43 THREE RARE CIRCA 1920 KITCHEN ANTIQUES
44 A COLLECTION OF ELEVEN ANTIQUE STRAIGHT RAZORS
45 SUNFLOWER PATTERN DEPRESSION GLASS
46 FORTY-TWO RED RYDER COMICS, TWO SIGNED BY FRED HARMON
47 A VERY RARE DEMOULIN & COMPANY 35 CAL REVOLVER
48 LARGE SULPHIDE AND HANDMADE SWIRL CORE MARBLES
49 A COLLECTION OF 25 RIBBON CORE AND ONIONSKIN MARBLES
50 A LARGE 1893 SPECIAL ORDER GORHAM STERLING JARDINIERE
51 A RARE REED & BARTON HAND HAMMERED ART NOUVEAU EWER
52 BRONZE HANDEL FLOOR LAMP WITH STEUBEN INTARSIA SHADE
53 AN 18K GOLD AND DIAMOND BRACELET, APPROX. 1.75 CT.
54 AN 18K GOLD BROOCH WITH COLORED GEMSTONES
55 A HAMMERED FREE-FORM 14K GOLD 50-INCH DESIGNER CHAIN
56 A FINE AND RARE ROOKWOOD BANQUET LAMP SIGNED DALY
57 A UNIQUE 14K GOLD AND LAVENDER PEARL BRACELET
58 A LADIES' ART MODERNE 14K, RUBY AND DIAMOND WATCH
59 A 19TH C. CONTINENTAL SILVER TEA SET SIGNED STEENAERTS
60 A CASED AND ENAMELED MT. WASHINGTON BRIDE'S BASKET
61 A FRENCH CAMEO ART GLASS VASE SIGNED RICHARD
62 A MT. WASHINGTON ENAMELED BURMESE BRIDE'S BASKET
63 A HAMPSHIRE POTTERY GREEN MATTE TABLE LAMP BASE
64 FOUR LATE 20TH CENTURY JAPANESE WOODBLOCK PRINTS
65 AN ART DECO BOCH FRERES VASE SIGNED LAMBILOTTE
66 A RARE GEORGE SMYTH STUDIO POTTERY TABLE LAMP
67 A 1903 ROOKWOOD IRIS GLAZE ART POTTERY VASE
68 ENAMELED ART GLASS CENTERPIECE W/ ACORNS ATT MOSER
69 A 19TH C. AMERICAN MAHOGANY BANQUET TABLE
70 A RARE WEDGWOOD MAJOLICA CROCUS HOLDER ON STAND
71 TWO VERY NICE AUSTRIAN THREADED GLASS INK WELLS
72 ROBERT BYERLEY (1941 - 2019) SURREAL TROMPE DE L'OEIL
73 VICTOR VASARELY/MICHEL BUTOR 'OCTAL' LITHOGRAPHS
74 JOSEPH BOULTON (1896 - 1981) BRONZE COUGAR FIGURE
75 AN 18K GOLD AND DIAMOND RING WITH MABE PEARL
76 A REVERSE PAINTED TABLE LAMP SIGNED JEFFERSON
77 TWO LATE 20TH CENT EQUESTRIAN BRONZES AFTER MENE
78 A RARE MOORCROFT POTTERY FACTORY LAMP WITH ORCHIDS
79 A PAIR OF 13.5 INCH MONT JOYE ETCHED AND ENAMELED VASES
80 A 14-INCH ROSEVILLE ROZANE VASE | PORTRAIT OF A HORSE
81 A PAIR OF 17-INCH SWIRLED AND FOLDED AMBERINA VASES
82 THREE CHINESE CARVED JADE DRAGON FORM BUCKLES
83 A MINIATURE CARVED JADE SCEPTRE WITH TWO SIMILAR OBJECTS
84 ARLIE REGIER (1931-2014) 'TRYLON PERISPHERE' SCULPTURE
85 ARLIE REGIER (1931-2014) IRON ASSEMBLAGE SCULPTURE
86 ARLIE REGIER (1931-2014) IRON ABSTRACTION SCULPTURE
87 TOM RUSSELL (1917-2015 KANSAS) GOUACHE ON PAPER
88 PORTFOLIO OF AMERICAN PRINTS, 1961
89 AN EARLY 20TH CENTURY TABLE LAMP SIGNED PAIRPOINT
90 AN UNUSUAL ART DECO SETTEE ON HORN LEGS BASE
91 CONTINENTAL STERLING AND .800 SILVER ARTICLES
92 CHARLES VIRION (1865-1946) BRONZE CAT AT PLAY
93 A FRENCH CAMEO ART GLASS VASE SIGNED LEGRAS
94 LOW MELON RIB ART GLASS BOWL SIGNED LOETZ AUSTRIA
95 EARLY 20TH CENT CAMEO GLASS TABLE LAMP, AS FOUND
96 AN 18K GOLD AND DIAMOND COCKTAIL RING
97 MOSER BOHEMIAN CUT AND GILDED GLASS VASES
98 A GUSTAV BECKER WALNUT HANGING REGULATOR C. 1880
99 AN EARLY 20TH CENTURY LEADED GLASS TABLE LAMP
100 A CONTINENTAL .800 SILVER BASKET WITH GLASS LINER
101 A 16-INCH WELLER LOUWELSA ART POTTERY VASE
102 GREAT FRENCH MAJOLICA OYSTER AND ASPARAGUS PLATES
103 A 16-INCH ROYAL DUX ART NOUVEAU VASE
104 A 19TH CENTURY FRENCH CLOCK SET SIGNED JAPY FRERES
105 DAUM PARIS PATE DE VERRE 'FOUR SEASONS' PLATE SET
106 BRONZE PORTRAIT PLAQUES - FIGURES FROM ANTIQUITY
107 A FRENCH CAMEO GLASS VASE SIGNED GALLE'
108 AN ART DECO FIGURAL DANCER LAMP WITH CRACKLE GLOBE
109 A PAIR OF CLEWELL COPPER CLAD ART POTTERY VASES
110 A GENT'S 14K GOLD AND DIAMOND FASHION RING
111 A LONGWY PRIMIVERA FRENCH ART DECO POTTERY TILE
112 AUSTRIAN ART GLASS W/ SECESSIONIST INFLUENCE METALWORK
113 A 33-INCH AUSTRIAN PORCELAIN BOLTED URN WITH BEEHIVE
114 A LARGE FRENCH ART GLASS VASE SIGNED LORRAINE
115 LATE 18TH C CHINESE PAINTING, AFTER YUN SHOU-P'ING
116 RARE CHALLINOR BLUE MILK GLASS CALVARY CANDLESTICK
117 A LOTTON IRIDISED MANDARIN RED ART GLASS VASE
118 ART NOUVEAU AND ART DECO DECORATIVE OBJECTS
119 A BRONZE BASE LAMP WITH LEADED DRAGONFLY SHADE
120 A LARGE PALME KOENIG LAMP BODY IN UNUSUAL COLORS
121 A PAIR 19TH C FRENCH BLUE OPALINE LIGHTED LUSTRES
122 AN ARTIST-SIGNED WELLER LOUWELSA ART POTTERY VASE
123 ART NOUVEAU ROYAL DUX VASE WITH SEMI-CLAD MAIDENS
124 LARGE ROYAL RUDOLSTADT AND ROYAL DUX FIGURES
125 A SCHAUER AUSTRIAN FAIENCE LAMP, THE THREE GRACES
126 THREE WELLER LOUWELSA ART POTTERY VESSELS
127 NATIVE AMERICAN BRONZE SCULPTURE AFTER CARL KAUBA
128 AN IMPRESSIVE DRESEDEN PORCELAIN URN SIGNED THIEME
129 TWO GOOD EXAMPLES OF CORALENE GLASS ATTR MT. WASHINGTON
130 CASED AND SHADED CRANBERRY PITCHER AND CELERY VASE
131 CIRCA 1900 CZECH AND AUSTRIAN ART GLASS WITH METALWORK
132 FOUR SPANISH SHIPWRECK SILVER COB COINS CIRCA 1715
133 LEONARD BASKIN (1922-2000) PENCIL SIGNED PRINTS
134 NICK JOERLING, WAYNE BATES OTHER STUDIO POTTERY
135 A COLLECTION OF BERTIL VALLIEN ART GLASS FOR KOSTA
136 CHARMAE SHIELDS NATSEWAY MODERNIST ACOMA SEED JAR
137 A COLLECTION OF SIX PERSIAN MINIATURES
138 A BUDDHIST THANKA PAINTING
139 JAPANESE WWII YOSEGAKI HINOMARU FLAG & BAYONET DISPLAY
140 THREE ART DECO TERRA COTTA ARCHITECTURAL ELEMENTS
141 A ROYAL WORCESTER PERSIAN INFLUENCE VASE WITH BIRDS
142 A PARCEL GILT CHERUB FIGURAL LOUIS XV CANDELABRA
143 A TALL STEUBEN VERRE DE SOI ETCHED GLASS CHALICE
144 A NEAR PAIR OF NICE, LARGE GOUDA ART POTTERY VASES
145 A GOOD 56-INCH 'FLAPPER' LENGTH PEARL ROPE NECKLACE
146 A 14K GOLD AND DIAMOND LADIES' FASHION RING
147 A PAIR OF 14K GOLD, PEARL AND DIAMOND EARRINGS
148 A PINK VICTORIAN ART GLASS BRIDE'S BASKET ON STAND
149 A NICE ART DECO GOUDA ART POTTERY FACTORY LAMP
150 A GROUP OF CUT & POLISHED BOHEMIAN CRANBERRY GLASS
151 A LARGE EUROPEAN ART DECO CARVED POTTERY PLAQUE
152 A CORONET LIMOGES GAME SET WITH PLATTER
153 TEN ROYAL DOULTON PORCELAIN FIGURINES INC FALSTAFF
154 A PROV SAXE E.S. GERMANY 20-INCH BOLTED URN
155 A COLLECTION TEN ROYAL DOULTON PORCELAIN FIGURINES
156 AN ART NOUVEAU ROYAL DUX CENTERPIECE WITH NUDE
157 A ROSEVILLE BLACKBERRY VASE WITH HANDLES
158 A COLLECTION OF ROYAL DOULTON PORCELAIN FIGURES
159 A ROSEVILLE PINK BANEDA LINE VASE WITH HANDLES
160 A ROSEVILLE WHITE MORNING GLORY VASE WITH HANDLES
161 FOUR GOUDA ART POTTERY OBJECTS INCLUDING A LANTERN
162 A COLLECTION OF 10 ROYAL DOULTON PORCELAIN FIGURES
163 A COLLECTION OF 10 ROYAL DOULTON PORCELAIN FIGURES
164 NINE ROYAL DOULTON PORCELAIN FIGURINES INC PIPER
165 TEN ROYAL DOULTON PORCELAIN FIGURINES INC CAPTAIN
166 TWO GOOD ROSEVILLE DAHLROSE ART POTTERY URNS
167 WILLIAMSBURG AND OTHER ROYAL DOULTON FIGURINES
168 TEN ROYAL DOULTON FIGURINES INCLUDING THE JUDGE
169 TEN ROYAL DOULTON FIGURINES INCLUDING THE TOYMAKER
170 TEN ROYAL DOULTON FIGURINES INCLUDING JOVIAL MONK
171 A COLLECTION OF NINE ROYAL DOULTON FIGURINES
172 ART DECO SCULPTURE OF DEER AFTER IRENE ROCHARD
173 ROYAL DUX AR NOUVEAU PORCELAIN VASES WITH LADIES
174 THREE DISSIMILAR PIECES OF ROSEVILLE ART POTTERY
175 JERZY GNATOWSKI (1929-2012) OIL ON ARTIST'S BOARD
176 WELLER HUDSON, ETCHED MATTE AND COPPERTONE POTTERY
177 AN UNUSUAL WELLER GLENDALE VASE SIGNED McLAUGHLIN
178 TEN ROYAL DOULTON PORCELAIN FIGURINES
179 NINE ROYAL DOULTON PORCELAIN FIGURINES
180 TEN ROYAL DOULTON PORCELAIN FIGURINES
181 ROSEVILLE PINE CONE AND FERELLA ART POTTERY VASES
182 A TIFFANY FAVRILE BLUE/GOLD ART GLASS MASTER SALT
183 A COLLECTION OF FRENCH AND ENGLISH MAJOLICA
184 A COLLECTION OF ROSEVILLE ART POTTERY VASES
185 A WHEELING PEACHBLOW VICTORIAN ART GLASS VASE
186 AN 11.75-INCH CRANBERRY ENAMELED ART GLASS VASE
187 A ROYAL DUX PORCELAIN FIGURE GROUP
188 RARE BLUE CUSTARD GLASS EAPG CHRYSANTHEMUM SPRIG BOWL
189 BOEHM PANDA AND 'TUMBLER PIGEONS' PORCELAIN FIGURES
190 A TECO ART POTTERY MATTE GREEN VASE
191 MICA FLECK BRIDE'S BASKET AND ENAMELED PICKLE CASTOR
192 TWO TIFFANY GOLD FAVRILE CANDLE HOLDERS
193 A MOSER-STYLE ELABORATELY ENAMELED VASE WITH APPLIQUE
194 TWO MEISSEN PORCELAIN CABINET FIGURES
195 A VICTORIAN BRIDE'S BOWL ON UNUSUAL STAND, PLUS ANOTHER
196 A WELLER FLEMISH/BALDWIN JARDINIERE WITH PEDESTAL
197 ROBERT SUDLOW (1920-2010) PENCIL SIGNED LITHOGRAPH
198 TWO INTERESTING ROYAL WORCESTER PORCELAIN OBJECTS
199 A VICTORIAN AMBERINA GLASS PITCHER AND TUMBLERS
200 A 26-INCH ROYAL DUX CLASSICAL FIGURE OF YOUNG MAN
201 ROSEVILLE PINK TUSCANY AND BLUE ORIAN ART POTTERY
202 ROSEVILLE BLEEDING HEART, FOXGLOVE, MAGNOLIA
203 ROSEVILLE ROZANE (2) AND OWENS UTOPIAN ART POTTERY
204 TWO WELLER DICKENSWARE ART POTTERY JUGS
205 A COLLECTION OF WELLER ART POTTERY PIECES
206 A COLLECTION OF ROSEVILLE 'THORNAPPLE' ART POTTERY
207 SPANGLE WITH MICA AND OTHER VICTORIAN ART GLASS
208 AN EARLY 20TH CENT BRONZE LAMP WITH STEUBEN SHADE
209 SIX COLORFUL CHOISY LE ROI FRENCH MAJOLICA PLATES
210 THREE PISGAH FOREST ART POTTERY VASES
211 WELLER COPPERTONE ART POTTERY CONSOLE BOWL W/ FROG
212 A VICTORIAN ART GLASS BRIDE'S BOWL ON STAND WITH CHERUB
213 A CHRYSANTHEMUM SPRIG EAPG CUSTARD GLASS BERRY SET
214 A CHINESE CARVED JADE FIGURE OF MYTHICAL HORSE DRAGON
215 AN ESTATE COLLECTION OF AMERICAN PENCIL SIGNED PRINTS
216 GABOR F. PETERDI (1915-2001) SIGNED SERIGRAPHS
217 JOAN B FOTH (1930-2010) PENCIL SIGNED SERIGRAPHS
218 GABOR F. PETERDI (1915-2001) SIGNED ETCHINGS
219 A CHINESE BI DISK WITH CARVED HARDSTONE PLAQUE
220 FERRO MURANO ART GLASS 'SHELL' BOWL
221 A SAN ILDEFONSO SEED JAR SIGNED STAHN-MOO-WHE
222 FOUR LATE 20TH C. AMERICAN PENCIL SIGNED ETCHINGS
223 LEONARD BASKIN (1922-2000) PENCIL SIGNED WOODBLOCK
224 LEONARD BASKIN (1922-2000) PENCIL SIGNED ETCHING
225 LEAVES OF GRASS BROADSIDE ILLUS BY LEONARD BASKIN
226 RICHARD LACROIX (BORN 1939) PENCIL SIGNED ETCHING
227 RICHARD LACROIX (BORN 1939) PENCIL SIGNED ETCHING
228 FOUR 19TH C. ARTIST SIGNED ROYAL WORCESTER PITCHERS
229 FOUR GOUDA ART POTTERY BOWLS AND COVERED OBJECTS
230 A COLLECTION OF UNUSUAL GOUDA ART POTTERY PIECES
231 A ROSEVILLE BLACKBERRY JARDINIERE WITH HANDLES
232 A RARE MAJOLICA FOUR-PIECE CRUET SET
233 MARSHMALLOWS, SIAMESE TWINS AND GOODYEAR GLOVES
234 A COLLECTION OF VARIOUS VICTORIAN ART GLASS ITEMS
235 TWO GEORGE SMYTH STUDIO POTTERY VASES
236 TWO GOOD VICTORIAN ART GLASS WATER PITCHERS
237 BRISTOL AND OPALESCENT VICTORIAN ART GLASS PIECES
238 A PAIR LATE 20TH C. WEIGHTED STERLING CANDELABRA
239 LALIQUE NINA RICCI AND BOHEMIAN PERFUME BOTTLES
240 UNUSUAL GOUDA ART POTTERY WALL POCKET AND VASE
241 LONGWY FRENCH ART POTTERY CANDLESTICKS AND LAMP
242 ENGLISH STAFFORDSHIRE AND GERMAN PORCELAIN FIGURES
243 AN ARTIST-SIGNED WELLER AURELIAN LINE VASE AS LAMP
244 ROSEVILLE MOSS PATTERN ART POTTERY VESSELS
245 TWO NICE LARGE EXAMPLES OF GOUDA ART POTTERY
246 BERGEN ART DECO POTTERY VASE WITH GOUDA POTTERY
247 EARLY AND OR UNUSUAL ROYAL DOULTON FIGURINES
248 WELLER LOUWELSA ARTIST SIGNED ART POTTERY
249 A COLLECTION OF FOURTEEN 19TH CENTURY FAIRINGS
250 A COLLECTION OF SIXTEEN 19TH CENTURY FAIRINGS
251 A COLLECTION OF WELLER LOUWELSA ART POTTERY
252 FOUR ROSEVILLE ART POTTERY PIECES WITH HANDLES
253 PAIR ART DECO BELGIUM FLAMAND VASES WITH GOUDA
254 A COLLECTION OF ROSEVILLE DONATELLO VASES
255 WELLER MUSKOTA LOBSTER AND BRIGHTON KINGFISHER
256 INTERESTING PLIQUE A JOUR AND CLOISONNE' VESSELS
257 WELLER ROSEMONT AND CHASE ART POTTERY PIECES
258 WELLER 'FORETTA' AND 'FLERON' ART POTTERY VASES
259 AN ANTIQUE ALBANY FOUNDRY CAST IRON 'HERON' DOORSTOP
260 A COLLECTION OF ROYAL BAYREUTH SCENIC PORCELAIN
261 UNUSUAL WELLER PIGS NOVELTY WARE AND A SICARDO VASE
262 A PAIR AUSTRIAN ENAMEL DECORATED ART GLASS VASES
263 AN VICTORIAN AESTHETIC MOVEMENT GLASS & SILVER WHAT-NOT
264 A POLISHED MOSER CONSOLE WITH GILT CUT BACK FRIEZE
265 VICTORIAN ART GLASS BRIDE'S BASKET AND SWEETMEAT
266 A LARGE AMERICAN BELLEEK HAND PAINTED TANKARD SET
267 ROSEVILLE PINE CONE AND LAUREL LINE ART POTTERY VASES
268 VICTORIAN SATIN MOTHER OF PEARL AND PIGEON BLOOD
269 THREE LATE 20TH CENTURY BRONZE CHERUB FIGURES
270 A SCARCE EARLY ROSEVILLE AZTEC ART POTTERY VASE
271 A COLLECTION OF WELLER ART POTTERY VASES
272 FOUR BRIGHTLY COLORED PIECES OF GOUDA ART POTTERY
273 A COLLECTION OF ROSEVILLE ART POTTERY VESSELS
274 ROSEVILLE APPLE BLOSSOM, CLEMATIS, FUCHSIA ART POTTERY
275 ROSEVILLE APPLE BLOSSOM, CARNELIAN & FUTURA ART POTTERY
276 A PIERCED LANTERN AND OTHER GOUDA ART POTTERY
277 TWO CHINESE CARVED JADE ARCHAIC-STYLE DOG FIGURES
278 COLETTE BANGERT (BORN 1934) MIXED MEDIA ON PAPER
279 AN ESTATE COLLECTION OF PRINTS AND WORKS ON PAPER
280 AN ESTATE COLLECTION OF PENCIL SIGNED PRINTS
281 ROGER LANG, KAREN KOBLITZ, JOSE SIERRA STUDIO POTS
282 A COLLECTION OF 20TH/21ST C. EXOTIC WOOD CREATIONS
283 IMPRESSIVE UNIDENTIFIED STUDIO POTTERY VESSELS
284 EVONNE KLUDAS (B1934) MODERNIST SCULPTURE C 1960
285 NATIVE AMERICAN SAND PAINTING, BASKET, POTTERY
286 TWO FASCINATING CONTEMPORARY ART GLASS ORBS
287 MICHAEL JUDGE (B1962) PEN & INK POLITICAL CARTOONS
288 A RUSSIAN BRASS SAMOVAR W/ EXHIBITION AND DESIGN STAMPS
289 TWO LATE 19TH CENT TINTED PORCELAIN LITHOPHANES
290 A GOOD SHADED CASED CRANBERRY VICTORIAN PEG LAMP
291 A COLLECTION OF ADVERTISING POCKET MIRRORS
292 TWO NICE, LARGER PIECES OF GOUDA ART POTTERY
293 A GOUDA POTTERY BOTTLE VASE MOUNTED AS TABLE LAMP
294 A GOOD CRANBERRY CUT TO CLEAR WINE GLASS
295 TWO GEORGE SMYTH STUDIO POTTERY VASES
296 A COLLECTION OF GOUDA ART POTTERY DUTCH SHOES
297 A CITRON GLASS CUT AND POLISHED WATER SET
298 FOIUR SATSUMA POTTERY CABINET VASES
299 A VICTORIAN BRASS TABLE LAMP
300 LATE 20TH C. MARBRO CELADON PORCELAIN TABLE LAMP
301 A DAUM FRANCE 'RUSSIAN CAT' PATE DE VERRE FIGURE
302 A DAUM FRANCE 'RUSSIAN CAT' PATE DE VERRE FIGURE
303 TWO LARGE GOUDA ART POTTERY VASES
304 EARLY TO MID 20TH CENT POTTERY MADE IN HOLLAND
305 A DAUM FRANCE 'LES POISSONS' PATE DE VERRE FIGURE
306 A FENTON CORALENE BEAD DECORATED BURMESE BASKET
307 A VERY LARGE WELLER ART POTTERY CONSOLE WITH FROG
308 A PAIR OF BOEHM OWL PORCELAIN BOOKENDS
309 WAVECREST VICTORIAN ART GLASS FERNER AND DRESSER BOX
310 A COLLECTION OF TORQUAY MOTTO WARE BRITISH POTTERY
311 COLLECTION OF ARTIST SIGNED BROADMOOR ART POTTERY
312 A COLLECTION OF OLD IVORY SILESIA CHINA
313 A PAIR OF DAUM FRANCE PATE DE VERRE FROG FIGURES
314 ROSEVILLE DAHLROSE ART POTTERY URN AND CANDLESTICKS
315 ROSEVILLE DAHLROSE ART POTTERY VASES
316 UNUSUAL GOUDA JAR W/ LID AND ASYMMETRICAL HANDLES
317 FOUR GOUDA ART POTTERY OBJECTS
318 A FULPER PORCELAIN COVERED JAR WITH FIGURAL LADY
319 LEONARD BASKIN (1922-2000) PENCIL SIGNED ETCHING
320 HAND MARBLED PAPER SIGNED SUSAN POGANY
321 A HEREND RED FISH NET DECORATED TOAD / FROG
322 GLADE D. BEAVER NATIVE AMERICAN LEDGER ART
323 TWO CHINESE SCHOLAR'S ROCKS ON WOOD STAND
324 TWO ZUNI POTTERY CREATIONS, ONE SIGNED PEYNETSA
325 THREE RED SANTA CLARA MINIATURES
326 TWO LATE 20TH CENTURY JEMEZ MINIATURE SEED POTS
327 INTERESTING CONTEMPORARY NATIVE AMERICAN POTTERY
328 CONTEMPORARY ART GLASS, MANNER OF MICHAEL SOSIN
329 DONALD LOUTHIAN (KANSAS BORN 1929) STONE SCAPE
330 IWAO AKIYAMA (1921-2014) PENCIL SIGNED WOODBLOCK
331 RICHARD LACROIX (BORN 1939) PENCIL SIGNED ETCHING
332 KIHEI SASAJIMA (1906-1993) PENCIL SIGNED WOODBLOCK
333 JOHN TALLEUR (1925-2001) PENCIL SIGNED ETCHING
334 JOHN TALLEUR (1925-2001) PENCIL SIGNED SERIGRAPH
335 JOHN TALLEUR (1925-2001) PENCIL SIGNED BLOCK PRINT
336 GABOR PETERDI (1915-2001) PENCIL SIGNED ETCHING
337 GABOR PETERDI (1915-2001) PENCIL SIGNED ETCHING
338 EARLY 20TH C LOUIS XVI FRENCH STYLE PICTURE FRAMES
339 THREE WORKS OF TWO-DIMENSIONAL ART
340 A COLLECTION OF ANTIQUE AND DECORATIVE COPPER & BRASS
341 A BLACK ACRYLIC PEDESTAL WITH CLEAR TOP AND BASE
342 CHARLES BANKS WILSON (1918-2013) SIGNED PRINT
343 AN UNUSUAL GOUDA ART POTTERY WALL POCKET
344 UNIDENTIFIED WALL POCKET, CHARCTERISTICS OFMUNCIE
345 A LATE 20TH CENTURY TABLE LAMP WITH CHERUB
346 OLD SHEFFIELD PLATE DOME HALVED FOR WALL HANGING
347 AN AMERICAN BRILLIANT PERIOD CUT GLASS WATER SET
348 A SET OF FENCH HAND TINTED MAGIC LANTERN SLIDES
349 A WATERFORD CUT CRYSTAL TABLE LAMP
350 A LATE 20TH CENTURY ART DECO STYLE FIGURAL LAMP
351 A McCOY LOY-NEL-ART HAND-DECORATED VASE
352 AN AMPHORA CZECHOSLOVAKIA VASE WITH CHILD FIGURE
353 A PAIR RUBY FLASH LUSTRES WITH ETCHED DECORATION
354 A LARGE CONTINENTAL POTTERY MAJOLICA PLAQUE
355 A RARE WELLER ART POTTERY WINDOW BOX - AS FOUND
356 A CUT AND POLISHED BOHEMIAN GLASS VASE WITH FRIEZE
357 SCOTT DRAVES DOOR POTTERY DRAGONFLY VASE
358 FOUR LATE 20TH CENTURY STUDIO POTTERY TEA BOWLS
359 TWO ED BRANDSTETTER PHOTOGRAPHS
360 COLOR ETCHING ATTRIBUTED TO KANSAS ARTIST
361 AN EARLY 20TH CENT WATERCOLOR OF MASTED STEAMER
362 A COLLECTION OF BRASS MORTAR AND PESTLES
363 AN ESTATE LOT OF MISCELLANEOUS ITEMS
364 AN ESTATE LOT OF MISCELLANEOUS CERAMICS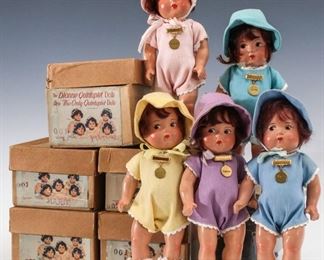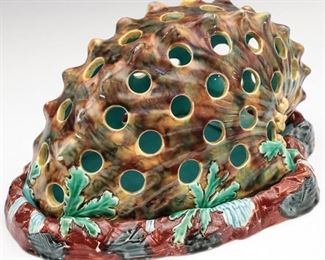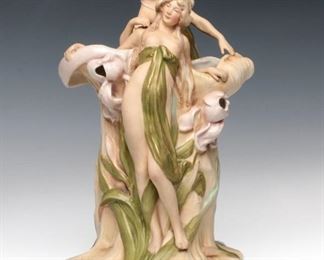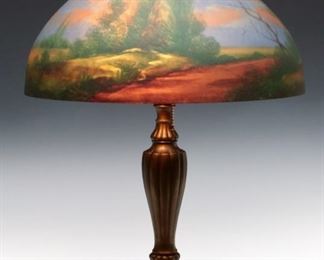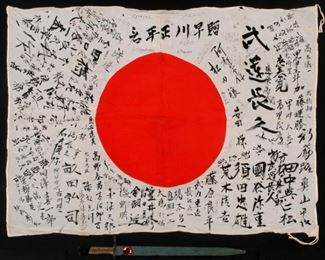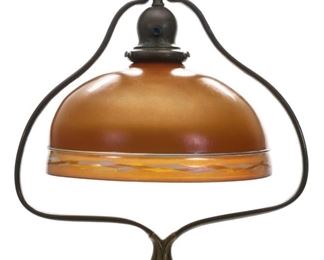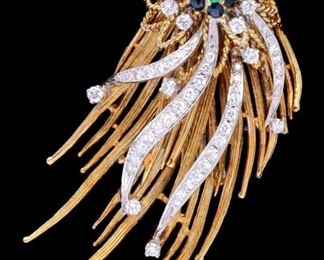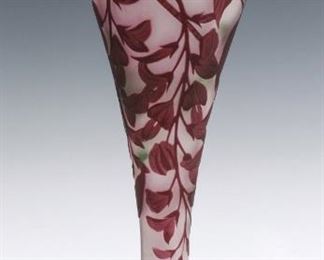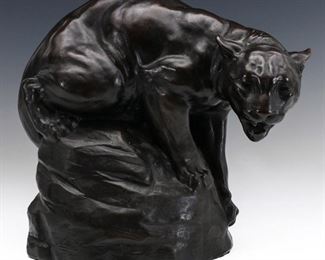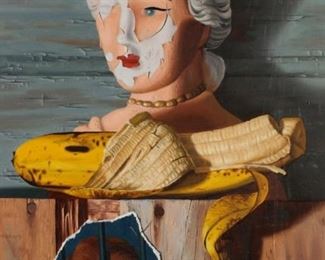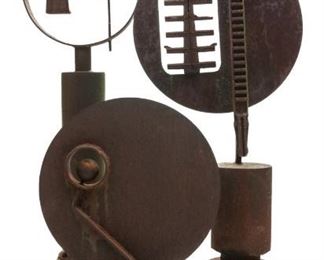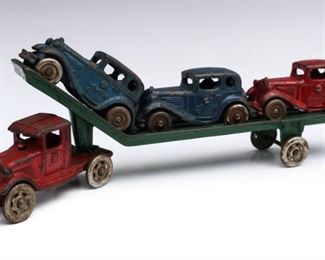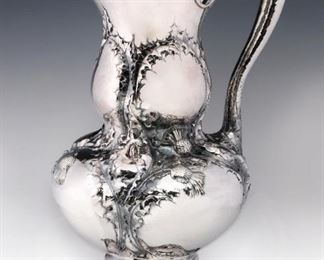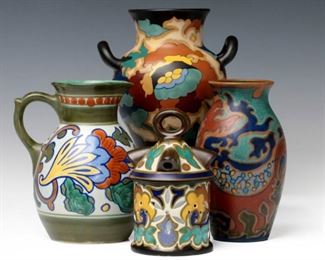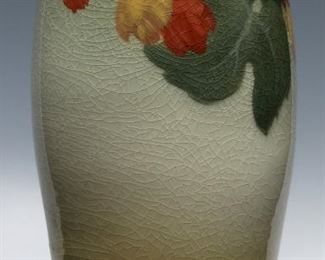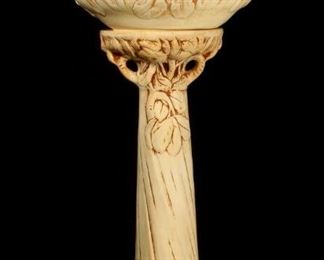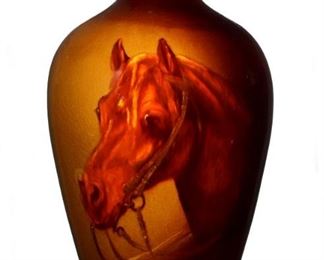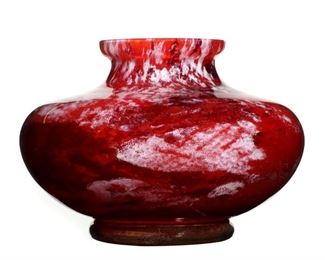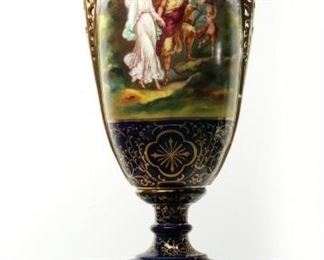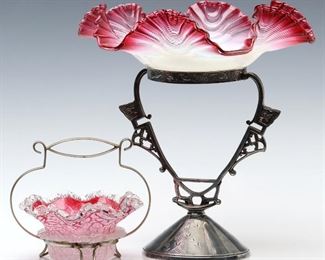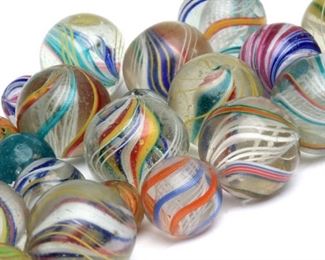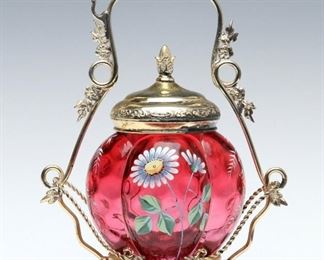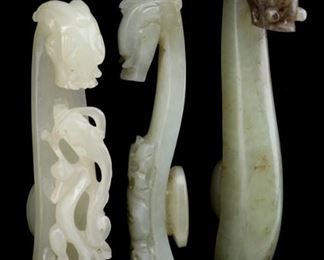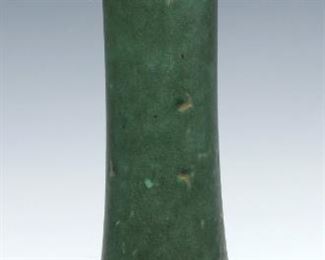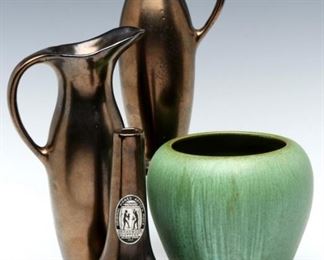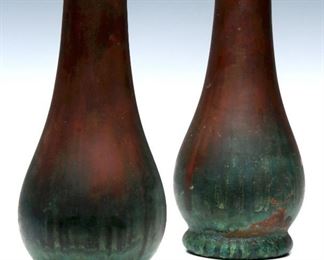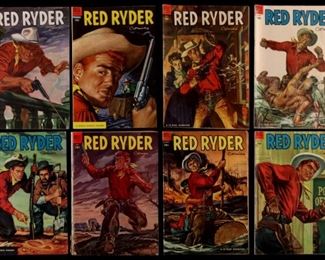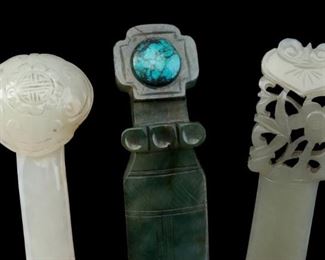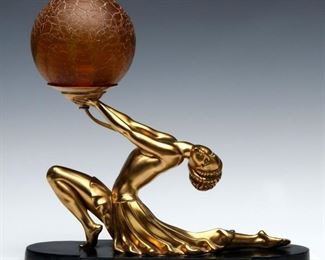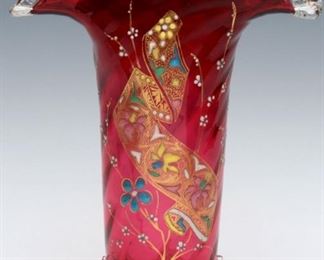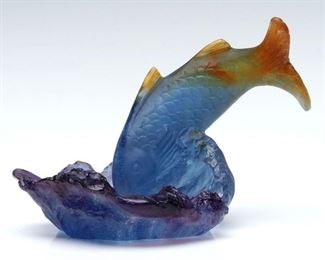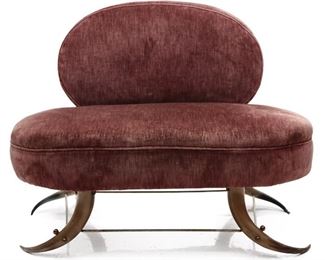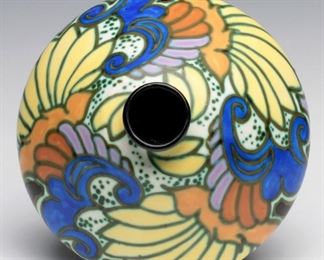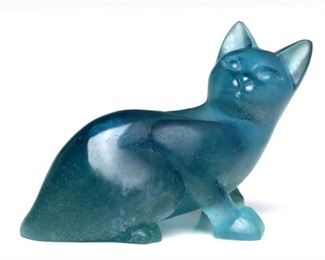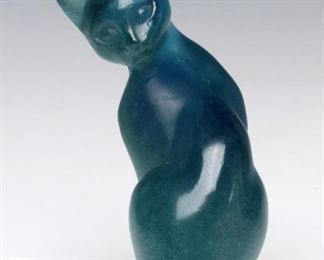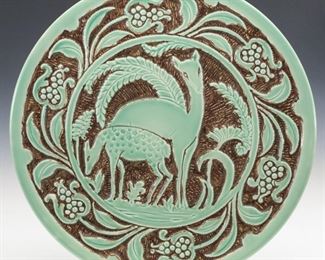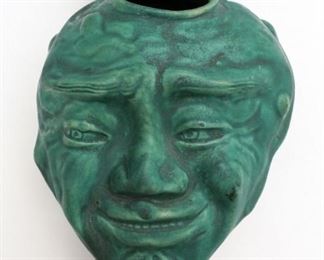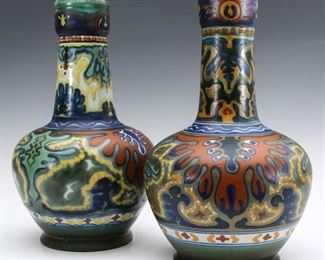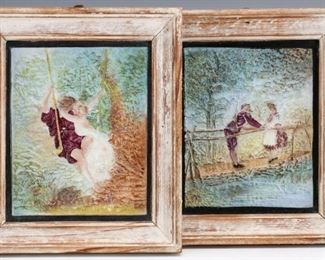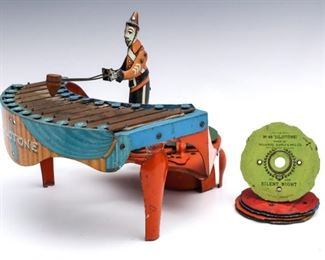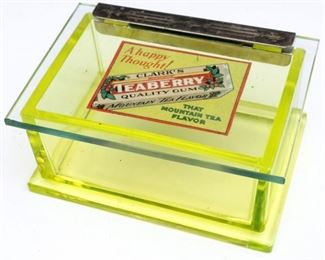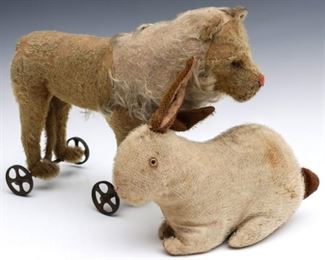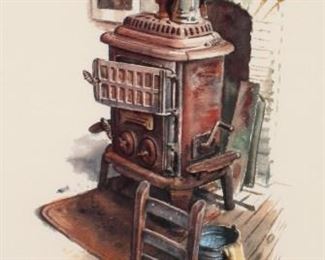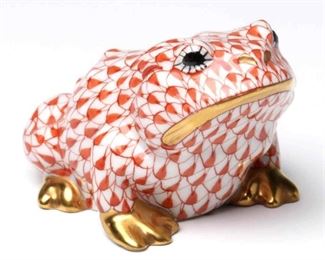 Thank you for using EstateSales.NET. You're the best!