Railroad Lanterns, Advertising, Hardware, China and Collectibles
online only auction
•
19
day sale
•
sale is over
Terms
Visit soulisauctions.com/terms for a complete list of auction terms and conditions.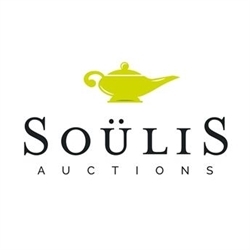 The Prokes Living Estate Auction
Railroadiana and Timetables
in Two Sessions
Live Internet, Telephone and Absentee Bidding Only
No In-House Bidding
Pay and pick up contact free using our new DRIVE‑UP cashier window!
Drive-up, pay, pull forward, and be on your way.
Please, no auction winnings will be available for payment or pick up before the next business day (Monday‑Friday) following any auction.
Session I
Saturday, February 27 at 10am CST
Lanterns, Advertising, Hardware, China and Collectibles
Browse the Session I Bidding Catalog
Session II
Sunday, February 28 at 3pm CST
Timetables and Ephemera
Browse the Session II Bidding Catalog
:: In-Person Preview and Inspection ::
By Appointment Only
February 22nd ‑ 26th, between 10am and 4pm,
Click Here to Sign-Up to Preview in Person
or call 816-697-3830
Session One:
Good Lanterns
Dining Car China
Signs and Advertising
Passenger Car Ash Receivers
Signs, Advertising and Novelties
Hardware and Related Collectibles
Session Two:
A Collection of Rare Timetables gathered over 40-plus years

CATALOG LISTING ::
1 A RARE SANTA FE ''EL CAPITAN'' GLASS DRUMHEAD SIGN LENS
2 A CAST ALUMINUM SILVERLINER PLAQUE FOR NORTH SHORE LINE
3 A HOWARD 12-INCH LOCOMOTIVE BELL WITH RED INTERIOR
4 RARE CAR SIGN FROM FIAT ROCK ISLAND ''RAVIOLI'' ROCKET
5 A SANTA FE RAILROAD EL CAPITAN DRUMHEAD SIGN INSERTS
6 AN EARLY 20TH CENTURY RAIL CAR DRUMHEAD TAILSIGN CAN
7 A GOOD DENVER, RIO GRANDE & WESTERN RAILROAD STEP BOX
8 MORE THAN 100 PIECES OF RAILROADIANA EPHEMERA & MENUS
9 A LARGE PORCELAIN ENAMEL TRAIN BULLETIN SCHEDULE BOARD
10 A SIX TIER FLOOR STANDING PAINTED WOOD TIMETABLE HOLDER
11 A NEW HAVEN RAILROAD MACHINE AGE ALUMINUM ASH RECEIVER
12 A CAST BRASS CAR BADGE FOR SOUTHER PACIFIC LA MIRADA
13 A NICKEL PLATED BRASS CAR PLAQUE FOR UP's CHINATOWN
14 PORCELAIN ENAMEL SIGN 'TO LA SALLE STREET STATION'
15 PAINTED WOOD CATTLE CAR SIGNS ATTR CHICAGO & ALTON RR
16 A FOUR-COLOR PORCELAIN ENAMEL SIGN FOR M-K-T RAILROAD
17 CG RR AND RFP RR LOCOMOTIVE PAINT SCHEME SAMPLE MODELS
18 AN ELECTRIC RAIL YARD BLOCK SIGNAL SIGNED SAFETY SYSTEMS
19 A RARE, EARLY COLORADO MIDLAND, AND OTHER CO RR PAPER
20 A KELLY PRESENTATION LANTERN AS IS WITH ENGRAVED GLOBE
21 A PULLMAN PALACE CAR CO ENGRAVED PRESENTATION LANTERN
22 A CONDUCTOR'S RAILROAD LANTERN WITH RED TO CLEAR GLOBE
23 A CONDUCTOR'S RAILROAD LANTERN WITH GREEN/ CLEAR GLOBE
24 NORTHERN PACIFIC STATUETTE WITH GREAT BIG BAKED POTATO
25 A 1907 IMAGE OF C & N-W OVERLAND LIMITED PULLED BY 1100
26 AN ACRYLIC CALIFORNIA ZEPHYR STATION TICKETS SIGN
27 A PAINTED ALUMINUM UNION PACIFIC SHIELD SHAPE SIGN
28 PENNSYLVANIA RAILROAD TRUC TRAIN PORCELAIN ENAMEL SIGN
29 PAIR OF COACH/CABOOSE TAIL LAMPS MARKED ROCK ISLAND RR
30 A PAIR OF COACH/CABOOSE TAIL LAMPS MARKED G.M.&O.
31 A PAIR OF COACH/CABOOSE TAIL LAMPS MARKED G.M.&O.
32 AN EARLIER PRESSED STEEL PULLMAN STEP BOX WITH WOOD TOP
33 A GREAT NORTHERN PRESSED ALUMINUM RAILROAD STEP BOX
34 A SOUTHERN PACIFIC RAILROAD FLOOR STANDING ASH RECEIVER
35 A NORTHWESTERN RAILROAD FLOOR STANDING ASH RECEIVER
36 A NEW YORK CENTRAL ART DECO PASSENGER CAR SMOKE STAND
37 UNION PACIFIC CRINKLE FINISH ART MODERNE ASH RECEIVER
38 A COLLECTION OF 45 VARIOUS RAILROAD DINING CAR MENUS
39 A COLLECTION OF 34 VARIOUS RAILROAD DINING CAR MENUS
40 A WM WESTLAKE'S PATENT PRESENTATION LANTERN CIRCA 1870
41 A COLLECTION OF LOCOMOTIVE CYCLOPEDIAS AS EARLY AS 1906
42 A COLLECTION OF 34 VARIOUS RAILROAD DINING CAR MENUS
43 A PULLMAN BRASS PRESENTATION LANTERN WITH ETCHED GLOBE
44 A PRESENTATION LANTERN ENGRAVED 'CHARTER OAK RANGE'
45 A VINTAGE PAINTED STEEL SAN FRANCISCO STREET CAR SIGN
46 AN ACRYLIC STATION SIGN FOR UNION PACIFIC TO CALIFORNIA
47 A SOUTH SHORE LINE THREE COLOR PORCELAIN LOGO SIGN
48 BELT RAILWAY OF CHICAGO PAINTED METAL SIGN
49 PORCELAIN ENAMEL CROSSBUCK WITH CAT'S EYE REFLECTORS
50 A PAINTED IRON FOUR-LIGHT BLOCK SIGNAL
51 A SIX-POINT ROCK ISLAND RAILROAD SPECIAL POLICE BADGE
52 A PASSENGER CAR CHAIR MARKED CANADIAN NATIONAL RAILWAY
53 NYC INDIANAPOLIS SPECIAL & PEORIA ROCKET STATION SIGNS
54 AN ACRYLIC DRUMHEAD SIGN INSERT FOR THE DIXIE LIMITED
55 A NEW YORK CENTRAL RAILROAD STEEL STEP BOX
56 A BOLDLY MARKED MISSOURI PACIFIC RAILWAY STEP BOX
57 RARE COLORADO MIDLAND RY ''HEART OF THE ROCKIES'' 1890
58 A COLLECTION OF BRASS KEYS WITH RAILROAD MARKINGS
59 A 1916 ILLINOIS TRACTION SYSTEM PRESENTATION LANTERN
60 A PRESENTATION LANTERN MARKED PULLMAN ON FRAME & GLOBE
61 C.R.I.&P. RAILROAD CHINA 'ROCKET' PATTERN PLATES
62 A MISSOURI PACIFIC LINES CIRCULAR PAINTED ALUMINUM SIGN
63 SIX-POINT STAR BADGE FOR CHICAGO UNION STATION POLICE
64 A RAILROAD PASSENGER CAR ASH RECEIVER MARKED PULLMAN
65 A STEEL RAILROAD STEP BOX MARKED ROCK ISLAND LINES
66 A SHIPPING CRATE FOR NEW YORK CENTRAL RR ADV. DEPT
67 A PULLMAN FLOOR STANDING PASSENGER CAR ASH RECEIVER
68 A PENNSYLVANIA RR CAST IRON WAYSIDE WHISTLE STOP SIGN
69 A N.Y.C RR LA SALLE STATION PAINTED WOOD BULLETIN CASE
70 A CHICAGO, AURORA AND ELGIN PORCELAIN SIGN - AS FOUND
71 A TERRE HAUTE RAIL CAR WORKS FOLKY MODERN HOMAGE SIGN
72 MoPAC STATE CAPITOLS AND STATE FLOWERS SERVICE PLATES
73 A FIVE POINT BALL-TIP ROCK ISLAND RAILROAD POLICE BADGE
74 PROVIDENCE AND WORCESTER AND PENN CENTRAL RR SIGNS
75 A LARGE CHICAGO NORTHWESTERN PAINTED METAL SIGN
76 A PAINTED ALUMINUM BURLINGTON ROUTE SIGN - AS FOUND
77 A SAN JOSE, ILLINOIS GULF, MOBILE & OHIO RR DEPOT SIGN
78 P. R. R. CO. WATCHMAN BADGE W/ SEVEN OTHER TAGS, BADGES
79 HAT BADGES AND OTHER RAILROAD INSIGNIA
80 SOUTHERN PACIFIC AND ''PACIFIC ELECTRIC'' RY LANTERNS
81 TWO GOOD PENNSYLVANIA RR LANTERNS WITH CAST GLOBES
82 FOUR SHORT GLOBE LANTERNS WITH RAILROAD MARKINGS
83 A STEEL AND ALUMINUM RAILROAD STEP BOX MARKED PULLMAN
84 ALUMINUM STEP BOX PAINTED AS BEING GULF, MOBILE & OHIO
85 A 'ROCK ISLAND LINES' PRESSED STEEL STEP BOX
86 A HEAVY BRASS PASSENGER CAR ASH STAND MARKED PULLMAN
87 AN ADAMS & WESTLAKE CONDUCTORS LANTERN WITH GREEN GLOBE
88 A PORCELAIN ENAMEL SIGN LETTERED ''SOUTH BOUND''
89 A COLLECTION OF SANTA FE EPHEMERA AS EARLY AS 1917
90 LEHIGH VALLEY RAILROAD NEW OLD STOCK CIGAR BOX LABELS
91 A COLLECTION OF RAILROAD ADVERTISING PLAYING CARDS
92 UNCUT SHEET OF 1950 STREAMLINER LOCOMOTIVE CALENDARS
93 A COLORADO & SOUTHERN RY ADVERTISING PRINT DATED 1902
94 ORIGINAL LOG FOR BURLINGTON ZEPHYR RECORD RUN 1936
95 A PRE-PROHIBITION NICKEL PLATE BEER ADVERTISING POSTER
96 ROCK ISLAND RAILROAD BROADSIDES AS EARLY AS 1891
97 BURLINGTON ROUTE 'ARISTOCRAT' RAILROAD CHINA
98 A BRASS BROCHURE HOLDER FOR ELEVATED NEWS ''TAKE ONE''
99 A CAST BRASS BROCHURE HOLDER FOR RAPID TRANSIT NEWS
100 A LARGE MAST SEMAPHORE ARM WITH THREE GLASS LENSES
101 A COLLECTION OF SOUTHERN PACIFIC RAILROAD CHINA
102 EARLY 20TH C. MASS TRANSIT COUNTER BOX AND TROLLEY BELL
103 STEEL LOCKS AND BRASS LOCKS WITH RAILROAD MARKINGS
104 CHICAGO POLICE AND COOK COUNTY SHERIFF BADGES C. 1930s
105 BURLINGTON RTE AND BURLINGTON NORTHERN VISOR CAPS
106 SCARCE DINING CAR COFFEE CAN, OTHER RR COLLECTIBLES
107 A LANTERN WITH RED TALL GLOBE ETCHED C.N.S.&M.R.R.
108 A TALL RED GLOBE RAILWAY LANTERN MARKED C.S.B.&N.I.
109 A TALL CAST GLOBE BELL BOTTOM SANTA FE RR LANTERN
110 SOUTHERN PACIFIC AND N.Y.S.&W. RAILROAD LANTERNS
111 TWO TALL LANTERNS MARKED SANTA FE ON BELL BOTTOM FRAMES
112 SOUTHERN PACIFIC RR LANTERN AND UNMARKED DIETZ LANTERN
113 C.&N.W.RY AND C.St.P.M.&O.RY TALL GLOBE LANTERNS
114 FOUR SHORT GLOBE LANTERNS WITH RAILROAD MARKINGS
115 SOUTHERN PACIFIC AND KANSAS CITY SOUTHERN RR LANTERNS
116 M.C. RR, B&O RR AND A DAMAGED PRESENTATION LANTERN
117 FOUR SHORT GLOBE LANTERNS WITH RAILROAD MARKINGS
118 FOUR SHORT GLOBE LANTERNS WITH RAILROAD MARKINGS
119 FOUR SHORT GLOBE LANTERNS WITH RAILROAD MARKINGS
120 A ''HAYES TARGET STAND'' RAILROAD SWITCH DIRECTIONAL
121 A CARPET UPHOLSTERY FOLDING CHAIR ATTRIBUTED PULLMAN
122 A HEAVY BRASS PASSENGER CAR SMOKE STAND MARKED PULLMAN
123 A COLLECTION OF 13 EMBOSSED TIN LITHO RAILROAD BADGES
124 A COLLECTION OF MID 20TH CENTURY DINING CAR MENUS
125 WOOL RAILROAD SLEEPER CAR BLANKETS WITH PULLMAN LOGOS
126 THREE SHORT GLOBE LANTERNS WITH RAILROAD MARKINGS
127 A UNION PACIFIC RAILROAD 'WINGED STREAMLINER' TEAPOT
128 RAILROAD CHINA WITH DAMAGE INCL KANSAS CITY SOUTHERN
129 ROCK ISLAND PASSENGER SERVICE ADVERTISING PIECE C. 1890
130 A NICKEL PLATE ROAD REVERSE PAINTED AND ETCHED GLASS
131 RAILWAY EXPRESS & WELLS FARGO & PLASTIC NUMBER BOARDS
132 BURLINGTON ROUTE 'COBALT BLUE' TEAPOTS AND SUGAR
133 C.R.I. ''ROCK ISLAND'' RAILROAD 'SAGE GREEN' PLATTER
134 TWO MISSOURI PACIFIC TIN LITHO ADVERTISING CALENDARS
135 A BRASS WALL MOUNT RAILROAD PASSENGER CAR SHELF
136 A SHIELD-FORM BURLINGTON NORTHERN RAILROAD POLICE BADGE
137 A SHIELD-FORM UNION PACIFIC RAILROAD POLICE BADGE
138 A RAILWAY EXPRESS PORCELAIN ENAMEL SIGN - W/DAMAGE
139 A PORCELAIN ENAMEL SIGN FOR THE CHICAGO STREET HALSTED
140 A PORCELAIN ENAMEL SIGN FOR THE CHICAGO STREET LOOMIS
141 A COLLECTION OF RR DINING CAR AND OTHER GLASS & CHINA
142 CANADIAN PACIFIC EMPRESS ATLANTIC COASTLINE CHINA, MORE
143 A COLLECTION OF RAILROAD CHINA WITH PULLMAN LOGO
144 CHICAGO RAILROAD FAIR POSTER, MEMORABILIA 1948 & 1949
145 A FLOOR LIGHT INCORPORATING A RR CLASSIFICATION LAMP
146 A TALL GLOBE RAILROAD LANTERN MARKED C.M.&ST.P.
147 A RAILROAD SWITCH LAMP WITH PORCELAIN ENAMEL TARGETS
148 A RAILROAD SWITCH LAMP WITH PAINTED TARGETS
149 A WABASH RAILROAD LANTERN WITH CAST LOGO ON GLOBE
150 A DRESSEL SIGNAL LAMP MARKED PENNSYLVANIA RAILROAD
151 A RAILROAD SWITCH LAMP WITH PAINTED TARGETS
152 G.M.&O., I.C.R.R. AND M-K-T RAILROAD LANTERNS
153 A COLLECTION OF PADLOCKS WITH RAILROAD MARKINGS
154 A SOUTHERN PACIFIC RR PRESSED STEEL STEP BOX AS-IS
155 A RAILROAD SWITCH LAMP WITH PORCELAIN ENAMEL TARGETS
156 ILLINOIS CENTRAL, CAL ZEPHYR, ROCK ISLAND, UP RR GLASS
157 A COLLECTION OF RAILROAD ADVERTISING PLAYING CARDS
158 CRAM'S STANDARD AMERICAN RAILWAY ATLAS FOR 1891 & 1893
159 WABASH, C&O, ROCK ISLAND CHINA WITH C.&E.I.R.R. SILVER
160 DESKTOP ADVERTISING INCL MONON ROUTE ALLIGATOR W/REPAIR
161 A COLLECTION OF BALTIMORE & OHIO RAILROAD DINING CHINA
162 A GULF MOBILE & OHIO RR 'ROSE' PATTERN TEAPOT AS-IS
163 PULLMAN, UNION PACIFIC & SOUTHERN PACIFIC TRAVEL POSTERS
164 TWO GENERAL MOTORS STREAMLINER PRINTS, PLUS ANOTHER
165 TWO AMERICAN RAILROAD PORCELAIN ENAMEL SIGNS
166 COLORADO MIDLAND RY 'CASCADE' CHINA REPRODUCED 1984
167 A SMALL COLLECTION OF RAILROAD SILVER PLATE
168 A SHORT RED GLOBE LANTERN MARKED ROCK ISLAND ON FRAME
169 UNUSUAL READING RR 'LOCO DEPT' LANTERN AND PRR LANTERN
170 SIX SETS OF RAILROAD ADVERTISING DBL DECK CANASTA CARDS
171 GRIF TELLER AND WALTER GREENE 1930S CALENDAR TOPS
172 A UNION PACIFIC OVERLAND ROUTE WALL MAP CIRCA 1880s
173 A COLLECTION OF PADLOCKS WITH RAILROAD MARKINGS
174 A COLLECTION OF PADLOCKS WITH RAILROAD MARKINGS
175 A COLLECTION OF NEW YORK CENTRAL LINES RAILROAD CHINA
176 SOUTHERN RAILWAY 'PIEDMONT' VEGETABLE BOWL, CUP &SAUCER
177 A CHICAGO, INDIANAPOLIS AND LOUISVILLE BRASS PADLOCK
178 UNION PACIFIC WHISKEY BOTTLE WITH LABEL, SP RR MEDICINE
179 ROCK ISLAND RAILROAD CONDUCTOR'S VISOR CAP
180 ILLINOIS CENTRAL, ROCK ISLAND, UP RR BAR CAR GLASSWARE
181 A BUDD COMPANY TRADE CATALOG & FREIGHT LOCOMOTIVE BOOK
182 A COLLECTION OF VARIOUS RAILROADIANA
183 TWO AMTRAK VISOR CAPS AND AN ATTENDANT'S BADGE
184 EARLY 20TH CENTURY RAILROAD THEME SHEET MUSIC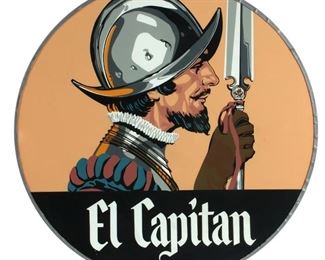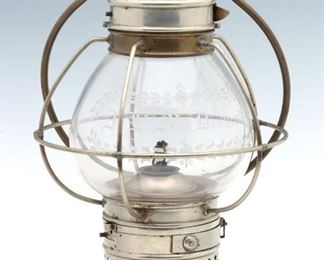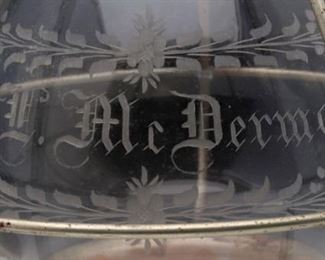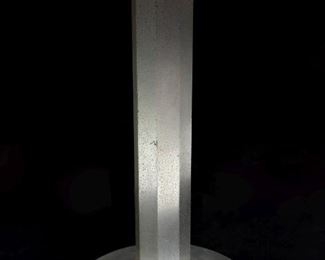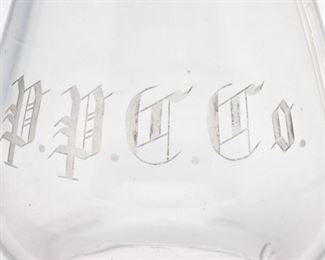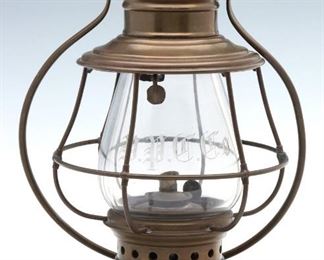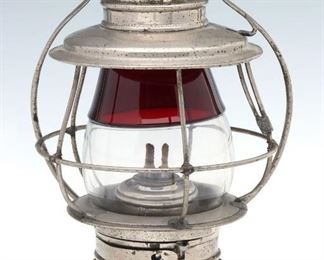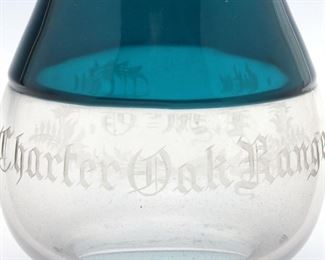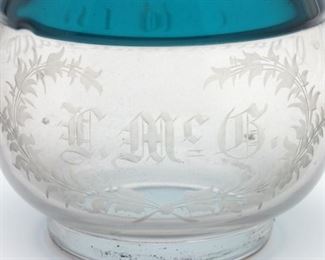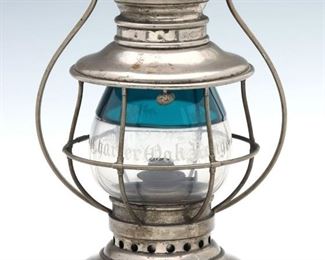 Thank you for using EstateSales.NET. You're the best!