Fort Industry Square Fixtures, Restaurant Equipment, Antiques, and More at Online Auction
auction
•
1
day sale
•
sale is over
Terms
Internet Premium: 13%
Participation Requirements:
Valid Credit Card required for bidding approval
Payment Options:
Visa, MasterCard, Discover, and American Express

Payment Instructions:
The Bidder agrees to pay a 13% Buyer's Premium that will be added to the final hammer price. The sum of the purchase price plus the 13% Buyer's Premium is the final purchase price. This includes the premium charged by the online vendor, Proxibid.

The Bidder is required to enter valid credit card information upon registration with Proxibid. If Bidder has previously registered with Proxibid, please make sure the credit card information on file is current before you register for the auction. Auctioneer will not collect a sales tax on items selling in this auction.

We accept Visa, Master Card, Discover, and American Express. All accounts will be settled immediately at the conclusion of the auction and an electronic invoice will be sent to the winning bidder's email via Proxibid. THE BIDDER'S CREDIT CARD THAT IS ON FILE WITH PROXIBID WILL BE AUTOMATICALLY CHARGED AT THE CONCLUSION OF THE AUCTION.

Bidders are required to pay Auctioneer for winning bids, including the Buyer's Premium. All sales are final, and the Bidder hereby waives their right to initiate a charge-back on his/her credit card for any reason. If Bidders card declines, Bidder will be charged a $30 processing fee to run another card. Failure to pay will result in the Bidder being reported to Proxibid for non-payment and Bidder will be restricted from bidding in future Auctioneer auctions, and possibly Proxibid auctions.

Currency Type: USD

Shipping Instructions:
The Auctioneer does not ship, pack, or move items. All such packaging, handling and shipping is at the sole risk of the winning Bidder, and Auctioneer shall have no liability for any loss or damage to such items. It is the full responsibility of the winning Bidder to schedule any shipping or make special arrangements if necessary. It is advised that you contact the shipper before bidding to get an estimated cost.

Preferred Shipper:
Maki Auction & Shipping Services, LLC
517-438-3758, Email: mick3431@yahoo.com

Preferred Large Item Mover:
ABC Movers
419-241-6245

Preview Dates and Times:
Monday, September 9, 2019 from 9:00 am – 12:00 pm EST
Thursday, September 12, 2019 4:00 pm – 6:00 pm EST

Location: 114-152 N. Summit St., Toledo, Ohio 43604
Driving Directions: Anthony Wayne Trail to Washington Street to Summit Street

Removal / Pick Up Times:
September 16, 2019 from 1:00 PM – 9:00 PM EST
September 17 – 20, 2019 from 9:00 AM – 4:00 PM EST

Special Terms:
The Bidder(s) and the Auctioneer agree that the terms listed below shall govern each and every online auction item. Auctioneer reserves the right to modify the Terms and Conditions and will post any changes to our terms.

All registration information the Bidder provides to the Auctioneer shall be current, complete and accurate. All bidders must be 18 years of age or older. The bidder agrees to not use any device, software or routine to interfere or attempt to interfere with the proper working of any transaction being conducted on and during any auction.

TERMS OF SALE:
i) All items will be sold "As Is". Auctioneer may attempt to describe the merchandise in advertising or on the internet but makes no representations to accuracy. In NO event shall Auctioneer be held responsible for having made or implied any warranty of merchantability or fitness for a particular purpose. Auctioneer will not be responsible for any errors or omissions in the description of the merchandise, typographical errors, misprints, loss of merchandise or money, damage or failure of equipment of the auction platform site. Use of the site is at Bidder's own risk. Bidders shall rely entirely on their own information, judgment, and inspection of property and record. It is the Bidder's responsibility to determine condition, age, genuineness, value or any other determinative factor. Bidder shall be the sole judge of value. The Auctioneer is not responsible for the actions the Sellers and Buyers take before, during and after the auction.

ii) Auctioneer uses email mailing lists to notify its customers about online auctions. If Bidders are receiving a particular mailing and wish to discontinue receiving future mailings, simply use the Safe Unsubscribe link at the bottom of the email.

iii) Auctioneer assumes no risk, liability, or responsibility beyond the limited warranty contained herein. The authenticity of the authorship attributed to the property as described in this catalog is guaranteed to the limited extent as stated.

iv) Any other terms or conditions will be posted and will take precedence over printed matter. Auctioneer assumes no risk, liability, or responsibility beyond the limited warranty contained herein. Auctioneer reserves the right to reject any bid. The highest bidder acknowledged by the auction platform site will be the purchaser.

v) Auctioneer reserves the right to make additions and withdrawals of any property before or during the sale and shall have no liability. ALL SALES ARE FINAL. No adjustment will be made with regard to merchandise or inventory after the item has been removed from the premises or after the removal date posted by the Auctioneer, whether or not the property has been removed. The Auctioneer reserves the right, for any reason, in their sole discretion, to terminate, change or suspend any aspect of any auction sale.

vi) If Auctioneer is unable to make available any items won, or a portion thereof, the sole liability of Auctioneer, if any, shall be limited to a refund the monies paid in respect of such items.

vii) If Bidder will be unavailable during the bid ending times, Bidders who desire to make sure that their bid is acknowledged can place maximum bids before the auction ends.

viii) If any applicable conditions herein are not complied with by the purchaser, the purchaser will be in default, and in addition to any and all other remedies available to Auctioneer and its agents and consignors by law, including, without limitation, the right to hold the purchaser liable for the total purchase price, including all fees, charges, and expenses set forth herein, Auctioneer, at its sole option, may (i) cancel the sale of that, or any other lot or lots sold to the defaulting purchaser, or (ii) resell the purchased property, whether at auction or by private sale, or (iii) effect any combination thereof. The purchaser will be liable for any deficiency, any and all costs, handling charges, late charges, expenses, and commissions of both sales, legal fees, and expenses, collection fees, and incidental damages. In addition, a defaulting purchaser will be deemed to have granted and assigned the property or money to Auctioneer or its agents and consignors or any of their affiliated Companies, and Auctioneer may retain and apply such property or money as collateral security for the obligations due. The purchaser of each lot agrees that each lot is unique and that Auctioneer, in its sole discretion, shall not be required to sell or otherwise seek to mitigate damages should such purchaser fail to pay the total purchase price. Payment will not be deemed to have been made in full until Auctioneer shall have collected good funds. Auctioneer reserves the right to hold all purchases pending collection of the total purchase price.

(a) As a condition to registration and bidding, you as the bidder (i) Agree that they will not, under any circumstances, initiate a chargeback, and (ii) Agree that they are waiving any chargeback rights that may exist under the agreement between bidder and bidder's credit card company. Should a chargeback be initiated, the auction terms and condition will be conclusive evidence of the bidder's waiver of any chargebacks.

ix) Prospective bidders and purchasers agree that, in the event of any controversy or claim arising out of or relating to a sale of property, the party asserting such controversy or claim shall provide written notice thereof to the other party, and that any such controversy or claim not settled within fourteen (14) days of delivery of notice by the other party, including any controversy or claim arising from or relating to the sale, or to these Terms and Conditions of Auction, including the terms of this paragraph, shall be resolved and settled by binding arbitration in Toledo, Ohio, or such other place upon which the parties may agree, in writing; such arbitration shall be pursuant to the commercial arbitration rules of the American Arbitration Association then in effect; the award, which shall include costs of arbitration and an award of reasonable attorney's fees to the prevailing party, shall be final, and the judgment on the award may be entered in any court having jurisdiction.

x) Bidder indemnifies Landowners and Managers, Fort Industry Manager LLC, Midland Title Agency of Northwest Ohio, Louisville Title Agency as trustees and their affiliates, managers, members, agents, attorneys, staff, volunteers, heirs, representatives, predecessors, successors and assigns, for any physical injury, including but not limited to illness, paralysis, death, damages, economical or emotional loss, that I may suffer as a direct result of my participation in the aforementioned Activity, including traveling to and from an event related to this activity.

xi) As a Bidder, placing a bid is a binding contract between Bidder, Seller and Auctioneer and the bid cannot be retracted. Once Bidder places a bid, and if Bidder wins, Bidder will be obligated to buy the product at the said price indicated as their bid, plus applicable buyer's premium. Also, the Bidder is responsible for any bids placed under Bidder's bidding number and password. The security of Bidder's information is their sole responsibility and Bidder will be responsible for any and all bids placed under their number. If at any time Bidder feels that their bid number has been compromised, please notify the Auctioneer immediately. Bidder acknowledges that they agree to the terms of the attached waiver accepting responsibility for any and all damage, and must sign a copy of the Liability Waiver upon entering the facility for removal.

xii) When bidding from a mobile or tablet device, it is recommended to use the Desktop Site View of Proxibid. Pamela Rose Auction Company, LLC is not responsible for errors made by the mobile bidding platform.

xiii) All buyers and their helpers are required to sign a Waiver and Release of Liability prior to entering the building.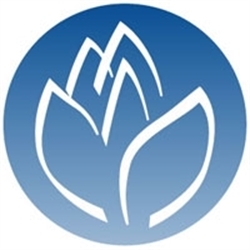 Fort Industry Square Fixtures, Restaurant Equipment, Antiques, and More – Online Auction

114 – 152 North Summit Street, Toledo, Ohio 43604
Bidding Ends: Friday, September 13, 2019 at 10:00 am
PREVIEW TIMES:
Monday, September 9, 2019 from 9:00 am to 12:00 pm
Thursday, September 12, 2019 from 4:00 pm to 6:00 pm



Once in a Lifetime Online Auction! Treasures from the famed Fort Industry Square. An entire city block of buildings filled with Architectural Artifacts, Beveled and Stain Glass Windows, Chandeliers, Wrought Iron Gates, Balconies, Cast Iron, Art, Keystones, Bars, Restaurant Equipment, Tables, and Incredible Museum Quality Doors and Decor.

View the auction brochure, photos, and register to bid now online.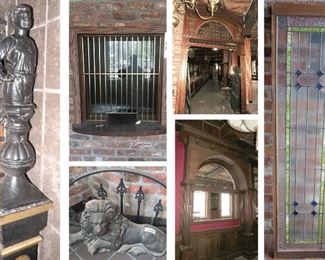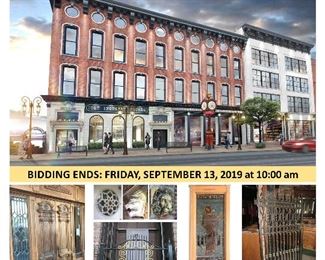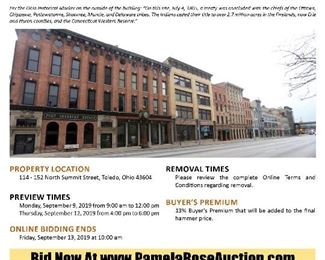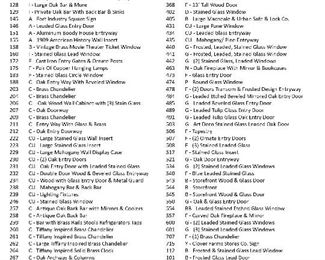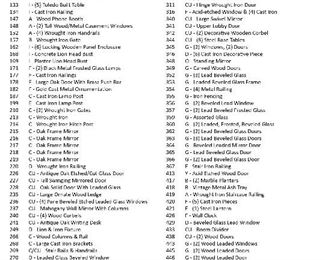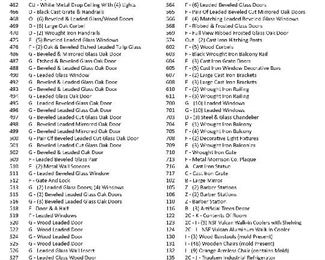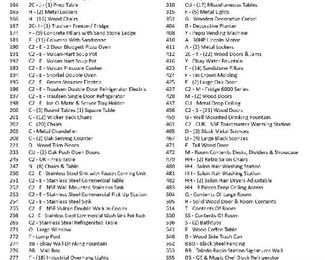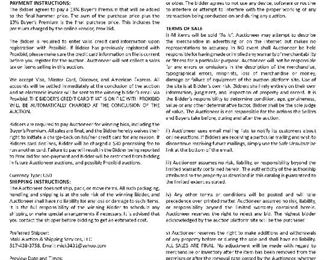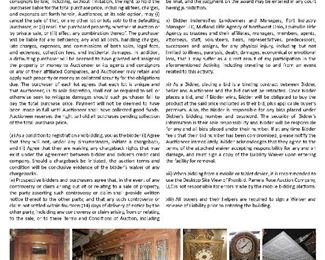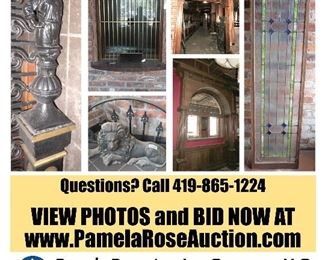 Thank you for using EstateSales.NET. You're the best!