JULY MULTICONSIGNMENT AUCTION AT THE LEGACY CENTER!
online only auction
•
13
day sale
•
sale is over
Terms
**By bidding you are acknowledging agreement with all of the terms and conditions included herein and elsewhere on our website. For a full list of terms/conditions, please visit www.HurleyAuctions.com**

ALL SALES ARE FINAL. Payment by CREDIT CARD ONLY: VISA/Master Card/DISCOVER. NO AMERICAN EXPRESS. 13% Buyers Premium applies. Announcements day of sale take precedence over all printed material.

PICKUP TIME windows are fixed, but scheduled prior to the auction opening so you can plan ahead for it. Due to seller constraints, they are inflexible, so please be ready to pickup auction items if you decide to bid.

ALL CREDIT CARDS that do not process within 24 hours of the closing of the sale will be charged a $20.00 NON-COMPLIANCE FEE. All items must be paid in full prior to the scheduled pick up date. Our auction staff do not handle cash/checks at the pick up.

HURLEY AUCTIONS DOES NOT SHIP ANY ITEMS, but we know people who do! The winning bidder will need to arrange pickup/shipping. Please contact the office at least 24 hrs prior to the scheduled auction close at 717-597-9100 if you are unable to pick up auction items to obtain contact information for a third party to ship your items.

NO REFUNDS will be granted should items won at auction fail to be picked up at the designated pick up time. Any items left behind after the pickup will be considered abandoned.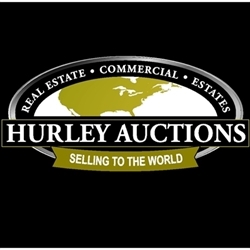 ONLINE NOW THROUGH JULY 23RD!
2800 Buchanan Trail E, Greencastle, PA

FURNITURE: Heywood Wakefield DR table & chairs; Craddock DR table & chairs; drop front writing desk; bowfront curio cabinet; cedar wardrobe; plank bottom chairs; rocking chairs; jewelry armoire; BR sets; mid-century storage cabinets & hutch; Emperor grandfather clock; outdoor patio tables & chairs; area rugs; ANTIQUES/COLLECTIBLES: Gibson ES-255TD hollow-body electric guitar with sunburst finish; Fender Stratocaster; acoustic guitars; miscellaneous instruments and sound equipment; Weller Pottery; cast-iron toys & skillets; antique "Knights of Templar" swords; depression glass; milk bottles; stained glass lamps; antique mortuary items including caskets & hardware, ambulance hardware; church trucks & drapery; crocks & jardinieres; sterling; sleigh bells; advertising tins & collectibles; fire engine pedal car; vintage kitchenwares; butter churns; soda crates & coolers; LAWN/GARDEN/HOUSEHOLD: JD STX38 & Poulan Pro riding mowers; Grillmaster gas grill; Simplicity chipper/shredder; Longaberger; Thirty-One Bags; and more!
https://www.hurleyauctions.com/listings/1407/july-multi-consignment-auction-at-the-legacy-center
TO VIEW CATALOG
Featured Items
AUCTION PREVIEW:
Monday, July 22nd from 4:30-5:30PM at 2800 Buchanan Trail East, Greencastle, PA 17225

AUCTION CLOSE:
This auction starts closing Tuesday, July 23rd starting at 7:00PM. This auction ends 4 items per minute.

AUCTION PICKUP:
Thursday, July 25th from 1:00-6:00PM BY APPOINTMENT at 2800 Buchanan Trail East, Greencastle, PA 17225

This pickup will be BY APPOINTMENT and an email with instructions how to set up your pickup appointment will be sent the following business day after the close of the auction. Calls/Emails may not be immediately returned. Appointments are on a first come/first serve basis. Buyers who do not book appointments may be subject to long wait lines.

**By bidding you are acknowledging agreement with all of the terms and conditions included herein and elsewhere on our website. For a full list of terms/conditions, please click HERE**

ALL SALES ARE FINAL. CREDIT CARD PAYMENT ONLY: VISA, MASTERCARD OR DISCOVER. 13% Buyers Premium applies. 6% PA Sales Tax. Announcements day of sale take precedence over all printed material.

PICKUP TIME windows are fixed, but scheduled prior to the auction opening so you can ahead plan for it. Due to seller constraints, they are inflexible, so please be ready to pickup auction items if you decide to bid.

ATTENTION: Due to an ongoing issue with late arrivals for removals, we are implementing the following policy:

A late removal fee at the rate of $100 per hour prorated at $25 for each 15 minute increment

will be assessed and charged for anyone not having their purchases

REMOVED

by the posted closing removal time on the removal date(s). This does not apply to purchases being shipped.


NO REFUNDS will be granted should items won at auction fail to be picked up at the designated pick up time. Any items left behind after the pickup will be considered abandoned.
INVOICES are processed the following business day after the auction closes.
When bidding in an online auction you have entered into a contract for purchase. If you are a successful bidder, you are required to pay for your winning lots. It is therefore important that you inspect all items before you make a purchase (look at the image, read the description, inspect the item in person if possible and, if you still have questions, please submit a request for more information to
info@hurleyauctions.com
). We make all attempts to be fair and forthright with our descriptions and condition reports, however we ask that bidders acknowledge that, unless otherwise specified, items sold at auction are pre-owned. If you have expectations of perfection in the items you purchase, it is advisable that you inspect lots in person - the condition may be more exacting than a Hurley Auctions staff member would verify. Condition reports are an opinion of a Hurley Auctions staff member and should not be regarded as fact. (see Terms of Sale for more information).
JOHN DEERE STX38 RIDING LAWN MOWER WITH KOHLER 12.5 HP ENGINE
TROY BILT HORSE TILLER, TIRES NEED TO BE REPLACED
POULAN PRO MODEL PP175G42 RIDING LAWN MOWER, 17.5 HP ENGINE, 42" DECK
CRAFTSMAN 8HP 27" ELECTRIC START DUAL STAGE SNOW THROWER
SIMPLICITY SYSTEM 5514 CHIPPER/SHREDDER WITH INTEK 206 6HP MOTOR
COUNTRY LINE 25 GAL. TRAILER SPRAYER WITH HANDGUN, PRESSURE GAUGE AND 2.0 GPM ELECTRIC PUMP, **SOLD AS IS, PREVIEW SUGGESTED**
TROY BILT PRESSURE WASHER WITH HONDA GC160 5.0 HP MOTOR, 2600 PSI AND 2.5 GPM, SOLD AS IS
TRAILER MOVER DOLLY, PREVIEW SUGGESTED
TWO WELLER POTTERY VASES 11 IN AND 9.5, ONE CRACKED SEE PHOTO
TWO WELLER POTTERY VASES 10 AN 9 IN H, ONE CRACKED SEE PHOTO
TWO WELLER POTTERY: VASE AND OLLAS WATER BOTTLE 9.5 IN H AND 10 IN H, VASE CHIPPED SEE PHOTO
TWO PCS WELLER POTTERY 6 IN AND 7 IN H, BY THE PC TAKE 2
WELLER POTTERY VASES 6 IN, 6.5 IN, BY THE PC TAKE 2
TWO WELLER POTTERY: BOWL 8.5 IN W, VASE 7 IN H BOTH W/ HAIRLINES
WELLER POTTERY CORNUCOPIA 10 IN W AND TEAPOT 6.5 IN H, BY THE PC TAKE 2
WELLER POTTERY PLANTERS 6.5 IN AND 8 IN W, BY THE PC TAKE 2
WELLER POTTERY PLANTER 7 IN HAIRLINE AND 6.5 IN H VASE
FRANKLIN MINT PRINCESS DIANA COLLECTOR PLATES, BY THE PC TAKE 5
FRANKLIN MINT PRINCESS DIANA COLLECTOR PLATES BY THE PC TAKE 6
FRANKLIN MINT PRINCESS DIANA COLLECTOR PLATES BY THE PC TAKE 6
FRANKLIN MINT PRINCESS DIANA DOLL BY THE PC TAKE 2
FRANKLIN MINT PRINCESS DIANA DOLL BY THE PC TAKE 2
PRINCESS DIANA BOOKS AND MAGAZINES
PRINCESS DIANA AND PRINCE CHARLES WEDDING DAY DOLLS
ERIE NO.9 SPIDER LOGO CAST IRON TEA KETTLE
WAGNER NO.13 CAST IRON SKILLET
POTTERY LOT, WELLER VASE CHIPPED.
FRANKLIN MINT PRINCESS DIANA DOLL BY THE PC TAKE 2
GRANDE DANICA, DENMARK COLLECTOR PLATES LOT OF 19
GOOFUS GLASS BOWL AND GREEN DEPRESSION GLASS LOT
GLASS AND POTTERY INSULATORS
GERMAN 7-PC DRINK SET, CERAMIC TANKARD, CARVED NUT CRACKER
TWO NASCAR CLOCKS, COKE BOTTLE
JOHN DEERE PLASTIC TRACTORS AND CHRISTMAS ORNAMENTS
MID VALLEY FARM DAIRY QUART MILK BOTTLES BY THE PC TAKE 5
CACOSING DAIRY AND LIBERTY QUART MILK BOTTLE, JOHN DEWAR & SONS DISTILLERY BOTTLE
HEBER VALLEY HALF PINT MILK BOTTLES BY THE PC TAKE 6
HEBER VALLEY HALF PINT MILK BOTTLES BY THE PC TAKE 6
FOUR REPRODUCTION LANTERNS
WOODEN CRATE, GLASS JUGS, CANNING JARS
BOYDS BEAR BED & HOME DECOR
ANTIQUE KITCHEN WARES, CAST IRON KETTLE, COAL BUCKET
8 ELECTRONIC STREET CROSSING SIGNS
36-CUP AUTOMATIC COFFEEMAKER
PROJECTORS PARTS AND PIECES
AMERICAN FLAGS, BUSH INAUGURATION PINS, THROW, PAPER EPHEMERA
FRAMED SHIP DIORAMA, TWO WOODEN SAILBOATS
LIGHTED CERAMIC CHRISTMAS TREE 20 IN H, PRECIOUS MOMENTS COLLECTIBLES, KEWPIE DOLL, MISC CHRISTMAS DECOR,
TWO STAINED GLASS CEILING LIGHTS, ONE DAMAGED
STAINED GLASS LIGHT SHADE, TWO DRESSER LAMPS, OIL CAN, LANTERN, ETC
FOOTED BRASS BUCKET AND TRIVET, TIN, OIL LAMP GLOBES AND BASES, ETC
BUSHNELL DEEP SPACE SERIES 420X TELESCOPE, INSPECTION SUGGESTED
RAZOR CRAZY CART RACE CAR SET, INSPECTION SUGGESTED
PLASTIC ANIMAL CRATE, SAMUEL ADAMS BEER TABLE SIGNS
CRATE OF LOG CABIN SYRUP BOTTLES, CRATE AND PRIMITIVE PLANE
PRIMITIVE LOT: YOKE, ICE TONGS, TRAP, BASKET, FOOTSTOOL, WREATH, ETC
SEWING NOTIONS, EMBROIDERY FLOSS, WOODEN SPOOLS, QUILT MAGAZINES, ETC
TOYS AND GAMES ALL PLAYED W/ CONDITION, INSPECTION SUGGESTED
GAMES, TOYS AND DOLLS ALL PLAYED W/ CONDITION, INSPECTION SUGGESTED
MISC LOT TO INCLUDE GLASSWARE, KNIVES, AND MORE...
KENMORE HANDI MATE VACUUM
AUTOMOTIVE ANALYZER, LICENSE PLATES
PAIR OF OVAL CONVEX GLASS PICTURE FRAMES NOT PERFECT
STRAIGHT RAZORS, WOODEN TRIANGLE, MECHANICAL DRAWING TOOLS BY B.L. MAKEPEACE
VINTAGE/ANTIQUE CLOTHING (DOES NOT INCLUDE GARMENT RACK) - 19TH C 2-PC SALMON COLORED BALL GOWN, 1921 YORK HOSPITAL UNIFORM AND 1950s GREEN COTTON SCRUB DRESS
RED CROSS: RECRUITMENT POSTER, 1940?S LIFE MAGAZINE, UNIFORM IN FRAME
LADIES PURSES, HATS, FUR COLLAR, MISC LOT
CORNING CASSEROLE DISH, McCOY PLANTER, PEN MAR SOUVENIR SHOE HEEL CHIPPED, ETC
WELLER POTTERY CHIPPED, STERLING SPOON, WATERFORD CRYSTAL COVERED JAR, TWO NORITAKE DISHES, PORCELAIN CHINA
12 AMERICAN FOSTORIA 8 IN PLATES
PORCELAIN DINNERWARE BY STYLE HOUSE, JAPAN, TAPESTRY PATTERN, SHOWS WEAR
FURNITURE AND DOLLY WHEELS
CAST IRON POLICE DEPARTMENT CHIEF W/ HORSE AND WAGON
TWO OHIO ART TOYS, CHILD?S WOODEN BLOCKS, DROVERS COTTAGE BY DAVID WINTERS
RUG BEATER, WOODEN SPOOLS, PRIMITIVE COPPER TEAPOT, ETC
OLD KITCHEN WARES, BASIN, ANTIQUE SPEEDO JAR OPENER
8-GAL STONEWARE CROCK CRACKED, STONEWARE STRAWBERRY JAR PLANTER
4-GAL STONEWARE CROCK, CRACKED
3-GAL STONEWARE CROCK, CHIPPED
4-GAL STONEWARE CROCK, CHIPPED
PAINTED MILKCAN, COAL BUCKET, SHOVEL
SIX BOXES GLASSWARE, CHINA, LAMP CHIMNEYS
BASKETS INCLUDING LONGABERGER CORN BASKET AND 2-PIE BASKET
TWO PATIO TABLES/STANDS W/ TILE/MOSAIC TOPS
TWO PLANT STANDS, CHILD?S METAL CLOTHES TREE
HAND QUILTED AND EMBROIDERED BEDSPREAD, TWO HAND SEWN QUILTS TWIN AND FULL, CRAZY QUILT RUNNER DATED 1907 ?EMMA?, TWO CRAZY QUILTS BOTH SHOW WEAR
OIL LAMP W/ GREEN CASED SHADE, ELECTRIFIED
BOOK STAND, VASE, TWO MINI CHEST, MUSICAL KALEIDOSCOPE FRAMED WOMAN?S NATURE, WOODEN DECOR
BARLOW NANTUCKET PURSE, AIGNER PURSE, DECORATIVE RABBIT, OTHER BASKETS, ETC
TWO CANDLE LAMPS, STAINED GLASS LAMP SHADE
FLORAL REVERSE PAINTED TABLE LAMP 14 IN H
FISH, TURTLE, BUG DECORATIVE NIGHT LIGHTS BY THE PC TAKE 3
MAJOLICA JARDINIERES BY THE PC TAKE 2
ART GLASS, TWO PAPERWEIGHTS
STONEWARE 1/2 GAL COBALT DECORATED CROCK CRACKED, STONEWARE JAR MISSING HANDLE AND LID
ANTIQUE COTTAGE SHELF CLOCK W/ KEY 13 IN H
ENGLISH CHINTZ TEACUP, PORCELAIN ASIAN DECORATED TEAPOT, CHILD?S BUNNYKINS BONE CHINA CUP AND BOWL
STERLING: 4 INDIVIDUAL SALTS/PEPPERS, TWO CHILD?S CUPS. DRESSER BOX LID. SILVER PLATE ?KING GILLETTE? SAFETY RAZOR STORAGE BOX
VINTAGE HALLOWEEN CLICKER, WILLIAMS GROVE STEAM ENGINE ASSN. NOISE MAKER, OTHER NOISE MAKER, CAST IRON MINIATURE FLAT IRON AND TRIVET, S&R CHEVROLET, LONG BEACH CALIF PROMOTIONAL RACE CAR
HAND CRAFTED POTTERY LOT, RABBITS, FOUR CERAMIC RABBIT HANDLED MUGS, BIRD AND FLORAL DECORATED CLOCK, MISC BASKET LOT
BRASS SLEIGH BELLS LEATHER STRAP
LARGE LOT OF FABRIC AND REMNANTS
TOTE OF LINENS, DOILIES, DRESSER SCARVES, LADIES SCARVES, HANDKERCHIEFS
COMFORTERS, TWO MACHINE QUILT TOPS, HAND SEWN QUILT, WOOL HUNTERS CAP, ETC
WILLOW WARE, PYREX, FIRE KING, BOWL AND COVERED CASSEROLE
LONGABERGER WOVEN TRADITIONS POTTERY, KEY RING
DALE TIFFANY ART GLASS PERFUME BOTTLE, LENOX VASE AND BOWL, BLACK GLASS TROPHY VASE
LEAD CRYSTAL AND PRESSED GLASS
ROBERT SCHWARTZ & BROTHERS DRESSER LAMP 12 IN H
STONEWARE BOWLS, YELLOW WARE CUSTARD, CROCKS (INCLUDING ROSEVILLE CROCK)
MISC CHINA, GLASSWARE AND SILVERPLATE ITEMS INCLUDING HALL & SADLER TEAPOTS, FRANKLIN MINT BOWL
VINTAGE COKE GLASSES, PYREX & KITCHEN WARES
LARGE LOT OF DECORATIVE CHINA, MORE INCLUDING SADLER TEAPOT, LIMOGES
LADIES PURSE, FOSSIL WATCHES,BLUE & WHITE DELFT, WOODEN NOAH'S ARK AND MORE
GLASS SODA BOTTLES, MATCHBOOKS, PLAYING CARDS AND MORE
EARLY PRUDENTIAL INSURANCE CO ADVERTISING COLLECTION
HANDPAINTED ELECTRIC TABLE LAMP
PRUDENTIAL INSURANCE CO THIMBLES AND PINS IN TWO WOODEN BOXES
COLUMBIA FAILY SCALE, JIFFY-WAY EGG SCALE AND VINTAGE BABY BOTTLES
TWO PLANTERS PEANUT COUNTER JARS
CHRISTMAS DECOR INCLUDING SMALL CERAMIC TREE
METAL LUNCHBOX AND ADVERTISING TINS
JADEITE SUGAR/FLOUR SHAKERS AND BATTER BOWL
VINTAGE ADVERTISING TINS AND LITHOGRAPHED TIN AIRPLANE LUNCHBOX
TWO VINTAGE BLUSHING APPLE COOKIE JARS
VINTAGE JARS, MILK GLASS SALT/PEPPER SHAKER
HOMER LAUGHLIN NESTED MIXING BOWLS
LOSTEN'S DAIRY MILK BOTTLES
HAGERSTOWN/LOCAL PAPER COLLECTIBLES, PRUDENTIAL INSURANCE COLLECTIBLES
VINTAGE OAK PAPER ORGANIZER AND TWO GENTLEMAN'S HATS
VINTAGE SPICE TINS, POSTCARDS & CIGAR BOXES
PRR ADAMS & WESTLAKE CO RAILROAD LANTERN
VINTAGE 7-UP ALUMINUM COOLER
HARD RESIN THREE TIER OUTDOOR FOUNTAIN
ELKA KEYBOARD ORGAN WITH BENCH
KITCHEN WARES, TINS, MORE
CANDELABRAS, CANDLESTICKS, VASE
FOSTORIA AMERICAN CAKE PLATE AND VASE
SOUVENIR SPOONS, 1930 STAMP, COLLECTIBLES
ROYAL & REMINGTON MODEL 5 MANUAL TYPEWRITERS
STEMWARE, SILVERWARE, MISC SILVERPLATE & SERVING ITEMS
MODERN STONEWARE W/ COBALT DESIGNS (LARGEST DOUBLE HANDLE HAS CRACK IN RIM)
VINTAGE ALL-IN-ONE STEP LADDER/IRONING BOARD/CHAIR W/ ORIGINAL PAINT/STENCIL DECOR
STONEWARE, SILVERPLATE ITEMS
1:18 SCALE COLLECTOR CARS AND BEMO TRAIN
LP RECORDS AND RECORD HOLDER
LONGABERGER MEDICINE CABINET, PITCHER
COMIC BOOKS, VINTAGE CHILDREN'S BOOKS
CHRISTMAS DECOR, SEWING NOTIONS, MORE
COLORED DEPRESSION GLASSWARE
MILK BOTTLE, SODA BOTTLE AND TWO IRONSTONE PLATTERS
MEDICINE BOTTLES, HALF DOLL PIN CUSHION, MINI LAMP, MORE
ACMETTE ACCORDION IN CASE
CAST IRON CAULDRON AND TWO STAR CAST IRON UMBRELLA STANDS
VINTAGE GONG BELL MFG CO ZEBRA RIDE-ON TOY
COKE BOTTLE HOLDER, RAISIN ADVERTISING BOX AND WOODEN WASHTUB
MONAX AMERICAN SWEETHEART DEPRESSION GLASS PLATES, MUGS
MONAX AMERICAN SWEETHEART DEPRESSION GLASS PLATES, BOWLS
LARGE COLLECTIONS OF LURAY PASTELS DINNERWARE
PEPSI WOODEN CRATE, ADVERTISING TIN AND BOTTLES
METAL TONKA TRUCK, DOLL IN BOX AND LITHOPLATE SCROLL/BLACKBOARD
PINK DEPRESSION GLASS PLATE, MEASURING CUP, MORE
LARGE ROSEVILLE YELLOW WARE MIXING BOWL
HEARTLAND GRAIN COMPANY GRAIN BUCKET WITH HANDLE
NO. 7 FIRE ENGINE CHILDRENS PEDAL CAR
LONGABERGER POTTERY AND BASKET
LONGABERGER POTTERY PLATTERS
LONGABERGER POTTERY COVERED DISH
LONGABERGER POTTERY MIXING BOWL AND LOAF PAN
LONGABERGER POTTERY COVERED DISH
MISC COLLECTIBLES, SILVERPLATE AND MORE
FOUR AMERICAN EAGLE SILVER DOLLARS, CAST IRON BANK
HEN ON NEST, CAT ON NEST, SMALL CROCK AND COOKIE JAR
FENTON ANIMAL FIGURINES, RUFFLED VASE AND BASKET
BLUE GLASS JARS, SIFTER AND KITCHENWARES
KITCHENWARES, GLASS JARS, GLASS PUNCH BOWL
FRAMED PRINTS, SEWING STAND
CAST IRON OWL BOOK ENDS, MATCH HOLDER AND IRON
THREE ASHTON DRAKE DOLLS IN ORIGINAL BOX
BOSE STEREO, TOTE OF BOOKS, MORE
TWO COOKIE JARS, WIRE HENS
ENAMELWARE BOWLS, KNIFE SET
PFALTZGRAFF BOWLS, CORN HOLDERS
PINK DEPRESSION PITCHER AND GLASSES
HORLICK'S MALTED MILK JAR, DECORATIVE ITEMS
PINK GLASSWARE, RUBY STAIN SHERBERT DISHES
LARGE LOT OF DECORATIVE ITEMS, KITCHEN WARES
PINK DEPRESSION GLASSWARE
STERLING WHEAT ROYAL M SERVING SET FOR 8 AND NIKKO SET OF 4
KITCHEN WARES, MISC CHINA
COOKIE JAR, SALT DIPS, STONEWARE PITCHERS
DECORATIVE ITEMS, PILLOWS
DECORATED COWBELLS FROM SWITZERLAND
PROJECTOR SCREEN AND CAROUSELS
ARION MICON GUITAR TUNER AND MORE
TRUNK, SANTA YARD ART, FLAG, CHILDRENS BOOTS (PREVIEW SUGGESTED) AND GRILL SIDE BURNER
ACOUSTIC GUITAR (NO MARKINGS)
YAMAHA G-55A ACOUSTIC GUITAR WITH CASE
GIBSON ES-225TD SUNBURST HOLLOW BODY ELECTRIC GUITAR WITH CASE (CASE IN POOR CONDITION)
FENDER STRATOCASTER WITH ORIGINAL TAGS IN HARD CASE
TAKAMINE G-SERIES EG-334 ACOUSTIC ELECTRIC GUITAR WITH EQUALIZER IN HARD CASE
GIBSON HUMMINGBIRD CUSTOM ACOUSTIC GUITAR
HEDDON 185 AND ZEBCO 909 FISHING REELS, FITBIT AND MEN'S WATCH
CORNINGWARE CASSEROLE DISH
STONEWARE 2GAL CROWN CROCK WITH LID AND 2GAL STONEWARE WATER COOLER
CHRISTMAS DECOR AND 6FT PRELIT TREE
LONGABERGER BASKETS (ONE IS 2000 CENTURY CELEBRATION BASKET)
LONGABRGER HALLOWEEN AND FOURTH OF JULY BASKETS
LONGABERGER EASTER BASKETS
TWO SHAMROCK LONGABERGER BASKETS WITH LIDS
1997 CHRISTMAS 'SNOWFLAKE BASKET' AND THREE SMALLER LONGABRERGER BASKETS (NO LINERS)
LONGABERGER CHRISTMAS POPCORN BASKET AND SMALL STAWBERRY BASKET
TWO HANDLED LONGABERGER BASKET
LONGABERGER BASKET WITH PLASTIC INSERTS
AMBER "MOON & STAR" GLASS BOWL AND GLASSES, COBALT TEAPOT, BEER STEINS
NIPPON VASE, MISC GLASS AND CHINA
CHAS A. HOAK CREAMTOP MILK BOTTLE
COPPER TEA SET, GLASSWARE
FRAMED ARTWORK AND NEEDLEWORK
WOODEN SHELF, JUGS, TINS AND STOCKPOT
LOT OF EDISON PHONOGRAPH AND VICTOR TALKING MACHINE RECORDS
FIESTAWARE PLATES, EARLY SUGARBOWL
TWO WILLOW TREE FIGURINES
WOODEN BANDED BUCKET AND COFFEE GRINDER
TWO ITALIAN FAIENCE CANDLEHOLDERS (DAMAGED) AND DEPRESSION GLASS PLATES
BOX SPRING PROTECTOR, WOODEN HANGERS, FLAT IRON ACCESSORY SETS
ANTIQUE KNIGHTS TEMPLAR/FREEMASON CEREMONIAL SWORD IN SHEATH
ANTIQUE KNIGHTS TEMPLAR/FREEMASON CEREMONIAL SWORD
BIRD HOUSE, AERO GARDEN 3
THREE REMOTE CONTROL TRUCKS
LARGE COLLECTION OF SPORTS CARDS, SOME IN BINDERS
THREE BACKPACKS (ONE THIRTY-ONE BAG)
TWO THIRTY-ONE TOTES (ONE IS STAINED)
VINTAGE AMBULANCE CAST ALUMINUM SIGN
MINIATURE CERAMIC CHRISTMAS TREE
OUTDOOR LIGHT FIXTURES, DESK LAMP
VINTAGE CHILD'S COFFIN HANDLES, METAL DECORATIONS/HARDWARE
ANTIQUE SUPERIOR FUNERAL DRAPERY IN CASE
ANTIQUE CASKET HANDLES, SOME HARDWARE
SET OF ANTIQUE CASKET HANDLES WITH SILKEN CLOTH
GLASS PANES (SOME IN WOODEN BOX)
WOODEN STOOL, TRUNKS (PREVIEW SUGGESTED) AND TABLE LEAVES
TRAILER HITCH AND CASTERS
FISHING TACKLE BOX AND FISHING ROD/REEL
ANTIQUE WICKER CASKET WITH TWO STANDS (6? LONG)
TWO ARCHITECTURAL RAILINGS
VINTAGE ALUMINUM SIDES FOR BODY TRANSFER GURNEY
THREE STEEL ARCHITECTURAL RAILINGS
OUTDOOR LAWN & GARDEN TOOLS TO INCLUDE RAKE, SHOVEL, PITCHFORK AND MORE
HEYWOOD WAKEFIELD DINING ROOM TABLE WITH THREE LEAVES, SIX CHAIRS (TABLE 80? L x 30? H x 43? W WITH LEAF)
CRADDOCK DINING ROOM TABLE WITH LEAVES, SIX CHAIRS AND TABLE COVERS (TABLE 58? L x 29? H x 42? W - WITH NO LEAF)
ANTIQUE DROP FRONT SPINET WRITING DESK WITH CHAIR - PREVIEW SUGGESTED (34? H x 40? W x 21? D)
THREE NEEDLEPOINT SEAT CHAIRS
ANTIQUE CARVED BACK EXTRA WIDE CHAIR / SETTEE
24" X 48" FOLDING TABLE IN ORIGINAL BOX
GALVANIZED WASHTUB OF TRANSMISSION FLUID
BOWFRONT CURIO CABINET (64? H x 30? W x 14? D)
CEDAR WARDROBE (67? H x 34? W x 23? D)
WOODEN BOOKSHELF WITH 3 SHELVES, HARDWARE IS MISSING, PREVIEW SUGGESTED
DANBY MODEL 416710 PORTABLE AIR CONDITIONER
PULL BEHIND CHILD CART - PREVIEW SUGGESTED
CHILD'S PLASTIC DOLL HOUSE
ELECTROLUX 12,000BTU AIR CONDITIONER
PLASTIC BASKETBALL HOOP, PLAYPEN
DINING ROOM TABLE AND THREE CHAIRS - PREVIEW SUGGESTED
STABLEMATE PLUS-100 MITRE SAW STAND
GLIDER ROCKER WITH OTTOMAN
OAK LARKIN STYLE SLANT FRONT DESK BOOKCASE WITH MACHINE CUT APPLIQUES (62? H x 30? W x 12? D)
DINING ROOM TABLE AND FOUR CHAIRS (TABLE HAS 42? DIAMETER AND 31? H)
FLOOR LAMP AND TWO PLANT STANDS
TWO INLAID TABLES, MADE IN AFRICA
TWO STOOLS, MAGAZINE RACK
OTTOMAN WITH STORAGE, STOOLS
BOX FAN, PLANTERS, CANE SEAT CHAIR
ORIENTAL PLANTER ON STAND
MARBLE TOP BRASS PLANT STAND
DOUGH TABLE AND HANGING SHADOW BOX
BOOKCASE, CLOSET STORAGE, CARD TABLE
LG MOGEL 29LN4510 FLAT SCREEN TV (NO CORD)
THREE DRAWER STORAGE CABINET
PROSCAN 32" LED TV/DVD COMBO
TWO DOOR OVER TWO DRAWER WARDROBE (61? H x 37? W x 18? D)
CHEST OF DRAWERS WITH MIRROR (82? H x 64? W x 18?)
LEADED GLASS CRESCENT MOON HANGING MIRROR (SEE PICS FOR CONDITION)
METAL DECORATIVE WALL HANGING
MOTHER IN LAW BROOM, CANES
OAK QUEEN SLEIGH BED WITH ROYAL HERITAGE MATTRESS AND BOX SPRING
LAMINATE TOP COFFEE TABLE
MID-CENTURY MODERN DESK WITH CHAIR AND LAMP
UPHOLSTERED COFFEE TABLE (WITH CASTERS) AND PRESSED WOOD COFFEE TABLE
MID-CENTURY MODERN END STANDS AND FLOOR LAMP
MAGNAVOX MID-CENTURY MODERN CONSOLE STEREO
THREE PIECE MID-CENTURY STORAGE UNITS (LARGEST 30? H x 38? W x 18?D)
STANLEY CHEST OF DRAWERS WITH MIRROR (74? H x 66? W x 19? D)
TWO MATCHING CERAMIC TABLE LAMPS
TWO MATCHING NIGHT STANDS
QUEEN HEADBOARD AND FOOTBOARD WITH RESTONIC MATTRESS AND BOX SPRING
FAUX PLANT AND WOODEN STAND
BEAUTIFUL OAK LIGHTED CURIO CABINET (81? H x 60? W x 18? D)
EMPEROR MODEL 100M GRANDFATHER CLOCK
BEAUTIFUL OAK DINING ROOM TABLE WITH SIX CHAIRS AND TWO LEAVES (65? L x 30? H)
KINCAID CHEST OF DRAWERS WITH MIRROR
PANASONIC 5 DISC CD PLAYER WITH SPEAKERS AND STAND
TWO TABLES AND TABLE LAMP
WHITE FURNITURE MID-CENTURY MODERN HUTCH (76? H x 62? W x 20? D)
PLASTIC TRASH CAN WITH OUTDOOR LAWN TOOLS
GLASSTOP OUTDOOR TABLE WITH FOUR CHAIRS
OUTDOOR GLASSTOP TABLE WITH FOUR CHAIRS AND CUSHIONS
TWO TRUNKS, VINTAGE LUGGAGE
WOODEN HIGHCHAIR AND CRADLE (NOTE: CRADLE IS FOR DECORATIVE PURPOSES ONLY)
BUTTERFLY ROCKING CHAIR, STOOL AND FLOOR LAMP
TWO ANTIQUE ROCKING CHAIRS AND PANEL SCREEN (ALL NEED WORK)
TEN BENTWOOD RESTAURANT CHAIRS
FRAMED OIL ON BOARD AND PRINT
FRAMED OIL PAINTING, OTHER ARTWORK
LARGE FRAMED COUNTRY PRINT
LARGE FRAMED LIGHTHOUSE PRINT
FRAMED PRUDENTIAL INSURANCE GIBRALTAR ADVERTISING PRINT
FUNERAL EQUIPMENT - LOWERING DEVICES
LOT OF ADVERTISING YARD STICKS AND 1 ALUMINUM YARDSTICK,
HOSPITAL BEDS (USED AT FUNERAL HOME)
ANTIQUE WOODEN WHEELCHAIR
REGULATOR WALL CLOCK, CIGAR BOXES, CROCHETED DOLLS, JARS OF HARDWARE, TWO BOXES MISC ITEMS
PICNIC BASKET, TOLE PAINTED HANDLED LUNCHBOX, BASKETS OF MISC ITEMS, FEATHER FAN, BARBIE CARRYING CASE, METAL FLORAL WALL DECOR
PRUDENTIAL INSURANCE CO COLLECTIBLES
CLEANING SUPPLIES, JOINT COMPOUND
ADULT REVEL CYCLING HELMET (NEW IN PACKAGING)
METAL TOOLBOX AND MISC TOOLS
KITCHEN WARES INCLUDING BROWNIE PAN SET, POPCORN MAKER, BREAD SLICING GUIDE AND MORE
ROKU2, LEAPPAD2, HP WIRELESS PRINTER AND CD STORAGE
MODEL RVL-101 NINTENDO WII
HUFFY CHILD'S BICYCLE WITH TRAINING WHEELS
DUFFLEBAG AND MESSENGER BAG
MONTGOMERY WARD HOUSEHOLD FREEZER
Thank you for using EstateSales.NET. You're the best!