High End Plano Estate Sale by When Pigs Fly
online estate sale
•
7
day sale
•
sale is over
Terms
Auction Terms & Conditions AUCTION TERMS AND CONDITIONS:

CONDITIONS OF SALE:
All sales are final and all property is sold "As is, Where is." It is the Bidder's/Purchaser's responsibility to determine condition and usefulness of the items purchased. (We attempt to describe all these items in an effort to give you a visual of the item you are bidding on.) We describe them to the best of our ability and many times rely on information from the consignor. If you have questions or are not sure about the condition of an item in our auction, please do not hesitate to send us an email and we will respond as quickly as possible.

BUYERS PREMIUM:
All invoices will be sent showing an Eighteen (18) percent (%), Buyer's Premium calculated from the customer's total winning bid amount. The Buyer's Premium will apply to all credit card, debit card and cash transactions made in person, as well as PayPal invoices sent by email to customer for payment.

BIDDING:
A bid by any person shall be conclusive proof that the person is acquainted and hereby agrees to be bound by the terms and conditions contained herein.
Any attempt to commit fraudulent purchases with stolen credit cards or to dispute a valid transaction will be prosecuted to the fullest extent of the law.

PAYMENT:
Please note that the credit card that you place on file is the credit card that will be billed, and the address you provide is the shipping address where your items will be shipped to. The auction software uses a credit card verification system that validates credit cards and matching addresses, so ship to addresses cannot be changed.
A&T Auctions accepts VISA, MasterCard, Discover only. We do not accept cash, checks or cashier checks. ALL INVOICES MUST BE PAID WITHIN 48 HOURS

SHIPPING RATES:
CONTACT PACK AND MAIL SHOPPE, PLANO FOR SHIPPING OPTIONS.
Shipping? If you need shipping on any items, you must contact: Janie Orr, Manager
Pack & Mail Shoppe
6009 W Parker Rd, # 149
Plano, Texas. 75093
972-403-3800
JanieOrr@packandmailshoppe.com
Service@packandmailshoppe.com
They will determine if they can ship the item to you and quote the fees. You must arrange for shipping before Friday, July 17th at 2:00pm.
No items are shipped outside of the Continental United States.

-As always, ask before bidding if you are not sure an item is available for shipping.

AUTHENTICITY:
Though all descriptions are believed to be correct, A&T Auctions and or its consignors do not make any implied warranty of description, genuineness, authorship, attribution, provenance, period, culture, source or origin. It is the Bidder/Purchaser's responsibility to determine if the description is true and authentic.

Intellectual Property
By submitting any images to A&T Auctions or it's affiliates, for the purpose of sale, marketing, or any use on our website, you grant A&T Auctions world wide non-exclusive license to use the image on any and all marketing collateral digital, printer or otherwise.

WARRANTY:
THE WARRANTY SET FORTH IN THIS SECTION IS EXCLUSIVE AND IN LIEU OF ALL OTHER WARRANTIES, WHETHER EXPRESS OR IMPLIED, INCLUDING THE IMPLIED WARRANTIES OF MERCHANTABILITY AND FITNESS FOR A PARTICULAR PURPOSE. ALL ITEMS SOLD WHERE IS AS IS WITHOUT ANY WARRANTY.
IN NO EVENT SHALL CONSIGNOR BE LIABLE FOR ANY INDIRECT, INCIDENTAL, PUNITIVE, SPECIAL OR CONSEQUENTIAL DAMAGES, PERSONAL INJURY DAMAGES, PROPERTY DAMAGE, DAMAGES FOR LOSS OF PROFITS, REVENUE, OR USE INCURRED BY CONSIGNEE, CUSTOMER OR ANY THIRD PARTY, WHETHER IN AN ACTION IN CONTRACT, OR TORT, OR OTHERWISE EVEN IF ADVISED OF THE POSSIBILITY OF SUCH DAMAGES. BIDDER/PURCHASER SHALL INDEMNIFY AND HOLD HARLMLESS A&T AUCTIONS, A&T AUCTIONS' OFFICERS, AFFILIATES, HEIRS, AGENTS AND SUBCONTRACTORS FOR ANY AND ALL CLAIMS AGAINST A&T AUCTIONS A&T AUCTIONS LIABILITY FOR DAMAGES ARISING OUT OF OR IN CONNECTION WITH THIS AGREEMENT SHALL IN NO EVENT EXCEED THE TOTAL SUM OF FIVE HUNDRED U.S DOLLARS.

LOCAL PICKUP: ***MUST BRING YOUR OWN HELP TO LOAD ITEMS, TOOLS FOR DISASSEMBLY AND PACKING MATERIALS.***
-Pickup Address will be released when payment has been confirmed on your invoice.
-A&T Auctions CANNOT HELP LOAD.
-Pickup days and times shall be posted under Auction Details on the website. Pick up times are firm, unless extenuating circumstances warrant i.e., acts of nature, etc. UNLESS PRIOR ARRANGEMENTS ARE AGREED UPON.
If sold items are not picked up on the asigned days and times, then said items will then become property of A&T Auctions. PAYMENT WILL NOT BE REFUNDED.

Auction
The Auction house owners, employees and consignors reserve the right to bid on any items in auction. Persons attending preview or auction during removal of goods assume all risks of damage of or loss to person and property and specifically release the auctioneer from liability therefore. Neither auctioneer nor his principal shall be liable by reason of any defect in or condition of the premises on which the sale is held including but not limited to personal injury, fire or theft. If foregoing conditions or any other applicable conditions are not complied with, in addition to other remedies available to Auctioneer and Seller by law, including without limitation, the right to hold the purchaser liable for the bid price, auctioneer at his option may 1) resell the property publicly or privately, with the purchaser being liable for the payment of any deficiency plus all costs incurred or 2) cancel the sale, retaining all liquidated damages on all payment made by purchaser. Auctioneer commission and all other incidental damages will be charged. Auctioneer is acting as an agent and agent only and is not responsible for the acts of his or her principals.

INDEMNIFICATION:
Buyer shall indemnify A&T Auction and its Officers, Affiliates, Heirs, Agents and anyone associated with A&T Auctions, against any claims, damages, or liability (including reasonable attorney's fees) as a result of an injury or other harm suffered by any person stemming from the sale and or product or products sold and subsequent use thereof. Any Statements that are made on the day of the sale, supersede all previous printed materials.

Trademarks
All trademarks, service marks, and copyrights owned by A&T Auctions or it's affiilates shall not be used without written permission. This includes the name When Pigs Fly Estate Sales, A&T Auctions and Liquidations and Oh Sister LLC. any and all website URL addresses and abbreviations of such.

AuctionFlex
AuctionFlex sets up each user on this website and collects all user information. A&T Auctions does not have access to user names and passwords. AuctionFlex does provide A&T Auctions with user name, contact information and credit card information provided during the registration processes. User information will not be sold to any third party advertisers by A&T Auctions.

GOVERNING LAW:
The laws of the state of Texas govern this agreement. Any and all lawsuits must be filed in Grayson County, Texas. A&T Auctions is regulated by the Texas Department of Licensing and Regulation. Any and all complaints must be directed to the Texas Department of Licensing and Regulations at (800) 803-9202. Dalton Tompkins, Licensed Auctioneer: TX LIC # 17501 - A&T Auctions, 306 W Hughes, Collinsville, TX 76233
972-345-5312
Please note: The seller or "seller's agent" reserves the right to bid on their items as well as the auctioneer reserves the right to bid on items on behalf of the seller as the seller's agent.
The seller or "sellers agent" reserves the right to remove any items from the auction at any time, on behalf of the sell or "seller's agent".

THANK YOU FOR BIDDING WITH A&T AUCTIONS
OH MY GOODNESS! YES, this estate auction of Bettina Ann Brumbaugh is that amazing. Let's drop a few names shall we? Chanel, Gucci, D&G, Prada, Kors, St John, Tory Burch, Tracey Allard, Eileen Fisher, Karges, Lalique, Louis Comfort Tiffany, Maitland Smith, Henredon, Baker and that is just a few of the designers! Fabulous art by known artists, Asian antiques, Kimball Baby Grand Piano, Navajo pottery, and more, more, more.
Bettina Ann (Brogdon) Brumbaugh was born one of 12 children on March 11, 1930 in Paris, Tennessee to John and Hazel (Nichols) Brogdon. She passed away on April 7, 2020 in Plano, Texas. Bettina attended Grove High School in Paris, Tennessee. She then moved to Las Vegas, Nevada, and was voted "Most Beautiful Woman in Nevada" by Nevada's most popular magazine. She lived a glamorous life, even going out on the town with rising star Elvis Presley. Bettina and her twin sister, Bonnie Collins (deceased), were famous models, leading such "twin" ad campaigns as the "Toni Twins" together. But eventually Bettina gave up the glamorous, jet set lifestyle to marry Peter Voss Viviano (deceased) of St. Louis, Missouri. In 1975 Bettina married Philip Sloan Brumbaugh (deceased) and they created the Texas-St. Louis Land Company to oversee their substantial royalty interests in the Yates Oil Field in West Texas. After beloved Philip passed away, Bettina remained active in the oil industry, moved to Plano, Texas, and ran the oil business until she passed away. Bettina was beautiful, fun, glamorous, and lived an incredibly colorful life.
Disclosure: The home has recently been smoked in (a few rooms of the house). No smoking is to have taken place recently and we have not noticed any lingering effects on items, however we do notice a faint smoke scent when we first walk into the kitchen area.
Other than reading over our very important details, hop on over to the catalog and register to bid! With over 1,000 lots, make sure you begin looking over this auction early! We are closing out at 7 lots per minute and the auction will close fast. This means you should get your bids in early!
Shipping? If you need shipping on any items, you must contact: Janie Orr, Manager Pack & Mail Shoppe 6009 W Parker Rd, # 149 Plano, Texas. 75093 972-403-3800 JanieOrr@packandmailshoppe.com Service@packandmailshoppe.com They will determine if they can ship the item to you and quote the fees. You must arrange for shipping before Friday, July 17th at 2:00pm. No items are shipped outside of the Continental United States.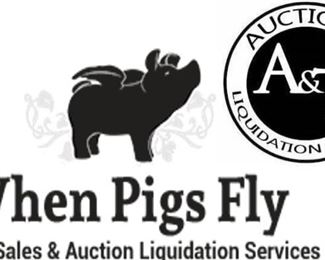 Thank you for using EstateSales.NET. You're the best!