Military Memorabilia Online Auction Guns Knives Collectibles
online only auction
•
4
day sale
•
sale is over
Terms
IMPORTANT information to the ONLINE bidder: Please note you select a credit card to pay for your auction wins when you register for the auction. This cannot be changed after the auction ends. NO credit cards are keyed into our system by phone.

ASSET MARKETING PROS, LLC TERMS & CONDITIONS

Terms & Conditions of Auction - Please read carefully and completely as not all auctions or auction companies are the same. Your acceptance of a bid card, registration, or bidding on a lot at our auctions constitutes your acceptance and agreement to the following terms and conditions.

1.WARRANTIES & DISCLAIMERS: All items are sold AS IS, WHERE IS, without warranty or guarantees expressed or implied no refund, returns, or exchanges and with all faults. AUCTIONEER AND SELLER EXPRESSLY DISCLAIM AND EXCLUDE THE IMPLIED WARRANTIES OF MERCHANTABILITY AND FITNESS FOR A PARTICULAR PURPOSE. Bidders should rely solely on their own inspection of all items prior to the sale and should satisfy themselves as to the usefulness, value, and or condition of each item. Seller, Auctioneer, and Buyer expressly agree that Buyer is responsible for and agrees to indemnify Seller, Auctioneer, and their respective affiliates for any and all damages, losses, expenses, attorney fees, court costs, etc. that arise out of or result from the removal, possession or use of any items purchased at auction or any other claim regarding the use or possession of any asset purchased at this auction. All descriptions are for informational purposes only. Any error in description does not relieve the buyer or his/her agent of their responsibilities - ALL SALES ARE FINAL. Your bid is a binding contract. Once the auctioneer indicates the item is sold to the bidder a verbal contract has been consummated and the liability of the item(s), including responsibility for payment, loss, or damage rests solely with the bidder. The auction company will not be held responsible for the internet, computer, or other human errors.

2.TERMS: Bidding on any lot regardless of how the bid is presented by the bidder, in person, by absentee, by agent, online, or by phone indicates the buyer's agreement to be bound by these terms and conditions. No bids may be canceled or retracted. All bids received are final. The auctioneer will not be held responsible for any failure to execute a bid for any reason.

3.REGISTRATION / BIDDER REQUIREMENTS: Bidder will register for an auction in person with a valid government identification card that has a photo of the bidder or with a valid credit card that will be billed for online bidders to verify identity. The bidder will complete registration information in person or online and agree to the terms and conditions of the sale before placing a bid. Any questions, ask before bidding, please.

4.BUYERS PREMIUM OF 13% with a 3% discount for cash: Buyers shall pay the final bid price of the lot, plus buyers premium, plus applicable Texas Sales & Use Tax.

5.SALES TAX: Texas Sales and Use Tax of 8.25% will be added to all invoices unless a completed Resale or Exemption Form is on file in our office before purchase. Email completed forms to info@trinityauctiongallery.com

6. INVOICE PAYMENT REQUIREMENTS & TYPES ACCEPTED: Online bidders pay by credit card listed on the registration. The payment method online is restricted to the card you register for the auction with. We do not key credit card information over the phone to protect you from credit card fraud. ONLY list card to be charged when registering for our auction - Do not register with a card you do not wish to use for purchases. All unpaid bidders will be banned from future auctions. In-person cash payments receive a 3% discount. Checks are accepted in person with proper ID. No out-of-country sales permitted. We do not accept payments from credit cards or banks outside of the USA. - Thank You

7.SHIPPING / PACKING OR LOADING: Combined shipping is standard practice at our auctions if all winning lots for one bidder fit in the same USPS Flat Rate Box. Buyers are responsible for all shipping and handling costs, insurance purchases, and packing or loading of their items. It is the responsibility of the buyer to remove purchased property from the auction facility. Shipping items via USPS upon request for your use though we will not be held liable for any loss or damage to the property. For shipping and handling fees refer to the Shipping / Pick Up information located on each auction lot. Shipping available to the USA only at this time. We only ship Ammo via UPS with a tracking number. Ammunition and firearms will ship separately. Know your state restrictions on firearm and ammunition purchases, laws are changing frequently.
You will need to have your local firearms dealer email us a copy of their FFL for transfers to contact@amp-tag.com. Your firearm will not be shipped to you, unless you are a licensed Federal Firearms Dealer and email us a copy.

8.REMOVAL / STORAGE OF PROPERTY: The buyer assumes all responsibility for the removal of purchased items. Auctioneer does not offer these services. If the buyer fails to pick up or remove property within 60 days the items become the property of the auction company and the buyer forfeits the monies paid. Non-paying bidders are banned from future auctions.

9.FIREARMS: Federal Licensed Firearms Facility, all documents, and background checks will be in effect for this and all auctions of firearms. To complete the Firearms Transaction Record ATF Form 4473 you will need to present your identification (establish identity, place of residence, your physical address, and age of the buyer.) Examples: Texas State Driver's License or other Valid Government Issued Identification that will fulfill the requirements. Texas License to Carry Hand Gun license holders are exempt from the background check though required to complete Form 4473 and have LTC & Driver's License on hand to be copied. The buyer agrees to have any used firearm checked by a certified gunsmith prior to firing. The buyer assumes all legality, liability, and responsibility for the condition, use & security/storage of the firearm purchased. Buyer certifies by purchasing a firearm that he or she is legally qualified to purchase and own the firearm and that there are no state or local laws preventing ownership and the owner will utilize a trigger lock to prevent accidents. The buyer understands that all firearms are potentially dangerous if handled improperly. We have no established testing facility and assume no liability for the safe functioning of any firearm sold. The buyer must be at least 18 years old to purchase a long gun and 21 years of age to purchase a handgun. Please check with your FFL / gun transfer dealer on age requirements in your state. Upon purchase, the buyer assumes all liability and responsibility including but not limited to the usage and safe storage of the purchased firearm. Online purchasers must contact your local Federal Firearms Dealer and have them email us a copy of their FFL to include your invoice Name and Number for shipment. We will ONLY ship to another Federal Firearms Licensed Dealer. Know your state restrictions on firearm and ammunition purchases, laws are changing frequently.

Auctioneers are licensed by the Texas Department of Licensing and Regulation (TDLR). If you have any compliments or complaints contact our office at 936-594-0812. Any unresolved issues may be directed to TDLR PO Box 12157 Austin, Texas at 1-800-803-9202.

We sincerely appreciate your business!

Asset Marketing Pros, LLC
115 N Robb St Trinity, Texas 75862
Phone: 936.594.0812

Auctioneers: David F Drake TCAP, CAI, CES, GPPA TAL#16244 & Liz Drake TCAP, CAI, ATS, GPPA TAL#16596
Proud members of the Texas Auctioneers Association and the National Auctioneers Association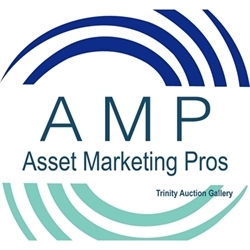 Asset Marketing Pros. LLC.
ONLINE AUCTION WILL END ON AUG 11, 2022
The online Auction will begin at 7:00 pm on August 11th. The bidding has already started. However, it won't end until all bidding has stopped – just like a live event.
From Antique to Modern Firearm: Guns, Rifles, Shotguns, Pistols, and Revolvers. War memorabilia. We have something in this online auction for you, Ammunition Knives and bayonets. Asset Marketing Pros, LLC does not accept buyers from out of the country. We do not accept payments from credit cards outside of the USA. Know your State restrictions or requirements for purchasing.
PREVIEWS
We appreciate the awesomely loyal customers of our small East Texas business. David and I look forward to seeing you. We are open to the public for a preview of the items up for online auction. Stop by Monday through Friday from 10 am to 5 pm.
IMPORTANT BUYER INFORMATION
We are a licensed FFL facility – We are Federal Firearms Dealers. You must complete an ATF Form 4473. If you can not buy or own a firearm, refrain from bidding; no bids are accepted on your behalf by others. The bidder IS the buyer. Do not bid or buy for someone else.
Bidders/Buyers MUST be 18 years old to purchase a shotgun or rifle and 21 years old to purchase a handgun.
No Credit Cards are accepted by phone – Register with the Credit Card you intend to pay with; it can not be changed after registering for the auction. We do not key credit cards into our system.
We have NO testing facility, firearms have not been tested. The buyer agrees to have any used firearm checked by a certified gunsmith before firing. Read the terms and conditions. Any questions about the online auction process? In that case, we are available by text or phone. Reach us at 936-594-0812 during regular business hours Mon – Fri 10 am to 5 pm.
13% BUYERS PREMIUM and offers a 3% Discount for Cash at Pickup within two days of the end of the auction. Discount is not available after the two-day limit.
God Bless and Keep You and Yours,
Texas Certified Auction Professionals
David F. Drake, CAI CES GPPA TCAP TAL# 16244
Elizabeth Drake, CAI ATS GPPA TCAP TAL# 16596
Call or Text 936-594-0812
Download our FREE mobile app and keep the auction FUN going and see what's up next at the auction house. Visit our website - click Mobile App in the menu and download the app from your app store button.
Civil War Era Enfield Rifle Socket Bayonet
Civil War Era M1855 Socket Bayonet with Scabbard
Danish Model 1867 Sword Bayonet with Scabbard
French M1866 Sword Bayonet & Scabbard
French M1886 Lebel Spike Bayonet & Scabbard
German M1898 n/A Mauser Bayonet Second Pattern
Military WWI-WWII Era Knife Bayonet & Scabbard
2 Military WWI-WWII Steel Bayonet Scabbards
Martini Henry Model 1877 Enfield Mark II Rifle
Swiss Vetterli Mod. 1878 Waffenfabrik Bern Rifle
Italian Vertelli-Vitali Model 1884 (M1880) Rifle
Springfield Mod. 1896 30-40 Krag Jorgensen Rifle
Swiss Schmidt Ruben Mod. 1911 "K11" Carbine
British 303 Enfield No.4 Mk I Bolt Action Rifle
Inland U.S. 30 Caliber Carbine
Remington Model 03-A3 Bolt Action Rifle
Springfield M1 Garand 30 Caliber Rifle
Norinco Type 56 SKS 7.62X39 Semi Automatic Rifle
Norinco MAK-90 7.62X39 Semi Automatic Rifle
German Dreyse Model 1907 Automatic Pistol
Beretta Mod. 1934 9mm Corto / 380 Automatic Pistol
Mauser 1939 Luger 7.65mm Automatic Pistol - Rare
Chinese Military Type 59 9x18mm Pistol - Rare
Norinco Model 1911A1 45 ACP Pistol
50 30 Cal. Ball M1898 30-40 Krag Ammunition
18 Rounds W.R.A. CO. 30 G. 1906 (30-06) Ammunition
WWII Eau Claire Ord. 30 Cal. M2 Ball Ammo Rare
Box of 20 Sellier & Bellot British 303 FMJ Ammo
10 German WW2 8mm M.30 Rifle Ammo 1938
10 German WW2 8mm M.30 Rifle Ammo 1939
10 German Nazi 8mm M.30 Rifle Ammunition
10 Martini Henry .577/.450 Rifle Ammunition Pack
German WW1 Demag Crank Handle Knife Bayonet
Swedish M1896 Bayonet w/ Conical Locking Stud
U.S. M1892 Knife Bayonet for 30 Gov. Krag Rifle
WW1 U.S. M1905 Sword Bayonet and Sheath
WW2 U.S. M1 Garand Knife Bayonet and Sheath
2 British Enfield No.4 MK2 Spike Bayonets
WW2 German Short Dress Bayonet and Sheath
WW2 German M1884/98 Bayonet with Sheath & Frog
WW2 Italian M1891 Knife Bayonet
WW2 Japanese Type 30 Arisaka Bayonet
WW2 Czech VZ-24 Knife Bayonet and Sheath
WW2 Utica U.S. M3 Fighting / Trench Knife
WW2 Camillus U.S.N. Mark 2 Knife and Sheath
U.S. M7 Knife Bayonet and Sheath
1959 Italian US M4 Knife Bayonet and Sheath
WW2 Camillus U.S. M4 Bayonet Knife
Spain M1964 CETME Model C Bayonet Knife & Sheath
Romanian AKM Type 1 Knife Bayonet w/ Sheath & Frog
Late War WW2 Japanese Shin-Gunto Sword
WW2 British Army Entrenching Tool Set
WW1 U.S. Model 1917 Bolo Knife and Sheath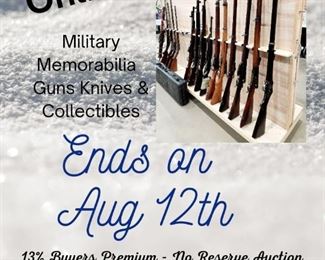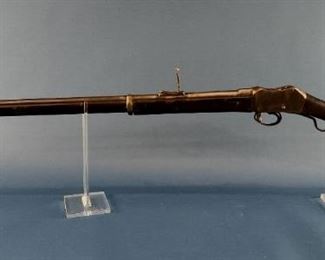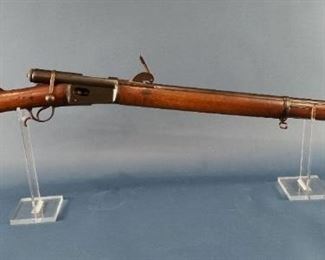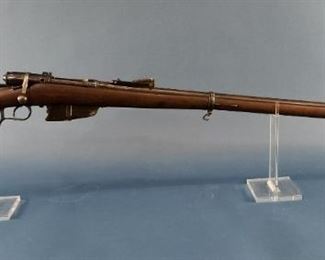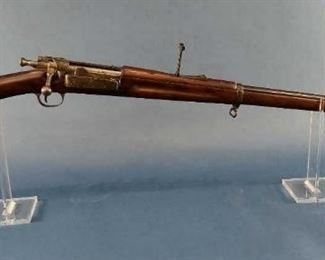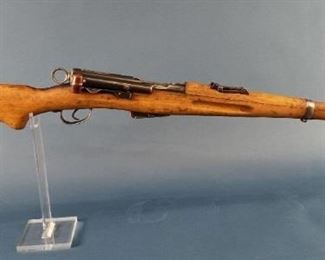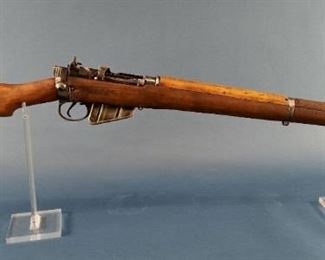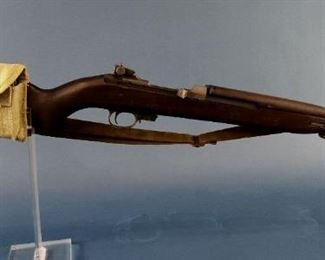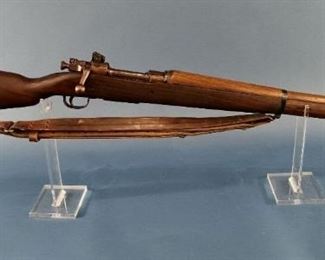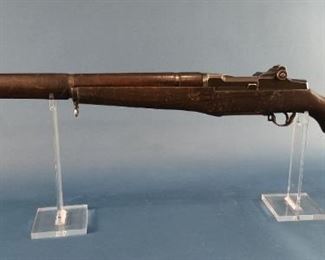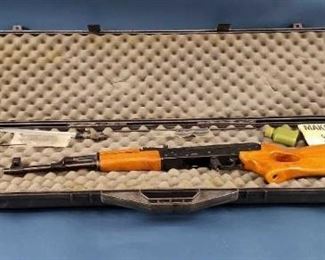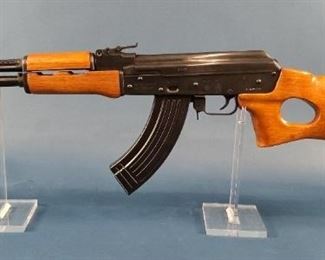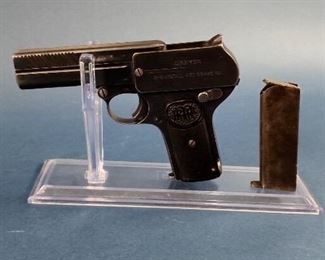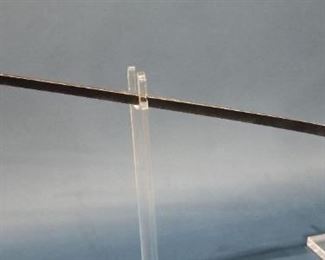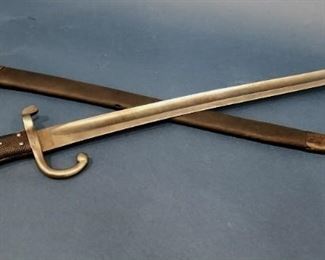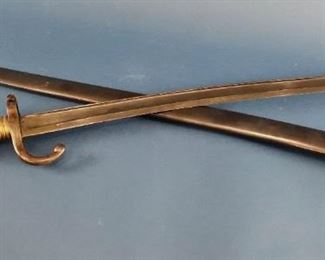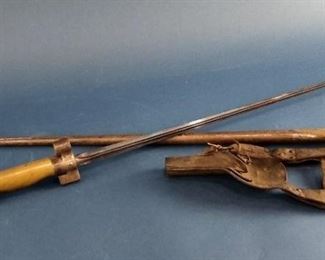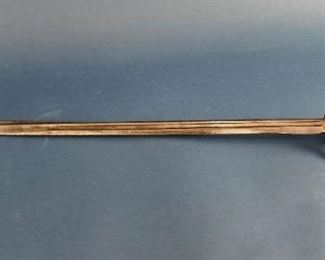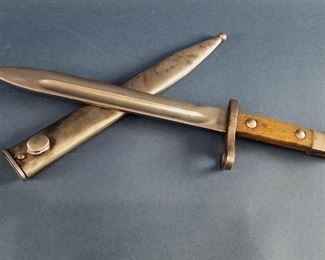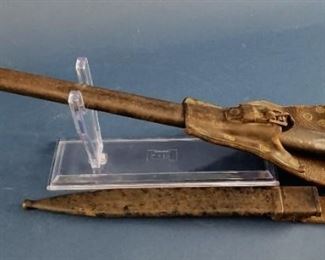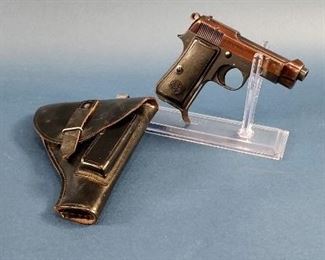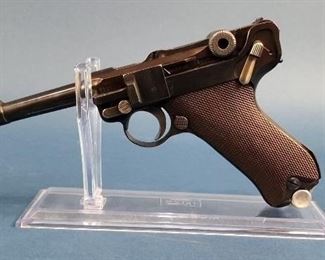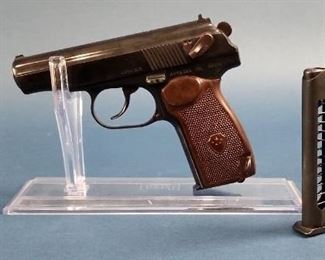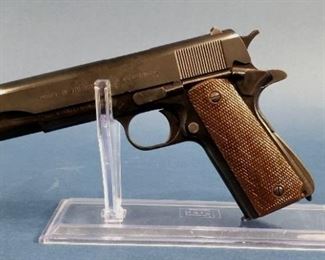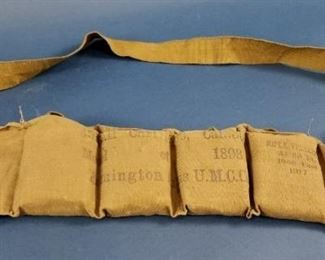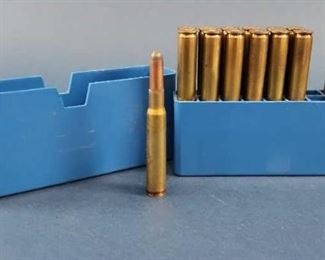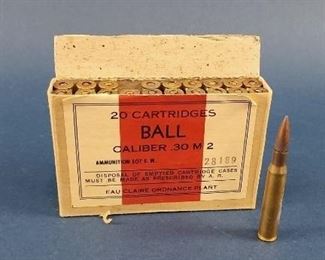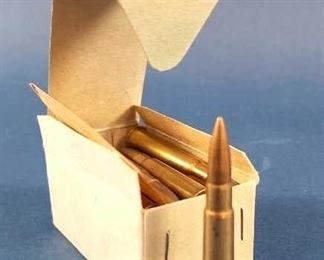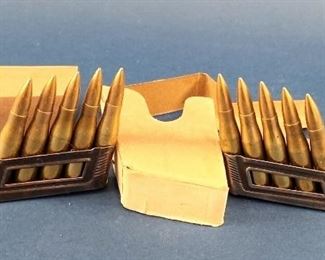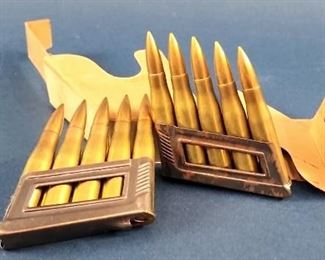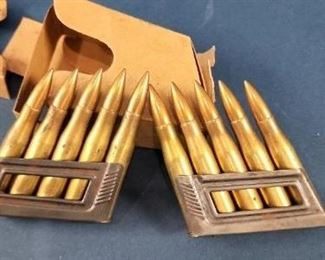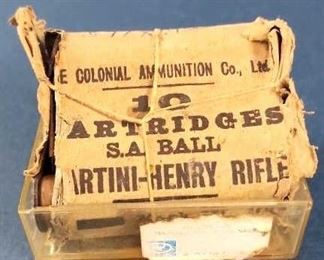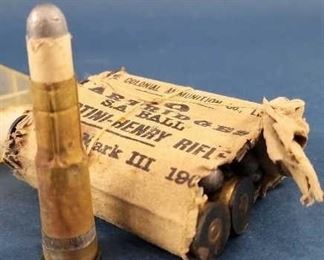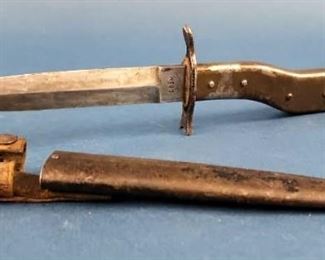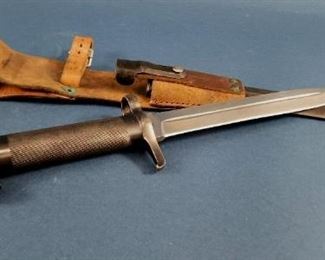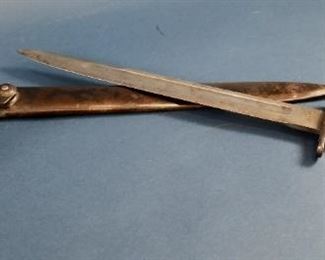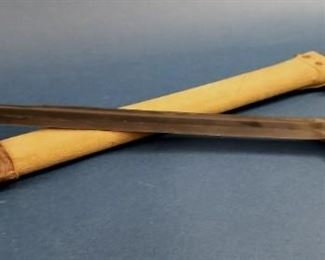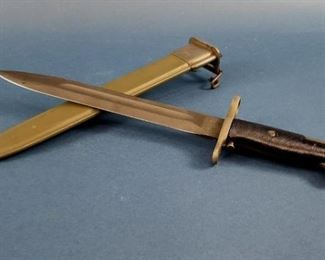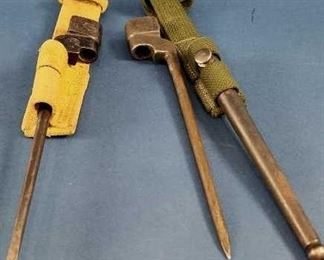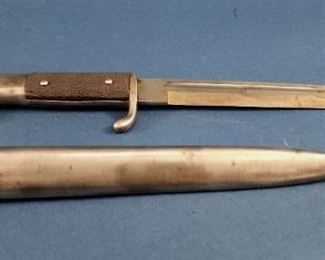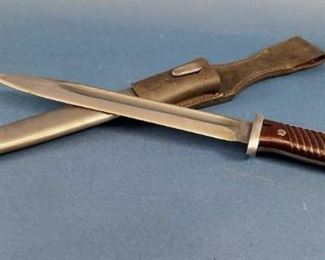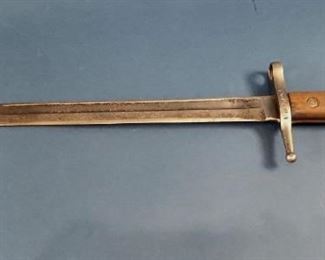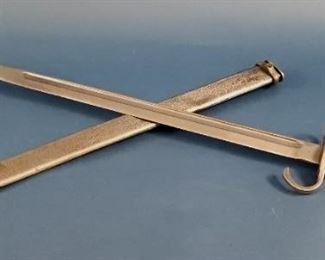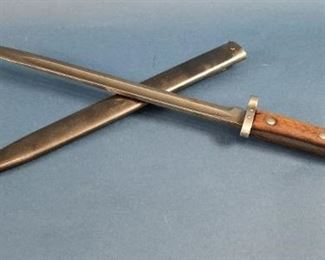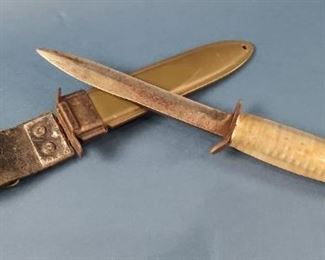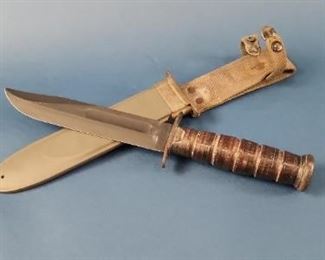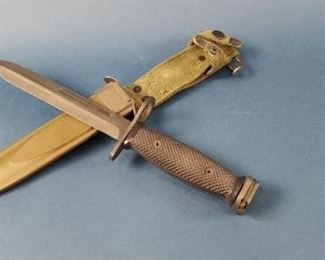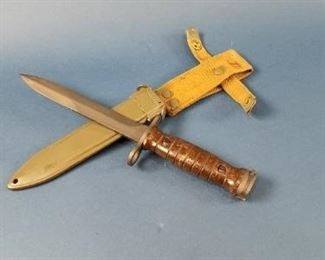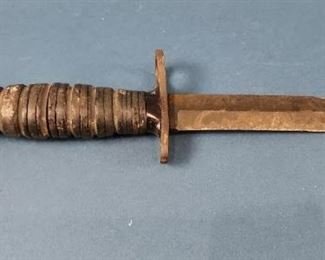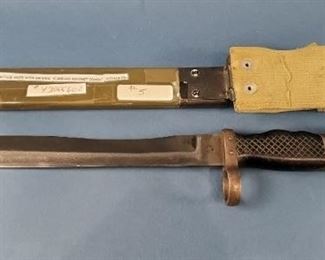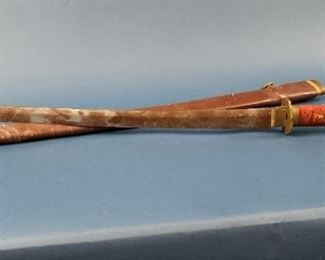 Thank you for using EstateSales.NET. You're the best!