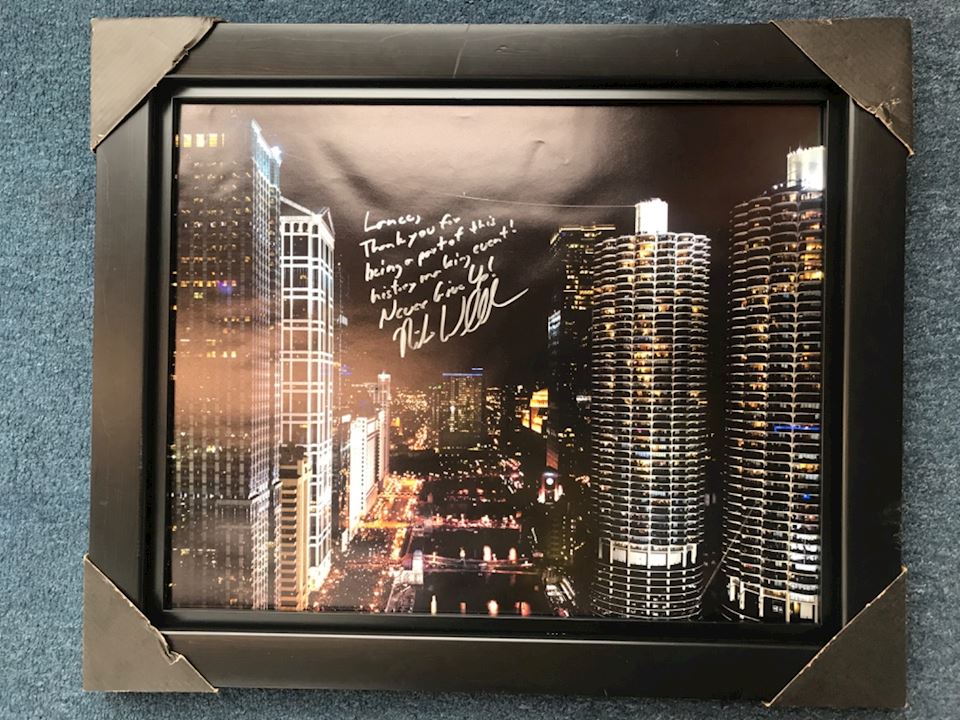 Nik Wallenda High Wire Walker Signed Poster 2014
Sold by Chicago Estate Advisors LLC
$100.00
Local Pickup Required
Chicago, IL 60611
See description for pickup details

Nik Wallenda High Wire Walker Aerialist Signed, Autographed, Chicago, 2014.
Framed 22" x 16"
I took picture without frame for better image. This piece is from Nik Wallenda's promoter's personal collection, JAM production.

Addressed to Lonee. , Chicago, Marina City is where he had the show walking over Chicago river in 2014.

Record-breaking daredevil Nik Walled completed Sunday what he called his most challenging feat to date: a tightrope walk between two skyscrapers 600 feet above downtown Chicago, partly blindfolded.
The walk consisted of two parts, starting from Marina City's West Tower, about 588 feet high. He crossed above the Chicago River to the Leo Burnett Building in just under seven minutes, finishing 671 feet above the street, according to Skyscraper Live's website.
After he returned to the West Tower, he crossed to the East Tower blindfolded in one minute and 20 seconds.
Pickup DetailsSeller will be in contact with you within seven days.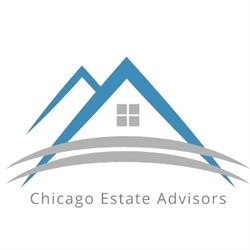 deb@chciagoestateadvisors.com
if you have interest please text OBO 312-203-0342

1. GENERAL TERMS AND CONDITIONS

1.1 Acceptance.

Please read the Chicago Estate Advisors Terms & Conditions carefully. By accessing www.Chicagoestateadvisors.com ("Website") or by participating in an online auction, You signify your consent to both these Terms & Conditions and the conditions of Chicago Estate Advisors Privacy Policy.

(These Terms & Conditions constitute a binding legal agreement between You as the user "You", "Your" or "Bidder") and Chicago Estate Advisors , subsidiaries, affiliates, and Our commonly owned affiliated companies (Collectively, "Chicago Estate Advisors", "We", "Us" or "Our"). These Terms & Conditions set forth the legally binding terms for Your use of Chicago Estate Advisors services and shall apply to all users of the Chicago Estate Advisors Website. By using this Website, You agree to and are bound by these Terms & Conditions and also acknowledge that: (i) You understand the use of Chicago Estate Advisors website, (ii) You have either reviewed the information or have chosen not to do so; and (iii) You have had the opportunity to ask questions regarding the use of Chicago Estate Advisors by telephone or email and to have those questions answered. Chicago Estate Advisors reserves its rights to enforce all terms of sale included in accordance with the Terms & Conditions.

1.2 Use of the Website.

You accept sole responsibility for all Your activities using the auction, including Your conduct on the Website and any and all content You may submit, post, or share via the Website. You may not use the Website for any unauthorized or illegal purpose. You further agree not to copy, reproduce, or publicly display any content from the Website outside the functions of the Website without first obtaining written permission from Chicago Estate Advisors. You will be responsible for ensuring that You do not violate any laws of Your jurisdiction. You will not upload or transmit viruses, worms, or any other destructive code.

1.3 Modification of Terms.

Chicago Estate Advisors may modify these Terms & Conditions at any time and such modification shall be effective upon being posted onto the Chicago Estate Advisors Website. You agree to be bound to any changes to these terms when You use an auction after any such modification is posted. It is therefore important that You keep Yourself up to date with the Terms & Conditions and any changes to them.

THESE TERMS AND CONDITIONS ARE LEGALLY BINDING AND IF YOU VIOLATE ANY PART OF THEM, CHICAGO ESTATE ADVISORS , AND/OR THE OWNER/SELLER MAY SEEK LEGAL RELIEF, INCLUDING BUT NOT LIMITED TO REPORTING YOUR CONDUCT TO APPROPRIATE LAW ENFORCEMENT ENTITIES. PLEASE NOTE THAT THESE TERMS INCLUDE AN AGREEMENT BY WHICH YOU INDEMNIFY CHICAGO ESTATE ADVISORS .

2. CATALOGUE AND ITEMS

2.1 Descriptions

All statements by Chicago Estate Advisors in the catalog entries for the property or in the condition reports or made orally or in writing elsewhere, are statements of opinion and are not to be relied upon as statements of fact. Chicago Estate Advisors attempts to catalog and photograph every lot correctly and will attempt to point out all defects but will not be responsible or liable for the correctness of the catalog, other descriptions or visual depiction of any lot. Sizes and weights are approximate. The absence of any reference to the condition, and/or Buyer's inability to see every detail of a lot in the catalog and photographs, does not imply that the lot is in perfect condition or completely free from wear and tear, imperfections or the effects of aging. Estimates of the selling price should not be relied upon as statements that this is the price, for which the item will sell or its value for any other purpose. Chicago Estate Advisors cannot test all items, therefore items sold as "untested" are sold as-is with no warranties expressed or implied. Neither Chicago Estate Advisors nor the Seller is responsible for any errors and omissions in the catalog or any supplemental material.

2.2 Condition

Chicago Estate Advisors makes no guarantees, warranties or representations, expressed or implied, with respect to the property, its visual depictions on the Chicago Estate Advisors website, the correctness of the catalog, and statements of the authenticity of authorship, physical condition, size, quality, rarity, medium, material, genuineness, period, culture, source, historical significance of any lot sold. No statement anywhere, whether oral or written, or posting of a photograph, shall be deemed as such a guarantee, warranty or representation.

2.3 Inspection

The sole purpose of a Inspection is to give You the opportunity to see the item(s) in person before placing a bid. Inspections will occur at the sole discretion of the auction manager, and times and availability will vary, or depending on location may not be available. Refer to the Auction Details section for preview availability. Please contact Chicago Estate Advisors should you have any questions or concerns about items in an online auction.

2.4 Discretion

All aspects of an online auction are subject to change without prior notice. Chicago Estate Advisors reserves the right to (a) add or remove items from an online auction; (b) split or combine lots; (c) make changes to the online auction ending times, preview date and/or time, or pick-up date and/or time; (d) cancel, suspend, extend, or reschedule an individual item and/or online auction event; or (e) take any other action Chicago Estate Advisors deems necessary to affect the fair conduct of a sale.

3. BUYER'S RESPONSIBILITIES

3.1 Responsibilities

You, as a prospective Buyer, are responsible for personally examining or otherwise insuring satisfaction with all lots, in which You have an interest. By placing a bid, You signify that You have examined, or otherwise insured Your satisfaction with the lot as fully as You desire; or that You have chosen not to examine, or otherwise insure Your satisfaction. If You require absolute certainty in all areas of authenticity, condition, etc., and the results of Your examination and/or other investigation leave uncertainty in Your mind, Chicago Estate Advisors recommends You have an independent expert examine the lot for You prior to bidding. If You are the winning bidder, You are obligated to pay for the full amount of the invoice.

3.2 Reserves

Some lots may be offered subject to a reserve, which is a minimum price below which the lot will not be sold. Chicago Estate Advisors , at its discretion, may disclose the amount of reserve.

3.3 Chicago Estate Advisors 's Discretion

Chicago Estate Advisors reserves discretion in the following matters: (ⅰ) Chicago Estate Advisors may withdraw any property before sale and/or divide and/or combine lots; (ⅱ) Chicago Estate Advisors may reject any bid (the highest bidder acknowledged will be the purchaser), cancel the sale or advance bidding in such a manner as Chicago Estate Advisors may decide; (ⅲ) in the event of any dispute between bidders, or in the event of doubt on Chicago Estate Advisors 's part as to the validity of any bid, Chicago Estate Advisors will have the final discretion either to determine the successful bidder or to re-offer and resell the lot/s in dispute; (ⅳ) if any dispute arises after the sale, Chicago Estate Advisors 's sale record is conclusive; (ⅴ) any and all of the conditions of this agreement may be waived or modified in the sole discretion of Chicago Estate Advisors .

3.4 Tax-Exempt

If You are a tax-exempt Bidder, it is Your obligation to provide us with your tax exemption information before bidding.

3.5 Payment Times

Payment must be made in full by the end of the stated auction pick-up time. You may pay for Your invoices in three ways: (i) in person at the auction pick-up, (ii) via the link for debit/credit cards or PayPal on Your invoice, or (iii) via telephone through the Chicago Estate Advisors office at 312-933-5369

4. Passing of Purchases

Once the item(s) have been paid for by any means, You assume full risk and responsibility for the purchased item(s) unless otherwise noted as donated/forfeited.

YOU AGREE THAT CHICAGO ESTATE ADVISORS SHALL NOT BE LIABLE FOR PERSONAL INJURY AND PROPERTY DAMAGE RESULTING FROM THE USE, IMPROPER HANDLING, MODIFICATION, OR MISUSE OF THE MERCHANDISE BY YOU OR ANY OTHER PERSON FOLLOWING POSSESSION OF THE PURCHASED ITEM(S). IN NO EVENT SHALL CHICAGO ESTATE ADVISORS BE LIABLE TO YOU OR ANY OTHER PERSON FOR INCIDENTAL OR CONSEQUENTIAL DAMAGES INCLUDING, BUT NOT LIMITED TO, LOSS OF PROFITS OR GOODWILL, LOSS-OF-USE DAMAGES OR ADDITIONAL EXPENSES INCURRED, WHETHER PURSUANT TO A CLAIM IN CONTRACT, TORT OR OTHERWISE, AND WHETHER IN AN ACTION FOR BREACH OF WARRANTY OR OTHERWISE.

4.1 Forfeit/Donation Policies

(i)Any items not paid for in accordance with the Chicago Estate Advisors Terms and Conditions will be forfeited by You and shall be deemed a breach of this Agreement. Chicago Estate Advisors may, in its sole and absolute discretion, resell the items or donate the items to a charity of Chicago Estate Advisors or the affiliate's choosing. Any default in payment will be subject to interest and collection fees. Chicago Estate Advisors and/or its affiliates reserve the right to report your account to collections for the combined total of the original invoice amount and any moving or disposal charges. Your bidding privileges may be in jeopardy if You fail to remit payment for an invoice issued. You are also advised that Chicago Estate Advisors and/or its affiliates may aggressively enforce its rights to the fullest extent of the law, including civil and/or criminal prosecution.

(ii) If a purchased item(s) is paid for and not picked up, Chicago Estate Advisors will hold the item for five (5) days. Large items may be subject to a storage fee. After that time period the item(s) will be considered abandoned and Chicago Estate Advisors has sole discretion to re-list, dispose of, or donate the item(s).

4.2 Refunds

All sales are final.

5. PICK UP AND SHIPPING

5.1 Location

Unless otherwise stated in the auction description, all pick-ups are at the Chicago Estate Advisors location at 20 E Cedar St 14b. You must pick-up your merchandise at the specified auction location during the scheduled pick-up.

5.2 Alternate Pickup

If an auction pickup is at an alternate location the address will be provided with the invoice to successful winning bidders. If delivery or transfer is available, it will be stated in the auction detail.

5.3 Shipping

(i)To obtain a shipping quote, please contact Igal from Chicago Land Moving and Storage at 312-823-8246 at least 24 hours prior to the auction closing. Or the local UPS store at 312-664-6245. If you are the winning bidder, it is your responsibility to make all arrangements and you will pay UPS directly for the shipping charges once your invoice is paid, (ii) You are also welcome to make Your own arrangements to have Your items picked up and shipped by the agent of Your choosing. However, Chicago Estate Advisors must receive payment for Your invoice amount prior to releasing Your items.

6. TERMINATION

6.1 Termination

Chicago Estate Advisors reserves the right, at its sole and absolute discretion, to permanently terminate Your access to Your account at any time effective immediately, with or without notice, if We determine or suspect You have violated these Terms & Conditions, any laws, or the rights of other users or third parties. In the event of termination by Chicago Estate Advisors in connection with Your breach of these Terms & Conditions, Chicago Estate Advisors may pursue any remedy that may be available, at law or in equity, with respect to such breach. Regardless of the reason for any termination, You agree that if Chicago Estate Advisors, in good faith and in its sole discretion, determines that You have breached these Terms & Conditions, Chicago Estate Advisors may cancel all current bids placed, withhold merchandise not picked up, or otherwise retain any and all of Your pending transfers and/or shipped merchandise. Upon a termination You agree to pay Chicago Estate Advisors for all outstanding unpaid invoices through the date of termination.

7. INDEMNIFICATION

7.1 Indemnification

You agree to indemnify Chicago Estate Advisors , its affiliates or clients for any damages or losses. You will not hold Chicago Estate Advisors , it's owners, affiliates, clients or its employees, liable for accidents, injury, theft, or incidents related to purchases.

8. EVENTS BEYOND CONTROL

8.1 Interruption of Service

Chicago Estate Advisors shall not be responsible for any interruption in service, errors, and/or omissions caused by any means and does not guarantee continual, uninterrupted or error free service or use of the Website. With current technology, it is not possible to develop and operate computer programs (software) and data processing systems (hardware) entirely without error, or to rule out any unpredictable events in connection with the Internet. You acknowledge that this auction is conducted electronically and relies on hardware and software that may malfunction without warning. In the event of any malfunction relating to the Website, We, in Our sole discretion, may void any sale, temporarily suspend bidding and/or re-sell any item/lot affected by any malfunction. The decision of Chicago Estate Advisors shall be final.

8.2 Unforeseeable Events

Under no circumstances shall Chicago Estate Advisors be held liable for any delay or failure in this Website and/or information on the Website directly or indirectly resulting from, arising out of, relating to or in connection with events beyond the reasonable control of Chicago Estate Advisors . This includes, but not limited to, any third party associated with Chicago Estate Advisors or the services provided by Chicago Estate Advisors .
Find More Items with Similar Terms
autograph
memorabilia
performance
stunt
cityscape
Music & Art
Music & Art - Collectible
Music & Art - Prints
Subscribe to the upcoming sales in your area!
Create a free subscriber account and be notified of local estate sales near you.
Get free sale notifications