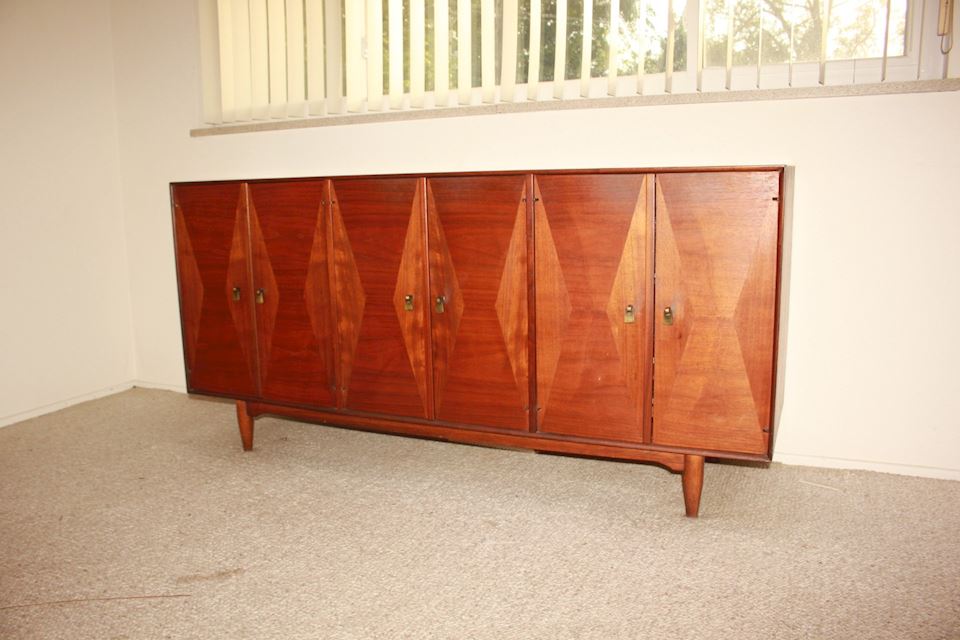 Sold

Matching Wonderful Long Serving Credenza in Solid Cherry
Sold by Six Pence Estate Sales and Transitions
This just ROCKS the 1960's wonderful hand made mid century look that can only be replaced with $8,000 pieces at Danish Modern stores today.

EASY SCHEDULED PICK UP, GREAT AREA, Pick Up SCHEDULED FOR EACH BUYER at the house. We Will Have Helpers For Heavy Items Working For Tips! Pick Up Sat. June, 19th - 10AM - 2:00 PM and Sunday June 20th 10:00AM - 12:00PM Text Brian@314-278-9848. YOUR NAME, NO EMAILS, Call If You Can NOT Text. We will follow CDC rules of safe distance to keep everyone happy and safe". Do Not Come Into House Please. All sales are final, please inspect items before taking off property. You will be charged for items if you do not pick them up.
-IF YOU BUY IT YOU OWN IT PLEASE PICK UP YOUR PURCHASES.
-If you want to own something, PLEASE PUT A MAX BID, SYSTEM WILL INCREASE YOUR BID
AUTOMATICALLY.
- PLEASE DON'T EMAIL QUESTIONS, Text or Call Brian:314-278-9848.
-Brian is also a licensed real estate agent SIX PENCE ESTATE
SALE DOES IT ALL, FULL TRANSITION SERVICES.
- Find us @ Six Pence Estate Sales on Facebook and sixpenceestates.com
Pickup DetailsEASY SCHEDULED PICK UP, GREAT AREA, Pick Up SCHEDULED FOR EACH BUYER at the house. We Will Have Helpers For Heavy Items Working For Tips! Pick Up Sat. June, 19th - 10AM - 2:00 PM and Sunday June 20th 10:00AM - 12:00PM Text Brian@314-278-9848. YOUR NAME, NO EMAILS, Call If You Can NOT Text. We will follow CDC rules of safe distance to keep everyone happy and safe". Do Not Come Into House Please. All sales are final, please inspect items before taking off property. You will be charged for items if you do not pick them up.
-IF YOU BUY IT YOU OWN IT PLEASE PICK UP YOUR PURCHASES.
-If you want to own something, PLEASE PUT A MAX BID, SYSTEM WILL INCREASE YOUR BID
AUTOMATICALLY.
- PLEASE DON'T EMAIL QUESTIONS, Text or Call Brian:314-278-9848.
-Brian is also a licensed real estate agent SIX PENCE ESTATE
SALE DOES IT ALL, FULL TRANSITION SERVICES.
- Find us @ Six Pence Estate Sales on Facebook and sixpenceestates.com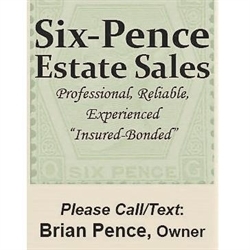 Six Pence Estate Sales and Transitions
Seller only accepts major credit cards.
EASY SCHEDULED PICK UP, GREAT AREA, Pick Up SCHEDULED FOR EACH BUYER at the house. We Will Have Helpers For Heavy Items Working For Tips! Pick Up Sat. June, 19th - 10AM - 2:00 PM and Sunday June 20th 10:00AM - 12:00PM Text Brian@314-278-9848. YOUR NAME, NO EMAILS, Call If You Can NOT Text. We will follow CDC rules of safe distance to keep everyone happy and safe". Do Not Come Into House Please. All sales are final, please inspect items before taking off property. You will be charged for items if you do not pick them up.
-IF YOU BUY IT YOU OWN IT PLEASE PICK UP YOUR PURCHASES.
-If you want to own something, PLEASE PUT A MAX BID, SYSTEM WILL INCREASE YOUR BID
AUTOMATICALLY.
- PLEASE DON'T EMAIL QUESTIONS, Text or Call Brian:314-278-9848.
-Brian is also a licensed real estate agent SIX PENCE ESTATE
SALE DOES IT ALL, FULL TRANSITION SERVICES.
- Find us @ Six Pence Estate Sales on Facebook and sixpenceestates.com
Subscribe to the upcoming sales in your area!
Create a free subscriber account and be notified of local estate sales near you.
Get free sale notifications