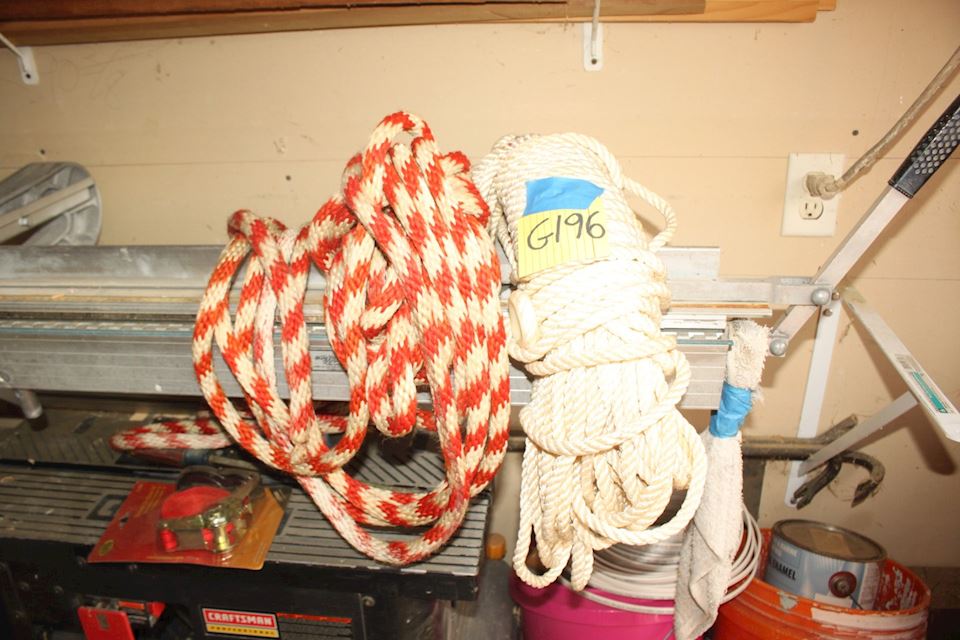 Ended

G196 Two Heavy Duty Ropes
Sold by Six Pence Estate Sales and Transitions
Pick Up SCHEDULED FOR EACH BUYER at the house. SALE ENDS SUNDAY Oct 17th. END TIMES STAGGER GET YOUR BIDS IN!!
-Pick ups Saturday October 23rd: 10:00AM - 2:00 PM. Sunday Oct 24 - 10:00 AM - Noon! PLEASE BRING HELP TO PICK UP FURNITURE and Large Items.
-TEXT Brian@314-278-9848 For Pick Ups. YOUR NAME, NO EMAILS, Call If You CANNOT Text. We will follow CDC rules of safe distance to keep everyone happy and safe". Do Not Come Into House Please. All sales are final, please inspect items before taking off property. You will be charged for items if you do not pick them up. -IF YOU BUY IT YOU OWN IT PLEASE PICK UP YOUR PURCHASES.
-If you want to own something, PLEASE PUT A MAX BID, SYSTEM WILL INCREASE YOUR BID
AUTOMATICALLY.
- PLEASE DON'T EMAIL QUESTIONS, Text or Call Brian:314-278-9848.
-Brian is also a licensed real estate agent SIX PENCE ESTATE
SALE DOES IT ALL, FULL TRANSITION SERVICES.
- Find us @ Six Pence Estate Sales on Facebook and sixpenceestates.com
Pickup DetailsPick Up SCHEDULED FOR EACH BUYER at the house. SALE ENDS SUNDAY Oct 17th. END TIMES STAGGER GET YOUR BIDS IN!!
-Pick ups Saturday October 23rd: 10:00AM - 2:00 PM. Sunday Oct 24 - 10:00 AM - Noon! PLEASE BRING HELP TO PICK UP FURNITURE and Large Items.
-TEXT Brian@314-278-9848 For Pick Ups. YOUR NAME, NO EMAILS, Call If You CANNOT Text. We will follow CDC rules of safe distance to keep everyone happy and safe". Do Not Come Into House Please. All sales are final, please inspect items before taking off property. You will be charged for items if you do not pick them up. -IF YOU BUY IT YOU OWN IT PLEASE PICK UP YOUR PURCHASES.
-If you want to own something, PLEASE PUT A MAX BID, SYSTEM WILL INCREASE YOUR BID
AUTOMATICALLY.
- PLEASE DON'T EMAIL QUESTIONS, Text or Call Brian:314-278-9848.
-Brian is also a licensed real estate agent SIX PENCE ESTATE
SALE DOES IT ALL, FULL TRANSITION SERVICES.
- Find us @ Six Pence Estate Sales on Facebook and sixpenceestates.com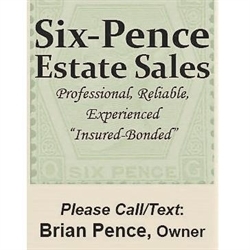 Six Pence Estate Sales and Transitions
Seller only accepts major credit cards.
Pick Up SCHEDULED FOR EACH BUYER at the house. SALE ENDS SUNDAY Oct 17th. END TIMES STAGGER GET YOUR BIDS IN!!
-Pick ups Saturday October 23rd: 10:00AM - 2:00 PM. Sunday Oct 24 - 10:00 AM - Noon! PLEASE BRING HELP TO PICK UP FURNITURE and Large Items.
-TEXT Brian@314-278-9848 For Pick Ups. YOUR NAME, NO EMAILS, Call If You CANNOT Text. We will follow CDC rules of safe distance to keep everyone happy and safe". Do Not Come Into House Please. All sales are final, please inspect items before taking off property. You will be charged for items if you do not pick them up. -IF YOU BUY IT YOU OWN IT PLEASE PICK UP YOUR PURCHASES.
-If you want to own something, PLEASE PUT A MAX BID, SYSTEM WILL INCREASE YOUR BID
AUTOMATICALLY.
- PLEASE DON'T EMAIL QUESTIONS, Text or Call Brian:314-278-9848.
-Brian is also a licensed real estate agent SIX PENCE ESTATE
SALE DOES IT ALL, FULL TRANSITION SERVICES.
- Find us @ Six Pence Estate Sales on Facebook and sixpenceestates.com
Find More Items with Similar Terms
Tools
Subscribe to the upcoming sales in your area!
Create a free subscriber account and be notified of local estate sales near you.
Get free sale notifications