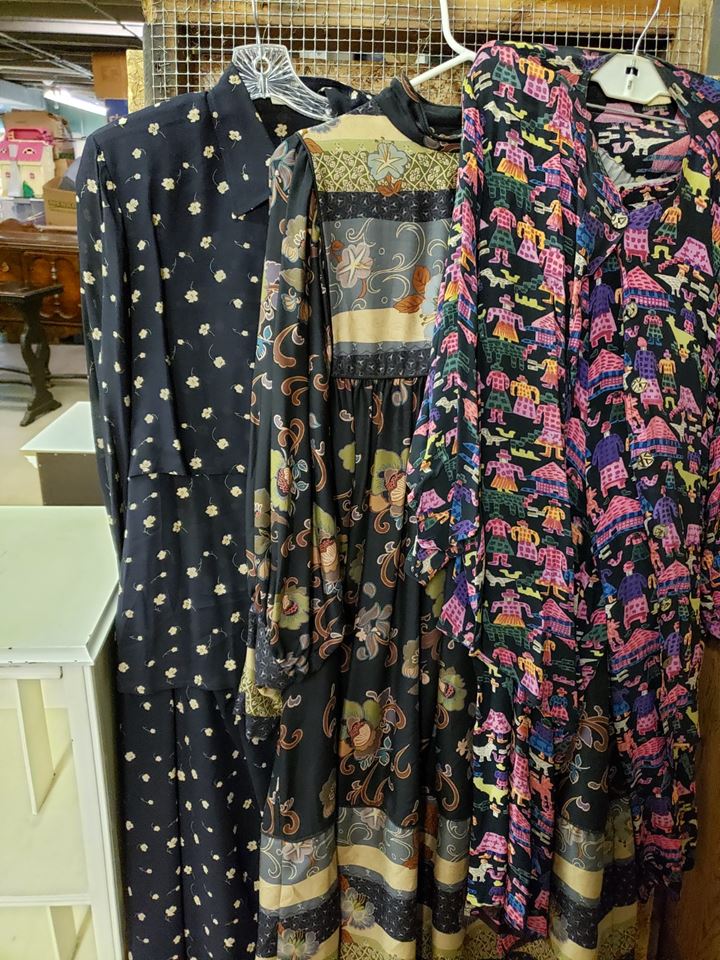 Sold

112 lot of vintage dresses size large/14-16w
Sold by White Lion Treasures
Michelle Bell, Certified Auctioneer
Lot of vintage dresses, come take a look at the whole rack! Preview items in person. Email whitelionauctions@gmail.com to setup your appointment today!
Pickup DetailsWant a better look? Come see these items in person at our warehouse facility!

Email us at whitelionauctions@gmail.com to make your appointment to preview items today!

Pick up is from 3:00 p.m. to 5:30 p.m. Thursday, January 27th in Cedar Rapids at our warehouse facility located at 1239 1st Ave SE, Alley Access. If you cannot make that time, please arrange an appointment prior to pickup. You must bring help. We can not help you load.

Email
WhiteLionAuctions@gmail.com
to confirm your arrival time.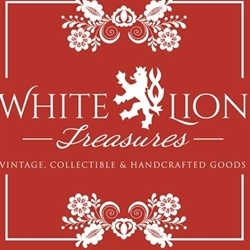 Seller only accepts major credit cards.
ONLINE ONLY AUCTION TERMS AND CONDITIONS

GENERAL INFORMATION:
Please read the following terms and conditions carefully as they are a legal binding contract between you (the Bidder) and White Lion Treasures. To register and bid in this auction you must agree to these terms and are bound by them as a bidder.

All items are sold AS IS, WHERE IS, with NO WARRANTY expressed or implied. It is the responsibility of the buyer to determine the condition of the items and bid accordingly. All items must be considered used or previously owned. Even if labeled as new in box, we cannot guarantee the item will be in full retail condition. Place your bids accordingly and read all descriptions and Terms prior to placing your bids. No refunds will be issued.
Items may appear to be grouped in a photo. Do not assume a lot consists of more than one item simply because they are connected or pictured together. Please inspect the written information and read the descriptions carefully. You are bidding on the described item not the photograph, occasionally the wrong photo may be displayed. Contact our office if you are unclear as to what is included in a lot.
Once you place and confirm a bid through our bidding platform, you cannot remove or lower a bid. No bids will be removed once they have been placed.
Due diligence is the responsibility of you (the Bidder). All sales are final. When the bidding ends on our website and you are the high bidder, you than assume complete responsibility for care of each purchase at time of sale.
We reserve the right to refuse service to anyone bidding, buying, selling and/or at pick up.
The most recent correspondence with buyers via email or our website take precedence over written material and any prior verbal statements.
The auction company is not responsible for accidents, thefts, errors or omissions.
The auctioneer reserves the right to add or remove items from the auction; split or combine lots; add minimum bids or reserve prices. The auctioneer reserves the right to cancel, suspend, extend or reschedule an individual item and or auction event or to make changes to the auction closing times or inspection or removal times.

BIDDING PROFILE:
When you register to bid with White Lion Treasures and estatesales.net you must create a bidding profile. This profile contains your personal information – you can always view and edit your profile by logging into our website. It is your responsibility to ensure that all the information on that profile is VALID and CURRENT. We rely on that information to contact you and process payment. Address, Phone, Billing, Credit Card and Email information are particularly important! If you need help logging in or resetting information in your profile, contact our office.

AUCTION CLOSING:
The closing time of the auction will be listed within the auction information page of our website. Once bidding closes, items you have won become your responsibility – make note of closing times!
White Lion Treasures is not responsible for internet malfunctions, loss of connection or system glitches that may prevent you from placing last minute bids, or receiving notices from our company. Don't wait until the last minute to bid; if the system is busy, your bids may not process within the last seconds of an auction closing.

PAYMENT:
Payment for all purchases is due immediately at the conclusion of the auction unless specifically outlined otherwise.
A Valid credit card or Paypal is required for bidding approval. We accept Visa, MasterCard, and Discover. Currency: USD only
If charges are declined by the credit card processor a non-sufficient funds charge of $25.00 will be charged each time processing is denied. The buyer will be notified of NSF transaction through e-mail and be given 24 hours to contact White Lion Treasures with an alternative payment method.
White Lion Treasures will charge Purchase price, Buyer's Premium charges and any applicable handling fees to the credit card that you have recorded in your profile up to $1500.
If purchases are not settled within 24 hours of the close of the auction, they are considered in default. Upon default, the Bidder's privileges may be suspended on White Lion Treasures as well as Apro.Bid. auctions. Bidding privileges may be reinstated when default has been satisfied. Subsequent defaults may result in bidding privileges being blocked or denied. Such action may be taken at the sole discretion of White Lion Treasures and/or Apro.bid.
Payment in full is required before receiving your invoice itemizing your purchases and fees.
No credit card charge backs will be allowed. NO refunds will be given.
Special Terms of Sale:

1. All property is sold AS-IS Where-Is, and ALL SALES ARE FINAL. It is the Bidders responsibility to determine condition, age, genuineness, value or any other determinative factor. White Lion Treasures may attempt to describe the merchandise in advertising and on the Internet, but makes no representations. In no event shall White Lion Treasures be held responsible for having made or implied any warranty of merchantability or fitness for a particular purpose. Bidder shall be the sole judge of value. Some items may be listed as NIB New in Box. Every effort will be made to ensure that each item stays in the same condition that it was photographed in. However, all property is sold AS-IS, and ALL SALES ARE FINAL.
2. It is the Bidders responsibility to determine condition, age, genuineness, value or any other determinative factor. White Lion Treasures shall endeavor to describe in detail each item and any pertinent information about it. White Lion Treasures. will not be responsible for any errors or omissions in the description of the merchandise unless it is a material and intentional misrepresentation of the item itself. Bidder agrees that everything is sold as is and that they may not return any item they purchase.
3. White Lion Treasures is providing Internet bidding as a service to Bidders. Bidders acknowledge and understand that this service may or may not function correctly the day of the auction close. Under no circumstances shall Bidders have any kind of claim against White Lion Treasures. or anyone else if the Internet service fails to work correctly before or during the Online Auction. White Lion Treasures will not be responsible for any missed bids from any source. Internet Bidders who desire to make certain their bid is acknowledged, should use the max bid feature and leave their maximum bid 24 hours before the auction. White Lion Treasures reserves the right to withdraw or re-catalog items in this auction.
4. The Bidder is responsible for knowing which item is being bid on. If the Bidder is unsure, they should inquire or not bid. When becoming the winning Bidder at auction, you have affected a contract and will be expected to pay for items in which you were evidenced to be the successful Bidder. Auctioneer will not honor a mistake.
5. The Auctioneer reserves the right to accept bids in any increment he feels is in the best interest of his client, the Seller. The Auctioneer reserves the right to reject the bidding of any person whose conduct, actions, or adverse comments he feels is not in the best interest of the Seller.
6. Purchaser does hereby indemnify and hold harmless Auctioneer and Seller from any and all damages, claims or liabilities from injuries to persons or property of any type whatsoever caused during the sale or by the removal of items purchased. Purchaser assumes all risk and liability whatsoever resulting from the use of the item(s) sold hereunder; and shall defend, indemnify, and hold harmless Auctioneer and Seller from any liability.
7. If the foregoing conditions or any other applicable conditions are not complied with, in addition to other remedies available to Auctioneer and Seller by law, including without limitation, the right to hold the purchaser liable for the bid price, the Auctioneer, at their option may (1) resell the property publicly or privately, with purchaser being liable for the payment of any deficiency plus all costs incurred, or (2) cancel the sale, retaining liquidated damages on all payments made by purchaser, Auctioneer commission and all other incidental damages will be charged.
8. Information in brochures, catalogs and other advertisements are from sources believed to be reliable; however prospective purchasers are urged to inspect the inventory or property to satisfy themselves as to condition, model, manufacturer, year, features, mileage, survey, acres, etc. Neither the Auctioneer nor our client make any guarantees and are not responsible for listing or advertising inaccuracies or discrepancies.

Additional Charges:
Pick up NO SHOW, Leaving Lot OR Partial Lot behind $25.00 / Lot Plus forfeiture of item

Load out assistance $25.00/Lot Staff IS NOT for hire to help. This charge is initiated if YOU fail to bring adequate help.

Bringing Lot back to Office for pick up. $25.00/Lot This service is NOT available for large items.

Not completing Pick up Process within the proper timeframe $30/ First Half hour $30.00/Hr After first Half hour

Arrange Special Pick up Time w/Staff outside of time outlined in TERMS $30/Hr Clock starts when staff leaves office until return to office Per Staff member.

LOAD OUT/PICKUP:

Winning bidders need to pick up their items during the designated pickup timeframe.
Specific times that are listed for pickup are the strict start and end times, per contractual agreement with the seller. We will not facilitate pickup BEFORE the start time. All buyers are expected to be FINISHED removing their items by the time the pickup is scheduled to end. You need to arrive on time to pack and remove all your item(s) within the stated pick-up times. We may assess a charge to any buyer that requires our staff to stay longer than the scheduled time.
If you are unable to pick up at the agreed to terms, you must send a representative to pick up for you or forfeit your items.
Information on the exact address of the pick-up location will be relayed to winning bidders via email.
Items may only be removed upon receipt of payment in full. Buyers must check in and present their paid receipt to a White Lion Treasures representative prior to loading items.
Any item(s) White Lion Treasures. or the seller has to remove from sale site due to the buyer missing pickup time or abandoning part of a purchase may be subject to additional service fees.
Buyers who do not pick up their item(s), or leave any items behind, at the specified pick-up time may be subject to additional service fees. Ownership of those items will return to the seller and the buyer will forfeit any and all rights to the item including payments and refunds.
You MUST bring your own packing materials, moving equipment, and adequate people to safely and properly remove your items during the specified pick up time. We will not wait for your additional help to arrive if it is outside the pickup times. Also, you may be asked to wait at the end of the line if you are not prepared to move or load your items in a timely manner, we reserve the right to help those buyers who came prepared first. This policy is designed to keep pickups speedy and efficient. We need our buyers to come prepared out of fairness to other buyers and to our seller.
White Lion Treasures reserves the right to refuse load out and pick up of item(s) purchased, if at their sole discretion or at the discretion of contracted seller, they deem such load out may cause damage physically to the item or the seller's property or if it risks the safety of anyone or anything at the load out site.
White Lion Treasures reserves the right to charge a fee to any buyers that do not bring adequate help, requiring our staff to help move items for a buyer.
The buyer will be responsible for the ANY damage that occurs to an individual item, or the pickup location during the removal of an item(s).
White Lion Treasures reserves the right to refuse load out and pick up of item(s) purchased, if at their sole discretion or at the discretion of contracted seller, they deem such load out may cause damage physically to the item or the sellers property or if it risks the safety of anyone or anything a the load out site.
Shipping is available. Actual cost will be charged.

Find More Items with Similar Terms
Home
Subscribe to the upcoming sales in your area!
Create a free subscriber account and be notified of local estate sales near you.
Get free sale notifications