Summer Fun - Vintage Mini Bikes
Matt Ellison
| July 30, 2021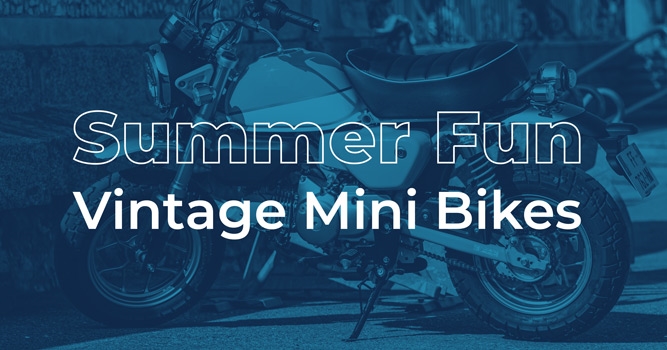 Eight months ago, I got a call from my father, "We're going to Portland, Indiana!" The annual Vintage Bike Show for vintage motorbikes, mini bikes, scooters, and bicycles was in full swing, and he wanted to go to relive a piece of his childhood. For many men in their 50s and 60s, the mini bike was an essential component of their childhood dreams. Between the late 1960s and early 1970s, a plethora of companies came out with mini bikes targeted for children. Open up a Popular Mechanics magazine in that era. Nearly every other page has an ad for some type of minibike.
Here is a list of vintage mini bikes you might have had, a kid in the neighborhood had, or you pined after in those catalogs. Keep your eyes out while estate sale shopping because these are becoming more valuable as time goes on!
Fox Corporation
The history of Fox Corporation is not well documented (a theme you see quite often in the minibike world). Still, we do know that they started in 1946, making motorized vehicles. It wasn't until 1965 that they introduced their first mini bike, the "Fox Little Gen." One of the rarest to find is the 1970 "Street Scamp," so be on the lookout for one.
Rupp
No list would be complete without mentioning Rupp. Rupp Manufacturing was started in 1959 by Herbert Rupp. He created his first minibike in 1962 and continued until the company closed its doors in 1978. Rupp mini bikes inspired my father to drive us 400 miles to the Vintage Bike Show in Portland, Indiana. He wanted to see if he could find the minibike he had as a kid: a "Rupp Scrambler, with performance ignition, torque converter, and a Tecumseh 196cc engine". His exact quote. Rupp minibikes are now collector's items and highly sought after by those that used to have them. Now the $300 mini bike sells for around $3000. Lucky for him, my father got his Rupp to fix at the Vintage Bike Show.
Lil Indian
These mini bikes were first created by three brothers in 1959 who formed Michrina Brothers Enterprises. The history of this company is pretty incredible, and if interested, I would recommend this detailed blog post. A name like "Lil Indian" would not fly today, but kids all over the neighborhood were flying around on these little machines back then.
Taco
Created by John Steen, Taco was another mass-produced minibike of the 60s and 70s that has lived on in the hearts of grown men. It was so popular that Taco has been revived. For around $2,395 plus shipping and handling, you can be reliving your childhood memories on a brand new Taco 212cc 100b in Royal Purple Metalflake paint.
Bonanza
Bonanza minibikes spawned from go-kart racing in the late 50s and early 60s.
Honda
No list would be complete without mentioning the Honda z50 "monkey" Bike and the Trail 70. Coming into the United States in 1968, these little 50cc machines saw changes over the years, but their styling has always remained reminiscent of times past. Honda ended production in 2017, giving these bikes a 50-year history. The Trail 70 or CT70 was introduced around the same time as the z50 to the United States and was also street legal in most US states. The Trail 70 was a larger bike than the z50. Children were not the only ones to use the Trail 70, in fact, these bikes were even used commercially by the parks service and ranchers.
Harley-Davidson
Harley-Davidson tried their hand at minibikes in the 70s with their production of the MC-65 Shortster and the X-90. The MC-65 only lasted for one year (1972) while the X-90 had a three-year run (1973-1975). Both bikes are very rare, and if you find one buy it up!
Tote Gote
Tote gote started as a company manufacturing sturdy mini bikes for the outdoor enthusiast. They had simple designs made to be easily fixed. Over the years, Tote Gote manufactured different models with some like the "Mini Gote" being more geared to kids.
#### Beam Manufacturing Company "Hiawatha Doodle Bug"

Not to be confused with the Fox Doodle Bug, the Hiawatha Doodle Bug was a scooter made between 1946 and 1948. Though they would have been "old news" in the 60s and 70s, these little bikes are highly valuable and as cute as the name, so I couldn't leave them off the list. If you see a good deal on one, buy it! There is also an entire club dedicated to this little bike if you want to learn everything is to know about the Doodle Bug.
HeathKit Boonie Bike
The history of Heathkit could be an entire article in itself. In 1968, the "build at home" kit company released its first minibike the GT-18. Boonie bikes had larger rear tires that served as a form of suspension. You could also order a ski attachment for the snow!
---
---
Love all things estate sales? Us, too! Head over to our blog to learn about all things vintage, DIY, and more!
---