Masters of Mid Century Modern
Tim Morrison
| February 1, 2021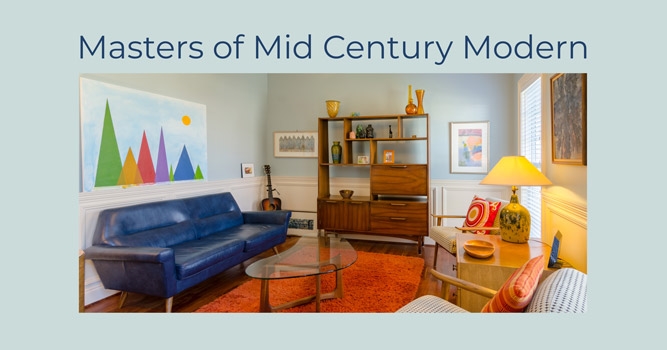 If you've kept up with our past blog posts, you know by now that nothing gets us more excited than when a sale chocked full of mid-century modern shows up on our site. This week, we're going to take a look at a few of the pioneers of our favorite design era.
George Nakashima (1905-1990)
After graduating from The University of Washington and later earning a master's degree from M.I.T. in 1931, Nakashima traveled the world and eventually found himself in Japan studying under master architect Antonin Raymond. Nakashima mastered Japanese woodworking and joining techniques while in an internment camp in 1942. After his release, Nakashima went to work on Raymond's farm in Pennsylvania. He was later commissioned by Nelson and Happy Rockefeller to design 200 pieces of furniture for their home.
Rather than searching for the perfect piece of wood for his projects, George focused on the imperfections on the pieces, stating that they revealed the true "soul of the tree." His masterpieces included chairs, cabinets, and desks, but he is most known for his live edge dining tables that were built using his famous "butterfly joints" made popular in the 1950s. Want to know more about George Nakashima? You can visit the George Nakashima House, Studio and Workshop in New Hope, Pennsylvania and tour the showroom and grounds!
"A tree is our most intimate contact with nature." (AZ Quotes)
Source: Nakashima Woodworkers
Arne Jacobsen (1902-1971)
Often referred to as "The Father of modern Danish Design," Arne Jacobsen originally wanted to try his hand at being a painter, but his mother wanted him to pursue a more lucrative career in architecture. After attending the Royal Danish Academy of Fine Arts, he went on to win several design contests. He would eventually be commissioned to design the SAS Royal Hotel from top to bottom. Not bad for someone who started out designing wallpaper.
While it's no question that Jacobsen was a master architect, he is also regarded as one of the best furniture designers of the period. The Ant Chair, the Number Seven Chair, and the Swan Chair are just a few examples of his use of quality materials and simplistic design. This is one of the driving factors why most of his designs are still in production today. "People buy a chair, and they don't really care who designed it." (BrainyQuote) Source: Arne Jacobsen Wiki
Harry Bertoia (1915-1978)
When doing the research for this article, I came across the fascinating story of Harry Bertoia. He designed beautiful furniture and jewelry, but he also created musically functional pieces and pioneered his own music genre. After leaving Italy at the age of 15, Bertoia landed in Detroit, where he attended Cass Technical High school and started studying art and design and later designing jewelry. Even though he had a background in metalwork, the need for metal during the war forced Bertoia to focus his efforts on jewelry making.
Fun Fact: Harry Bertoia designed a wedding ring for Ray Eames, part of the team that gave us the Eames Lounge Chair and Ottoman!
After being recruited by Hans and Florence Knoll to design furniture, Bertoia soon became a household name for his contributions to the modern furniture movement. Having an eye for seeing past traditional uses for various materials led to his most crowning achievement in the furniture industry, The Diamond Chair. Being composed of a thin metal mesh and different upholstery options, the Diamond Chair became an instant success. It earned Bertoia the money needed to focus solely on his true passion, sculpting. He experimented with sonically functional sculptures by combining a flat bass with metal rods varying in size. Bertoia would manipulate the rods by bending, stretching, and striking them to create a sound that I can best describe as something straight out of a horror movie. This new genre of music fit right in with the psychedelic movement of the 1960s. Bertoia produced several albums, which were all titled "Sonambient," and would often perform concerts in an old renovated barn on his property. This new venture added to his repertoire and solidified that he could do a little bit of everything if given creative freedom. With his skill range in design, sculpting, and experimentation, it's no wonder that Harry Bertoia is considered one of the best mid-century modern designers of all time.
"A good chair...is almost like wearing a comfortable coat; you really don't know you have it on." Harry Bertoia
Source: Harry Bertoia Foundation
If you haven't noticed by now, we have a very special place in our hearts for Mid-Century Modern and the designers behind that design era.
Love all things estate sales? Us, too! Head over to our blog to learn about all things vintage, DIY, and more!